Summary
WhatsApp is one of the most common messaging apps in our work and life. Whether we are Android users or iOS users, most of us use WhatsApp to chat online. After iPhone 13 and iPhone 13 Pro come out, lots of Samsung users plan to switch to the latest iPhone. Also, they want to back up WhatsApp from Samsung to iPhone, including chats and media files.
Is there a way to transfer WhatsApp history from Samsung to iPhone? Certainly, this article has summarized 3 useful approaches for WhatsApp backup. Please feel free to check the guide in the following.
Part 1: How to Back Up WhatsApp from Samsung to iPhone via WhatsApp Transfer?
WhatsApp Transfer is a one-step transfer tool for Android and iOS devices. It can seamlessly restore WhatsApp backup from Samsung to iPhone and vice versa. Besides, it can back up your WhatsApp history to your computer without a hitch. Undoubtedly, it supports all WhatsApp data types, like messages, links, images, voice chats, videos, etc.
Key features of this WhatsApp chat transfer tool:
- Swiftly transfer WhatsApp history from Samsung to iPhone without losing data.
- Back up WhatsApp chats to a computer in 1 click, and restore the backup easily.
- Support you to transfer data on WhatsApp Business between Android and iOS devices.
- Effectively back up WeChat, LINE, Viber, and Kik data on iPhone.
- Work for iOS 15 or former, and Android 11 or lower.
Download the WhatsApp transfer software for free below.
Tutorial on how to transfer WhatsApp chats from Samsung to iPhone at once:
Step 1. Install the WhatsApp Data Transfer Program
After the download, please install and launch this software on your computer. Then choose the "WhatsApp Transfer" tab.
Step 2. Connect Mobile Phones to the Computer
Next, click the "WhatsApp" option on the left panel, and choose the "Transfer WhatsApp messages" option. Then connect your Samsung phone and iPhone to the computer via their USB cables.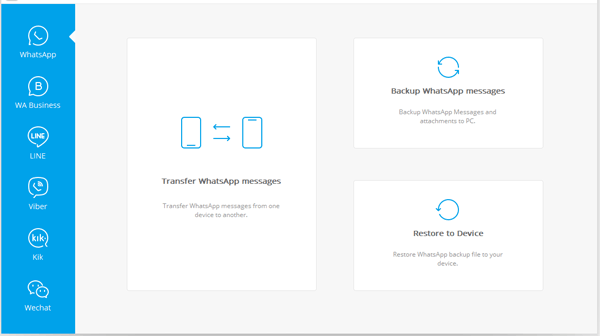 Step 3. Transfer Samsung WhatsApp Chats to iPhone
- Confirm your Samsung device is on the "Source" side. If not, click the "Flip" icon to change the location.
- Then click the "Transfer" button, and decide whether to keep your current WhatsApp files on the iPhone. At last, the software will begin to transmit the WhatsApp data from Samsung to the iPhone.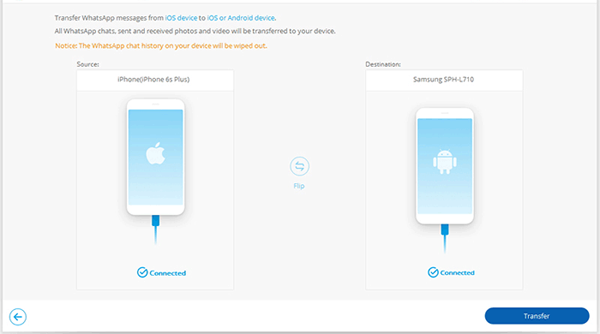 Learn more: This post has listed 9 options of practical WhatsApp transfer software. If needed, click it.
Part 2: How to Transfer WhatsApp Chats from Samsung to iPhone with Email Chat?
Please don't forget the Email chat feature on WhatsApp, which can send chat history in the same conversation via Email. However, this way cannot send all conversations from your Samsung device to your iPhone at a time. If you intend to transfer chats from multiple WhatsApp contacts, you need to send multiple emails to your iPhone. And you cannot import them to your WhatsApp on the iPhone.
Here's how to transfer WhatsApp messages from Samsung to iPhone via Email:
Step 1. Select and Send WhatsApp Messages on Samsung
- Open WhatsApp on Samsung, and navigate to the conversation you want. Then, tap the "Menu" > "More" > "Export chat" option, and choose the "WITHOUT MEDIA" or "INCLUDE MEDIA" option.
- Select your mail app and send the WhatsApp chats to yourself.
Step 2. Receive the WhatsApp Data on iPhone
Open the mail app on your iPhone, and log in with the email account you sent the WhatsApp chats to. You can download the WhatsApp file to your iPhone.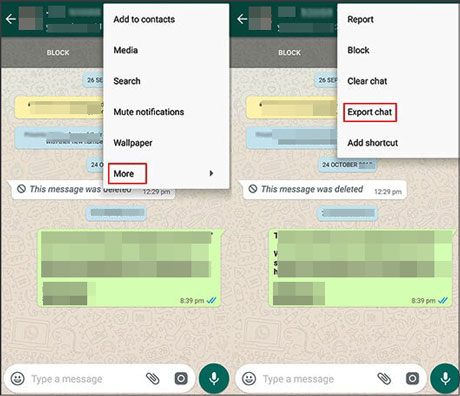 Read also: You can breezily transfer WhatsApp from an iPhone to a Samsung device via 4 methods.
Part 3: How to Restore WhatsApp Backup from Samsung to iPhone via Google Drive?
There is no doubt that we can back up WhatsApp chats to Google Drive on Samsung mobile devices, and easily restore the backup to another Android device. But it doesn't mean that it also works on iOS devices. The reason is that WhatsApp on iOS devices only support users to restore WhatsApp from iCloud. Therefore, you cannot restore WhatsApp backup from Samsung to iPhone via Google Drive.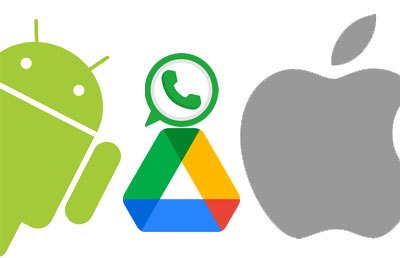 Tips: Can I back up WhatsApp from Android to iPhone? At present, no built-in backup or restoration feature on WhatsApp can transfer the chat history from Android to iOS. But you can use the WhatsApp transfer software mentioned in Part 1 to achieve the transfer.
Extra: Can WhatsApp Finally Transfer Chats between Android and iOS?
Currently, WhatsApp has announced that messages and content can be transferred between Android and iOS devices. However, this feature is only available on Samsung Galaxy Z Fold3 and Z Flip3. It is said that this feature will be applied to the Samsung phones and tablets running Android 10 or upper.
Besides, please note that you can only transfer WhatsApp chats from iOS to Samsung, even if the feature is officially rolled out. Anyway, we believe that the two-way transmission between Android and iOS will come true in the future.
Conclusion
Any other good ideas to back up WhatsApp Samsung to iPhone? We will be appreciated that you could share your transfer ways in the comments area. Of course, you can also write down your queries, and we will answer you as soon as possible. Hopefully, WhatsApp will offer a more powerful backup feature to move WhatsApp chats without effort.
But now, let the WhatsApp Transfer software help you. It is still a practical tool to back up WhatsApp between Android and iOS devices. Whenever you switch your Samsung phone to an iPhone, you will never lose your WhatsApp history.
Related Articles
[Updated] How to Transfer Contacts from Samsung to Samsung?
How to Retrieve Deleted Texts on Samsung? - 4 Easy Ways
How to Transfer Text Messages from Samsung Galaxy to PC [4 Methods]
[Easy and Safe] Transfer Music from iPod to Samsung Phone and Enjoy It Directly
WhatsApp Backup Extractor: Top 6 Options to Extract WhatsApp Easily
6 Methods on How to Transfer Contacts from iPhone to Android [You'd Better Know]