Summary
Is HTC not as hot as it used to be? Perhaps you find that the people surrounding you have switched to other brands of mobile phones, but HTC still has many users around the globe. Besides, recently, some HTC users have asked for help in some mobile communities - they wonder how to retrieve deleted contacts on an HTC phone. It is also the key point we are going to solve.
If you need HTC contact recovery, come with us, and get your contacts back without a hitch.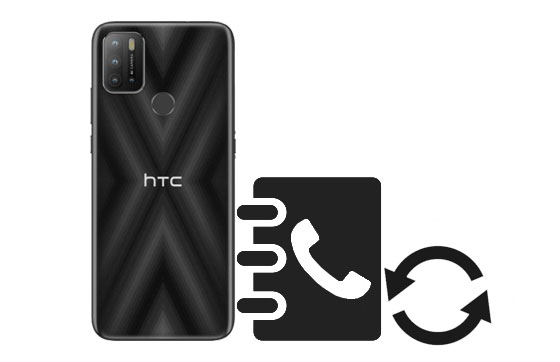 Part 1: How to Retrieve Deleted Contacts on HTC Phone without Backup?
If you haven't backed up the contacts on your HTC phone before the accidental deletion, you can use this recovery program - Samsung Data Recovery. This software can recover deleted contacts from your HTC phone without backup by scanning out your deleted data from the mobile device. By the way, it will display the deleted files in red.
Besides, you can use it to transfer your current contacts from the HTC cellphone to your computer, which is an effective backup method to protect your important data.
Notes: It cannot recover the deleted contacts overwritten by new data. Thus, you'd better stop using your phone and turn off the network and Bluetooth when deleting your data by mistake.
Key characteristics of this contact recovery software:
- Recover deleted contacts from the internal storage and the SIM card on your HTC phone.
- The Deep Scan mode does well in finding more deleted files.
- List your existing and deleted contacts on the interface, and allow you to view the deleted items only.
- Help you recover deleted SMS, images, documents, and other files from Android devices.
- Effectively recover deleted videos and other media files from an SD card without rooting.
Certainly, in addition to HTC, it supports other Android phones, like Samsung, Sony, Xiaomi, ZTE, OnePlus, and more, as long as the OS is Android 4.0 and upper.
Download the Android Messages Manager for free below.
How do I get my contacts back on my HTC phone using this software?
Step 1. Connect HTC One to Your Computer
After installing this recovery program on your computer, please connect your HTC One phone to the computer via a data cable. Then enable the USB debugging feature on the phone.
Step 2. Select the Contacts Category
Check the "Contacts" category and tap the "Next" icon. Then select a mode to scan the contacts from the HTC smartphone.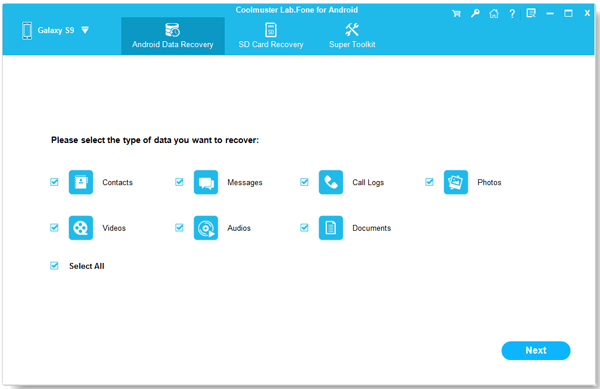 Tips: The software will remind you to root your device, but you can click the "Continue" icon to skip the rooting step if you don't want it. However, the program can only scan part of your contacts from the unrooted device.
Step 3. Recover Deleted Contacts from HTC
It will display your contacts on the interface. Please select the contacts you want to retrieve, and tap the "Recover" icon to save them to your computer.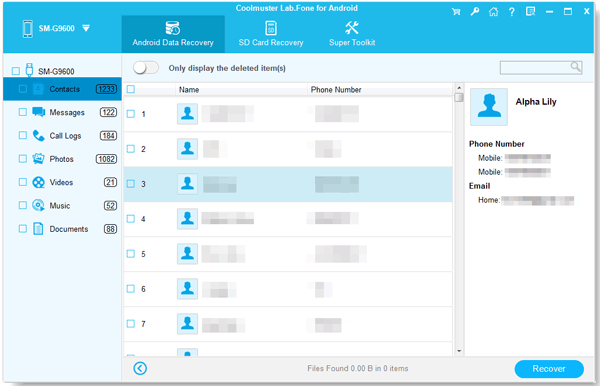 Bonus: Want to transfer contacts from a Samsung phone to an HTC phone? Then you can follow this guide.
Part 2: How Do I Get My Contacts Back on My HTC Phone via Backup?
Have a backup of your deleted contacts? That's great. You can get your contacts back with ease. The following are 4 effective methods you can use to restore your contacts on your HTC phone.
2.1 Using Google Contacts
If you have installed Google Contacts on your HTC cellphone, or added your Google account to the phone and enabled the Google backup feature, you can export the backup contacts from the Google Contacts app, and import them to your phone.
Here's how to restore deleted contacts on HTC via the Google Contacts app:
Step 1. Open the App
Please launch Google Contacts on the phone, and tap the "Fix & manage" > "Export to file" icon.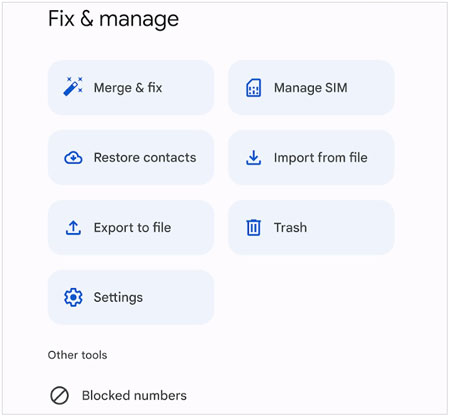 Step 2. Export the Contacts to a VCF File
Choose the contacts you want, and tap the "Export to .VCF file" icon. Then you will get a VCF file of the selected contacts.
Step 3. Import Contacts to Your HTC Phone
To import the file to your phone, you can open the built-in Contacts app, and click the "Menu" > "Settings" > "Import/Export" > "Import" icon. Then choose the VCF file, and the contacts will appear.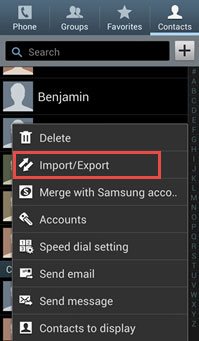 Maybe you like: You can also transfer text messages from HTC to a computer for backup.
2.2 Using HTC Backup
HTC Backup is a useful feature on HTC devices, helping users back up and restore data without hassle. But please note that you cannot recover deleted contacts without a backup.
Steps on how to get deleted contacts back on an HTC phone via HTC Backup:
Step 1. Run the HTC Backup App
Open the HTC Backup app, and click the "System" > "Backup & reset" > "Restore from backup" option.
Step 2. Restore Contacts from HTC Backup
Opt for the backup file, and the process will start. After that, your contacts will be restored to your phone.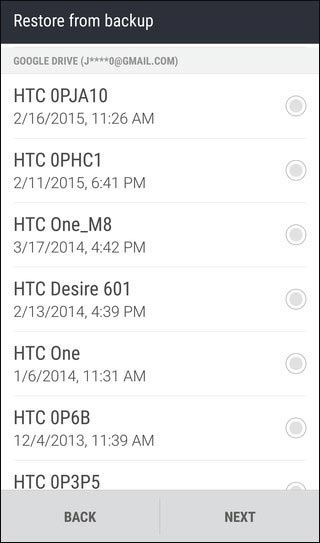 2.3 Using Your HTC SD Card
Some HTC users like backing up their contacts and other important files to their external SD card. What about you? Do you have a backup of your contacts on your memory card? If yes, you can retrieve your deleted contacts with your SD card without trouble.
Here's how to retrieve deleted contacts on HTC via the backup of an SD card:
Step 1. Check the Backup on Your SD Card
Please install the SD card on your HTC phone, and open File Manager to ensure there is a contact backup file on the card.
Step 2. Restore the Backup Contacts to Your HTC Phone
After that, you can import the contact file to the HTC Contacts app - click the "Settings" > "Import" icon and choose the file. Then the restoration will be finished. Please check your contacts on your phone.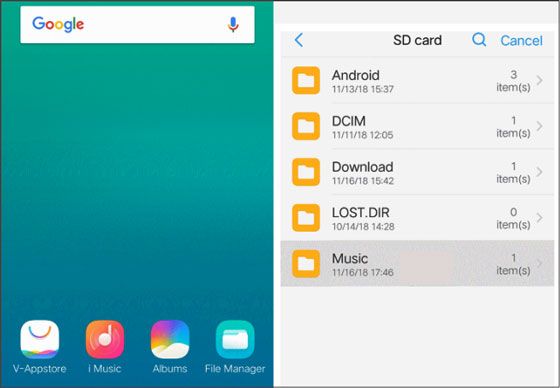 See more: Want to back up Android data to an SD card swiftly? You can utilize these 4 ways.
2.4 Using Your Google Account on Settings
There is a convenient way to retrieve your deleted contacts, synchronizing them via your Google account on the Settings app. In general, synchronization can help you copy your contacts between your Google account and your HTC phone, which is a two-way process. Thus, it can wirelessly sync the contacts you backed up on Google Drive to your mobile phone.
Here's how to use your Google account to restore your contacts on HTC:
Step 1. Go to Settings
Please navigate to the Settings app, and choose the "Accounts" option.
Step 2. Sync Contacts to HTC
Click the "Google" option, and enable the icon next to "Contacts". Then click the "Menu" > "Sync now" icon. It will automatically sync the contacts from your Google backup to your HTC device.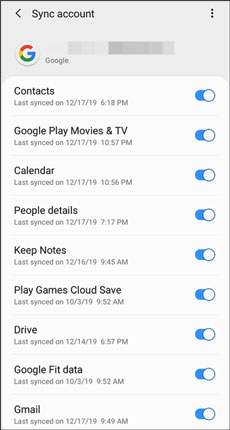 Conclusion
There are different methods to retrieve deleted contacts on an HTC phone. If you want to restore your contacts via a backup, please make sure you have backed up your contacts before the deletion. Also, even if you don't have any backup, you can use the reliable software - Samsung Data Recovery, to dig your deleted contacts out and recover them directly.
Related Articles
HTC Backup and Restore: Back Up and Restore HTC Data in 4 Reliable Ways
[Latest Guide] Rapidly Transfer HTC to iPhone with 4 Reliable Ways
5 Ways to Help You Back Up HTC One Effortlessly [Latest Tutorial]
How to Unlock HTC Phone If I Forgot Password? Easily Unlock It Now
How to Transfer Data from HTC to Huawei? Reveal 4 Seamless Transfer Ways
5 Practical HTC Sync Manager Alternatives [Worth Getting to Know]