Summary
Want to back up all content from Android to an SD card? As we know, besides media files, there are contacts, call logs, SMS, and other files on Android that you can't move to another place directly. So, is it possible to back up Android to SD card quickly, including these file types?
Luckily, the development of technology gives us convenience on backup so that we can learn about 4 practical ways to back up the Android phone to the SD card easily.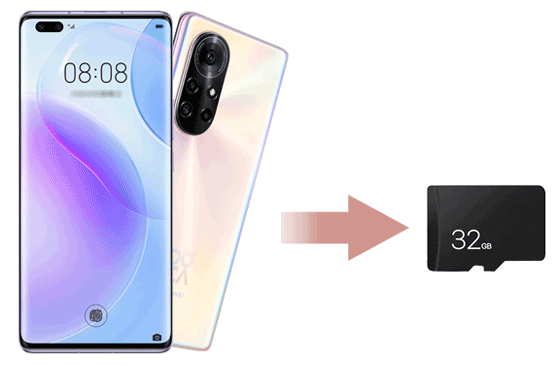 Part 1: Back Up Android to SD Card in 1 Click (Support Diverse Android Files)
Could you imagine backing up all your Android data to the SD card at a time? That's amazing, but it's true. If you choose this Android backup manager - Samsung Backup and Restore, you can transfer contacts, apps, call history, messages, and more from the Android device to the memory card in 1 tap. More powerful features are shown below.
Key features and highlights of this Android data manager:
- Not only support back up Android files to SD cards, but also transfer files to computer efficiently.
- Fast Restore backup files from the computer to your Android device.
- Allow you to select Android files by category on the interface before performing.
- Support connecting Android to the computer via USB and Wi-Fi.
- Work with at least 8 types of Android files, including documents, photos, music, videos, text messages, and more.
More importantly, this software is compatible with most Android phones and tablets, which are Android 4.0 or upper, such as Samsung Galaxy S23/S22/S21/S20/S10/S9/S8, Samsung Galaxy Tab S8/Tab S7/Tab S/Galaxy Tab 4/Galaxy Tab S5e, Huawei P60/P50/P40 Pro/P40/P30 Pro/P30, Google Pixel 7 Pro/Pixel 7/Pixel 6/Pixel 5/Pixel 4a/4 XL/4/3a, OnePlus, ZTE, Sony, Motorola, etc.
Download the Android file backup software for free below.
Here's how to back up Android phone to the SD card with this program:
Step 1. Install the Program
Please download and install it on your Windows/Mac computer.
Step 2. Connect Phone and SD Card to PC
Connect your Android phone to the computer via a USB cable. Then enable the USB debugging feature on Android. After that, insert the SD card into the PC via a card reader.
Step 3. Start the Android Phone Backup
- Tap on the "Backup" option, and you can view and select Android data types on the interface. Next, hit on the "Browser" button to pick your SD card as the destination to save the backup.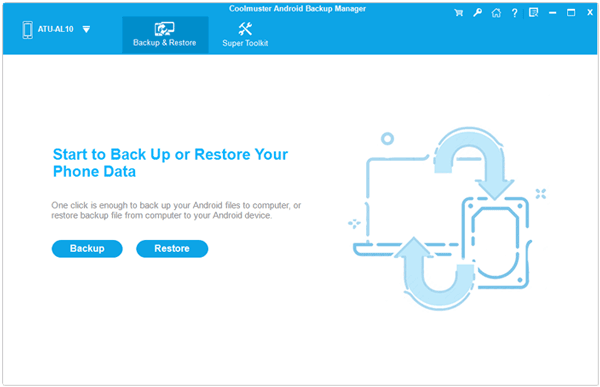 - To start the process, please click the "Back Up" button at the lower right.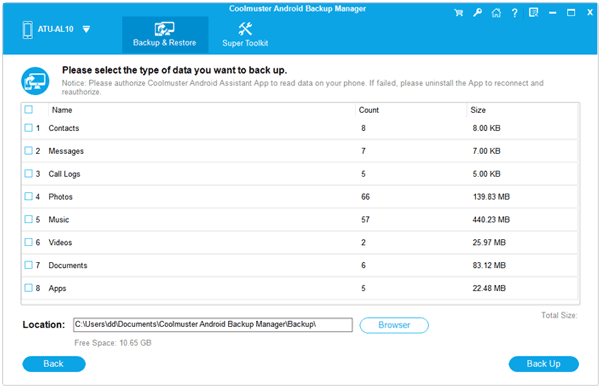 Tips:
How to back up Android to PC? As long as you choose one folder on the PC as the backup location, the program will back up your Android data to the PC without hassle.
How can you swiftly move Android files to an SD card? Don't worry. You will know it after reading this guide.
Part 2: Back Up Android Tablet to SD Card with Samsung Smart Switch
If you are a Samsung user, you cannot miss Smart Switch Mobile. It can help you back up the phone data to the SD card without a computer. Furthermore, it supports audios, home screens, settings, calls, contacts, and so on. Perhaps it is not as fast as the former, but it is still effective to make Android data backup to the SD card.
Guide on how to back up Android tablet to the SD card via Smart Switch:
Step 1. Insert SD Card
Please use the pin to loosen the tray, and plug the micro SD card into the tablet.
Step 2. Install the App
Download and install the Smart Switch app on your device. Then open it, and you will see the SD card icon on the upper right. Please tap on it.
Step 3. Back Up files to SD Card
Click the "Back up" and select data types on the screen. Once done, hit on the "Back up" button to begin the backup procedure. As it is finished, please click the "Done" icon.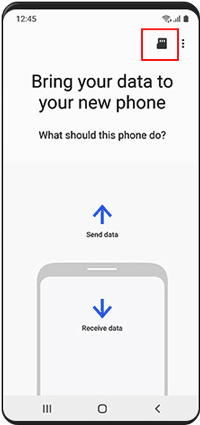 Read also: Fretting about how to back up SD card on Android? You can get rid of it now. These 4 solutions will assist you in backup.
Part 3: Back Up Android Files to SD Card with Files To SD Card App
Files To SD Card is an app to move your pictures, videos, and downloads from your Android handset to the SD card. What's more, it will skip the repeated files that you back up to the memory card. How smart it is! However, a small number of users reported that it could not move anything and make them useless. Thus, you can try to transfer several photos in the beginning with it.
Here's how to back up Android phone to SD card via the Files To SD Card app:
Step 1. Install the Application
Please install it on your Android phone you want back up.
Step 2. Check Your SD Card
Make sure you have inserted the SD card into your phone. Then run the app.
Step 3. Browse and Select Android Files
Then you can browse and pick out the desired Android files or folders on the screen. Tap the "Menu" icon on the top left and select your SD card. As you click the "SELECT" button, you will start the backup immediately.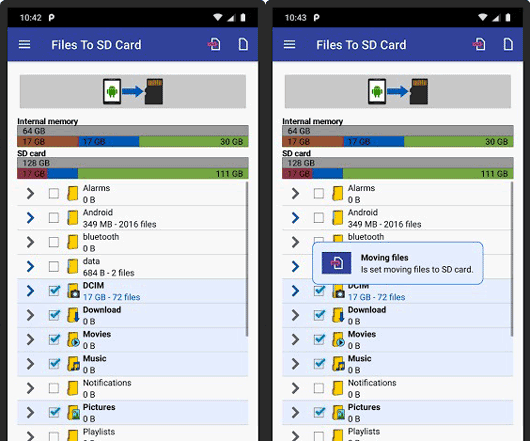 Further reading: Accidentally deleted your files from the SD card? Please get tips from this guide on micro SD card recovery software. They will recover your deleted files.
Part 4: Back Up Android Phone to SD Card Manually
You can back up the Android phone to the SD card manually, but this is the slowest among these ways. And you cannot back up your contacts, call logs, settings, and more to the SD card. If you just want to copy some videos, songs, and images, it is not bad to choose this way.
Tutorial on how to back up Android phone to SD card manually:
Step 1. Insert Memory Card
Please correctly insert your card into the Android smartphone first.
Step 2. Go to File Manager
Open your File Manager and check whether your SD card is available or not. Then enter the Android internal storage, and select what you want to back up.
Step 3. Move Files to SD Card for Backup
Once selected, please tap on the "Move" icon and choose your SD card to save the selected data. The transferring process will last for some minutes.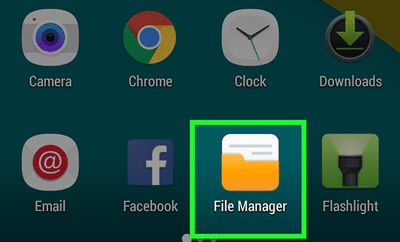 Conclusion
After reading, do you still think it is complicated to back up Android to SD card? Get the hang of these 4 backup approaches, and you can back up your Android device to the SD card without trouble. Moreover, this one-click backup tool - Samsung Backup and Restore, can back up all data at once. Undeniably, it is the most efficient choice. If your friends get into the same problem, welcome to share this post with them.
Related Articles
How to Transfer Photos from SD Card to Computer Successfully - 5 Proven Tips
[Newest Guide] How to Move Apps to SD Card from Huawei Device?
Samsung SD Card Data Recovery: Recover Data from Samsung SD Card (Latest & Proven)
[4 Ways] How to Install APK on Android from PC Effortlessly
How to Transfer Files from PC to Android Phone without USB [5 Handy Solutions]
6 Ways to Transfer Files from Android to PC via WiFi [Full Guide]