Summary
Accidents happen every day. It is prevalent to lose contacts from a Huawei phone because many actions will make them lost, such as updating the system, mistaken taps, etc. Anyway, the key point is how to recover lost contacts on Huawei. Thus, this post will bring you 5 contact recovery methods in the following. If you are eager to regain your lost Huawei contacts, please continue reading.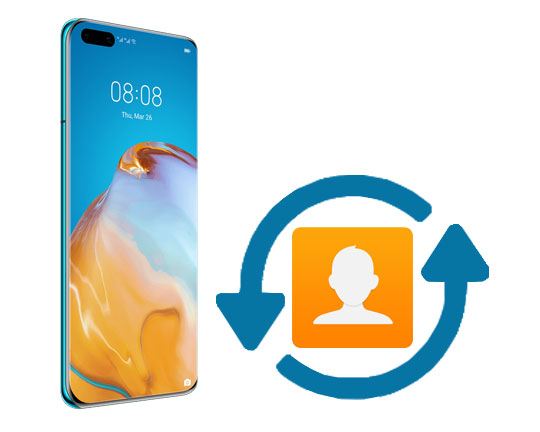 Part 1: How to Recover Lost Contacts on Huawei without Backup
What if your Huawei phone contacts disappeared before the backup? Is it possible to recover them without backup? Well, if you choose this Huawei contact recovery - Samsung Data Recovery, you can get the lost contacts back probably. As long as the deleted contacts haven't been overwritten, this software can recover them from the internal storage and the SD card without hassle.
With this Huawei recovery tool, you can:
- Quickly recover deleted contacts on your Huawei phone.
- Select detailed contacts, and other files on the interface before recovering them.
- Recover lost data from Huawei with ease, such as photos, text messages, call logs, music, videos, and documents.
- Perform SD card recovery for Android without root, like movies, songs, pictures, books, and more.
- Back up the existing files from your smartphone to your computer without effort.
- Freely choose a scanning mode before starting the recovery.
Furthermore, it can support most Huawei phones and other brands of Android phones, including Huawei P40 Pro/P40/P30 Pro/P30/P20 Pro/P20, Huawei Mate 40 Pro/Mate 40/Mate Xs/Mate 30 Pro/Mate 30/Mate 20 Pro, OnePlus 9 Pro/9/Nord N10 5G/Nord 100, ZTE, OPPO, Vivo, LG, Sony, Xiaomi, Samsung, and more.
Download the Huawei contact recovery program for free below.
Here's how to recover deleted contacts on Huawei without backup:
Step 1. Connect Huawei to Computer
After installing this program on your computer, please use a USB cable to make a connection between the Huawei phone and the computer.
Step 2. Choose a Scanning Mode
- Once connected, please tick the "Contacts" checkbox and the "Next" icon. Then choose a scanning mode you want and tap the "Continue" icon to go on.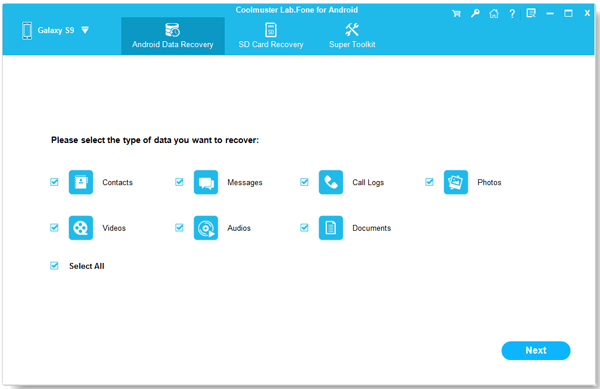 - By the way, if you want to recover contacts from Huawei internal storage space, please root your smartphone in advance.
Step 3. Select Contacts to Recover
Select the deleted contacts you want on the interface, and click the "Recover" button to begin saving them to your computer.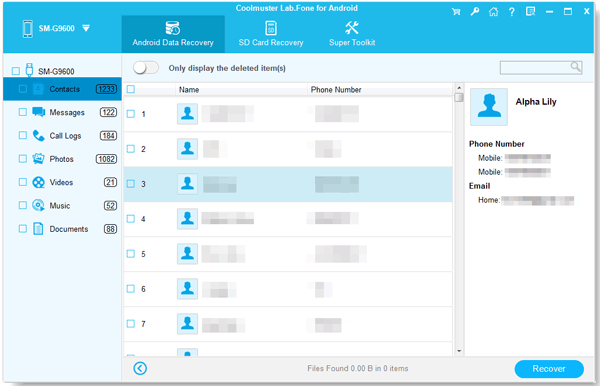 Bonus: Want to breezily transfer data from Huawei to Samsung? Here are 6 reliable tricks for your reference.
Part 2: How to Restore Contacts from Huawei Cloud Backup
Have you enabled the contact synchronization feature on Huawei Cloud? If yes, there is no doubt that you can restore contacts from Huawei Cloud. Besides, Huawei Cloud supports you to back up your contacts, photos, videos, and more on any Huawei device, and allows you to check your backups with your Huawei accounts at any time.
Guide on how to restore contacts from Huawei Cloud:
Step 1. Visit Huawei Cloud Website
Open the Huawei Cloud website on your cell phone or computer, and log in with your Huawei account, which has backed up your contacts.
Step 2. Restore Contacts from Huawei Cloud
Hit the "Recently deleted" icon, and pick out the contacts you want to retrieve. Then tap the "Redo" button.
Step 3. Sync Contacts on Your Huawei Phone
Sign in to Huawei Cloud on your phone, and turn on the contact synchronization. After that, you will regain your contacts on your mobile phone.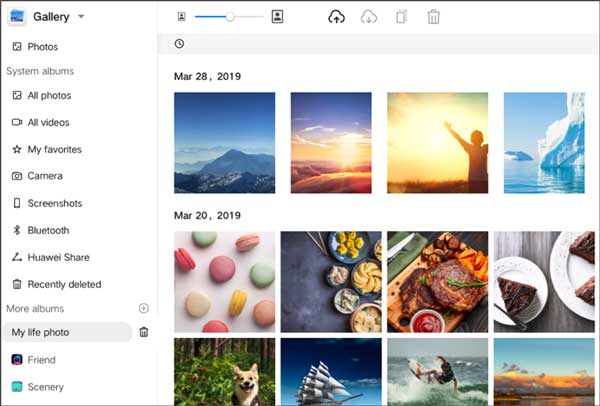 Read also: Wonder how to transfer contacts from an iPhone to Huawei? You can get 4 fabulous methods in this link.
Part 3: How to Find Huawei Phone Disappeared Contacts via Settings
In some cases, you haven't lost your contacts but cannot see all of them on your Huawei phone. Maybe you just make a wrong setting on the Contacts app. If so, you can effortlessly find your disappeared contacts via Settings.
Here's how to find the lost contacts on the Huawei phone via contact settings:
Step 1. Go to Contacts
Please open the Contacts app on your Huawei phone, and click the "More" > "Display preferences" option.
Step 2. Display All Contacts
Switch on the "All contacts" option, and select whether to display contacts on your SIM card. Then all the contacts will show up on your smartphone.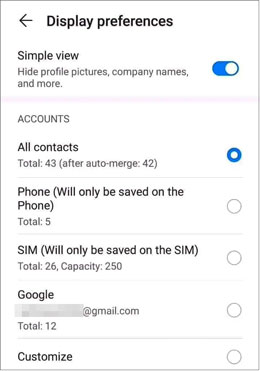 Further reading: If you want to complete the Huawei to Mac transfer without trouble, you can use these 5 authoritative solutions.
Part 4: How to Restore Lost Contacts on Huawei Phone with Google Sync
Some people will back up their data with Google accounts, so that it is convenient to restore contacts on Huawei phones via the Google synchronization feature. In this way, even though you have lost your contacts, you can directly get the contacts back on Huawei. Please ensure you have backed up contacts to your Google account first.
Here's how to retrieve lost contacts on Huawei via Google Sync:
Step 1. Add Your Google Account on Huawei
Open Settings, choose the "System" > "Backup & restore" > "Back up to Google" option, and click the "Backup account" icon to type your Google account here.
Step 2. Sync Contacts on Huawei
Go back to the "Settings" screen, and click the "User & accounts" > "Google" > "Contacts" option. Finally, hit the "Sync now" button to restore the backup contacts to your Huawei device.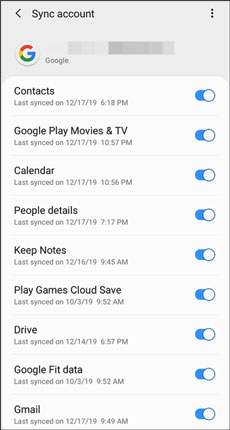 Maybe you need: To make your phone run more smoothly, you may move apps to an SD card on Huawei via these useful tips.
Part 5: How Do I Restore My Contacts on My Huawei Phone via Huawei Local Backup
Do your Huawei contacts go missing? Don't panic. Most Huawei smartphones have a local backup feature, supporting you to back up multiple file types on the internal memory. When discovering your contacts lost, you can restore them from the local backup. However, if you perform a factory reset on your cellphone, you will lose your local backup files and fail to restore contacts.
Tutorial on how to restore your contacts on your Huawei phone via the local backup:
Step 1. Go to the Backup App
Navigate to the "Tools" folder, and choose the "Backup" app.
Step 2. Choose Internal Storage Option
Touch the "RESTORE" icon, select the "From internal storage" option, and click the "NEXT" icon at the bottom.
Step 3. Select and Restore Contacts from Local Backup
Hit the backup file containing your contacts, select the "Contacts" item on the screen, and touch the "RESTORE" icon in blue to restore contacts to the Contacts app.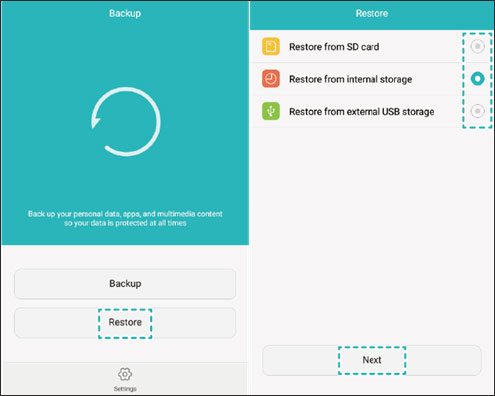 Tips: To avoid losing contacts on Huawei, you'd better transfer contacts from Android to the computer. Whenever you need the contacts, you can restore them without effort.
Conclusion
With these approaches mentioned above, you will be a master on how to recover lost contacts on Huawei. On the one hand, you can restore contacts from the cloud or local backup without a hitch. On the other hand, you can recover deleted contacts without backup via the contact recovery tool - Samsung Data Recovery. Let's capture this opportunity to recover contacts now.
Related Articles
Transfer Contacts from Samsung to Huawei in 4 Valid Ways
Huawei Backup -- 4 Powerful Methods to Back Up Your Huawei Data
How to Transfer Data from HTC to Huawei? Reveal 4 Seamless Transfer Ways
How to Delete Contacts on Android Phone in 2023? 5 Smart Methods for You
6 Methods on How to Transfer Contacts from iPhone to Android [You'd Better Know]
Recover Deleted Contacts on Google Pixel without Effort via 4 Methods