Summary
Photos record your valuable memory, such as your graduation, traveling with friends, having a picnic with families, and so on. Thus, you will keep them forever. However, you suddenly find that some photos get lost from your HTC phone. Maybe you accidentally deleted them due to the recent deep cleaning of your smartphone. In this urgent moment, this HTC photo recovery guide will support you.
This guide consists of 3 trustworthy solutions, which are helpful to recover deleted photos on HTC One M8, HTC Desire 22/21 Pro/20+/19s, HTC Wildfire E3/E2/E1, and more. So, please don't fret about this problem. You can follow the guide below to get your photos back before they are overwritten.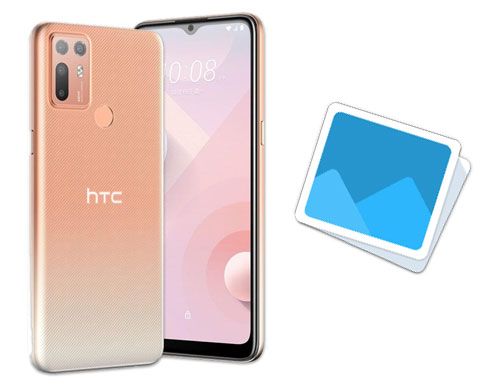 Tips: Is there an HTC recycle bin in HTC Gallery?
Generally speaking, there is a built-in gallery recycle bin on Android phones. But it doesn't mean each Android phone has a photo recycle bin. Some old smartphones don't have this feature. Anyway, you can open your Photos app, and check whether there is a recycle bin option on the menu list.
Part 1: How to Recover Photos from HTC via HTC Photo Recovery
How to recover photos from HTC One? This cellphone is released in 2013, running Android OS 4.1.2. If you want to recover deleted photos from an old phone, you'd better use a widely compatible HTC picture recovery tool - Samsung Data Recovery. This software support Android 4.0 or upper, so you don't have to worry about compatibility.
Furthermore, you can recover deleted pictures from HTC internal memory as well as SD cards. If you remove photos from the inserted micro memory card by mistake, you can recover the SD card without root.
With this photo recovery tool, you can:
- Recover photos, contacts, text messages, documents, call logs, videos, etc., from HTC and other Android devices.
- Preview your deleted and existing photos and other files before recovery.
- Complete the SD card recovery for Android without root, such as music, videos, pictures, and documents.
- Back up Android data to the computer without hassle.
- Freely select a scanning mode based on your needs.
Download the HTC photo recovery software for free below.
Here's how to recover deleted photos from HTC Desire 626 without backup:
Step 1. Make a Connection between HTC and Computer
Please install the recovery software on your computer, and connect the HTC phone to the computer via a USB cable.
Step 2. Choose a Scanning Mode
Tick off the "Photos" option, and click the "Next" icon. Then select the "Quick Scan" or "Deep Scan" option, and hit the "Continue" button.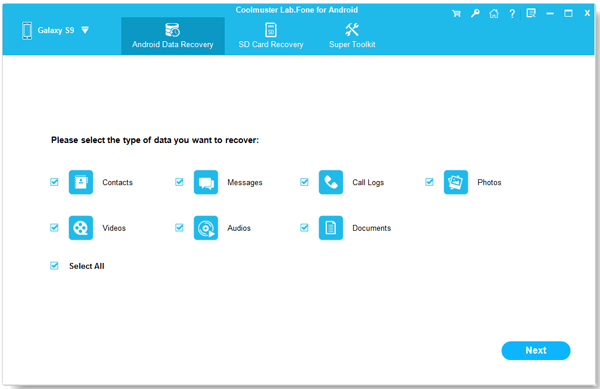 Step 3. Get Deleted Pictures Back on HTC
- If you want to recover deleted photos from HTC internal storage, you are required to root your phone. If not, you can skip the root step by clicking the "Continue" icon.
- Finally, please select the photos you want on the interface, and hit the "Recover" icon to begin the recovery procedure.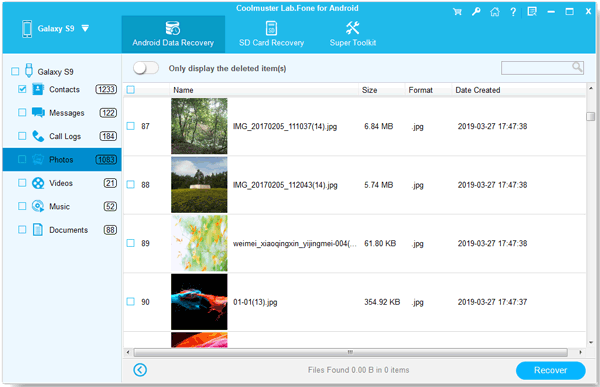 Further reading:
Want to know more about HTC data recovery? Please click the link to take a look.
Having trouble transferring data with SHAREit? Then you can use another replacement app to transfer your files.
Part 2: How to Retrieve Deleted Photos on HTC via Google Photos
Many people are accustomed to backing up photos to Google Photos. If you are one of them, you can retrieve deleted on HTC via Google Photos. Additionally, Google Photos has a trash bin to store deleted pictures and videos for 30 days. You can check the trash folder in advance.
Here's how to retrieve deleted photos on HTC One via Google Photos:
Step 1. Open Google Photos
Please go to Google Photos, and log in to the account that you have backed up your photos.
Step 2. Retrieve Photos from Trash Option
Tap the "Menu" icon, and choose the "Trash" option. You will see the deleted photos here. Please select the desired photos, and tap the "Restore" icon. Then photos will return to your HTC phone.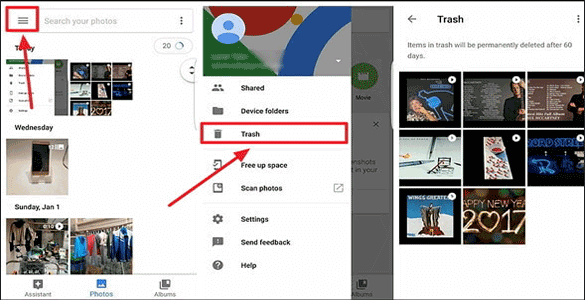 Read also:
What is the seamless HTC to Mac transfer? This post will tell you the answer and help you transfer HTC files to Mac without a hitch.
How can you find the WhatsApp messages on the internal or external storage of a mobile phone? Here is a guide to help you.
Part 3: How to Get Deleted Pictures Back on HTC Phone via Undeleter
Undeleter is a recovery application for Android. It can scan and recover deleted files from internal memory and external memory cards on rooted devices. If you don't root your HTC phone in advance, it can only scan the images from app caches. This app can recover multiple picture formats, like JEPG, PNG, GIF, BMP, and more. By the way, it contains video ads at the same time.
Guide on how to get deleted pictures back on your HTC phone via Undeleter:
Step 1. Install the Recovery App
Install and open the app on HTC, and click the "NEXT" icon to test root access on your smartphone. Then click the "NEXT" icon again.
Step 2. Scan Deleted Photos
Click the "Restore files" > "Internal storage" > "Generic scan" option, and choose the file types on the screen. Next, enable the app to scan your deleted photos by hitting the "SCAN" icon.
Step 3. Save the Deleted Pictures
After scanning, you can select the pictures you want to restore, and tap the "Save" icon on the top to store them on the HTC phone.
Conclusion
Data loss frequently happens, especially when we store more and more files on our mobile phones. Nevertheless, as mentioned above, you can recover deleted photos from HTC with the professional HTC photo recovery tool - Samsung Data recovery. Please hurry up to recover photos before new data overwrite them.
Related Articles
[Latest Guide] Rapidly Transfer HTC to iPhone with 4 Reliable Ways
5 Ways to Help You Back Up HTC One Effortlessly [Latest Tutorial]
8 Ways about How to Transfer Photos from HTC to PC (Quick & Simple)
HTC to Samsung Transfer - How to Transfer Data from HTC to Samsung?
[Best Guide]How to Delete Photos from Android Phone Permanently in 4 Ways
4 Proven Ways on How to Transfer Photos from Computer to Android (Step-by-step)