Summary
Are you looking for good software you can use to manage your Samsung device? You must look for a tool that is not just simple and user-friendly but also accomplishes your needs quickly and effectively. Otherwise, it could be a complete waste of time trying to operate an application that does not work or has too many glitches. The ease of use should thus be your number one priority when looking for a reliable Samsung device manager.
We have created a list of the best Samsung device manager currently available. Not only are these applications user-friendly and dependable, but they'll help you manage your device with ease.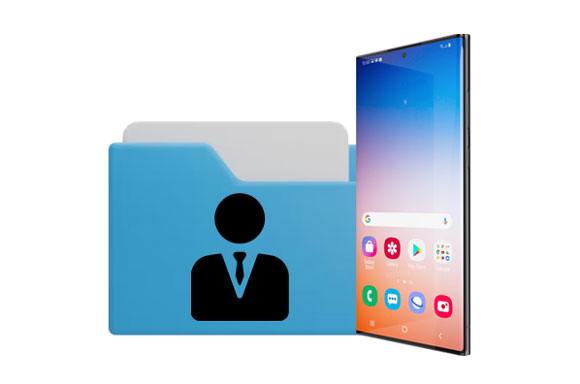 Part 1: What Is the Samsung Device Manager?
A Samsung device manager is an invaluable tool that lets you control and monitor your Samsung device from a computer or laptop. This app is designed to help you remotely control and work with your Samsung device. This application is extremely helpful for organizing storage and accessing your phone from any device, like a laptop or PC.
With the software, you can conveniently manage your Android device's files and storage system from either Windows or Mac. You can also copy and back up files to your computer.
Part 2: 8 Useful Samsung Device Manager
Many apps are available for managing Samsung devices. However, not all are reliable and can give you desired results. To help you out, we have compiled a list of the 8 best Samsung Android desktop software options to help you easily manage your Samsung devices.
App 1. Samsung Messages Backup
Are you tired of searching through individual software manuals for a trustworthy program? Then don't look any further than the one presented to you right here. Samsung Messages Backup is one of the best Samsung device management tools that will give you an easier time controlling and managing your device.
This outstanding software is designed to transfer data between Android and computer with no data loss. You can transfer your contacts, text messages, pictures, music, videos, apps, and more, from your Samsung device to your PC/Mac and vice versa. Also, it allows you to manage your Samsung files on the desktop, like deleting unwanted files, editing current contacts, and receiving and replying to SMS, etc.
The intuitive interface makes it incredibly easy to use the program. Even if you're a beginner, you'll find it easy to use Coolmuster Android Assistant without any technical.
Key features of this Samsung Android manager:
- Back up and restore Android data in 1 click.
- Select desired files and transfer them from Samsung to Mac or Windows PC.
- Edit Samsung contacts easily, including deletion, adding, modification, and the like.
- Take screenshots of your Samsung screen on a Windows PC.
- Widely compatible with the latest Samsung models and other Android devices.
Pros:
- Have multiple useful features for management.
- Offer a free trial.
- Work on Windows and Mac computers.
- Support USB and Wi-Fi connections.
Cons:
- To get all the features, you should pay for its full version.
Download this Samsung data manager.
Steps on how to manage Samsung data on a computer with this program:
Step 1: Launch the software after downloading and installing it. You will see a toolbox on your screen. Enter the "Android Assistant" module to access all of its features.
Step 2: Next, connect your Samsung smartphone or tablet to your computer with a USB cable, then enable the USB debugging option. When prompted, click either "Allow" or "OK" to allow the software to recognize your device.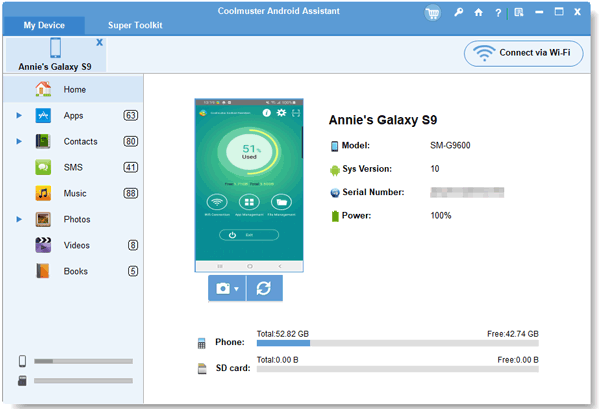 Step 3: Now choose your desired files from the panel on the left, and manage your data with the top menu, such as "New", "Delete", "Export", "Import", etc.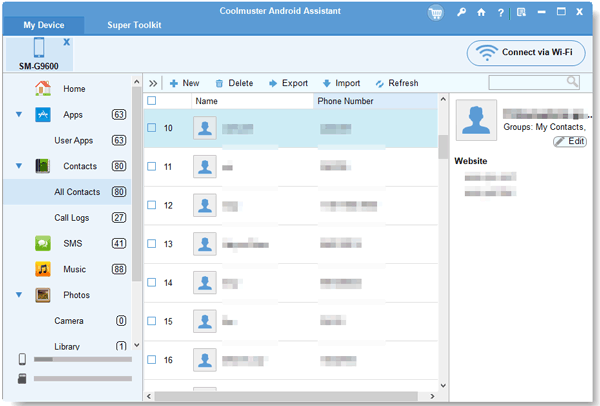 Learn more: Effortlessly Transfer SIM Card Data to Computer without Data Loss
App 2. MOBILedit
MOBILedit will change your perception of the mobile device and make it more powerful. It offers incredible convenience as it can be connected via cable TV and Bluetooth between your Samsung phone and computer. With this connection, you can view the content of your Samsung device on your computer with full-text search capabilities while also being able to dial numbers and send SMS messages. It is an immensely helpful tool for quickly backing up data and searching through contacts for easy editing.
This Samsung product's exclusive open architecture allows you to manage multimedia files easily. Plus, the phone drivers and installable applications that come with it make your job even easier.
The editor of this program allows you to search and dial directly from your computer quickly, as well as sort, read and keep messages in case of data loss.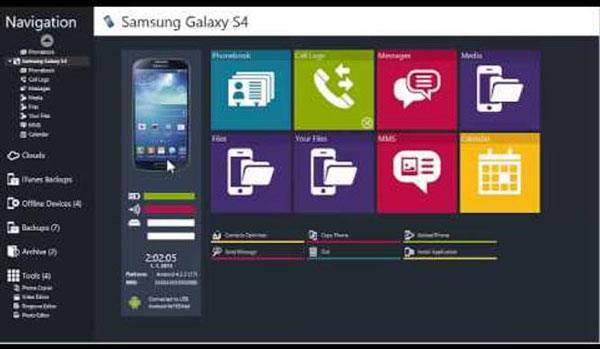 Key features:
- Allow contacts management by changing, adding and deleting them.
- Send messages from your computer with the keyboard.
- Edit videos and pictures.
- Multiple connections.
- Back up, restore and transfer data.
Pros:
- It is designed for many mobile phones.
- User-friendly with an appealing interface design.
- Have the capability of storing data safely in the cloud.
Cons:
- Large data sizes may take longer to download.
- The trial version has only a few features.
Perhaps you like: Excellent Samsung Backup Apps and Software: Back Up All Data Easily
App 3. Mobogenie
Among the many third-party Samsung desktop manager software programs available, Mobogenie is one of them. The tool makes it easier to access and manage your Samsung device. Not only does it enable you to transfer between devices, but it also allows backing up crucial files such as contacts and messages. Furthermore, it's easier to use, thanks to the user-friendly interface.
Mobogenie stands out from other Samsung device managers because it allows you to organize the ads and notifications on the smartphone, which is quite a cool feature.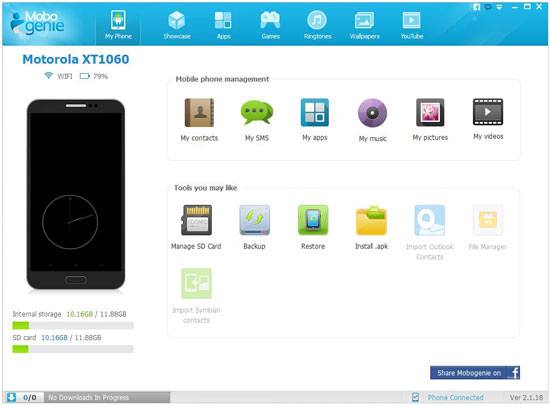 Key features:
- Allow data backup and restoration.
- Fast download data.
- Manage and reply to text messages and also edit contacts.
- Organize the ads and notifications of your Samsung.
Pros:
- Download multimedia files and games.
- Effortlessly update apps.
- Its easy-to-use interface allows easy access to your device's data.
Cons:
- The interface is designed primarily for downloading files, not managing them.
- If you're looking for a consistent Wi-Fi experience, this app doesn't have it. You must connect via a USB cable each time.
App 4. Samsung Kies
Samsung Kies is the official management tool for most Samsung phones, designed to connect your device to the computer swiftly. This incredible software supports Android 4.3 and above, allowing you to receive updates for your firmware easily and often ensures that these are regularly installed too.
Moreover, Samsung Kies lets you easily move and organize files like contacts, call logs, and calendars from your device to your Mac. It also provides backup options and allows users to sync multimedia files like photos, music, and videos between their device and computer.
Not just that, but it's also a great backup and restoration solution for Samsung devices. With this tool, you can easily back up localized data such as bookmarks, settings, contacts, notifications, music files, videos and pictures.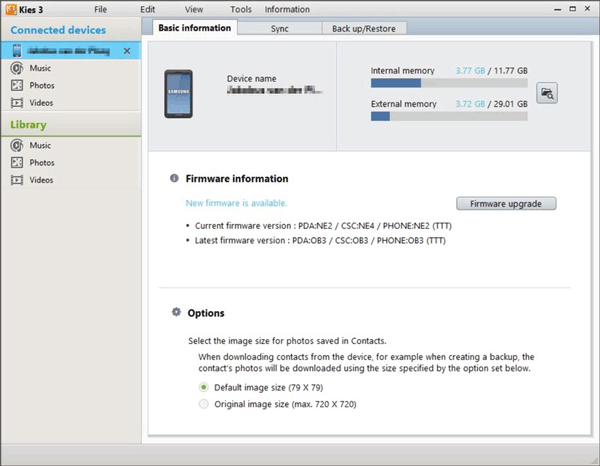 Key features:
- Add contacts: You can easily add contacts from your phone to your device.
- Download new applications: You can browse the latest apps in the Samsung app store and download them directly to your device.
- Subscribe to podcasts: You can search for and subscribe to popular audio or video podcasts from the Kies app.
- Makes it easy to back up, transfer, and restore contacts, messages, photos, music and more between different devices.
Pros:
- The Samsung Kies software supports a wide range of old Samsung devices.
- It allows users to back up their device's data on the computer.
Cons:
- It is not available for those recent Samsung devices.
- At times, it runs slowly.
App 5. Apowersoft Phone Manager
Apowersoft Phone Manager makes syncing between your PC and mobile device effortless. It is an optimal choice for those with Samsung Windows phones, as it can facilitate a fast restoration of data to your phone if any files are accidentally lost or deleted. This application has been incredibly popular among users due to its ability to allow you to view the screen on your computer while still using the phone itself.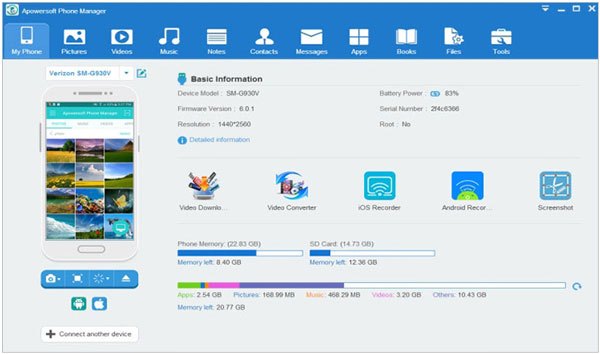 Key features:
- Boast an impressive interface and compatibility with other devices.
- Effortlessly manage files from the computer.
- You can transfer music, videos, contacts, images, apps and books from your mobile device to your computer.
- A great backup tool for your files.
Pros:
- Easy to use and navigate.
- Quickly transfer files between devices.
- Highly compatible with Windows phones.
- Offer an incredibly fast restoration of data if any file is accidentally deleted or lost.
Cons:
- It can be slow at times when transferring large amounts of files.
App 6. Moborobo
Moborobo is a free Samsung phone manager Windows 10 that manages your apps, files, photos, and videos. This device manager software lets you quickly access your data with just one click. Plus, it's free for Windows users.
Moborobo makes managing your apps a breeze. With its PC capabilities, you can easily add, delete, and update applications. Plus, several dedicated sections, including music, videos, images, and apps, are on the main interface for quick access to your favorite content.
Use the internal media player for effortless playback of audio and video files from your phone directly onto your computer. Moreover, you can create a backup copy on a PC with all or only some chosen data from the device.
Moborobo not only keeps a record of all messages and calls that come to your phone but also allows you to view notifications for incoming calls. You won't be able to make or receive calls directly from the PC; however, you can still reply with text messages.
The floating icon, which can be found on your computer screen, displays both the battery percentage and a list of apps that require updating. You can also use this floating menu to update any app if you have its APK file stored on your device.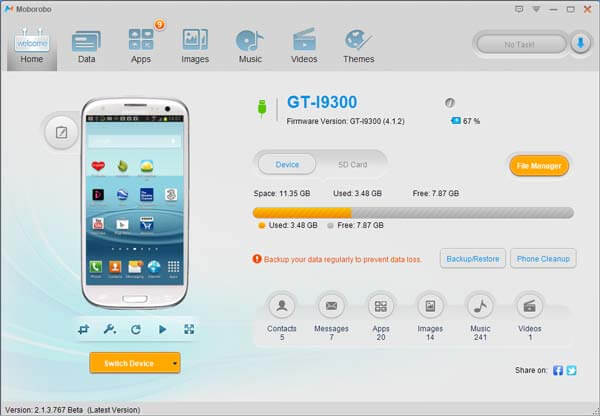 Key features:
- Manage apps, videos and photos easily.
- Create a backup of your files.
- View notifications for incoming calls on your PC.
- Easily add, delete and update applications.
- An internal media player.
- Floating icon showing battery percentage and list of all apps needing updating.
- Reply with text messages directly from the PC.
- Free download is available for Windows users.
Pros:
- User-friendly design.
- Optimized performance of Samsung devices.
Cons:
- Limited functionality when compared to other similar software.
- Not available for Mac users.
App 7. Syncios
Syncios is a Samsung device manager that can efficiently manage your mobile phone's apps, media files, call logs and more from your computer. It offers a variety of management options, like importing/exporting information or adding/deleting content quickly and easily. Plus, creating backups of important items such as photos, messages, and other data is also possible with this versatile software.
This Android mobile manager provides you with various sections, including Apps, Contacts, Media and Photos, making it easier to locate your phone data faster. With the Apps section specifically comes a few extra features, like installing or uninstalling apps from your PC. A specialized media player and photo viewer also allow you to view all your media without needing them on your computer.
You can easily manage storage on your Android device by viewing what is taking up a lot of your space and deleting them. This makes freeing up space incredibly simple.
By the way, its free version comes with limited features. To unlock these additional functionalities, you have to purchase its full version.
Key features:
- Manage Android devices from your PC.
- Import/export contacts, media and other data.
- Organize apps, messages and call logs.
- Create backups of your phone data.
- Easily free up storage space on your device.
- View photo gallery and videos from the computer.
Pros:
- Intuitive user interface.
- Compatible with a wide range of Samsung devices.
- External device support for transferring data.
Cons:
- The free version does not include all features.
- No Mac version is available yet.
- Call history is not supported.
App 8. SyncDroid
SyncDroid is a free, straightforward desktop software that simplifies the backing up and restoring process on your Samsung device. The Backup feature allows you to save Call Logs, Contacts, SMS Messages, Browser Bookmarks and other categories such as Albums, Photos, Videos & Audio.
When backing up your data, you can select multiple or a few available categories. You can also pick which ones to restore from similar options. My Device tab provides an overview and projection of what's on your Android device storage onto your PC - that is all when managing content.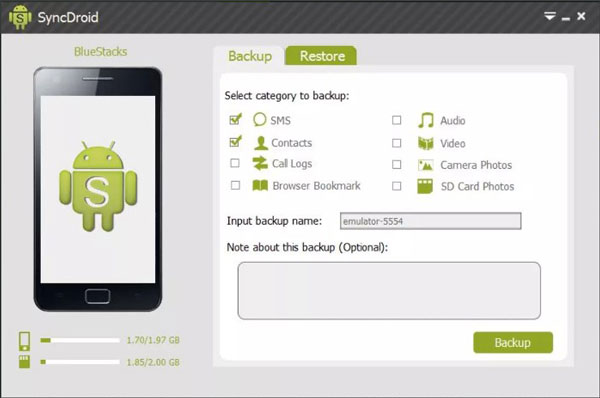 Key features:
- Back up and restore Android device data.
- Save call logs, photos, contacts and more.
- USB and Wi-Fi options for connection.
Pros:
- Automatic detection of connected Android devices through USB.
Cons:
- Limited features in the free version.
- Lack of other management options like import/export, manage storage, etc.
Conclusion
These are the best Samsung desktop managers offering the best user experience and allowing you to manage your data simply and efficiently. While they all have unique features, Samsung Messages Backup stands out due to its robust features. You can use it to back up, restore, and manage different Samsung files on a computer. Plus, it has great compatibility, supporting Windows, Mac computers, and almost all Samsung devices.
Related Articles
Practical and Safe LG Mobile Manager: Transfer and Manage LG Files
8 Fabulous Moborobo Alternatives to Transfer and Manager Android Files
Android SMS Manager: How to Manage Messages on Android with 3 Practical Methods
5 Practical HTC Sync Manager Alternatives [Worth Getting to Know]
Does Samsung Smart Switch Transfer WhatsApp Messages? (Ultra Guide)
How to Reset A Samsung Phone That Is Locked [Work for Most Samsung Phones]