Summary
Have you tried turning on a Samsung tablet, but it's failing to power on? Although Samsung tablets are stable and rarely fail, things may sometimes go wrong. It's common for Samsung tablets to be completely functional and suddenly stop working. The failure of the tablet to power on spells a disaster. In this article, we will help you troubleshoot it when the Samsung tablet won't turn on.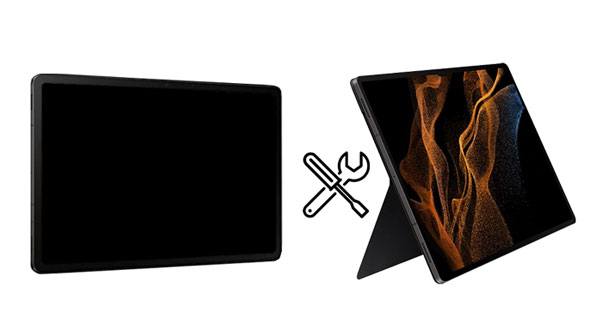 Part 1: Why Won't My Samsung Tablet Turn On?
There are several reasons why your Samsung Galaxy tablet may fail to turn on. Some of the possible reasons include:
Corrupted operating system/software: If your tablet's operating system has become corrupted, it may not turn on.
Bad motherboard: If the motherboard is damaged, your phone may also not power on.
Battery out of charge: Samsung tablets whose batteries do not have enough charge cannot power up.
A damaged power button: If the power button is destroyed, you will not be able to turn on your tablet.
Broken screen: If your Samsung tablet screen is damaged, it will not turn on. This can occur when you drop the device.
Bonus:
How to Fix Android Stuck at Android System Recovery?
[Solved] Xperia Transfer Mobile Not Working? Get 10 Practical Fixes
Part 2: How to Fix a Samsung Tablet that Won't Turn On
Sometimes Samsung tablets are temperamental and may stop working without warning or apparent reason. Such an event can occur during any circumstance and without prior notice. Below is an explanation of how to fix a Samsung Galaxy tablet that fails to turn on.
Fix 1. Try Charging Your Phone
The first thing people do when they find their phones not turning on is to charge them. Well, you should try plugging your phone into power. It may be that the phone's charge is depleted, making it unable to turn on. Just remember to use the wall charger, not a computer's USB port.
If the device fails to charge, try charging your device using another charger. If you think your device's charging port is dirty, try cleaning it.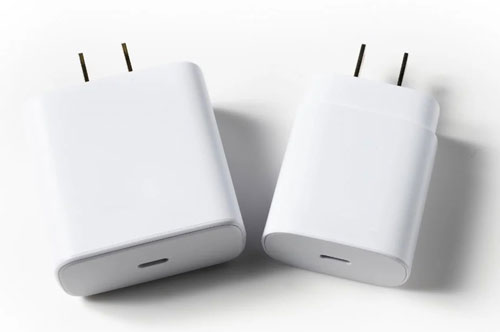 Fix 2. Reset the Tablet
If the first method does not work for you, try resetting your Samsung tablet. Many have testified that this method worked for many people, and that is why it is recommended that you try it before doing any other thing. Below is how to reset your tablet:
Step 1: Hold the "Volume Up" button and the "Power" button simultaneously for a few seconds. Then release the buttons after the recovery screen appears.
Step 2: Navigate to "Wipe data/factory reset" using the volume buttons, and press the "Power" button to confirm the operation.
Step 3: Wait for the factory reset to finish, and then select "Reboot system now".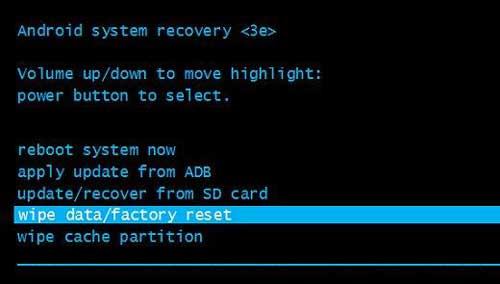 Guess you need: When a Samsung device hangs, how can you fix it?
Fix 3. Check Your Tablet's Screen
You should also try checking the screen of your device. The touchscreen may be defective, causing your tablet not to turn on. If the touchscreen is broken, it can't sense your touch, so it will not respond when you try to turn it on. If you experience this problem, you need to replace the screen of your tablet.
Fix 4. Perform a Power Cycle
You can perform a power cycle to know if your device is locked in off mode or dead. To do this, you can remove or replace the battery if possible. Alternatively, you can press the power button for about one minute. But if the battery is non-removable, please don't uninstall the battery on your own.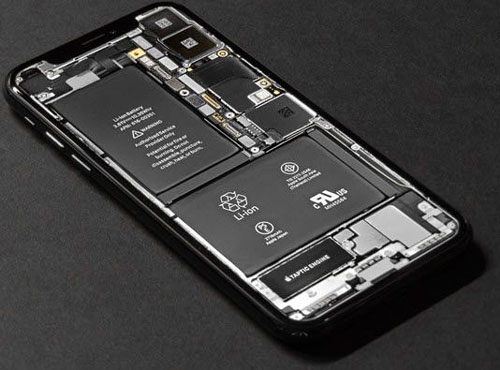 Fix 5. Check Your Phone's Charger and Charging Port
If your Samsung device isn't turning on, inspect the hardware, such as the charger, charging port, and charging cable.
Check if the cable is bent, damaged or broken. You can also check the charger for any damage to the point where it plugs into the wall socket. If there's no physical damage, then use another charger and see if the issue will stop.
Fix 6. Restart Your Tablet into Safe Mode
Restarting the device into Safe Mode can fix any faulty third-party apps. Not all applications are made the same; at times, a poorly coded app can interfere with the normal working of your tablet.
This is especially true given that as time passes and updates are released, the apps may become outdated and no longer be compatible with your Samsung tablet. To get your device into Safe Mode, do the following:
Step 1: Hold the "Power" and "Volume Down" buttons for about 20 seconds. Then release the "Power" button when you see the Samsung logo on the screen while the tablet boots up. Don't release the "Volume Down" button yet.
Step 2: Now, you'll see the "Safe Mode" at the bottom part of the screen. With your device in Safe Mode, you can fix the problem on your Samsung tablet.
Step 3: Ater completing the testing in Safe Mode, you can restart your device to go back to normal.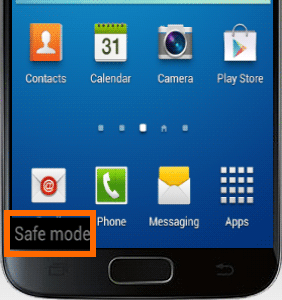 You might need: How can you fix the black screen on a Samsung phone? Here are 8 solutions for your reference.
Fix 7: Use Android Repair Tool
Are all fixes not working for you? Android System Repair is the best solution to repair your Android device when it is unresponsive, has power issues, crashes, etc. This powerful tool can repair your Samsung tablet if it isn't turning on and make it operate properly. It supports all Samsung models and is 100% safe. It comes with plenty of advanced features for the most complex repairs.
Main features of this repair software:
- Effectively fix system issues, e.g., black screen on Android devices, app crashing, bricked device, etc.
- Repair Android devices with easy clicks.
- Support many Samsung devices, such as Samsung Galaxy Tab S8 Ultra/Tab S8/Tab S7/Tbe S6/Tab S5, Tab A series, Samsung Galaxy S22/S21/S20/S10/S9/S8, and more.
- No restriction on carriers.
Download this system repair tool below.

How to repair your Samsung tablet with this repair tool:
Step 1. Launch the Repair Software
Please install the software on your computer, and launch it. Then click the "System Repair" tab.
Step 2. Choose Android Repair
- Connect the Samsung tablet to the PC using a USB cable. Tap on the "Android Repair" option on the left panel.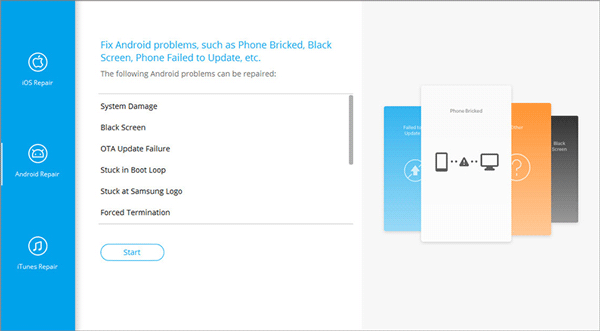 - Choose the correct information about your device, like brand, model, name, country and carrier information, and click "Next" after confirming the warning. Type "000000" to confirm and continue.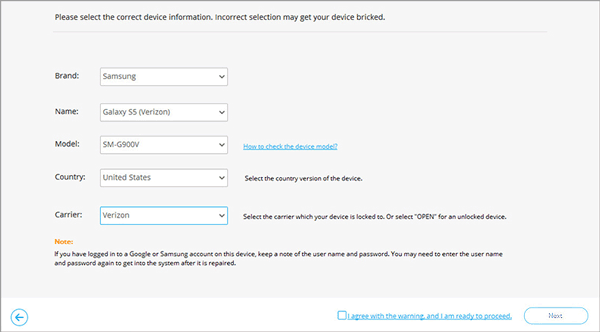 Step 3. Repair Samsung Tablet in Download Mode
- Before repairing the device, follow the on-screen instructions to boot it in Download mode. After that, click on the "Next" button so the software can start downloading the firmware.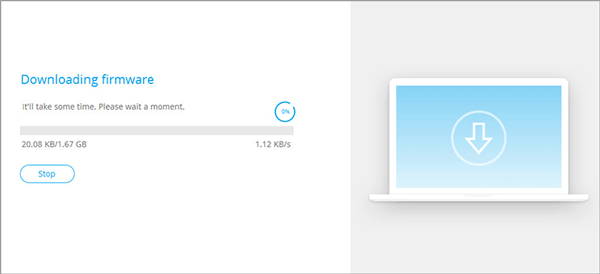 - After the firmware has been downloaded, the program will begin to repair your tablet instantly, and your device will have the problem fixed within a short time.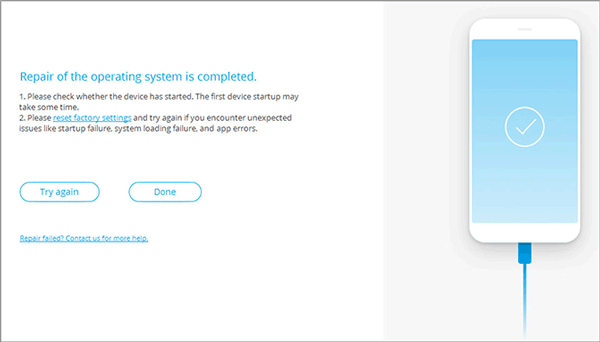 Conclusion
So far, this guide has shown you the best way to fix or repair your Samsung tablet if it isn't turning on. You can try all of the above solutions and, hopefully, be able to fix your tablet. With useful repairing features, Android System Repair is the easiest tool to fix your Samsung tablet. You can use it to fix most system issues on your Android tablet.
Related Articles
Samsung Phone Keeps Restarting? Easily Fix It with 10 Solutions
Transfer iPhone to Samsung S20 with 5 Hassle-free Methods [Easy and Safe]
Repair Samsung Tablet Frozen Issues | A Full Tutorial with 7 Methods
[Updated] How to Transfer Contacts from Samsung to Samsung?
Samsung Contacts Recovery - How to Recover Deleted Contacts from My Samsung Galaxy Phone?
How to Transfer SMS from Samsung Galaxy to Computer Effectively?