Summary
"How to fix a white screen on a ZTE phone? I can't stand losing your data..."
"How to repair Samsung white screen of death..."
We received lots of questions about white screen on Android phone recently, so we decide to talk about white screen of Android device today. Perhaps you have noticed the Android phone white screen more than once, but still haven't known how to fix white screen on Android phone. Therefore, we will explain the reasons for white screen on Android phone at first, and then introduce useful tips to fix the white screen on your cell phone.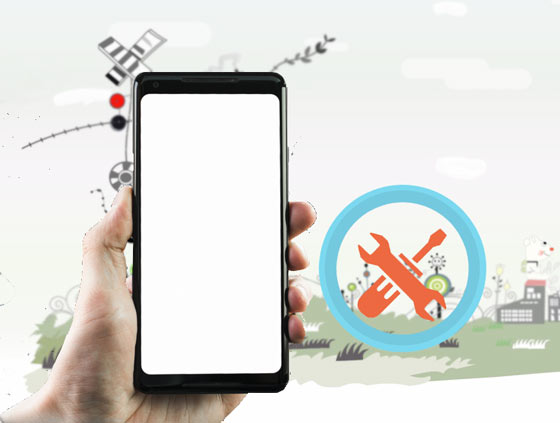 Part 1: Causes of Android Phone White Screen
Many people know the Android phone white screen but haven't any ideas on the causes. When you realize the reasons of the white screen, you won't be panic as meeting it again. Generally speaking, which leads to a white screen on the Android device contains several reasons: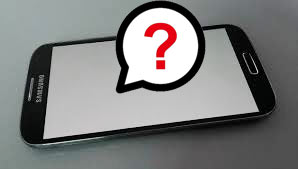 - The first universal cause it that your Android phone is too old to work properly;
- You have carelessly dropped your phone recently, which results in the internal damage;
- Corrupted files are another main reasons because the memory of your Android phone will be clogged up with them, and burden the processor;
- During updating the app, the installation is interrupted. It could make your phone functions perform abnormally;
- Keep your Android device in a bad way, such as using a poor quality charger, not charging your phone timely and so on.
Part 2: How to Fix White Screen on Phone
Once you find out the reasons on Android phone white screen, the next step is to realize how to fix white screen on phone. You will understand it from 2 aspects, including software and hardware.
2.1 How to Fix White Screen on Cell Phone Due to Software Issue
Software issue is the major problem to cause white screen on Android phone, and this section will help you solve how to fix white screen on cell phone due to software issue with 3 excellent solutions. If needed, please keep reading.
2.1.1 Force Reboot Your Android Device
Rebooting the Android phone is an effective method to repair the white screen problem, for it can stop the running apps and release storage space. When your Android phone is white-screen, you need to force restart the device: Hold the Power and Volume Down buttons at the same time for 10-20 seconds. Then your cell phone will power off, and you can power on it again.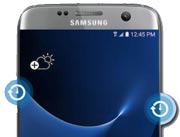 2.1.2 Factory Reset Android Phone
If restarting Android phone doesn't work, you can try to factory reset your Android phone.
1. Press and hold the Home, Power, and Volume Down buttons in the meanwhile;
2. Then you will enter the recovery mode, please select the "Wipe Data/Factory Reset" option on the screen;
3. Click on the Power button to confirm the factory reset. Now, you can let your Android phone to do the factory reset by itself.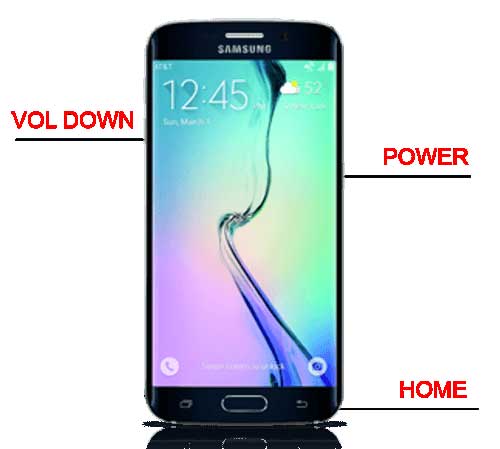 Bonus:
To back up Android phone before factory reset will avoid losing the data from your Android phone. Let's check out these 3 useful methods.
You can get 6 solutions to solve the Samsung phone hanging problem.
2.1.3 Professional System Repair Software for Android
This professional system repair software can fix multiple problems on the Android phone like Samsung white screen of death. If you are eager to fix the issue on your own, this Android repair program is worth a try. Thus, you can experience Android repair with efficient services.
Highlights of this Android system repair tool:
- Solve Android phone white screen or black screen without effort.
- Fix Android phone with multiple problems, like apps crashing, Android device getting bricked, Android OTA updating failed, etc.
- Its obvious design makes the operation simple.
- Compatible with Android 2.0 and later, including Samsung Galaxy S10+/S10/S9/S8/S7, Samsung Galaxy A90/A9s/A8s/A7s/, Samsung Galaxy M30, Samsung Galaxy Note, Samsung Galaxy M30/M10, and so on.
Download system fix software for Android below for free.

1. Download and Install System Repair
Download and install this system repair tool on the computer. Then launch the app and choose the "Repair" tab.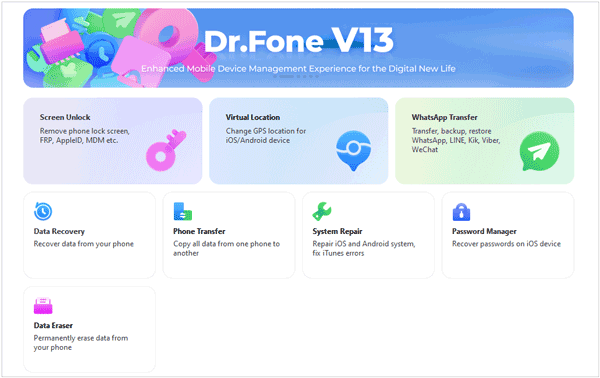 2. Connect and Set-Up
- When selecting the "Android Repair" option, please connect your Android phone which is a white screen to the computer with a USB cable. Once done, click the "Start" icon.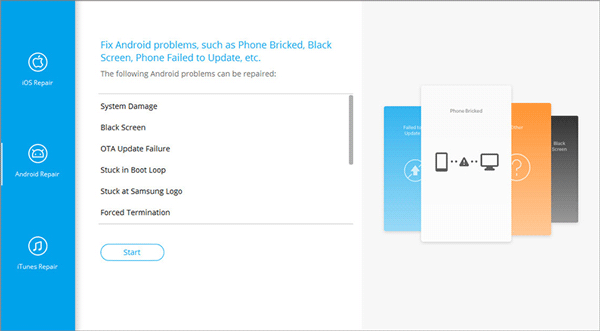 - Next, please choose the brand, name, model and other information on the interface, and then tap on the "Next" icon. Now, hit on the "Confirm" icon.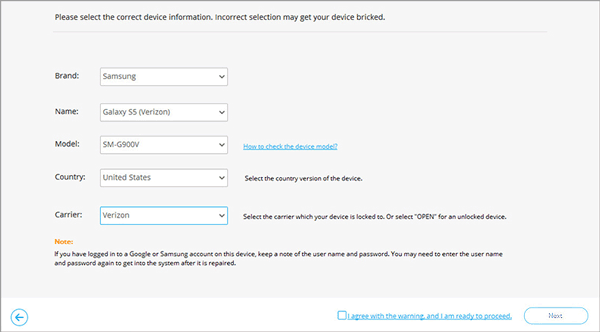 3. Fix Android Phone in Download Mode
- Power off your Android phone, and then press and hold the Volume Down, Home and Power buttons for 5 to 10 seconds. Once done, the Android phone will enter the download mode.
- Click on the "Next" icon. The program will begin to download the firmware. Then you need to verify it. The software starts to repair your Android phone. When the process is finished, please restart your phone.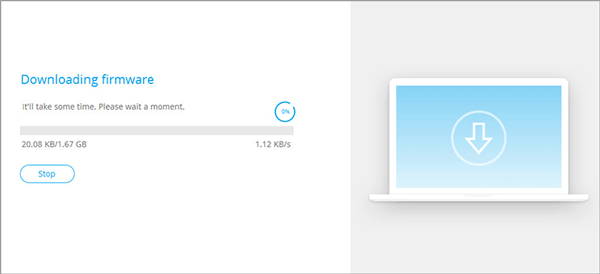 Check if you need:
Getting an iTunes alternative for Android, you can manage your Android files on the computer effectively.
Want to delete repetitive music files from your Android smartphone? Here is the guide.
2.2 How to Fix White Screen on a Phone Due to Hardware Issue
If the hardware on your Android phone is broken, it will lead to the phone white screen for Android. Then how to fix a white screen on a phone due to hardware issues? Take it easy. You can save your Android phone with the following guide.
2.2.1 Check Charger and Battery of Android Phone
Firstly, you can check your charger and the battery of your Android phone which is white screen.
1. For checking the charger, you need to prepare another useful charger and use it to charge your Android phone. If it's still white screen, it will prove that the charger is not the real root of the cause.
2. After turning off the Android phone, please remove the back cover of your cell phone, and then you're required to take out the battery from the phone carefully. By the way, if needed, you can ask for help with a repairing expert.
3. Wait for a few seconds, please install back the battery to your phone and attempt to turn on the Android device.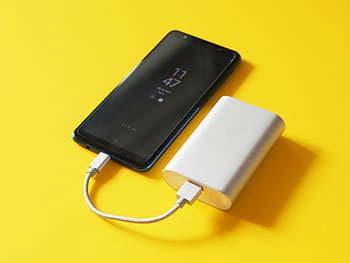 You might need:
Why Is OneDrive Not Syncing? Repair It with Easy Methods
Fast Transfer Files Between Android Devices via Wi-Fi | 4 Easy Ways
2.2.2 Clean or Change LCD Connector
Although you can't fix white screen on the phone via checking the charger and battery, there is the last method you can implement to fix your white screen, which is to clean or change the LCD connector.
1. Switch off your Android phone and dismantle the back cover.
2. Disconnect and remove the battery gently. Then use a tiny tool to unlock and slide out the LCD ribbon.
3. Check the LCD ribbon and the connector for dust and other dirt. And you need to clean up them cautiously. Next, place it on your Android device correctly. At last, when reinstalling your battery and back cover, you can switch on the device.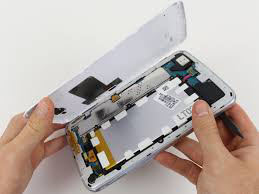 Read also: When the internal storage on Android is full, you'd better release the space with these 5 excellent approaches.
Extra: Recover Data from Android White Screen
As you fix your Android white screen successfully, maybe you will find that your data on the Android phone has lost. At this moment, you can try the Android file recovery - Samsung Data Recovery, which can discover and recover deleted data from Samsung and other Android phones.
1. Download and install the recovery software on your computer in advance. Then run the program.
2. Link the Android phone to the computer with a USB cable and enable USB debugging mode on the phone. Once linked, you can click the "Next" and choose one scanning pattern.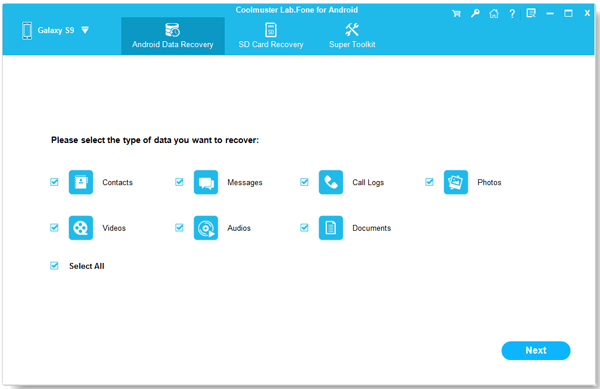 3. It will begin to scan the Android data. After a while, you can select the deleted data you would like on the interface. Tapping on the "Recover" button, you will regain the lost data soon.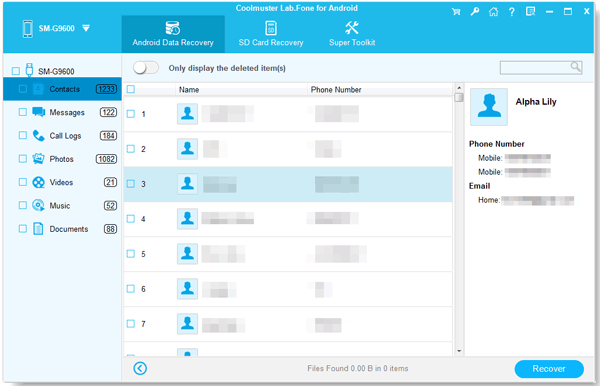 Conclusion
So that's all about how to fix white screen on Android phone. You can learn about the practical tips from the mentioned above to fix your white screen on Android easily. Despite the software and hardware matters, there are helpful solutions for your inference. If you desire professional repair services, we believe the Android system repair software is the best choice.
Related Articles
Android Manager for PC: Manage Your Android Phone on the PC Easily
Advanced Guide: iPhone to Android Transfer Software (Top 5 Applications)
Android PC Suite: 5 Best Software for Android Files Transfer & Management
How to Effectively Recover Deleted Text Messages on Android in 2023?
Android SMS Manager: How to Manage Messages on Android with 3 Practical Methods
How to Recover Deleted Photos from Android Gallery in 4 Great Solutions