Summary
A piece of photo may record precious happy time with your friends, families, and pet. When your Android device faces various accidents or got damaged by some poor phone mishandling, you might have wondered how to get pictures off a broken phone. In this guide, you will learn how to get pictures from a broken Android phone in 4 easy ways without compromising its quality.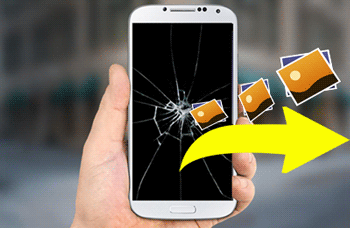 Method 1. Get Pictures and Other Files Off A Broken Samsung Galaxy with Broken Android Extraction
If your damaged device happens to be a Samsung Galaxy, then Broken Android Data Extraction would be the perfect tool to transfer photos from your broken Samsung Galaxy to a computer.
The Highlights of Broken Android Data Extraction
Provide a customized fix package to fix the Android issues, such as broken, dead or black screen, water damaged, and password forgot.
Retrieve files from a broken Android phone, such as contacts, text messages, call logs, photos, WhatsApp history, etc.
Easy to use. You can just follow the on-screen prompts to complete the task.
Support Samsung Galaxy S6/S5/S4, Samsung Galaxy Note 5/Note 4/Note 3, Samsung Galaxy Tab Pro 10.1.

To use the program effectively, you need to follow the following steps:
Step 1: Launch the program and connect your Android device to the computer via a USB cable. Then, click the 'Broken Android Data Extraction' tab from the left panel.
Step 2: Check for your Android issues. You can check the issues on the main interface of the program and tap on 'Start' to go on.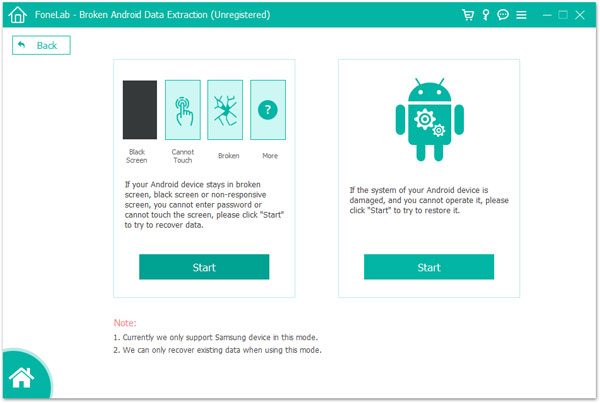 Step 3: Confirm your device info. Open the drop-down menu to select and confirm your device's name and model.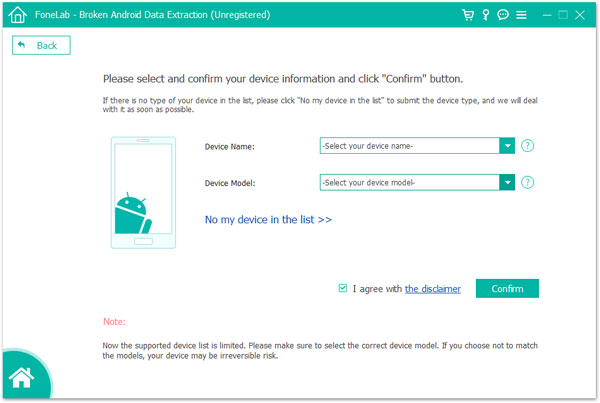 Step 4: Enter the download mode to download the customized firmware. You need to:
* Turn your Android phone off.
* Press and hold down the Volume Down, Home/Menu and Power buttons simultaneously.
* Press and hold down the Volume Up button.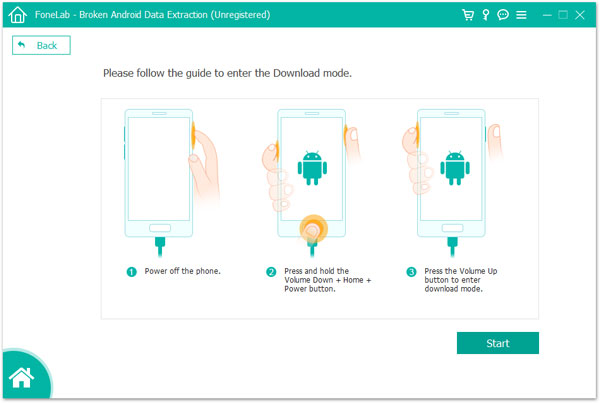 Step 5: Choose the photos and other files you want to recover and hit the 'Recover' button to initiate the data recovery process on your broken Samsung device.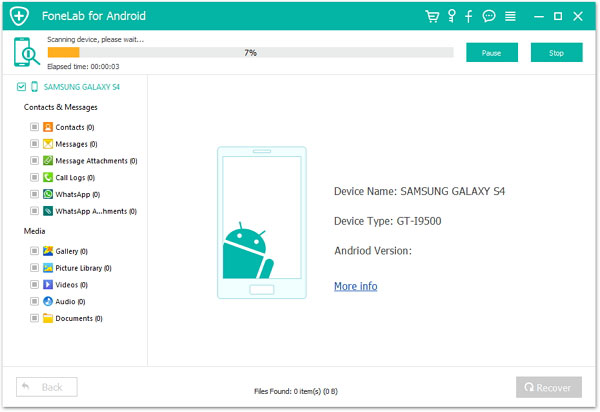 Pros:
Fix the frozen or dead screen on Samsung Galaxy
Recover the existing files from your broken Samsung device without USB debugging.
Cons:
Only work on a part of old generations of Samsung Galaxy.
You May Need:
Data Recovery on Samsung Galaxy with Broken Screen
How to Fix Samsung Stuck in Recovery Mode? 2 Ways for You
Method 2. Retrieve Photos from Broken Android Phone with AutoPlay (The USB Debugging is Turned On)
You can also use your computer's AutoPlay feature to recover your photos from your broken Android device. This method will only be used when meeting the following situations simultaneously:
* The USB debugging on your broken Android phone is turned ON.
* The USB slot is still workable.
On an Android device, if you keep the USB debugging turning on all the time, you are lucky enough to retrieve all the photos from your broken Android phone without any cost. You just need to connect your Android phone to a computer with a USB cable then drag the photos as you like to your PC.
Here's how:
Connect your broken Android phone to a computer via a USB cable.
The AutoPlay window will shop up on your PC. Hit the 'Open device to view files' option.
All the files of your broken Android phone will appear on your computer screen.
Since you want to recover photos, you just need to choose your photos.
Copy and paste your wanted photos to a local folder on your computer.
Pros:
Free and easy.
Cons:
The USB debugging must be turned ON before you broke your phone.
Method 3. Get Pictures Off A Broken Android Phone Using Google Photos Backup
If you have backed up and synced photos from your Android device to Google using the Photos app, you can use the same account to recover photos from broken Android phone to a normal one.
Here's how:
#1. Backup & Sync Photos to Google (Before the Android Phone Got Broken)
Download the Google Photos app on your Android device.
Launch the app and login your Google account.
Set upload size for photos. It is better to choose 'High quality' for saving space of Google Drive.
Tap 'More' (the three-line button) and 'Settings'.
Select 'Backup & sync' and switch on it. All of the photos on your Android phone will be synced to Google account.
#2. Sync Photos from Google to Another Phone
On another normal phone, you can conduct the same procedure as you synced photos to Google on your old Android phone. Then you will get the pictures off your broken Android phone.
Pros:
Free and easy.
Don't need a USB cable.
Cons:
Rely on Wi-Fi.
Time-consuming if you need to sync a ton of pictures.
Method 4. Remove SD Card from A Broken Android Phone to Another Phone
On your Android phone, you can save the photos, videos, and audio to SD card. When you are unable to switch on or unlock their Android mobile because the device is dead or its screen is broken, you can still remove your SD card to another workable phone to get the pictures from broken Android phone.
If your phone has a removable back, then you can easily take out the back cover and then remove the SD card. However, since modern devices are shipped with non-removable back covers, you need a needle tool to eject the micro SD card slot and take off the SD card. Then insert the SD card into another workable phone to retrieve all your data including photos.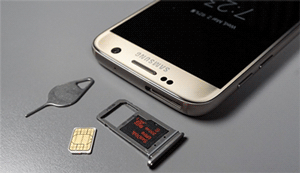 Read Also:
How to Recover Lost Data from Samsung Micro SD Card
How to Effortlessly Recover Data from a Locked Android phone with a broken screen
Write in the End:
Recovering your photos and other files from your broken Android device is not a tough task. Each method has its own difficulties that might vary from method to method. You just need to choose the method you are comfortable with and will do the job for you.
Related Articles:
How Do I Backup Photos on My Samsung Galaxy? [5 Ways in 2021]
2 Ways to Recover Photos from Screen Cracked Samsung Phone
How to Transfer Photos from Samsung to Samsung Galaxy S9/S9 Plus
How to Transfer Photos from Samsung Phone to Tablet in 2021? - 3 Easy Ways
[2 Solutions] How to Access iCloud Photos from Android Device
How to Get Pictures Off a Locked Android Phone: 4 Ways Help You Out