Summary
Samsung phones are famous globally, and Samsung has a lot of loyal satisfied customers who look upon Samsung phones as their first choice. But it doesn't mean that Samsung phones are perfect. Some people find that Samsung phones hang sometimes. Have you encountered this situation?
It is just a small snag. You can easily find out why Samsung phones hang and get 6 useful Samsung phone hang solutions in this article.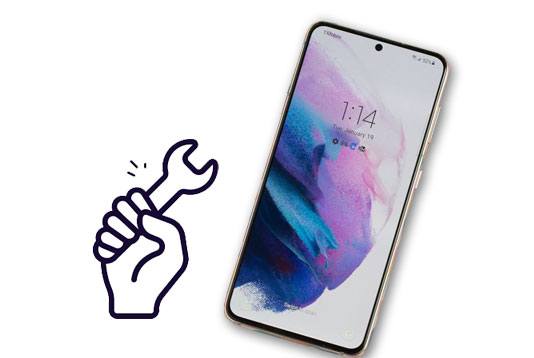 Part 1: Why Does Your Samsung Phone Hang?
Although the technology of mobile phones becomes more and more powerful, it is common for electronic devices to go out of action. So, why do Samsung phones hang suddenly? Let's check the reasons.
To Many Apps and Bloatware
If you run too many apps on your Samsung phone, perhaps the apps will overload the RAM to result in the Samsung hang problem. Besides, installing many apps on your mobile phone will run out of internal storage space, making the device lag. Also, the pre-installed bloatware is another reason to make the Samsung mobile hang.
Insufficient RAM
Run only one app on your Samsung device, and it still causes the Samsung mobile hanging problem? The reason is that the RAM of the phone is not adequate, which often occurs on old mobile devices. The old devices cannot support updated apps well.
Inappropriate Operating System
Some Samsung users ask why Samsung phones hang after they updated the OS. In fact, the latest OS is not necessarily the best OS for your smartphone, because it is usually larger. Hence, it is not recommended to update OS on the phone you have used for several years.
Physical Damages
If you drop your cellphone and make it broken, it can damage the phone parts and cause the Samsung hang problem. Plus, once the parts are aged, it is not weird that the phone lags and hangs.
Part 2: What Are Samsung Phone Hang Solutions?
After finding out why Samsung phones hang, we will talk about the Samsung phone hang solution. There are 6 practical approaches below, and you can follow the detailed guide to fix your Samsung phone with ease.
Solution 1: Fix Samsung Phone Hang via System Repair
The first Samsung mobile hanging problem solution is to use this Samsung System Repair. This tool can fix different system issues, like device lag, black screen, app crashing, bricked, and more. With it, you can fix your Samsung device system to normal without any skill. It will erase all data from your phone for successful repair, so that you'd better back up your Samsung phone in advance.
Highlights of this Samsung repair software:
- Do well in fixing Samsung device freezing and hanging problems.
- Repair the black screen of death on Android devices to normal with simple clicks.
- Effectively work out the system and apps crashing, device stuck, OTA update failed, and so on.
- Support most Samsung phones, such as Samsung Galaxy M10/M30/S9/S8/S7/A9s/A6s/A90, etc.
- Work for the Samsung phones from carriers like AT&T, T-Mobile, Verizon, Sprint, and more carriers.
Download the Samsung hanging repair program for free below.

Here's what to do when Samsung phone hangs with this repair software:
Step 1. Install the Software
Please download and install the repair software on your computer. Then launch it and choose the "System Repair" module on the interface.
Step 2. Connect Samsung Phone to PC
- Connect your Samsung phone to the PC via a data cable, and choose the "Android Repair" option on the left. Then click the "Start" icon, select the correct information of your device, and tap the "Next" icon.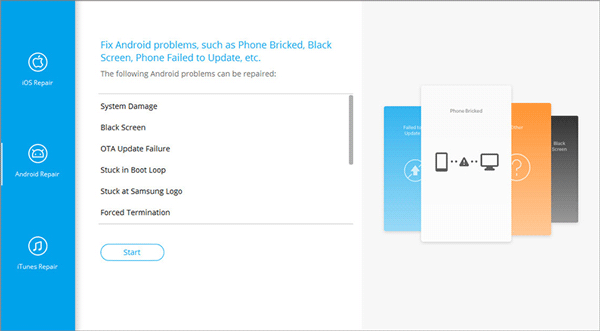 - Type "000000" to confirm your operation, and the program will begin to eliminate all data on the Samsung device.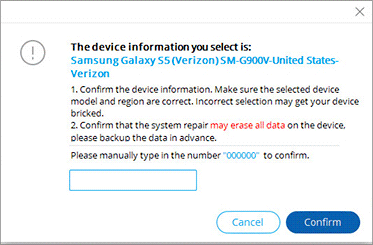 Step 3. Fix Samsung Phone Hanging
- To boot your Samsung phone in Download Mode, you need to follow the pop-up instructions, and click the "Next" icon. It will start downloading the firmware to repair your phone.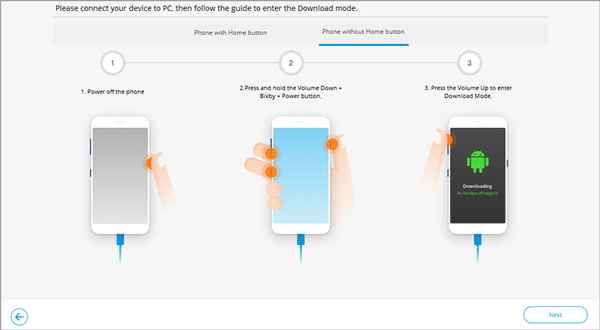 - After some minutes, it will fix your hanging Samsung phone.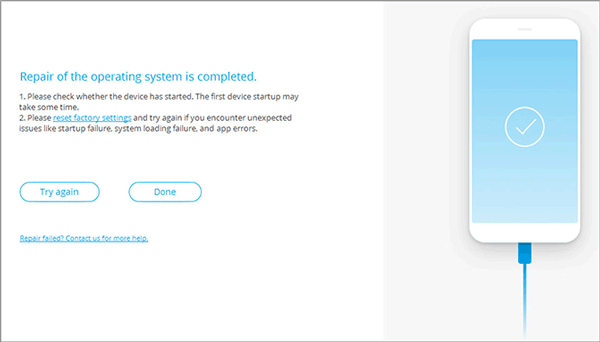 See also: Why does Samsung Cloud fail to back up data? This article will help you find the reason and fix the issue without difficulty.
Solution 2: Fix Samsung Hang Problem via Restarting
When your Samsung phone hangs, how to restart the device? Restarting your Samsung phone can clear bad data, force to stop stuck applications in the background, and free up internal memory, so it can solve multiple system issues. It can help you a lot, especially when you don't know which app makes your phone go wrong.
Here's what to do if Samsung phone hangs via restart:
1. Restarting Your Samsung Phone Normally
In general, to restart your Samsung phone, you can swipe down the screen, and click the switch icon. Then choose the "Restart" option to restart your phone.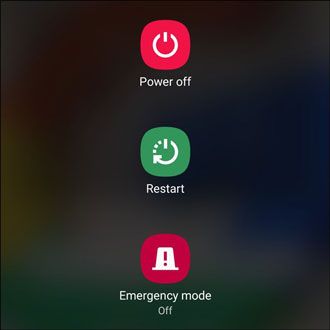 2. Compulsorily Restart the Phone
In case your phone is frozen so that you fail to turn it off, you can long-press Volume Down and Power buttons for about 15 seconds. As the screen goes black, you can release the buttons. Then you can turn it on.
3. Set Automatically Periodic Restart
Open Settings, and choose the "Battery and device care" > "More" > "Automation" > "Auto restart at set times" option. Then you can set the schedule, and your Samsung device will restart automatically on time.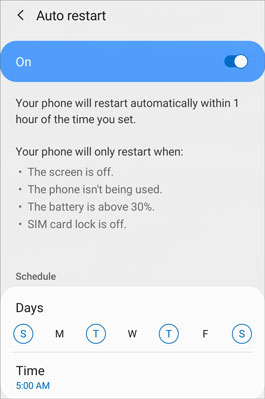 Further reading: How can you fix Samsung Smart Switch not working? Check it out, and you can work it out.
Solution 3: Repair Samsung Mobile Hang via OS Update
OS update is helpful to work out Samsung mobile hanging problem, particularly when you have used an OS for a long time or flashed your Samsung phone to an inappropriate OS.
Guide on how to fix Samsung phone hanging via OS update:
Step 1. Unlock Your Phone
Please unlock your Samsung phone and open the Settings app.
Step 2. Software Update
Select the "Software update" > "Download and install" option, and click the "Install now" icon. After the update finishes, you can check if your Samsung phone hangs.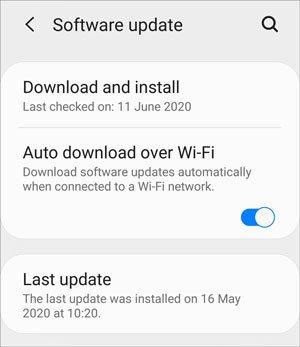 Read also: This post will show you how to swiftly transfer music from Samsung to Samsung. Let's take a look.
Solution 4: Repair Samsung Mobile Hanging via Clearing Caches
As you use an app on your Samsung phone, you will create caches on the device. If you don't clear the cache data regularly, you will heap up lots of junk files on your mobile phone, which will make your device hang and lag.
Steps on how to solve it when Samsung device hangs via clearing caches:
Step 1. Check the Storage
Run the Settings app, and choose the "Battery and device care" > "Storage" option. Then you can know what data type occupies the storage most.
Step 2. Choose a File Type
Tap the "More" icon on the top right corner, and click the "Advanced" icon. Next, choose a file type to view the apps.
Step 3. Clear App Caches
You will know every app's memory usage. Please click one app, and hit the "Clear cache" icon at the bottom.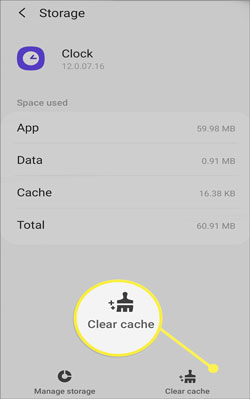 Check if you need: Want to free up your Samsung space? You can utilize these 5 useful ways.
Solution 5: Work Out Samsung Hanging via Resetting
If your Samsung phone still hangs after you eliminate all caches, you can try resetting it. The factory reset can restore your mobile device to its original state, releasing most internal memory. By the way, please back up your phone first because it will wipe your data out.
Here's how to fix Samsung hanging using resetting:
Step 1. Find the Reset Feature
Please go to Settings, and click the "General management" option. Then you will see the "Reset" option.
Step 2. Factory Data Reset
Tap the "Factory data reset" > "Reset" icon, and enter your current PIN. At last, tap the "Delete all" button to reset your Samsung phone.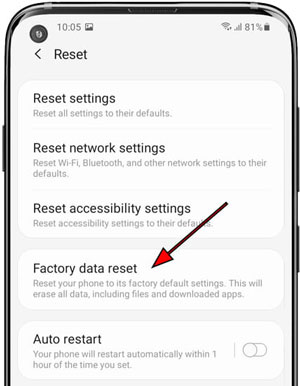 Solution 6: Work Out Samsung Hang via Replacing Parts
Has your Samsung phone been used for many years? If yes, perhaps the mobile phone parts could not perform well as before. For example, the battery will not last a whole day, or even acts up so that you cannot charge your Samsung phone. You will need a new battery every 2 or 3 years on average.
Besides, the display screen, USB cable, and USB port are relatively vulnerable to damage. If you cannot repair the hanging problem with the previous solutions, you can replace the parts of your phone. By the way, it is more secure to send your frozen Samsung phone to the repair store.
Conclusion
When you encounter your Samsung phone hangs, please calm down and do not beat the device. Follow the solutions mentioned above, and you can fix your phone without effort. Certainly, this Samsung system repair software can help you effectively solve the Samsung mobile phone hanging issue. What's more, it can fix multiple cellphone system problems at the same time.
Related Articles
5 Trustworthy Tips about Samsung Contacts Backup You Are Worth Knowing
[Fast] How to Transfer WhatsApp from Old Samsung to New Samsung via 3 Methods
How to Transfer Text Messages from Samsung to Samsung Easily? [4 Methods]
How to Transfer Photos from Samsung to Mac? [4 Easy Ways in 2021]
How to Transfer Contacts from Samsung to iPhone Effectively? - 5 Ways
Samsung Tablet Data Recovery - 3 Best Ways to Recover Deleted Data on Samsung Tablet