Summary
LINE is an instant messaging application with millions of downloads, making it the most used chat application. For those who want to chat with friends at a go either through video and audio, LINE is the app to seek. The application has an excellent interface, which you can use on Android and iOS. However, the app stores many chats that can get lost anytime since our devices are prone to damage. So, to prevent losing the chats, you must create a backup.
Backups always come in handy and can be essential during an emergency situation, so you should never underestimate their importance. Ensure you use the right backup method to avoid losing your chat. This guide has everything you want to start a LINE chat backup. Follow this guide keenly to know how to back up LINE chat. You will find possible methods to back up LINE chats.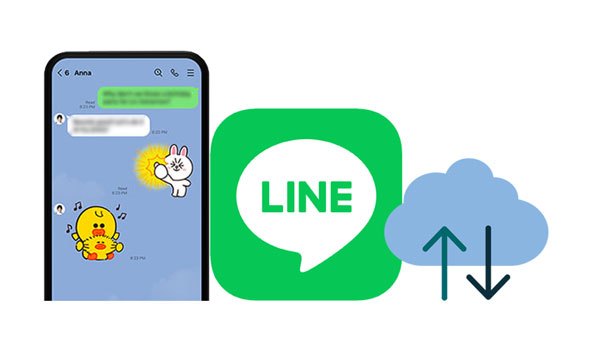 Part 1: How To Back Up LINE Chats Using Google Drive on Android
Android has conquered the smartphone market due to its open-source operating system. It's packed with smart features. One of the most fantastic features of Android is how simple it is to back up and restore apps, contacts, and text messages.
With an Android operating system, you can back up all your application files to Google Drive. This could save you a lot of time if you ever need to reinstall an app or restore your phone to an earlier version.
Below are the steps you can follow to back up your LINE chat history on an Android phone using Google Drive:
Step 1: Open the LINE app and tap on the "More" icon. Then navigate to the settings app, select "General" and tap on the "Chats" button.
Step 2: On the top of the list, you will find a button named "Back up and restore chat history" click on it.
Step 3: After that, you will see the "Back up to Google Drive" option; also click on it. Your LINE chat data will start backing up on your Google Drive.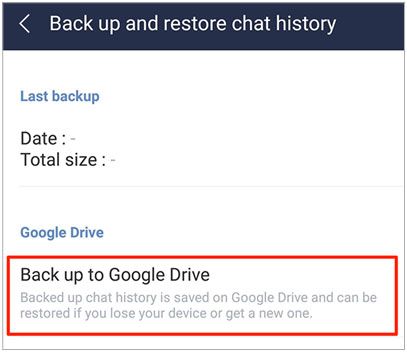 Bonus: Effortlessly Transfer SIM Card Data to Computer without Data Loss
Part 2: How To Back Up LINE Chat History Using iCloud on iPhone
Are you an iPhone lover, and your iPhone is full due to many old-LINE chat messages? iCloud offers an excellent backup service that lets its users safely store their data in the cloud. This way, you can get your chats back even after a hard reset. You can back up your old messages on iCloud and then delete them from your iPhone to save some space on your device.
Here are the steps that you need to follow to back up your LINE chats on an iPhone using iCloud:
Step 1: Open the LINE app on your iPhone and tap on the "More" icon.
Step 2: Navigate to the "Setting" application and click on the "Chats" button. Then tap on the "Chat history backup" button, and select the "Back up now" option.
Step 3: Now, wait for some time as the LINE application creates the backup file on your iCloud Drive.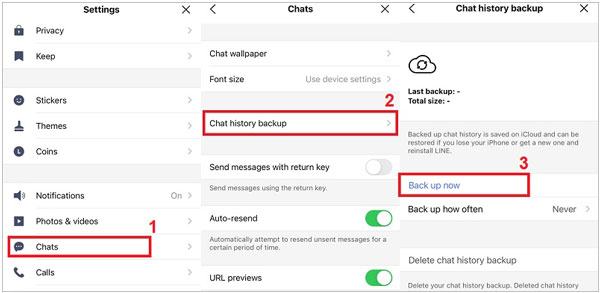 Read also: Are you looking for how to move photos from an Android phone to a Windows 10 PC? If yes, this guide will be your destination.
Part 3: How To Back Up All LINE Chat History on Android Using Backup Text for LINE
Backup Text for LINE is a third-party application designed to add the convenience of backing up LINE Chats data on the android application. The application is straightforward to use, and once installed, you can back up your LINE chat data. This application has the capability of filtering chats by type and date. After creating the backup, the Backup Text for the LINE application will export your backup to your email or SD card.
To export LINE chats via this app, you need to download it from Google Play Store and follow the below steps:
Step 1: Tap on the LINE application to open your chats.
Step 2: Choose the arrowhead on the top-right corner of your display and tap on the "Chat Settings" > "Backup Chat History" option.
Step 3: Select the "Backup as a Text File" option and choose the Backup Text for LINE app. Now, you can export your backup on your email or SD card. After that, you can filter your messages based on your preference.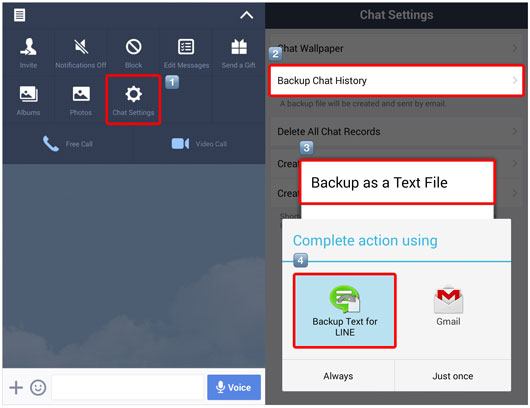 Part 4: How To Backup LINE Chats Using LINE Backup Software on iPhone
This LINE Backup software can save your LINE's data at once, such as text messages, voice chats, videos, stickers, etc. You can also restore your LINE backup data to any other iPhone or iPad. Besides, it allows you to take an entire backup of your WhatsApp data on Android and iOS without any hassle.
Key features of this backup software:
- Help you back up all the LINE chats on your iPhone efficiently.
- Restore your LINE data to an iOS device without a hitch.
- No data loss during the backup or restoration.
- Seamlessly back up WhatsApp on an iPhone and Android phone.
- Support Viber, Kik, and WeChat backup for iOS devices.
Download this LINE backup tool below.
Steps to back up your iPhone LINE chats using this software:
Step 1. Launch the Software
Install and open the software on your computer, and choose the "WhatsApp Transfer" module on the interface. Then select the "LINE" option on the left panel.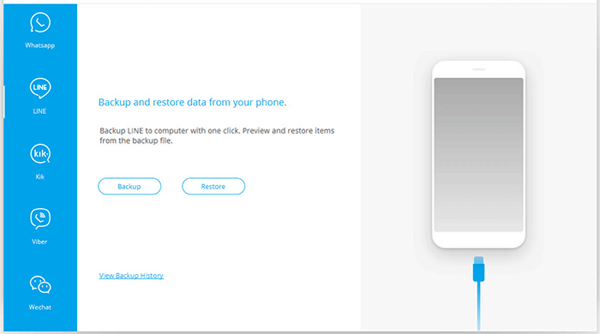 Step 2. Connect Your iPhone to Your Computer
Start the process by connecting your iPhone to your Computer using a USB cable. After making the connection, the application will detect your device automatically.
Step 3. Back Up Your LINE Data
Tap the "Backup" icon to start the procedure. The software will automatically back up your LINE chats. Once finished, you can click "View it" to preview the backup files.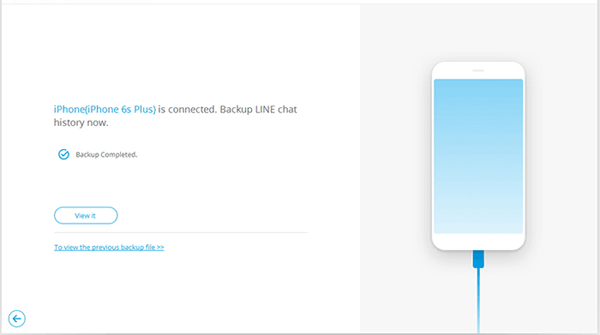 Conclusion
LINE is one of the best apps for chatting. It's a great way to find new friends and stay in contact with old ones! It's also easy to use, and as long as you know how to back up Line chat, your precious memories will forever be safe. The above are capable ways to back up LINE chat on Android and iPhone devices. You can also try the LINE backup software if you want a simple and convenient way of backing up LINE chats.
Related Articles
Seamlessly Export Samsung Calendar in 3 Ways Like a Pro [Proven]
Move iCloud Backup for Android with Ease | 4 Practical Solutions
How to Transfer Files from Samsung Tablet to PC | 5 Seamless Ways
Fast Copy Files from iPhone to Android in 6 Ways [Original Qulity]
How to Transfer Music from Android to iPhone in 4 Ways Instantly
Adroitly Move Data from Android to iPhone after Setup [6 Methods]