Summary
It is necessary to share contacts on your iPhone when you have bought a new iPhone, since contacts are important and useful. If you don't want to manually input your phone numbers one by one, you can learn efficient ways here to share contacts. With them, you can effortlessly send groups of contacts at once.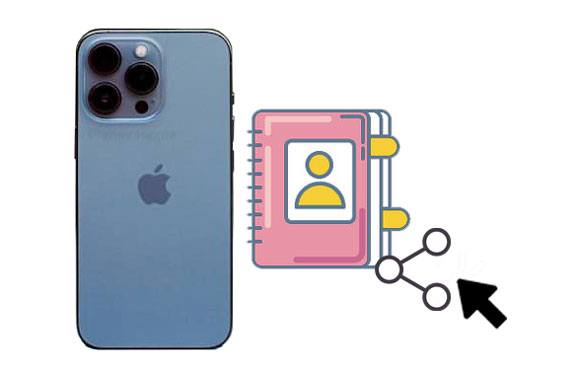 Part 1: How to Share Contacts on iPhone via AirDrop
Want to share contacts between iPhones wirelessly? You can use AirDrop, a useful built-in feature on iOS devices. You can easily enable it on your iPhones. But it is not handy when you need to transfer quantities of contacts.
Here's how to share contacts on an iPhone via AirDrop:
Step 1: To enable AirDrop on both iPhones, you can go to the Control Center, and choose the "Contacts Only" option.
Step 2: Open the Contacts app on your iPhone, and select the contact you want.
Step 3: Tap the "Share" > "AirDrop" option, and choose your target iPhone. Then it will send your contact to the device.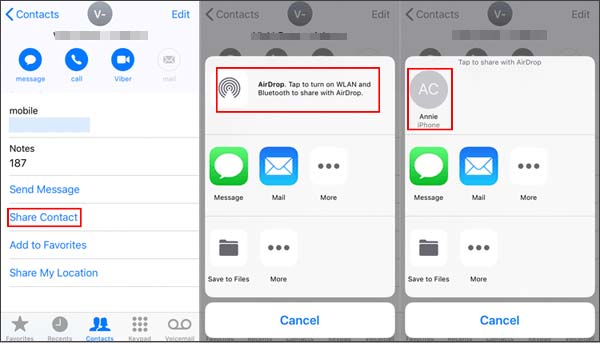 Bonus:
Want to recover your deleted contacts on a Samsung Galaxy phone? Here is a full guide.
It is efficient to download pictures from an iPhone to an HP computer. Let's check it out.
Part 2: How to Share Multiple Contacts on iPhone via iCloud
Using iCloud can easily share contacts between iPhones. In this way, you can synchronize contacts via a network and your Apple ID. Thus, you can finish the sharing on the built-in Settings app. But please note that it will work unless you have uploaded your contacts to iCloud.
Here's how to share all contacts between iPhones via iCloud:
Step 1: Go to Settings on your old iPhone, check if you turn on iCloud backup, and toggle on the "Contacts" option. If not, please complete the backup first.
Step 2: Navigate to the Settings app on another iPhone, and log in with the same Apple account.
Step 3: Click "iCloud", and enable the "Contacts" option. Next, tap the "Merge" icon on the screen. After a while, your contacts will appear on this iPhone.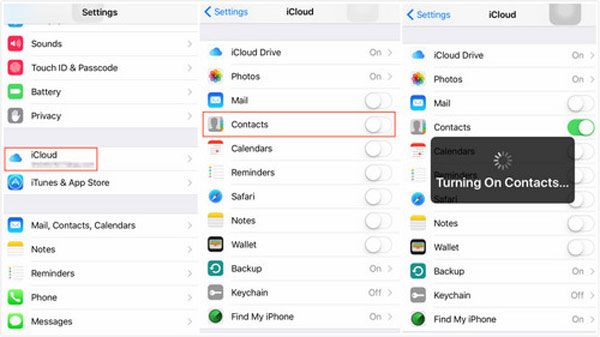 Read also: With these 4 methods, you can effortlessly transfer contacts from Motorola to a computer.
Part 3: How to Share Contacts on iPhone via Email
There is a mail app on your iPhone, right? So you can utilize it to send contacts from one iPhone to another. There is no trick to use this way. Besides, you can share all contacts at once.
Steps on sharing contacts on an iPhone via email:
Step 1: Open the Contacts app on your source iDevice, and select the contacts you want.
Step 2: Click the "Share" icon on the upper right. Then choose the "Mail" app.
Step 3: Type your email address, and send it to yourself. Then log in to the email account on another iPhone. And you can receive your contacts.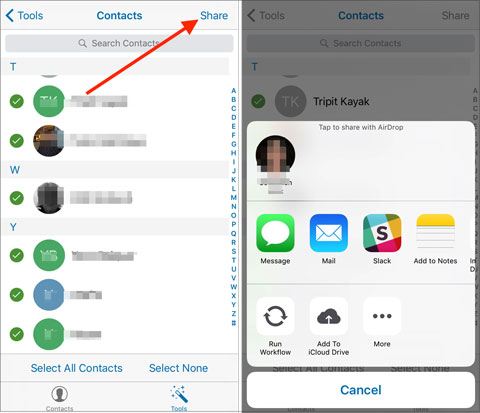 Further reading: Are there many duplicate contacts on your Android phone? You can remove the duplicate contacts in these easy ways.
Part 4: How to Share All Contacts on iPhone via Phone Data Transfer
This one-tap sharing tool - Samsung Data Transfer can share all contacts from one iPhone to another at once. It can fast scan your data on your source device, and complete the transfer without leakage. In addition to contacts, it can copy notes (supported on iOS 10 and before), books, bookmarks, and calendars between iOS devices.
You can also use this software to transfer photos, music, videos, and more, from an iPhone to an Android phone. More importantly, you will get your files with original quality.
Key features of this phone data transfer program:
- Transfer contacts and other data between iPhones without a hitch.
- The transferred data will not replace the current data on the target iDevice.
- Swiftly detect and connect your iOS devices.
- Widely compatible with Android OSes and iOSes, including Android 11 and iOS 15.
Download this iOS data transfer software below.
Here's how to send all contacts on iPhone via this software:
Step 1: Install and open the program on your computer.
Step 2: Connect both iPhones to the computer via Apple data cables. If prompted, click the "Trust" option on both mobile devices.
Step 3: Select the "Contacts" category on the interface, and tap the "Start Copy" icon to transfer your contacts to the destination iPhone.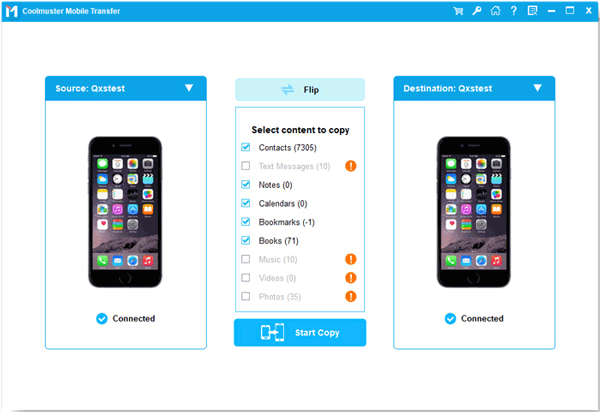 Part 5: How to Share Contacts Between iPhones via Family Sharing
If you have switched on Family Sharing on your iPhone, you can share multiple Apple services with your family members. Therefore, you can sync contacts between different iPhones so long as you enable the Family Sharing and iCloud contact features, even if you use different Apple accounts on these iPhones.
Tutorial on syncing contacts on iPhones via Family Sharing:
Step 1: To enable Family Sharing, you need to open the Settings app, and tap your name > "Family Sharing" > "Set Up Your Family". Then invite your family members.
Step 2: Make sure you have turned on the "Contacts" option on iCloud. Then your contacts will be shared on the different iPhones logged in with different Apple IDs.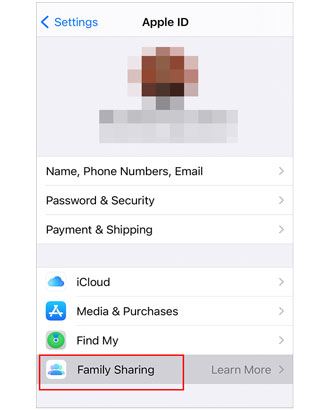 Bonus: How to create a group of contacts on an iPhone? You cannot directly create new contact groups on an iPhone. In this case, you can go to icloud.com, and tap the "Contacts" icon. Then click the "+" > "new group" icon, and name the new group. Next, you can add contacts to this group.
Conclusion
You can now breezily share your contacts on iPhone with these methods. They will be helpful when you switch to a new iPhone. Then you needn't slowly type your contacts one by one. If you use the phone transfer program - Samsung Data Transfer, you can copy all contacts with 1 click. Let's try this efficient software.
Related Articles
How to Delete Contacts on Android Phone? 5 Smart Methods for You
[Updated in 2022] How to Transfer Contacts from Samsung to Samsung?
6 Methods on How to Transfer Contacts from iPhone to Android [You'd Better Know]
How to Transfer Music from iPhone to Samsung | Freely Select 5 Smart Methods
6 Ways on How to Send Video from iPhone to Android Phone in Minutes
6 Essential Tips on How to Transfer Photos from iPhone to iPad (iPhone 12 Included)