Summary
Are you planning on leaving your iPhone for Android? Many of us want to try new things and experience the latest technology the Google Android ecosystem offers. It is a huge move, but it does not have to be unnerving. Actually, iOS and Android have a few things in common, so switching from iPhone to Android won't be a massive shock.
In fact, there are many things you can do with Android that you can't do with an iPhone. If you have been contemplating switching from iPhone to Android, keep reading and explore what we might have in store for you!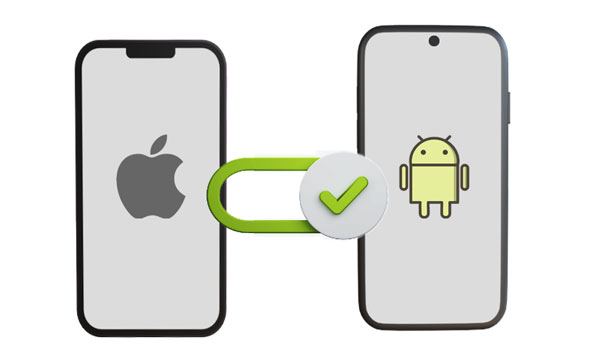 Part 1: FAQs on Switching from iPhone to Android Phone
Q1. Can I transfer app data from iPhone to Android?
No. You can't directly migrate applications installed on an iPhone to your Android. In fact, those apps you purchased will have to be paid for again since an iPhone doesn't operate on the same operating system as an Android. And when you try to go ahead and get them on your Android, they won't be readable.
In addition, some of the applications are exclusively for iOS devices. But you may still search for their Android versions from Play Store and install them on your Android device, but not all of them have Android versions.
Q2. Should I switch from iPhone to Android?
Actually, it depends on you. If you want an open-source system, switching to an Android device is a nice decision. However, if you have an Apple smartwatch, it cannot pair with an Android phone. But AirPods are still adaptable to Android.
Q3. Why do I switch from iPhone to Android?
This is a decision that many iPhone owners make, and it is always important to know why you want to make that change. You may be wondering why you should switch from an iPhone to an Android, and below are various reasons why:
Get to express yourself in new ways of doing things with the help of the Gboard and Messages app, which comes with plenty of emoji mashups and stickers. Besides, you can use those Android apps that Apple doesn't support, and charge your phone faster.
Q4. What will I miss when I switch from an iPhone to an Android?
This is a great question that many people ask when switching to Android. Apple is synonymous with quality, but the Android world has been catching up. If you're considering switching from an iPhone to an Android, you might want to know about some of the iPhone perks you will miss: all iPhone pre-installed apps, Siri, Apple system. And you cannot transfer files on Mac via iTunes or Finder.
Q5. After I backed up everything to iCloud, can I still use it with Android?
You can use Google One on your Android device and sync iCloud content to Google using the old Apple ID and passcode. But you need to submit your request that you want a copy of your data on privacy.apple.com first.
Part 2: 4 Super Ways of Switching from Apple to Android
Have problems with switching from an iPhone to an Android phone? Then you can use the following 4 methods to complete the transition from iPhone to Android. Let's get started.
Way 1. Switch from Apple to Android in 1 Click
If you switch to an Android device from an iPhone, you'll want a reliable tool that can quickly transfer your data between Android and iOS devices. This comprehensive mobile transfer software - Samsung Data Transfer, is the ideal tool to use. It supports all iPhone and Android models, from iOS 5.0 and Android OS 4.0 to the latest.
Plus, it can transfer multiple file types, including contacts, photos, videos, music, SMS, and more, between your iPhone and Android device in one click. Not only that, but it also supports migrating data from Android to Android, iOS to iOS, and Android to iOS.
What the transfer software can do:
- Do well in migrating from Apple to Android, including SMS, pictures, songs, videos, books, etc.
- Allow you to clear the existing data on your Android phone before transferring data from the iPhone.
- Put your data to the correct locations on your target device.
- The transfer process is very fast and stable.
- Compatible with most iOS and Android mobile devices, like iPhone 14/13/12/11/X/8/7, iPad Pro, iPad Air, iPad mini, iPod touch, Sony Xperia 1 IV/1 III/1 II/5 IV/5 III/5 II, Samsung Galaxy, ZTE, OPPO, OnePlus, Google Pixel, and more.
- Work on Windows XP, Vista, 7, 8, 10, 11, and Mac OS X 10.9 and above.
Download this iPhone to Android transfer program.
How to transfer files from iPhone to Android in 1 click:
Step 1: Launch the program on the computer and connect both iPhone and Android devices through working USB cables. Then enable USB debugging on Android, and click "Trust" on iOS.
Step 2: Ensure these devices are in their correct positions, with an iPhone in the "Source" position and an Android in the "Destination" position. Still, you can tap "Flip" to change their positions.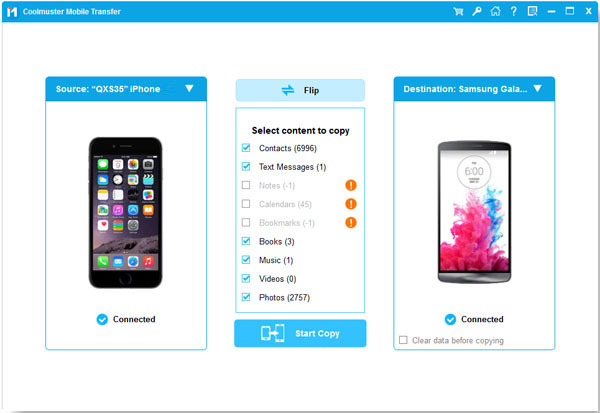 Step 3: Choose the files you want to transfer and click on the "Start Copy" button to begin the process.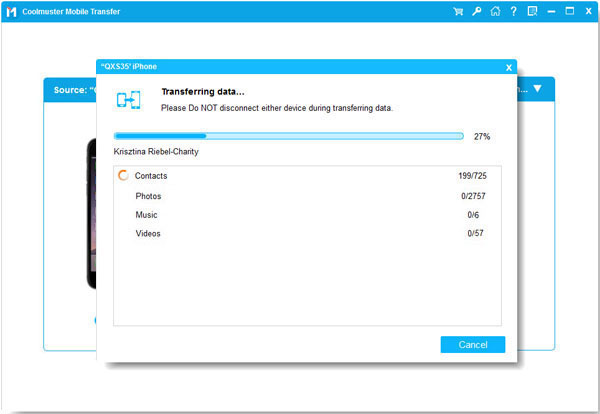 Read also: Fast Transfer Music from iPhone to Computer for Free (Quality Guide)
Way 2. Migrate Calendar, Contacts, and Photos from iPhone to Android via Google Drive
For some users, the best and fastest way to migrate contacts, photos, and calendars from iPhone to Android is with Google Drive. Google Drive will sync contacts and Calendars from iPhone to Android in a few minutes. You just have to download the latest Google Drive app on an iPhone and sign into the application with your Google account. It is very simple and quick!
Here is how to do that:
Step 1: Install the latest Google Drive app on your iPhone, then sign in to the Google account you will use on Android.
Step 2: Click on the three dots menu at the upper left corner of the screen, and click the "Settings" and "Backup" icons.
Step 3: Turn on the backup of Contacts, Calendar events, photos and videos, and tap the "START BACKUP" tab to automatically transfer your files to cloud storage.
Step 4: Once done, just log into your Android device using the same Google Account you used on the iPhone. You should find calendar data in the Google Calendar application, photos in the Google Photos application, and contacts in the Google Contacts app.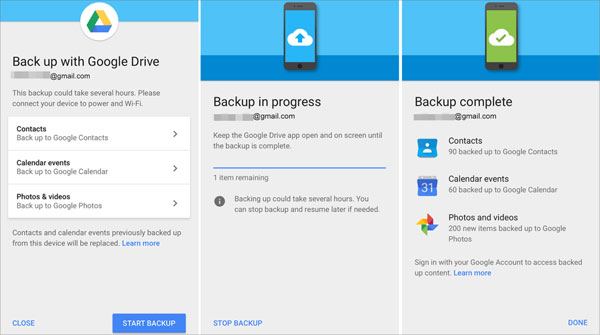 Perhaps you like: How can you efficiently move multiple videos between Android devices without losing quality? Open this guide to get 7 ways.
Way 3. Transfer Purchased Video and Music from iPhone to Android Using iTunes
iTunes is the official and best way to transfer purchased songs and videos from an iPhone to a computer. You don't need to download any other app or software. All you have to do is to connect your devices to your computer and transfer your files in a few minutes.
Follow the tutorial below:
Step 1: Connect your iPhone and Android to a computer with USB cords.
Step 2: Launch iTunes, tap on the "File" icon, and select "Devices" > "Transfer Purchased from iPhone" option. Your songs and videos will be shared to iTunes.
Step 3: On the computer, look for the iTunes media folder and select the specific songs and video files you want to send, and copy them to the drive of your Android phone.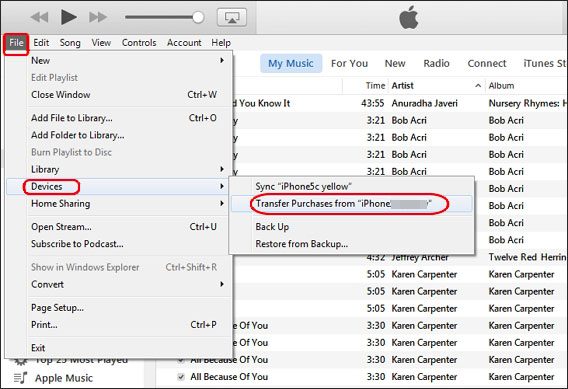 Check it if needed: Can you back up LINE chats on your mobile phone? If you have trouble with it, read this guide.
Way 4. Transfer Non-Purchased Songs from iPhone to Android Using YouTube Music
Lucky you, it won't be a nightmare to transfer downloaded tunes from an iPhone to an Android. Suppose you have paid a subscription fee for streaming services such as Spotify, YouTube Music, or Apple music. In that case, you can still download their respective versions from Google Play Store and log in to get your collection of songs and videos.
You can use the YouTube music app, which has thousands of free songs, and the app itself is linked to Google Account. To get your songs on Android, just upload them to the app and access them on your Android.
Here is how to transfer non-purchased songs from iOS to Android via YouTube Music:
Step 1: Install the YouTube Music app on your iPhone, open the app, and then sign in using your Google Account.
Step 2: Tap on your profile, look for the "Upload music" option and select the songs you wish to upload. Wait for some time for the upload to finish.
Step 3: Download the Youtube Music app on Android from Play Store, then sign into the app using the same account.
Step 4: Look for the music files uploaded and download them to the Android device. You can also watch them online if you like.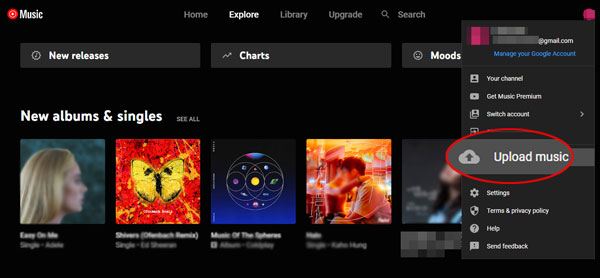 Bonus Tip: Now What? What to do After Switching
Android and iPhone operate on different operating systems; you must keep certain things in mind after switching from iPhone to Android.
- Turn off iMessage by opening Settings and proceeding to find "Messages & Facetime", then switch off Messages & Facetime.
- Disable Switch My iPhone feature and reset the iPhone by opening the Settings app, then click on the "[your name]" option, "Find My" and switch disable the "Find My iPhone" feature. Head back to Settings and choose "General" and proceed to click on "Reset", then hit the "Erase All Content & Settings" button.
- Set up the new Android phone and start using the settings.
Conclusion
You've done it! All your important info is now off your iPhone and on your new Android device. It's clear that Samsung Data Transfer is the easiest and quickest way to transfer data from iPhone to Android. Be sure to have all your data on your brand-new Android in a flash!
Related Articles
How to Transfer Data from Android to iPhone 12/12 Pro/11/11 Pro Max (Easiest)
Messages Didn't Transfer to New iPhone | Work It Out via 9 Tricks
Easily Clear Temp Files on Android Devices [Step-by-step Tutorial]
How to Transfer Photos from iPhone to Flash Drive | No Quality Damage
Repair Android Boot loop Step by Step [Ultimate Guideline]
How to Transfer Data from Android to iPhone 14 (Support the Latest iOS)