Summary
"Why are my messages not transferring to my new iPhone? I have tried it many times, but it doesn't work. Is there any problem with the new iPhone? Any solutions to solve this issue?"
When getting your brand-new iPhone 14 Pro Max, you might be excited. However, some Apple users are trapped in a dilemma because their messages didn't transfer to their new iPhones, even though both iOS devices work well at normal times. So, why can't messages transfer to the new iPhone? And how can you complete the message migration?
Now you can stop the annoyance, since we have found the reasons and solutions. As long as you read this guide, you can easily get your iMessages onto the new gadget.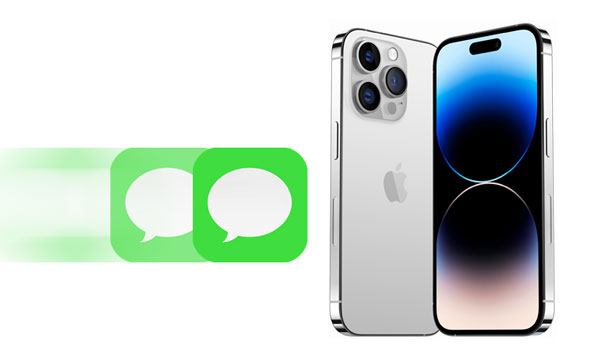 Part 1: Why Are My Messages Not Transferring to New iPhone?
Your iMessages didn't transfer to a new iPhone? There are multiple reasons.
Poor network: If you have backed up your messages to iCloud, but they fail to be synced to the new iPhone, please check the network first. A poor network will probably lead to slow or even unsuccessful synchronization.
Inadequate storage: Was the storage space of your iCloud runout? If yes, you cannot sync your messages to another device.
Server's error: Sometimes, you might meet a temporary error of the iCloud server, so your iMessages will not transfer to your new iPhone.
Message backup is removed: Please note that an iCloud backup is only available for half a year after you stop using iCloud backup. If you have stopped using iCloud backup for more than 180 days, your message backup file will be removed.
Device error: It is also possible that there is a system error on your new iPhone to prevent your messages from syncing correctly.
Bonus: How to move music from your iPhone to a computer for free? Maybe you will need these approaches.
Part 2: Solutions on iPhone Messages Not Transferring to New Phone
When iMessages don't transfer to a new iPhone, you can utilize these methods to work it out.
2.1 Check If the iCloud Message Is Enabled
First of all, please make sure that you have enabled the iCloud message feature on your new iPhone. Go to "Settings", and tap your "Apple ID" > "iCloud". Then toggle on the "Messages" option, and ensure the iPhone is connected to a stable network. After a while, open the Messages app and check your iMessages.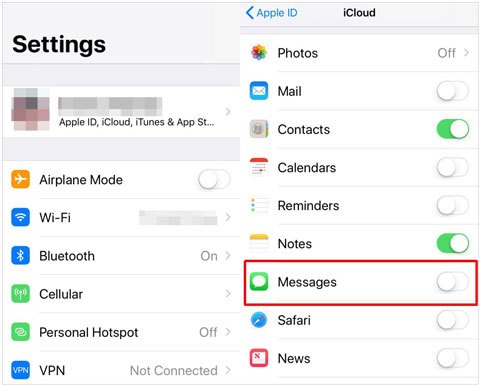 See also: How to Transfer Data from iPhone to iPhone 14 without iCloud [5 Solved Ways]
2.2 Enable iCloud Backup
Maybe you forgot to back up your messages to iCloud on your old iOS device? If so, it is easy to solve.
Step 1: Please unlock your old iDevice, and open the Settings app.
Step 2: Then click [your name] > "iCloud" > "Backup", and turn on "iCloud Backup".
Step 3: Now, tap the "Back Up Now" icon to begin the backup process.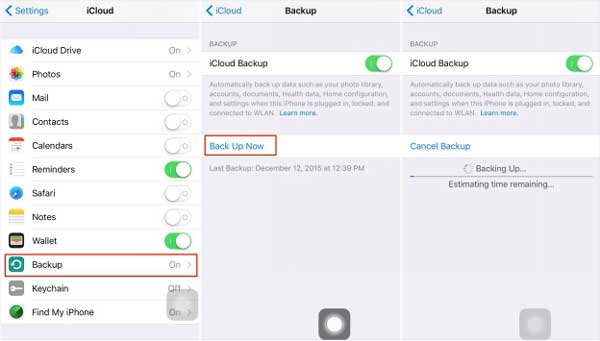 When it is finished, you can restore your iCloud backup to your new device during the setup, including your iMessages.
2.3 Check iCloud Storage
Another way is to check your iCloud storage space. When you run out of free storage, you can purchase more to back up your messages, or delete those old files from your iCloud account.
Navigate to Settings on your iPhone, and sign in with your Apple ID. Then choose "iCloud" to check the storage usage. You can also tap the "Manage Storage" icon to organize your iCloud files.
Learn more: Want to quickly transfer contacts from an Xperia phone to an iPhone? You can use these 6 ways.
2.4 Restart Your iPhone
When you have used the methods above, but your iPhone messages haven't yet transfer to the new phone; then you can restart your iPhone to fix those system bugs. You can press and hold the "Power" and one "Volume" buttons till the slider appears. Drag it to turn off your iPhone. Then turn it on after several minutes.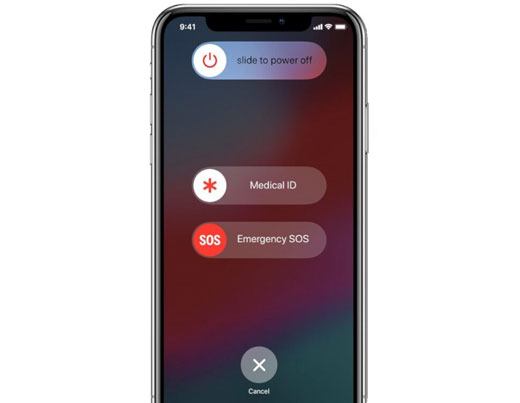 Read more: With this guide, you can move most files from your iPhone to a Motorola phone. Let's check it out.
2.5 Sign In with Your Apple ID Again
It is useful to make your messages normally sync by signing in with your Apple ID again on your new iOS device. As long as you go to Settings, and click [your name]. Then scroll down to the bottom of the screen, and click the "Sign Out" icon to log out. Next, sign in again, and enable the "Messages" option on iCloud settings.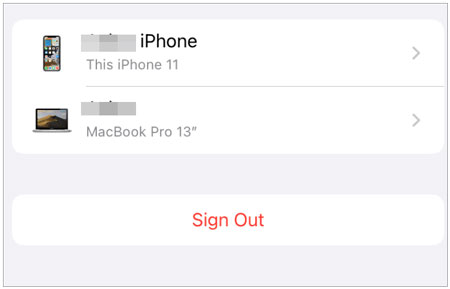 Further reading: Open this guide if you want to copy your iBooks from an iPhone to an iPad.
2.6 Reset the iPhone Network
If the network isn't stable on your new iPhone, please reset the network. Please run the Settings application, and choose the "General" > "Transfer or Reset iPhone" > "Reset" > "Reset Network Settings". After that, you need to enter your network password again into your iPhone.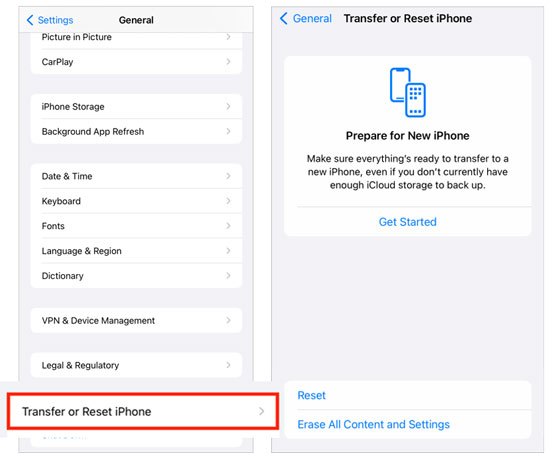 Guess you need: How to Forward Text Messages on Android Devices with 4 Easy Approaches
2.7 Update iOS
If the iOS is old on your Apple device, please update it to the latest. In general, you will get a system notification if a new iOS is available on your device.
Please launch Settings, tap "General", and choose "Software Update". Finally, click "Download and Install" to start updating your iOS. Leave your iPhone alone until the update is complete. Then sync your messages again.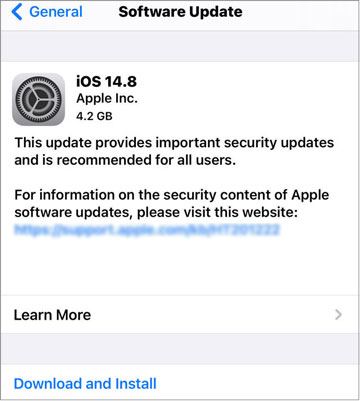 2.8 Restore Your Messages with iTunes or Finder
Have you backed up your messages with iTunes or Finder on your computer? If yes, you can restore your backup via these tools without iCloud. This is a helpful way to get iMessages onto a new iOS device. But you will also restore other data at the same time.
Step 1: Launch iTunes on your computer, and connect your new iPhone via a USB cable.
Step 2: Go to "Summary" and tap the "Restore Backup" icon to transfer the backup data to the iPhone.
Step 3: Once done, open the Messages and confirm that your messages are restored.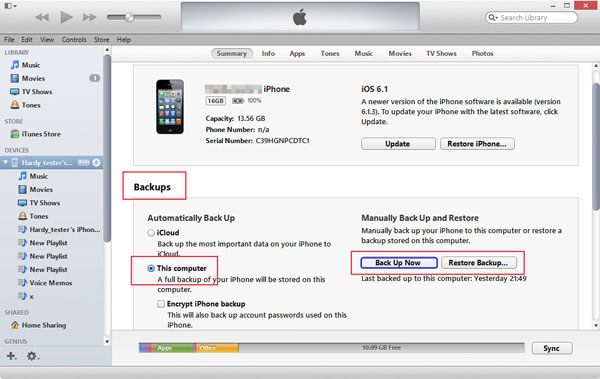 2.9 Use Quick Start to Transfer Messages to New iPhone
You can use Quick Start to directly transfer messages to a new iPhone, so long as both your iOS devices runs iOS 11 or later.
Step 1: Please place your new iPhone near your old iOS device, connect the iPhone to Wi-Fi, and switch on Bluetooth.
Step 2: Follow the po-ups to set up your new device, and use your old device to center the animation on the new iPhone for the connection.
Step 3: Choose the "Transfer from iPhone" option, and tap "Agree" > "Continue" icon. If it prompts you to perform softwate update, tap "Download and Install". After that, it will transfer your old device data to your new iPhone. Then you will successfully send the messages to the new device.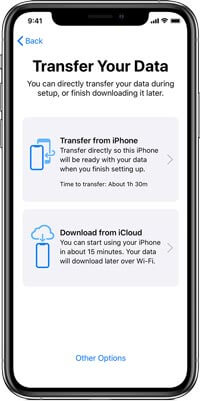 Conclusion
There are multiple practical solutions if your messages don't transfer to your new iPhone. Furthermore, you can transfer your messages easily by following the steps in the previous parts. All of them are safe to use, so you can select one without any hesitation.
Related Articles
How to Transfer Phone Number to New iPhone | 5 Practical Methods
Adroitly Move Data from Android to iPhone after Setup [6 Methods]
How to Transfer Music from iPhone to iPad in 7 Amazing Ways? (New Data)
Transfer Contacts from iPad to iPhone with 5 Powerful Ways in 2023
Transfer Ringtones from iPhone to iPhone Easily? Here Are 5 Excellent Tricks
How to Transfer Notes from iPhone to iPhone without Hassle? Check It Out