Summary
If you attach great importance to the messages on your old iPhone, you will plan to take them to your new iPhone. However, some users are confused about how to transfer messages to a new iPhone.
It is fair to say that transferring iMessages is as easy as sending photos. There is no difficult step in operation. Furthermore, this guide has explained 4 ways step by step below, so you can complete the message transmission without effort.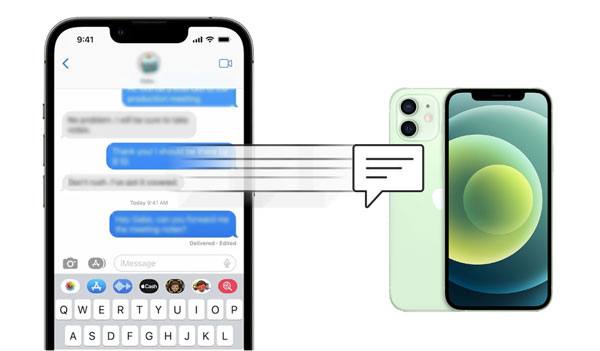 Part 1: How to Transfer Messages to New iPhone Using iCloud
With the help of iCloud, you can seamlessly sync your messages from an iPhone to another. Besides, the transfer is wireless. It only requires you to connect both your iPhones to a stable network, and the synchronization will automatically complete.
But please note that iCloud will be stuck if your iCloud storage space is full. Thus, please check how much storage space is left.
Guide on how to transfer messages to a new iPhone using iCloud:
Step 1. Enable iCloud Messages
- Please go to the Settings app on your current iPhone, and click the Apple ID and "iCloud". Then turn on the icon next to "Messages", and make sure the network is available.
- Your messages will be uploaded to iCloud automatically.
Step 2. Sync the Messages to Your New iPhone
Log in to the same Apple ID and repeat the previous step on your new iPhone. Then the messages will appear on your new gadget.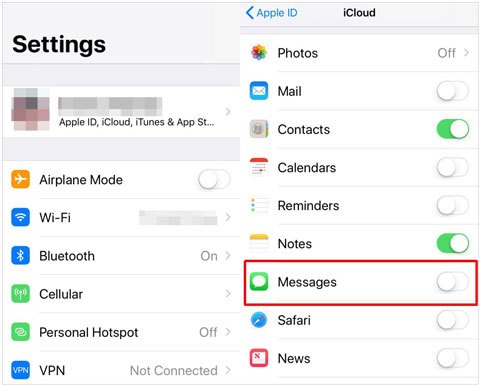 Bonus: Want to retrieve your messages from an old phone number? Maybe it is not as difficult as you imagine. You can try it after reading the guide.
Part 2: How to Transfer Text Messages to New iPhone via iTunes/Finder
How about transferring your iPhone messages to another iOS device via USB? If you like this idea, you can utilize iTunes or Finder. But you cannot transfer messages only, because there is no message option on iTunes or Finder. That is, you need to back up your old phone data, and restore the data to your new iPhone.
Here's how to move all text messages to a new iPhone via iTunes:
Step 1. Connect the Old iPhone to Your Computer
Launch iTunes on your Mac or PC, and use a USB cable to establish the connection between your iPhone and computer. Then click the "Trust" option on the smartphone.
Step 2. Back Up Text Messages with iTunes
To transfer your iPhone messages to your computer, please click the iPhone icon, and tap the "Summary" option. After that, select "This computer" as the backup location, and hit the "Back Up Now" icon to start the procedure.
Step 3. Transfer the Messages to Your New iOS Device
Once the backup is over, please remove the connection, and link your new iOS device to the computer. Then navigate to "Summary" and tap the "Restore Backup" button. The program will import the messages to your new device.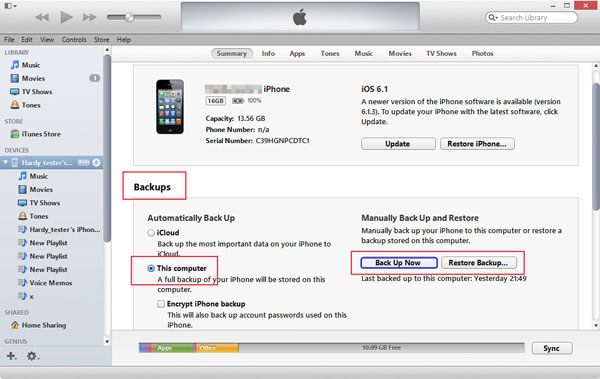 Note: The steps of using Finder to transfer messages to another iPhone are very similar to using iTunes. As long as you connect your iPhone to your Mac via an Apple cable, go to Finder, and select your device, you can back up and restore data in the "General" tab.
Read also: Do you know where your WhatsApp messages are stored on your smartphone and other devices? If you are interested in this topic, click the link.
Part 3: How to Transfer iMessages to New iPhone via AirDrop
Have you tried sending your iMessages using AirDrop? AirDrop is a helpful in-built feature on iOS devices, sending files to iOS devices without a network or a USB cable. As long as your device runs iOS 7 or later, you can use AirDrop smoothly. Plus, with AirDrop, you can transfer messages one by one, so it is slightly inefficient.
Here's how to send iMessages to a new iPhone via AirDrop:
Step 1. Enable AirDrop on iPhones
Please go to "Control Center" to turn on AirDrop on both iPhones, and go to the AirDrop settings to choose the "Contacts Only" or "Everyone" option on your target iPhone, which helps you receive the messages.
Step 2. AirDrop Messages to Your New iOS Device
- Open the Messages app on the sender, and find the messages you want. Then touch and hold the message, and click the "More" > "Share" > "AirDrop" option.
- Finally, choose your new iPhone, and tap the "Accept" icon on the target phone. Then you will receive the message.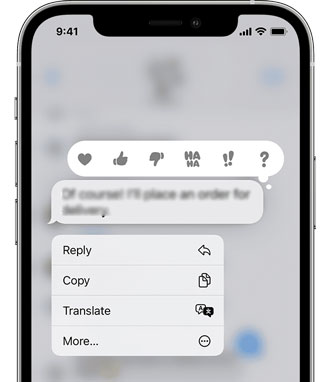 Further reading: It is easy to forward messages on an Android phone, and you can forward messages in different ways.
Part 4: How to Transfer Messages from iPhone to iPhone via Quick Start
Quick Start can help you set up a new iOS device in a quick way, and move data from iCloud or your old device to the new gadget. Thus, it can transfer all kinds of data to the new device, including your messages. But it cannot work if you have set up your new iPhone. If you have done the setup, please reset your phone.
Step 1. Start the Setup on Your New Device
Please turn on your new iPhone, and select a language. Then you will see the "Quick Start" screen, place your old device next to the new one, and tap "Continue" to go on.
Step 2. Make a Connection
Position the animation on the new iPhone to the circle on the old device, and enter the password to go ahead. Then follow the on-screen guide to complete the setup.
Step 3. Transfer Messages from iPhone to iPhone
- When getting to the "Transfer Your Data" screen, please click "Transfer from iPhone" and agree to the Terms and Conditions.
- Tap "Continue" to allow it to transfer your data. After that, your data will directly migrate to your new iDevice. Please wait until the process is finished on both iPhones, and your messages will be saved on your new mobile device.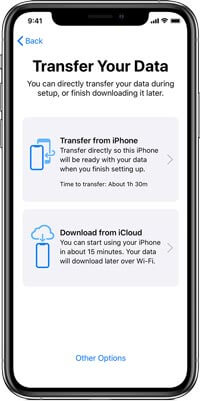 You might need: Messages sometimes are important proofs of events. If you want to print your texts out, you can follow this article.
Bonus: Why did my messages not transfer to my new iPhone? In most cases, this issue will be caused by a poor network, device system errors, full storage of iCloud, or wrong settings. Therefore, you can check these aspects on your iPhone, and will fix it without effort.
Conclusion
As you see, Apple manufacturers have offered convenient ways to you, so there is no difficulty in transferring messages to a new iPhone. If you have any queries about it, please drop us a line in the comment area. We'll respond to you as fast as we can. Sincerely hope these methods help you.
Related Articles
How to Transfer Text Messages from Android to Computer in 7 Powerful Methods?
How to Transfer Text Messages/iMessages from iPhone to Android?
How to Back Up WhatsApp Messages from Android to PC Fast [4 Great Ways]
How to Transfer Text Messages from Samsung to Samsung Easily? [4 Methods]
Share Contacts on iPhone without Trouble (5 Fabulous Approaches)
How to Transfer Contacts from iPad to Android Smoothly | 6 Wise Methods