Summary
In this digital age, we have most of our data including photos, videos, documents, contacts, and more, in the soft format. With new technology coming up almost on a daily basis, there's a new mobile device launched very frequently. Although there are a number of platforms on which these devices work like iOS, Windows, and more, Android is arguably the most widely used.
Knowledge of how to transfer data from Android to Android, therefore, assumes very high importance. In this article, we cover different ways and also give you step by step guides for the most useful methods for undertaking data transfer from one Android phone to a new one.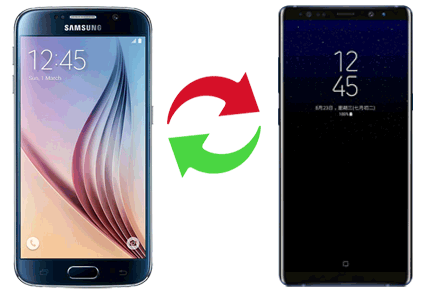 Method 1. Android to Android Data Transfer Through Google Account
File migration between devices was never easier. Almost all Android devices across the globe feed on the services of Google. This enables you to effortlessly sync your data to your Google account. When you log in to this account from any device, all of this data can be directly accessed and transferred. That means you can transfer data from your old Android device to the new one by downloading the backed up contents.
The files that can be transferred in this manner include calendar events, contacts, passwords of Wi-Fi and other networks, wallpapers, Gmail settings, phone settings, and app data.
Especially, call logs and text messages can be backed up to Google account now. The call logs can be backed up to Google account from an Android phone running Android 6.0 and later, meanwhile, the text messages require Android 8.0 Oreo or later. And you can also sync photos and videos to your Google account if you have turned on the sync function in Google app.
The steps for achieving this data transfer are easy to follow and are given as under:
#1. Backup Data to Google
Go to "Settings" and select "Accounts".
Select "Google" and choose the Gmail address on which you want to have the backup. Make one, if you already don't have. You can use the "Add Account" option for this.
A list of file types will appear. Select the ones that you want to backup.
Click on the 3-dots icon and select "Sync Now".
#2. Sync Files to New Android Device
Go to the "Settings" menu and click on "Accounts".
Select the "Add Account" option.
Enter details of your Gmail account on which you'd backed up your data.
Go to your Google account.
Click on the 3-dots ("More" option).
Choose "Sync Now".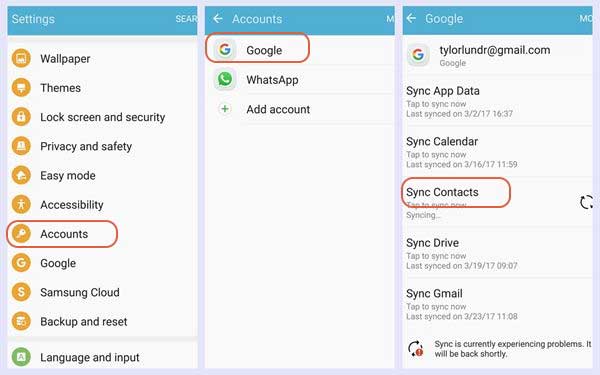 Please notice that the data you have synced to Google account shouldn't be more than 15 GB because Google only provides limited cloud storage for free. If you need more space, a fee is required.
For Specific Data Types:
How to Transfer Photos from Android to Android?
Transfer Contacts from Samsung to Samsung via Bluetooth
Method 2. Transfer Everything from Android to Android in A Single Click
Android Data Transfer is another extremely useful way to transfer everything from your old Android phone to a new one with 1 click. It can transfer data across different platforms, including iOS and Android, without any cap on the data size. Unlike Google account, it is a desktop application with both Windows and Mac versions.
The Key Features of Android Data Transfer:
1) Support contacts, call logs, text messages, photos, videos, music, documents, and apps.
2) Support transferring files from Android to Android, Android to iOS, iOS to Android, and iOS to iOS.
3) Compatible with almost all Android brands, such as Samsung Galaxy, LG, Huawei, Xiaomi, OPPO, OnePlus, Motorola, Sony, HTC, and more.
4) Supported Android OS: Android 2 to Android 9.
5) Work on Window 10/8/7/Vista/XP and Mac OS X 10.7 or later.
Here's how:
Step 1. Connect two Android devices to a computer.
Launch the Android Data Transfer program and connect both the phones to a computer via USB cables. You need to enable USB debugging on your Android devices.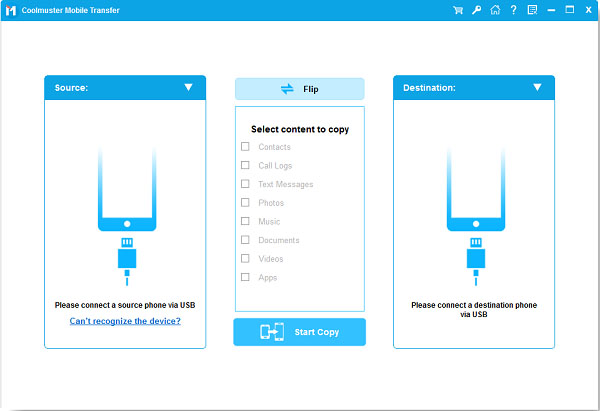 Step 2. Select data for transfer.
Please follow the prompts to make the program detect your Android phones. Once done, check if your phones are put on the correct sides. Make sure that the source phone is on the left, and the target Android phone is on the right. You can correct their positions by clicking the "Flip" button.
Then you can select what types of data you would like to transfer, please check the boxes beside the data. If needed, tap on the "clear data before copying" option to remove data on your target Android phone.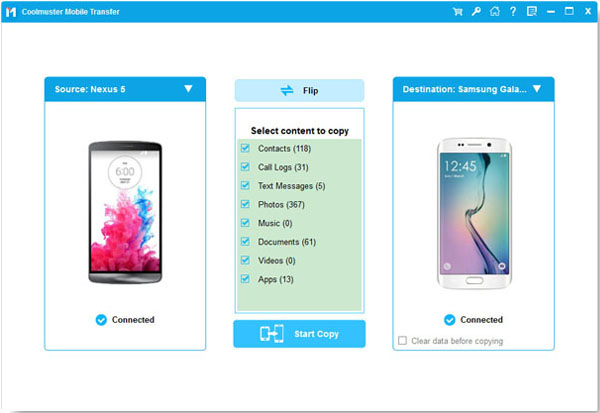 Step 3. Start to move data from Android to Android.
Click on "Start Copy" to activate the data transferring and wait for the process to complete.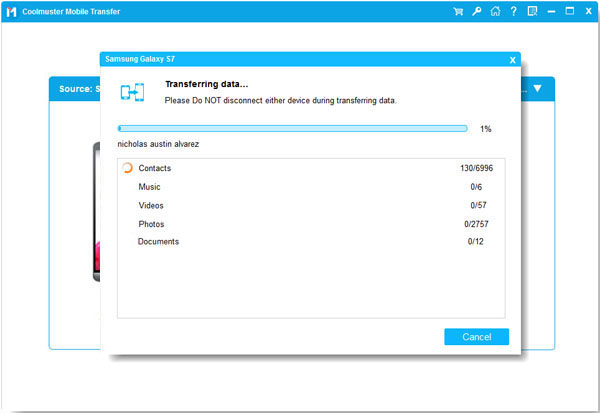 You May Need:
How to Transfer Photos from iPhone to Samsung?
Samsung to iPhone Transfer - How to Transfer Data from Samsung to iPhone?
How to Transfer Files from Android to Android in 2019?
Method 3. Transfer Data to A New Android Phone with Free Official Apps
In addition to the above-mentioned methods, there are company based official Apps also available for data transfer. The Samsung Smart Switch, Huawei Phone Clone, and LG Mobile Switch are few of the most popular of these free Apps. Data transfer using any of these Apps as simple as it can possibly get.
The usage commonly involves 4 steps:
Connect two Android devices to each other with the help of the app.
Select data on your old Android device.
Send the selected data to your new Android phone.
Confirm receiving the files on your new phone.
They allow you to migrate many types of data and some phone settings between Android phones. However, even though these free apps attract many users, it's important to note that these Apps have been designed to motivate and assist people to switch to a particular brand of phone.

Wrapping Up
Every coin has two sides. You may find that the 3 methods mentioned above may not meet all of your needs with their own limited supported data. Google cloud service has only 15 GB storage space for free. Android Data Transfer doesn't allow you to sync the phone settings. Free official apps have limited compatibility abilities and supported files.
If you need to switch multiple kinds of data and phone settings to your new Android device, mix them up.
Related Articles:
How to Transfer Photos from iPhone to Samsung?
Samsung to LG Transfer - How to Transfer Data from Samsung to LG?
Samsung Galaxy Recovery - How to Recover Deleted Files from Samsung Galaxy in 2019?
How to Transfer Files Between Huawei and Computer? (2 Ways)
How to Read Android Text Messages on Computer?
Effortlessly Transfer SIM Card Data to Computer without Data Loss