While iCloud is a great resource for backing up information from an android device, this is not the only reason why iCloud is essential. This is because the information that is synced in the cloud can be accessed for use from a desktop computer, personal laptop and any other devices that can get to the cloud. Therefore, if the person is working on a project that they need to complete, they can send the data that someone else has forwarded (excel spreadsheet) to their android and then sync to icloud – so that it can be accessed from their desktop computer.
Then, how to Sync android phone or tablet to iCloud? There are numerous ways to achieve that. Here in this article, we introduce two different ways that can help you.
2 Ways to Sync Android Phones/Tablets to iCloud
Way 1. Using iCloud & Google
To move data from Android to iCloud, you can take full advantage of your iCloud account and Google. You might need no third-party app to complete the job. Let's see how to make it.
(1) Please visit icloud.com on your computer with a browser and log in with your Apple ID and password.
(2) Click "Contacts" tab from the Home page, and click "Settings" option.

(3) Then please choose "Export vCard" to download it.
(4) Now, open Google browser and go to google.com/contacts.
(5) Choose "Import" and select the vCard file you have downloaded.
(6) After that, your contacts are synced successfully.

You May Also Like: 2 Ways to Transfer Photos from iTunes to Samsung Phones
Way 2. Use Sync for iCloud
Android apps like the iCloud Contacts Sync app on Google play can help you sync your Android files to your iCloud account. This app allows the user to sync their information for free. To use this app to sync Android data, you can check the following steps:
(1) Launch the app on your Android phone and create your account of it by entering your email and password when prompted.
(2) Choose the calendars that you want to sync to your Android phone.
(3) Tap "Finish" button to complete the steps, then the app will start sync the selected contents to your Android phone.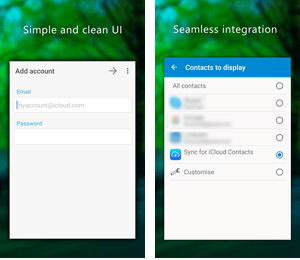 However, this app only supports to sync calendars and contacts, and the other important files like photos, videos, notes, text messages and more won't sync with this app. What's more, while using the app, you might need to sign into your iCloud account again and again, which is troublesome. If you need to back up all kinds of Android files, you might need to rely on the alternative way as follows.
You May Also Like:
How to Access iCloud on Android Phone [3 Solutions Offered]
How to Restore iCloud Backup to New Phone Effectively [Solved]
[3 Ways] How to Transfer iCloud Backup to Samsung Galaxy S9/S9+
Extra Tips: Alternative Way to Backup Your Android Data
Are you looking for a secure way to backup your Android data? Why not have a try with the Coolmuster Android Assistant, which allows you to transfer data from your Android device to computer without any quality loss.
> It can help you backup your Android device's contacts, text messages, photos, videos, music, apps and etc. from Android to computer.
> It allows you to restore or import any files from computer to Android phone with a click.
> It enables you to edit, delete, modify, add Android files directly on computer.
> With the One-Click Backup & Restore feature, you can quickly back up or restore Android files as you like.
> It enables you to manage your contacts and messages right from the desktop. You can message others, you can receive new messages, delete old messages, add new contacts, edit existing contacts and delete duplicated contacts. And you can install, uninstall and backup Android apps on computer.
> It supports almost all Android phones, including Samsung, Huawei, Sony, ZTE, LG, Xiaomi, Meizu and etc.
It comes with free trial version that allows you to experience its basic functions before you decide to purchase it.
Only 3 steps are required:
(1) Open the installed software on computer and connect your Android phone to computer via a USB cable
(2) When you are on the main interface of the program, you can enter any file category to preview files in details.
(3) While previewing, please choose any button of the program to manage your Android files.
To backup Android files, you can choose one or more files and click "Export" button to export immediately. Or go to "Super Toolkit" > "Backup" to backup Android files as quickly as possible.
Have a look at the main interface of the Android Assistant: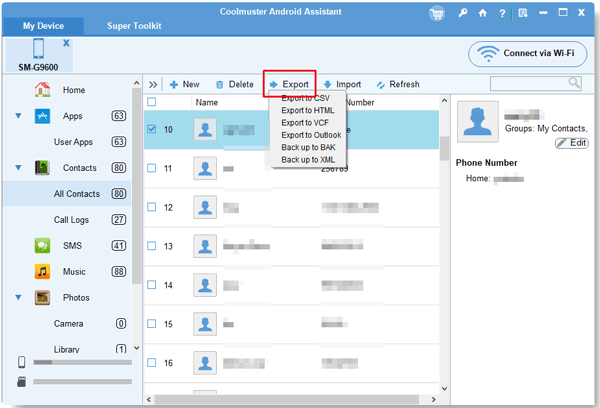 Related Article:
How to Transfer iCloud to Android Phone/Tablet [2 Solutions]
How to Download Contacts from iCloud (to PC or Android)
How to Transfer iCloud Photos to Android [2 Methods]
[3 Ways] How to Transfer iCloud Backup to Samsung Galaxy S9/S9+
How to Transfer Text Messages from Motorola to Computer
How to Transfer Contacts from Samsung Galaxy to PC