Summary
Using AirDroid is handier than using Bluetooth, a USB cable, and other traditional ways. However, more and more people are discontent with its connection and transfer problems. Sometimes it fails to connect, cannot send large files successfully, or even compresses the sending files. Therefore, it is necessary to get an AirDroid alternative.
This article has displayed 11 excellent apps similar to AirDroid and they can do better in transfer and connection. You can have a look at their introductions before selection.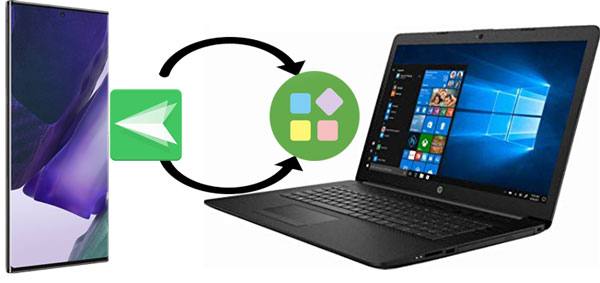 # 1: Samsung Messages Backup
One of the best AirDroid alternatives - Samsung Messages Backup, can transfer files from Android to the computer and vice versa. What's more, it allows you to manage your Android files on the computer via editing, deleting, copying, and more. Want to back up all files in 1 click? Don't worry. It can make it without hassle. Go to the "Super Toolkit" tab and there are one-click features for you.
Main features of this alternative to AirDroid:
- Back up Android files to a computer in 1 tap.
- Efficiently restore backup files to your Android device.
- Support contacts, call logs, text messages, photos, videos, music, apps, and documents.
- Allow you to preview detailed files on the interface.
- Receive and reply to text messages on the computer.
- Support USB and Wi-Fi connections.
- Help you take screenshots of Android and keep them on the computer directly.
- Allow you to modify, add, and remove your contacts.
- Fast install apps from the computer to Android, and uninstall apps from Android.
- Compatible with many Android phones and tablets, such as Samsung Galaxy S23/S22/S21/S20/S10/S9, HTC U20/U12 Life/U12+, LG V60/V50/V40, OnePlus, ZTE, Vivo, OPPO, Huawei, Google, Sony, etc.
Download this AirDroid replacement for free below.
Here's how to use it:
Step 1: Download and install the program on a computer. Then launch it and connect your Android phone to the computer via a USB cable.
Step 2: Enable USB debugging mode on Android, and allow it to install the driver on the computer for connection.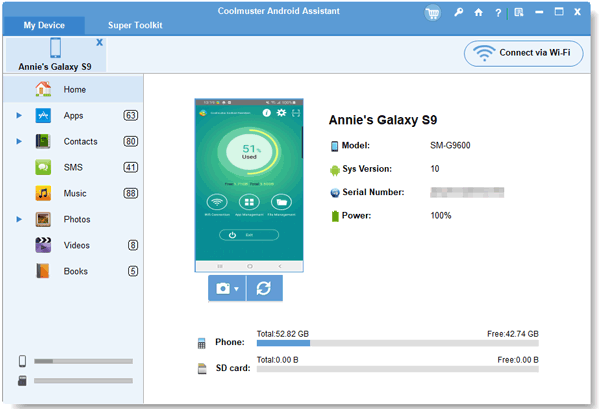 Step 3: After connected, you can select, manage, and transfer your Android files with different features.
Bonus:
Want to transfer files from Android to the PC via Wi-Fi? Get these 6 tips here.
Is there an alternative to iSpoofer for iOS and Android devices? Of course, here is the guide for your reference.
# 2: AirMore
AirMore is a file transfer app like AirDroid, which supports Android and iOS devices. You can connect your Android handset to the PC via the webpage instead of downloading a program. Thus, you can breezily control your Android files, like applications, ebooks, songs, and more on the computer.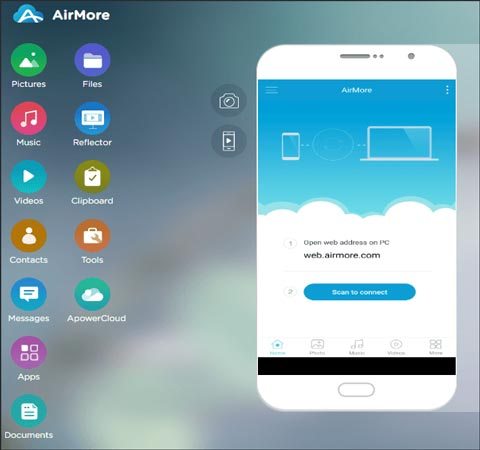 Pros:
- Help you organize your media files on the browser.
- The call notification allows you to focus on the PC without missing incoming calls.
- Get connected via scanning the temporary QR code.
- Reflect Android screen to the PC so that you can play games with the large screen.
Cons:
- Sometimes it is difficult to connect the Android device to the computer.
Read also:
There are 5 fantastic HTC Sync Manager alternatives for your inference.
This is a helpful guide for you when your Android phone is stuck in recovery mode.
# 3: Pushbullet
Pushbullet is a useful alternative to AirDroid. You can conveniently receive and send SMS on your computer with it. And you can get notified that you care about, including phone calls, app notifications, and more. If needed, you can push links between devices and chat with your friends.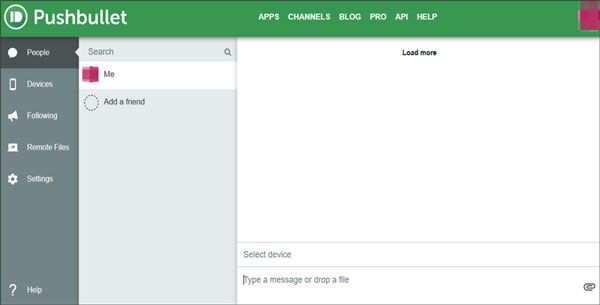 Pros:
- Download the sending files automatically.
- Instantly share links with yourself.
- Support transferring pictures and other files.
- Show your WhatsApp messages on the computer.
- There is no advertisement on the app.
Cons:
- Functions are fewer than others.
- The interface is out-of-date.
Further reading:
Desire an effective Motorola Migrate alternative? Take a look at this post, and you will get 5 tools to replace the Migrate app.
This guide will tell you how to transfer files between Android devices wirelessly. If needed, click the link.
# 4: Xender
Xender, an overall file transfer platform, can transfer multiple file types on Android, iOS, Windows and Mac computers. Amazingly, it can transfer your files without mobile data, and the highest speed can reach 40 Mb/s. After you receive the video and music from your friends, you can play them directly.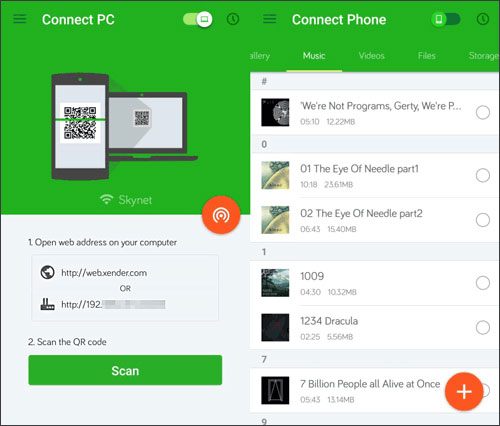 Pros:
- No need for a USB connection.
- Help you save videos from WhatsApp, Facebook, and Instagram.
- Allow you to enjoy hundreds of games without download.
- Support you to view, move, and eliminate the files you receive at any time.
- Transfer data from one phone to another, computer to the phone, and vice versa.
Cons:
- Contains ads on the interface.
- Allow you to connect devices via hotspot only, although you want to use mobile data.
Maybe you need: Samsung Kies is old-fashion now. Please get 6 alternatives to Samsung Kies from this article. They will work better for you than Kies.
# 5: KDE Connect
Is KDE Connect a nice equivalent to AirDroid? Certainly. It can help your devices communicate with each other without trouble. Sending files is a piece of cake. It can control the music playing on your mobile phone on the computer. Furthermore, it can assist you in turning down/up the desktop volume from the phone.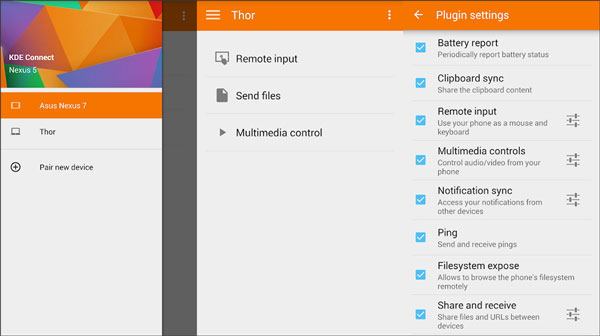 Pros:
- Connect your device with the Wi-Fi connection.
- Copy text with the clipboard between any devices.
- Help you ring your phone for finding it.
- Control your computer with your phone.
Cons:
- The program is large.
- There is no Mac version yet.
You might need: Want to efficiently delete contacts on Android? Please don't miss these 5 approaches.
# 6: Samsung Smart Switch
Samsung Smart Switch is well-known for its powerful backup and restoration features. It can smoothly work with cell phones and computers. Besides, it can transfer data from one phone to Samsung via a USB cable and Wi-Fi. The simple interface makes the transfer easy.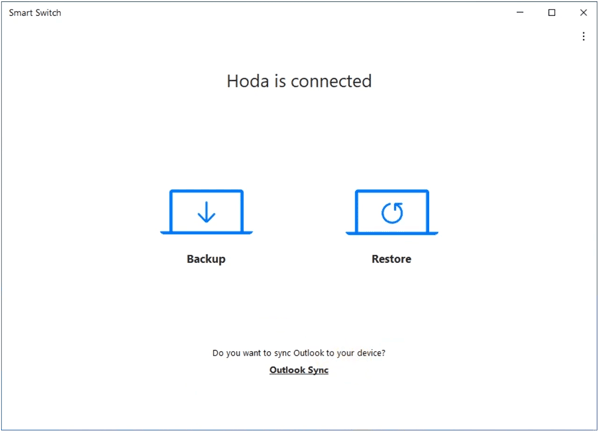 Pros:
- Professional to transfer files, like settings, wallpapers, audios, messages, and more.
- Support you to select files freely before transfer.
- Import files from iCloud on the iPhone.
- Move all files from Android to Android directly.
Cons:
- The wireless transfer feature is available on Android OS 6.0 only.
- Require the destination device is Samsung.
See also: Here are 6 tips about the Samsung Smart Switch alternative so that you can transfer data with more choices.
# 7: Vysor
Vysor can help you put your Android device on your desktop, including Windows and Mac. It is like a window to the Android phone, can lets you copy and paste files between them. Additionally, you can control your phone with the keyboard and the mouse on the computer with ease.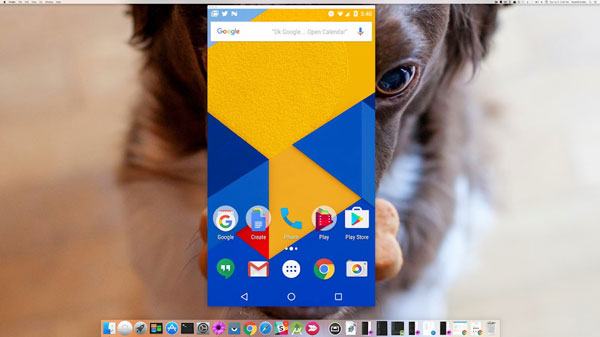 Pros:
- Work with many Android devices.
- Capture screenshots without limitation.
- Allow you to play Android games on the desktop.
- Support sending text messages on the computer.
Cons:
- A little complicated to set it up.
- The free version doesn't support all functions.
You might like: Is there an alternative like iCloud for Android? Yes! Come here, and you can take these useful tools away.
# 8: Your Phone Companion
Your Phone Companion, created by Microsoft, is analogous to AirDroid. It can reflect your Android device on the Windows computer via Wi-Fi. After connected, you can handily access your Android gallery and other apps on the PC, and drag files for transfer between the devices.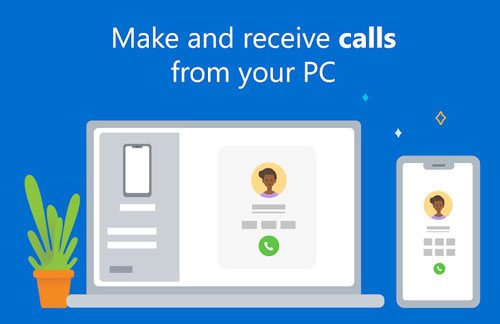 Pros:
- Easily manage your Android phone on the Windows PC.
- Allow you to control your phone with a keypad, mouse, and a large screen.
- Discover the new Microsoft apps that you need.
Cons:
- Same Wi-Fi network required.
- Support Android 7.0 or upper, and Windows 10 May 2019 Update.
Tips: iTunes is for iPhones, but what tools can support Android? Luckily, you can get an iTunes alternative for Android here. Please don't miss them.
# 9: SuperBeam
SuperBeam makes file sharing from Android to Android quick with its Wi-Fi direct technology. It will help you connect devices using QR codes, NFC, or entering the sharing key. As long as you download the computer edition, you can achieve the data transfer between Android and Windows/Mac/Linux.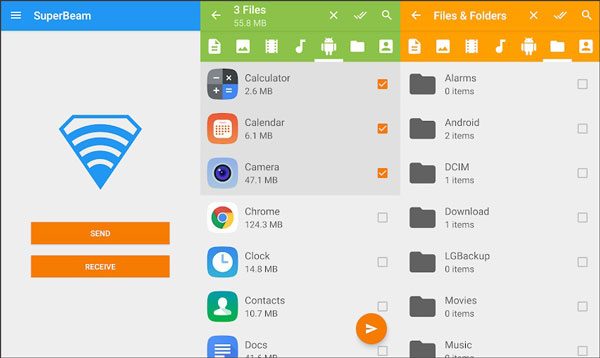 Pros:
- Send files between Android devices with a high transfer speed.
- Offer different color themes to you.
- Smartly Add unique numbers to duplicate file names.
- No more Ads on the pro version.
Cons:
- NFC needed.
- Contain ads on the free edition.
Check if you need: Mi PC Suite is not powerful enough? There are 4 replacement tools that can take the place of it perfectly. Want a try?
# 10: SHAREit
SHAREit is an alternative to AirDroid that you can transfer files via Wi-Fi or mobile data. You can send various file types with it, whose highest speed can go up to 20 Mb/s. You can watch popular movies, TV shows, and listen to pop music during the transfer.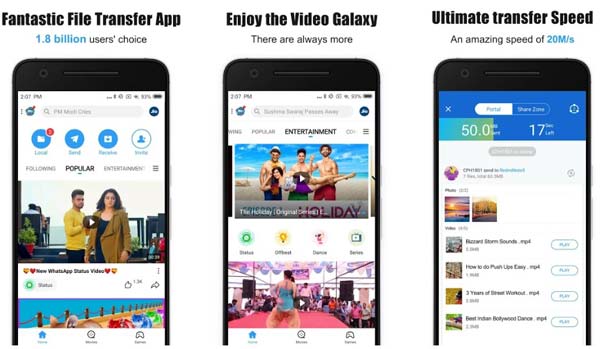 Pros:
- Support 45 languages.
- Send the latest news to you.
- Allow you to play music and videos without effort.
- Support many file formats, and transfer files seamlessly.
Cons:
- There are many ads on the screen.
- The transmission speed rarely reaches the highest.
Note: Click this link, and you will get the better alternative to Android File Transfer for Mac.
# 11: Snapdrop
Snapdrop is a simple web tool to transfer files between mobile handsets and computers. It is a helpful replacement tool for AirDroid, and its connection is similar to AirDroid. You can browse its webpage on the smartphone and the computer to make a connection. Then you can start sending files.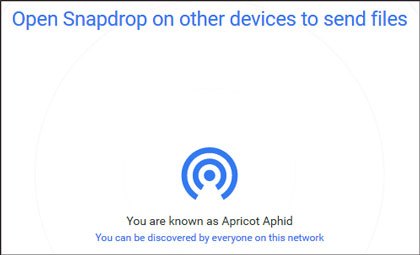 Pros:
- Really simple to use without redundant steps.
- Swiftly export files between the mobile phone and the computer.
- Encrypt your sending files using TLS protocol.
- Access your folders to help you transfer the desired files.
Cons:
- Connect your devices with the same network.
- Easily transfer files to others who are using the same network by mistake.
Conclusion
It is effortless to find an AirDroid alternative with the help of this post. These 11 different apps and programs mentioned above are good at moving and managing Android files. If you want the best one, please select Samsung Messages Backup. It has more practical functions and is more capable of the steady connection. Try it and you will know its benefits.
Related Articles
How to Back Up and Restore Android Phone/Tablet on Computer? (5 Ways)
Android SMS Manager: How to Manage Messages on Android with 3 Practical Methods
Samsung Manager - How to Manage Samsung Easily in 4 Top Methods
6 Best Android Music Manager For Android and Computer [Recommended]
6 Methods on How to Transfer Contacts from iPhone to Android [You'd Better Know]
Wonder How to Back Up Android to Mac? Here Are 6 Ideal Answers!