Summary
Samsung Cloud sometimes suddenly fails to back up data on Samsung mobile devices. That will hinder the regular backup of your important files on Samsung. Then why is it like this? And how can you fix Samsung Cloud backup failed? Luckily, this article will answer these questions in detail today. Please go on to read it, and you will get 7 applicable methods effortlessly.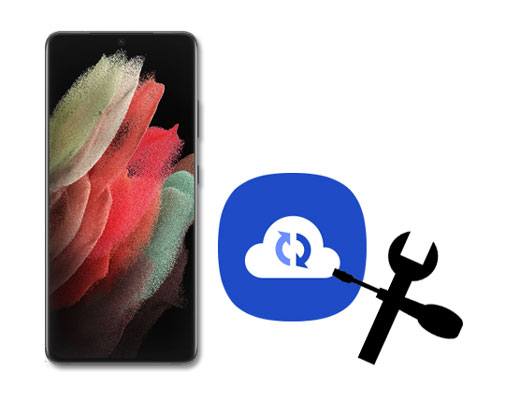 Way 1: Reconnect Your Phone to Network
The first most common reason for Samsung Cloud backup not working is related to the connection network. Maybe you connect your Samsung device to an unavailable network for your inattention. In this situation, you can go to Settings and reconnect your phone to another safe and stable network.
However, somebody finds they have turned on the mobile data, and can visit the Internet fast, but they can't restore data via Samsung Cloud. So, why does Samsung Cloud still fail to work? If you face the same problem, perhaps you enable the Wi-Fi only feature on your phone.
Here's how to do with it when Samsung Cloud failed to back up device data on Samsung:
Step 1: Go to the Settings app, and click the "Cloud and accounts" > "Samsung Cloud" option.
Step 2: Tap the "More" icon on the top right corner, and choose the "Settings" icon.
Step 3: Then switch off the "Sync using Wi-Fi only" icon, and you can use your mobile data to back up or restore data on Samsung Cloud.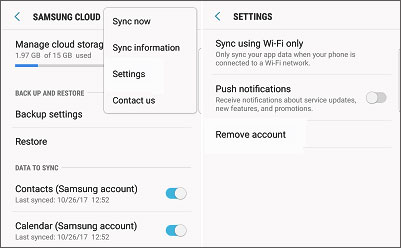 Bonus: Do you also want to solve the problem of the Samsung Smart Switch not working? Please tap the link and check it out.
Way 2: Enter Your Samsung Account Again
The second way to solve Samsung Cloud backup not working is to enter your Samsung account again. Maybe it sounds ridiculous, but many cases have proven that this way is valid. By the way, please make sure your Samsung account is available in advance.
Guide to solve Samsung Cloud failed to back up device data by entering the Samsung account again:
Step 1: Open Settings and click the "Accounts and backup" > "Manage accounts" option.
Step 2: Select your Samsung account, and hit the "Remove account" twice. Then tap the "Sign out" and "OK" icons.
Step 3: Now, you can add your Samsung account again.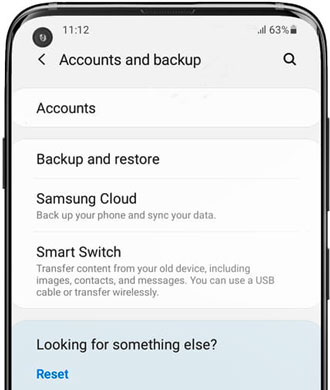 Read also: This guide will help you fast download music on Samsung. If needed, please get the ways.
Way 3: Clear Junk Files and Caches on Samsung
Your Samsung Cloud failed to back up your profile section saved in contacts? In fact, when there are too many caches and junk files on your Samsung phone, it will make your device stuck. Thus, Samsung Cloud will probably fail to back up your data.
Here's how to fix Samsung Cloud backup failed via clearing junk data and caches:
Step 1: Launch the Settings app, and click the "Apps" option.
Step 2: Select Samsung Cloud, and tap the "Storage" > "Clear cache" icon. Then it will delete the cache on your Samsung Cloud.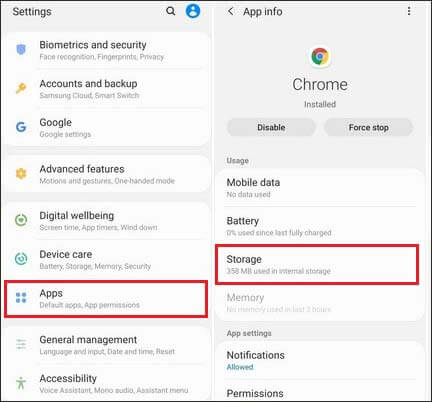 See also: You can also open the Device Care app, and optimize your device with it.
Way 4: Check the Storage Space of Samsung Cloud
In some cases, Samsung Cloud can't back up data due to not enough space. In other words, you have run out of cloud storage. If you want to continue back up your files via Samsung Cloud, you need to upgrade your Samsung Cloud space. Also, you can eliminate the useless files from the cloud space.
Steps on repair Samsung Cloud backup not working via upgrading storage plan:
Step 1: Access the Settings app, and click the "Cloud and accounts" > "Samsung Cloud" option.
Step 2: Then, you can view the Cloud Usage on your Samsung phone. To upgrade it, you can click it and choose a plan you want. After purchased, Samsung Cloud will go on to back up your files.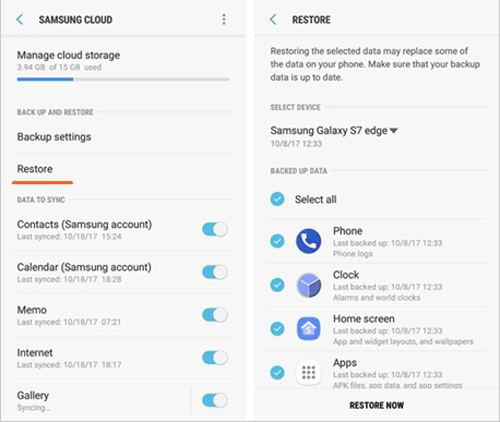 Maybe you need: How can you smoothly free up Samsung tablet space and make the device faster? Maybe these 5 tips will give you support.
Way 5: Restart Your Samsung Device
What if you have done all the methods mentioned above, but your Samsung Cloud can't back up or restore your Samsung data? If so, perhaps the matter is not on Samsung Cloud but your device. So, you can restart your Samsung device at first, and check whether your Samsung Cloud works or not. Once this way doesn't work, you can move on to the next way.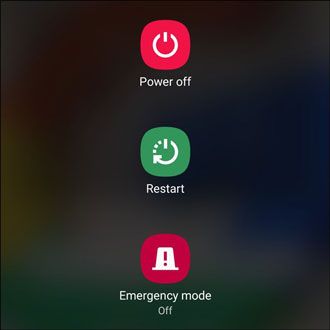 You might like: Accidentally deleted your Samsung contacts? Don't panic. You can recover deleted contacts on Samsung with these methods.
Way 6: Best Alternative to Back Up Samsung Files with Samsung Backup Manager
More conveniently, this excellent alternative - Samsung Backup and Restore, can back up all your Samsung data to your computer in 1 click. Besides, you can restore the backup data to any other Android device. Amazingly, it supports various data types, including contacts, text messages, call logs, photos, videos, and more.
This Samsung backup manager can help you:
- Swiftly back up photos, music, applications, documents, SMS, videos, contacts, and so on from Samsung to a computer.
- Restore all backup files to your Samsung device without losing quality.
- Transfer the backup data to other Android phones and tablets without effort.
- Preview and select files by category before backup and restoration.
- Complete the data backup and restore via USB and Wi-Fi connections.
Additionally, this program supports most Android devices, such as Samsung Galaxy A7/Tab S7/Tab S7 FE/Tab A 8.4/Tab S6/Tab S/Galaxy Tab 4, Samsung Galaxy S21/S20/S10/S9, HTC Desire 21/Desire 20 Pro/Desire 19s/Desire 12s/Wildfire R70, LG Q92 5G/Q52/Q31/Q61, Sony, Xiaomi, Google, OnePlus, Huawei, HTC, and the like.
Download Samsung Backup and Restore for free below.
Here's how to back up data via this Samsung Cloud alternative:
Step 1: Install the software on your computer, and launch it on the desktop.
Step 2: Connect your Samsung device to the computer via a data cable. Then enable the USB debugging mode on Samsung. It will recognize your device immediately.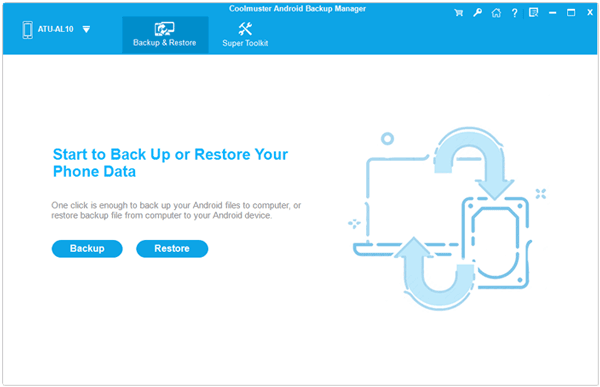 Step 3: Tap the "Backup" option and select data types on the interface. Finally, click the "Back Up" icon to transfer your selected files to the computer.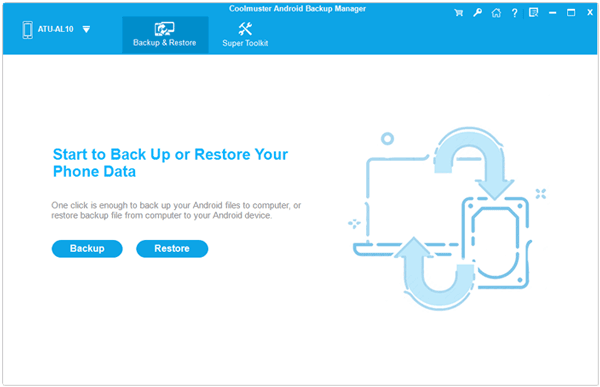 Further reading: You can directly uninstall apps on Android phones from a computer.
Way 7: Other Methods to Back Up Samsung Data
Nowadays, more and more replacements can back up your Samsung files with ease. You can also choose other methods to back up your Samsung data. For example, you can use Samsung Smart Switch, Google Drive, Google Photos, OneDrive, etc. All in all, please choose a reliable tool to back up your data.
Conclusion
So, have you mastered these 7 methods displayed above? With them, you won't fret Samsung Cloud backup failed anymore. Furthermore, you can use this alternative - Samsung Backup and Restore to back up Samsung data without a hitch. So, there is no difficulty in Samsung data backup.
Related Articles
How to Transfer Music from iPhone to Samsung | Freely Select 5 Smart Methods
How to Transfer Apps from Samsung to Samsung? 7 Effective Ways for You
How to Back Up Samsung Galaxy S8 in 6 Different Ways?
Samsung Smart Switch Alternative: 6 Equivalents Worth Pursuing
How to Transfer Photos from Android to A Computer with Ease?
How to Transfer Photos from SD Card to Computer Successfully - 5 Proven Tips