Summary
Anyone who has ever had to transfer large videos from one device to another knows the pain of struggling. There's a risk of losing quality. No matter how careful you are, if you don't use the right method, there is a chance that something could go wrong. Even seasoned Android users have problems when they need to send large videos.
But fret not, for this article will show you how to send large videos on Android. Transferring large videos can be difficult and troublesome to any person; it doesn't matter if you're experienced or a novice. But with this easy guide, you can transfer your large videos and be prepared for other future needs. So let's get started.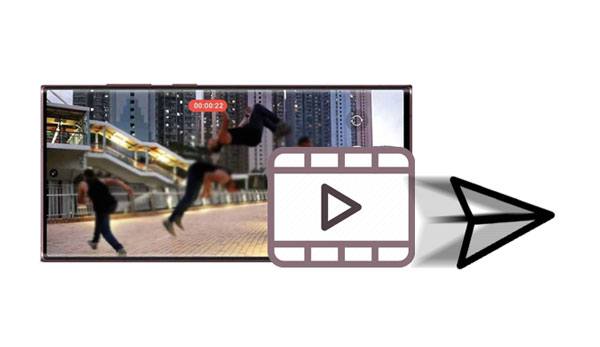 Part 1: What Is Considered a Large Video File?
Often, about 2GB is the cutoff, but each sharing platform determines what a "large video file" constitutes. The size of the video file is bitrate times compression ratio and duration.
Typically, the size of a video file depends on bitrate and not resolution. Bitrate is the rate at which bits are shared from one device to another. The bigger this number is, the better. Technically, a 4K video might have a lower bitrate than a 720p video, but it will be of poor quality and occupy less space.
Part 2: How to Send Video from Android via Android Data Assistant
Are your files too large to send from your Android phone? Are you tired of constant failures? Well, it's time to use something better, something that is actually powerful. This Android data assistant - Samsung Messages Backup, is an excellent program for data transfer purposes. The tool works with most Android smartphones and tablets.
Also, it can send large video files from your phone to your computer directly. What's more, you will be able to select the videos you want before exporting, which will not damage the quality of your videos.
With just a click, you can also transfer your contacts, photos, songs, apps from Android to your computer. Whenever you need the data, you can copy them from the computer to your Android device with ease.
Highlights of this Android data software:
- Professionally transfer videos from an Android device to a computer with no size limit.
- Import videos from a computer to any Android device without trouble.
- Back up and restore Android data on a computer in 1 click.
- List your video files on the interface one by one.
- Support various Android data types, including user apps, call logs, text messages, contacts, pictures, etc.
Download this Android data software to send big videos.
Here is how to send long videos from Android to PC via this software:
Step 1: Launch the program on the computer after downloading and installing it. Select "Android Assistant" from the primary interface to access the program.
Step 2: Use a USB cable to connect Android to the PC. After that, enable the USB debugging mode on the phone. Once connected, you will get the interface as follow.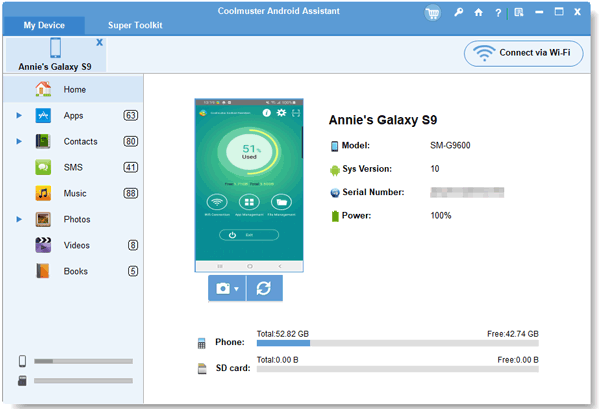 Step 3: Click the "Videos" option on the panel. Then view and select the video files on the interface. Tick off the files you want to send, and tap the "Export" icon to save them to your computer.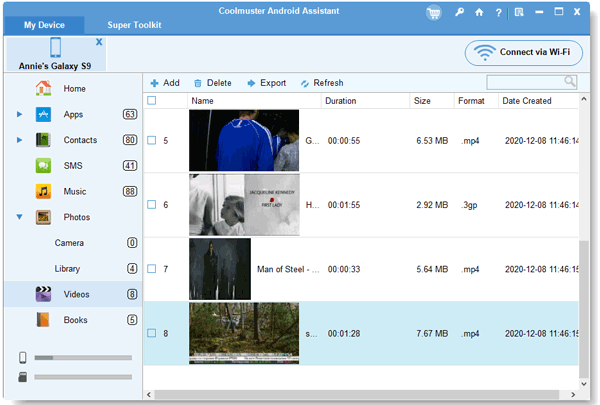 Read also:
Wonder How to Back Up Android to Mac? Here Are 6 Ideal Tricks!
6 Useful Methods on Android Backup to PC [You Can't Miss]
Part 3: How to Send a Video via Text Messages on Android
Can you send a large video through text on Android? As we all know, we can send media files via messages on mobile phones, but is it possible to attach a large video to a message? Android can it be sent and received successfully? Unfortunately, you cannot send a video over 300KB through a text message.
Send a video through text on Android:
Step 1: Open the Messages app on your Android phone.
Step 2: Tap "+" to create a new message, tap the "+" icon again, and choose the "Photos" option.
Step 3: Select a video within 300KB from your phone, and enter the contact. Finally, hit the "Send" icon to send your video.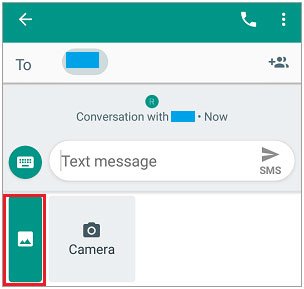 Further reading: With these 5 approaches, you can conveniently back up and restore text messages on your Android phone.
Part 4: How to Share Large Videos on Android via Cloud Service
Cloud service is also a better option to get your large video files from your Android and keep them in a safer location. It does not matter if you have a big file or multiple files; you'll transfer and manage your files easily. Below are two Cloud services that can help transfer large videos on Android:
4.1 Google Drive
Google Drive is one of the best cloud services that allows users to send large videos on Android. It is easy to use, and it won't create any problems as well. The maximum file size it supports is 15GB. Usually, it will take a few minutes to upload large files, and it retains the video's original quality.
Additionally, users can share their docs and presentations with others. For instance, if you want to work with others on a file, you can share it easily.
Send large videos on Android using Google Drive:
Step 1: Download and install Google Drive on your Android phone.
Step 2: Open it and sign in with your Google account. Or you can sign up for a new account.
Step 3: Click the "Plus" > "Upload" icon to upload your large video from the phone. Then you can log in to Google Drive on another device to download the large video.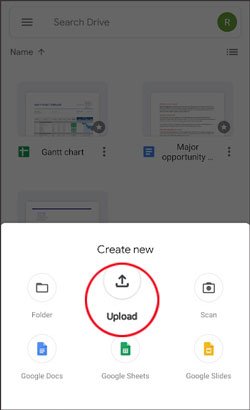 Read more: Follow this guide to back up and restore your Mi phone effortlessly.
4.2 Dropbox
You can also send your large audio files and videos on Android via Dropbox, as it offers 2GB of free storage. If you need more than that, Dropbox gives you a chance to upgrade and get more space for your files. It is easy to add new files to the Dropbox account, and it has the option to export data as well.
Use Dropbox to transfer large audio files on Android:
Step 1: Install and launch Dropbox on your Android gadget. Then log in to the app.
Step 2: Tap the "+" > "Upload files" icon to select audio files. Please keep your phone connected to a stable network.
Step 3: Sign in with the same account on another device, and save the audio files.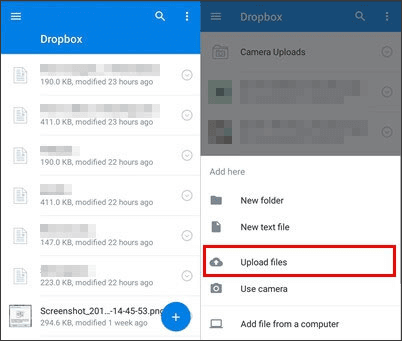 Part 5: How to Send Large Video Files from Android via Third-party Apps
Some third-party apps are also useful for sending large video files on Android devices. Let's see how they perform.
5.1 Collect by WeTransfer
Collect by WeTransfer is a cloud-based application for sending and sharing large video files. The application has a unique look and is easy to use. The application allows you to upload videos up to 200GB of data at once. You can play the videos on your phone, send them in an email or Facebook, or load them on a website.
Apart from transferring data, it's also a good app for saving files like apps, documents, videos, pictures, and many more. You don't have to log in to start sending videos, and you may send the link from the app via text message, email, or any other channel application.
Transfer large videos on Android via WeTransfer:
Step 1: Download the app on your Android phone or tablet, and launch it.
Step 2: Click the "Add your files" icon in orange, and choose the "Photo or Video" option to select the desired large video files.
Step 3: Touch "Add a message to your transfer" to type text, and tap "Next". Then opt for "Send an email" or "Get a link". If you want to email large videos from the phone, please choose the first one.
Step 4: Enter your email address, and tap the "Transfer" icon to send your videos.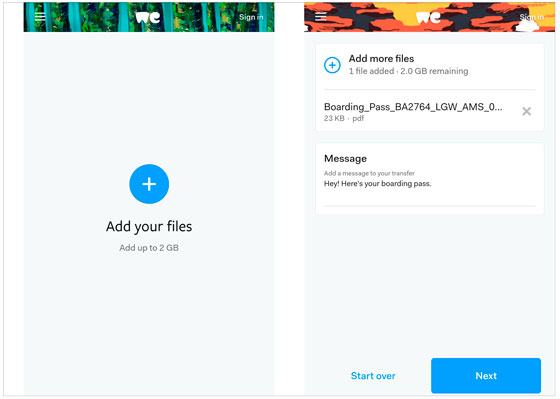 5.2 Send Anywhere
As the name suggests, this app helps you to send large videos anywhere as a backup. It is fast and easy to use. The application can upload videos up to 50GB at once. Besides, it can create a 1 TB link. To use this app, you require Wi-Fi which makes the whole process fast. The best part is that the quality of the video won't change. You need a 6-digit code to establish the connection for video transfer.
Transfer large videos on Android with Send Anywhere:
Step 1: Install Send Anywhere on your Android smartphone, and allow the app to access your device.
Step 2: Go to the "VIDEOS" option, and select your large video. Then click the "Send" button to get a 6-digit code on the screen.
Step 3: On your receiving device, open Send Anywhere, and hit "Receive" to enter the code. The app will automatically send your video to the target device.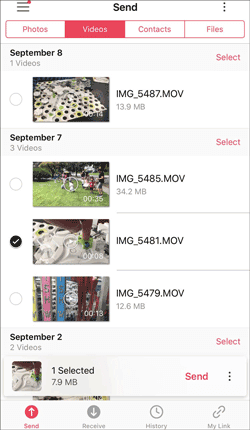 Conclusion
Do you want to remove all those big videos from your Android device to free up some space, or just back them up, or share with your friends? The ways above can do that effectively as they help you to manage large videos and other files on your phone. Among them all, the Android data assistant - Samsung Messages Backup, enables you to send countless large videos from your Android device to a computer. Also, you can import the videos to another Android gadget without hassle.
Related Articles
How to Transfer Photos from Android Phone to External Hard Drive [4 Simple Ways]
Expertly Transfer Large Videos from iPhone to PC in 7 Ways (Newest)
Ultimate Recovery: Recover Deleted Videos on Android Device Efficiently
How to Retrieve Deleted Videos on Samsung: 4 Dependable Solutions
6 Ways on How to Send Video from iPhone to Android Phone in Minutes
How to Back Up Samsung to PC Easily? - 7 Ways You Can't Miss