Summary
Obtaining an OPPO device and using it brings is an exciting moment. However, transferring data from your old device to the new OnePlus device can be intimidating. This daunting task should not be ignored, as there are still chances of losing important documents or media files if you don't take proper precautions.
Fortunately, we can alleviate this stress with helpful strategies that make the transfer process less challenging for everyone involved. Let's look at how to transfer data from OPPO to OnePlus.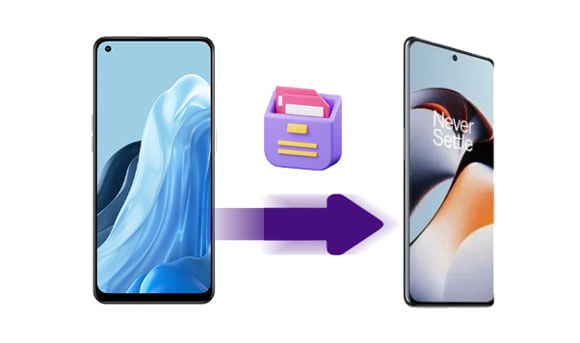 Part 1: Why You May Need to Transfer Data from OPPO to OnePlus
You may want to transfer data from one device to another for several reasons. Below are some common reasons:
1. Upgrading from OPPO to OnePlus: Upgrading to a new device means that you will need to transfer your data from the old device to the new one. This is mostly helpful when you want to switch between devices. Without transferring your data, you must start over with all of your apps and settings.
2. Sharing Data Between Devices: You may want to share data, such as photos and videos, from an OPPO phone to your OnePlus phone.
3. Back up Your Data: Moving your data from one device to another can also be used for backup purposes. You don't always have to rely on cloud storage services. Having a copy of your important data on two devices can be beneficial.
Part 2: How to Transfer Data from an Old Device to Your New OnePlus Device
How do I transfer data from my old Android to OnePlus One/11/11R/Ace 2/Ace 2V? You can use the OnePlus Clone Phone app or an efficient program to transfer files from your old phone to your new OnePlus device. Below is a detailed explanation of how you can transfer data from OPPO to OnePlus:
Method 1. Transfer Data from OPPO to OnePlus via Professional Phone Transfer Tool
You can use a professional tool, such as Samsung Data Transfer, to transfer data from OPPO to OnePlus. This is the most recommended and secure method as it is easy, fast, and reliable. This cutting-edge phone transfer software makes it incredibly easy to share data across multiple platforms, such as iOS to iOS, Android to Android, and even between iOS and Android.
Tried and tested with almost all of today's leading devices from Apple and Google's product lines alike, this program transfers music, contacts, videos, photos, notes, SMS and more flawlessly every time. Its intuitive user interface ensures you can get your data quickly and easily without the risk of losing the information.
Key features of this transfer software:
- Seamlessly transfer files between OPPO and OnePlus.
- Directly transfer data from one device to another without the need for a computer as an intermediary.
- Support a wide range of file types, like contacts, SMS, pictures, applications, and so on.
- Its cross-platform compatibility allows you to move data from Android to iOS and vice versa.
- Provide an easy-to-use interface with simple navigation buttons for a fast transfer.
Download this OPPO to OnePlus transfer program.
Follow the steps to copy data from OPPO to OnePlus:
Step 1. Download and Install the Program on Your Computer
Launch the program on your computer after installing it, and connect your OPPO and OnePlus devices to the computer using USB cables. Enable debugging mode on both devices and tap the "Mobile Transfer" button among the available options.
Step 2. Set Your Devices Correctly
- The program will detect both your devices automatically. Ensure that your OPPO device is set as the "Source" device and the "OnePlus" device is set as the "Destination" device. If not correctly set, click the "Flip" button to interchange their locations.
- If your Android device runs version 4.2 or higher, you'll be prompted to authorize the computer's access to your data by simply tapping "OK" or "ALLOW" on the screen.
Step 3. Transfer Data from OPPO to OnePlus
-Select the data types you wish to transfer from OPPO to OnePlus, then click the "Start Copy" button. The selected content will be successfully transferred within a few minutes.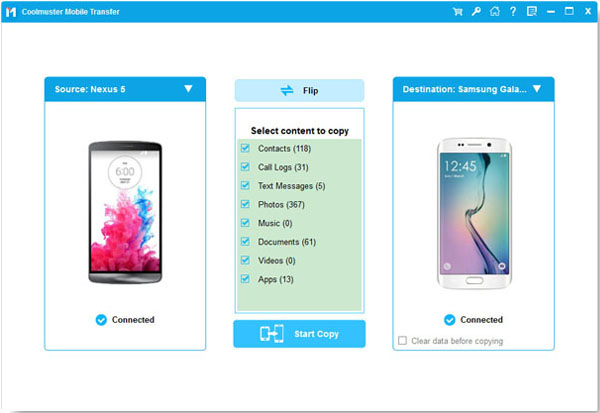 - Once the transfer is complete, you'll receive an alert notifying you that it has finished. Along with the "Transfer is completed" message, a report will be generated summarizing the results of your data transfer process.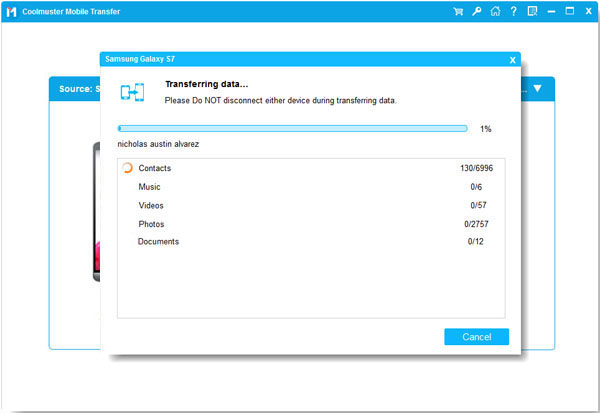 See also: 4 Safe Ways to Recover Deleted Files on OnePlus
Method 2. Move Data from OPPO to OnePlus via Clone Phone
OnePlus has made transitioning data from Android devices to their device simple and stress-free with the introduction of their new app, Clone Phone, also named OnePlus Switch in the past. Audio, video files, web history, and more can now be transferred effortlessly from OPPO to OnePlus devices. With this convenient guide detailing how to move important information between devices using OnePlus Switch, you'll never feel overwhelmed when switching again.
Use Clone Phone to move data from OPPO to OnePlus:
Step 1. Install the App
Begin the process by downloading and installing OnePlus Switch on the two devices. Grant the required permissions to the devices to allow data migration.
Step 2. Set Your Phones
Open "Settings" and select the "Advanced" option. Then tap "I'm a new phone" on your OnePlus device. Once you've read all instructions carefully, hit "Continue" to move forward! Your OnePlus device will generate a QR code that you should scan using your OPPO device.
Step 3. Connect Both Phones
Connect the devices by selecting the "I'm an old phone" option on your OPPO device and use your camera to scan the QR code that appears on your new device. Once both devices are connected, you're ready to go.
Step 4. Select and Transfer Data
Once both phones are connected, you will be presented with the data available to transfer. Choose which information to migrate and click "Start" to begin. It may take some time, so please remain patient until the procedure is complete.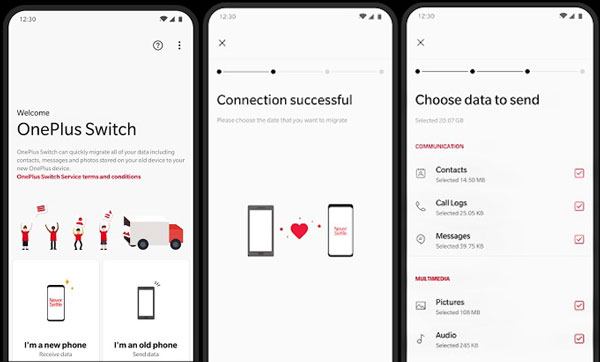 NB: If you have an Android Phone with Android 6.0 or a more recent version, you can seamlessly transfer your data through the Clone Phone app. For the duration of the migration process, keep this app open. Do not close or lock your screen, as doing so could compromise integrity. Should any of your information fail to transfer during the initial attempt, don't fret. OnePlus Switch stores where each piece is left off and allows for continuation at another time.
Read also: You can transfer your OnePlus files to your computer for backup with these methods.
Part 3: FAQs on Transferring Data from OPPO to OnePlus
Q1: How long does it take to transfer data from OPPO to OnePlus?
The speed of file transfer depends on the size of the data and other factors. Generally, it takes a few minutes for smaller files.
Q2: Can I pause the transfer process when using OnePlus Switch?
Yes, you can pause and resume the transfer process at any time and continue the process later.
Final Words
Transferring data from an OPPO device to a OnePlus device has never been simpler. Whether you prefer a third-party application or the OnePlus Clone Phone app, moving information with minimal effort is possible. And no matter what type of files you're transferring, your material will remain secure during the entire procedure. However, if you want a more compatible transfer tool, Samsung Data Transfer is a nice choice. You can switch to most Android and iOS devices without a hitch.
Related Articles
How to Transfer All Contacts from Android to iPhone in 2023
Transfer Data from OPPO to iPhone: 4 Powerful Methods Give You Full Support
OPPO Backup and Restoration Guide (Make It Faster)
OPPO A3s Pattern Unlock Solutions - Excellent Tools to Remove Lock
Quickly Transfer Data from OnePlus to Samsung: 4 Best Ways You Can Try
Does Smart Switch Need Wi-Fi? Find Out Answer and Transfer Data Fast