Summary
Smart Switch is a data transfer tool designed by Samsung to transfer data between Android devices. It's a free tool that comes to your aid when you need to share files from one phone to another. Smart Switch supports most modern devices and assures an efficient data migration without compromising the safety of your data. But does Smart Switch need Wi-Fi? Keep reading to know.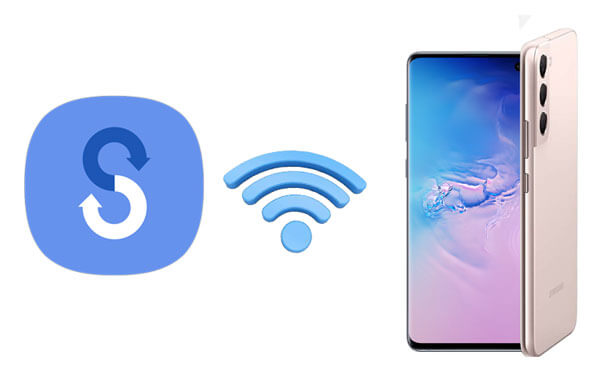 Part 1: Does Smart Switch Need Wi-Fi?
Smart Switch works with either a USB cable or Wi-Fi. To send data wirelessly, you should use local Wi-Fi, which connects both devices.
Moreover, the application needs Wi-Fi connectivity, not Wi-Fi internet. The Wi-Fi feature is activated on the phones automatically when you select the option of sending or receiving data on the app.
Part 2: How Does Smart Switch Work via Wi-Fi?
The wireless method is an easier and quicker way of moving your files since no adapters or cables are needed. So, if you have decided to buy a new Samsung phone and need to transfer data, Smart Switch can help. You'll be able to transfer basic files such as pictures, videos, contacts, and many more. Here is how Smart Switch work using Wi-Fi:
Step 1: Go to Google Play Store, download the Samsung Smart Switch application on both phones, and install it. Then launch the app on both phones.
Step 2: On the sending device, tap on the "Send data" option, go to your receiving device, and click the "Receive data" option.
Step 3: Choose the "Wireless" option. Once you do this, Wi-Fi will trigger a connection on both devices.
Step 4: After ensuring both devices are connected, a page displaying all data will appear. Choose the data you want to transfer and hit the "Transfer" button. Wait for some time for the process to finish.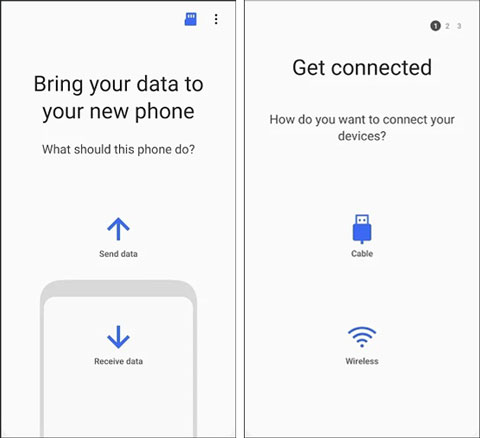 Read also: What if Samsung Smart Switch gets stuck at 99%? To solve this problem, you can read this article.
Part 3: How Does Smart Switch Transfer Data via USB?
Smart Switch also works with a USB though the process might be slow. When you want to transfer data using the Smart Switch USB feature, do the following:
Step 1: Download, then open Smart Switch on both devices. Then click "On the new phone, " on the old device and "Receive data" on the new phone.
Step 2: Choose "Cable" on the two devices, and use a cable and USB connector that comes with your new Samsung device to connect both phones.
Step 3: Select "Send" on the old phone, choose the files you wish to take from the old device, and click "Transfer" on the new phone.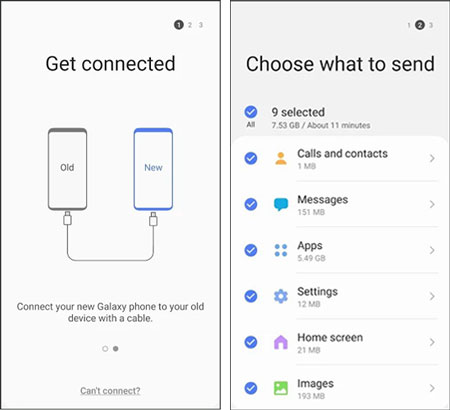 Further reading: If you want another tool to replace Smart Switch, don't miss these equivalents.
Part 4: Smart Switch Transfer: Wi-Fi VS USB
Differences between Wi-Fi and USB Connections
Both wireless and USB transfer options will get you the same result. But there are some differences worth mentioning:
1. Transferring data via Wi-Fi is faster as the transfer speed can go up to 10MB/s compared to USB, which is quite slow as it doesn't rely on the network but the cables.
2. Wi-Fi Smart Switch transfer is quite easy as the connection will be made automatically. USB transfer requires you to connect both devices with a USB cable and connector, which is sometimes hard.
3. Wi-Fi data transfer doesn't offer good security as your network is visible, and other users may access it. USB transfer offers a wired connection, and no one can access it.
Pros and Cons of Smart Switch's Wi-Fi Transmission Mode
Pros:
- Easier to use: Transfers through Wi-Fi aren't that hard since the connection is made automatically.
- Higher speed: Smart Switch can transfer data fast, and the speed gets to 10.5MB/s.
- No USB cable: You can easily finish the data migration without a USB cable.
Cons:
- A wireless network can be hacked easily.
Pros and Cons of Smart Switch's USB Transmission Mode
Pros:
- Better Security: After configuring the firewalls and necessary security on the network, your wired network is well-protected.
- Accessibility: Wired network isn't visible on other networks. Other users outside your network can't connect.
Cons:
- Inconvenience: USB transmission mode requires a data cable and an OTG adapter for the connection.
Guess you need: How can you fast transfer data from one Samsung phone to another? This full guide will give you a hand.
Part 5: Transfer Data via Wi-Fi without Smart Switch
Opting for wired transmission is challenging if you don't have a computer and a USB cable. Still, you can go for a convenient way of transferring data through Wi-Fi which most people find tricky. We will show you the best ways to transfer data via Wi-Fi without using the Smart Switch app.
5.1 Using Samsung Data Transfer
The easiest and fastest way to transfer data between Android devices is by using Samsung Data Transfer. This software supports Wi-Fi and USB transferring modes when copying data between Android phones. What's more, it will not require your destination device to be Samsung. With it, you can transfer files between most Android phones and tablets, such as LG, HTC, ZTE, OPPO, Vivo, Xiaomi, OnePlus, and more.
Furthermore, you can move your contacts, photos, music, videos, SMS, apps, and more data types. The transferred data will not replace the current data on your target mobile device. Besides, it can also transfer pictures and other media files, etc., from iPhone to Android.
Key features and highlights of this data transfer software:
- Transfer files like contacts, videos, SMS, music, photos, call logs, apps, and more with 1 click.
- Compatible with the latest iOS and Android versions.
- Support the one-stop transferring mode.
- Follow read-only mode, so no data will be leaked.
Download the mobile data transfer software below.
How to transfer data using this transfer program:
Step 1. Launch the Program on Your Computer
Once you've launched the software, open it and tap on the "Mobile Transfer" module from the main interface.
Step 2. Connect both Android Phones to Computer via Wi-Fi
- Ensure Android devices and the computer are connected to the same network. Then click the "Can't recognize the device?" option, and choose the "Connect via Wi-Fi" icon.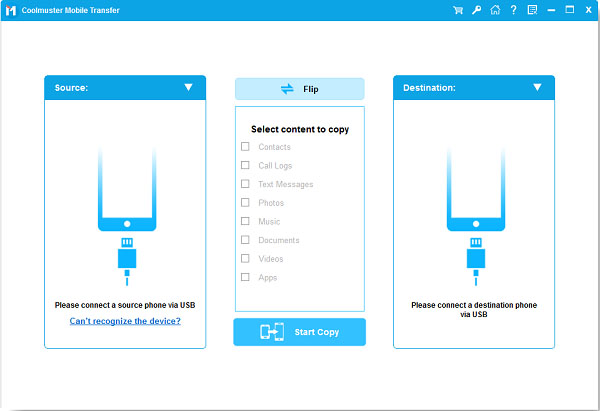 - Allow your phones to download and install an app for the connection. Then run the app on Android phones to scan the QR code to set up the connection. A notification will be shown on the computer for a successful connection.
Step 3. Transfer Data via Wi-Fi
Check the file categories you wish to copy, and click the "Start Copy" tab to start the data transfer process. By the way, you can click the "Flip" icon to change the positions of your devices.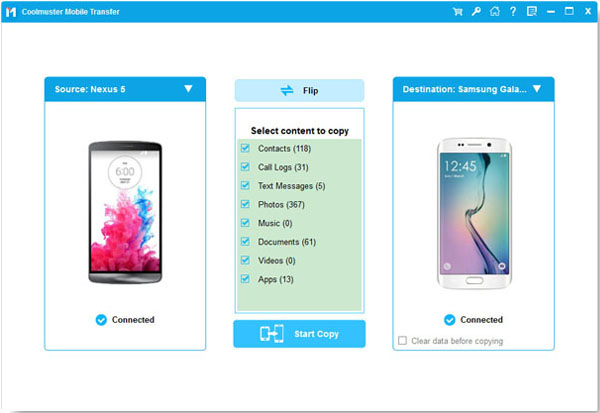 See more: 6 Ways to Transfer Files from Android to PC via Wi-Fi [Full Guide]
5.2 Using Cloud Services
Another way to transfer data is by using cloud services like Google Drive. With Google Drive, you can easily and quickly copy your entire phone content to your Google account, including messages, contacts, photos, videos, music, and more. Of course, it is also a wireless way to sync data.
Step 1: Download and then install the Google Drive app on both phones. Then sign in with your Google account on both devices.
Step 2: Go to the sending device and tap on the "+" > "Upload" icon to look for the files on your device you wish to send to Google Drive.
Step 3: Refresh Google Drive on your target device, and you will see the uploaded files. If needed, you can download them to a local folder on your destination phone.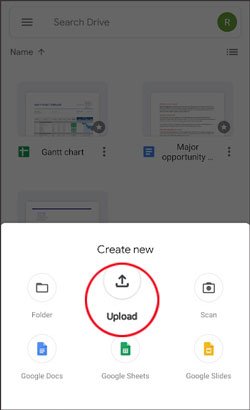 5.3 Using Data Migration Mobile Apps
You can also transfer data between phones with the help of data migration apps. They are free and can be used on Android and iOS platforms. These apps are available on Google Play Store and Apple Store. Some of the mobile migration apps you can use are Zapya, Xender, SHAREit, and the like. Here's how to send data between cellphones via Zapya:
Step 1: Install the Zapya app on both gadgets, and connect the phones with the same Wi-Fi network.
Step 2: Create a group in the sending device to send and receive files. Next, choose the files to send and click on the "Send" icon. Then you will receive the files on another phone.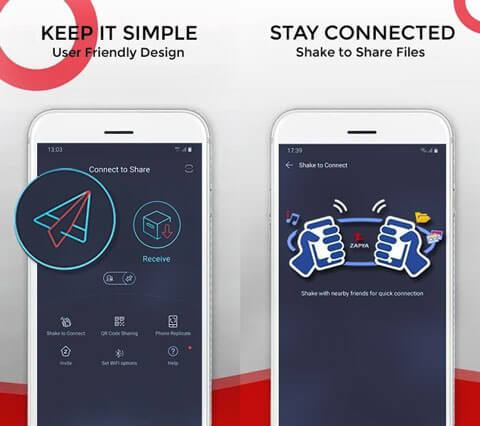 Conclusion
You now know how Smart Switch works and various ways to transfer files between phones. It's quite clear that using the Samsung Data Transfer software is another handy and reliable option for you as it doesn't require any technical skills and is the fastest. Moreover, it supports both Android and iOS devices. Let's try it.
Related Articles
How to Transfer Files from PC to Android Phone without USB [5 Handy Solutions]
Transfer Files from Android to USB Flash Drive with or without OTG
8 Fabulous Moborobo Alternatives to Transfer and Manager Android Files
Control Android from PC Conveniently | 7 Powerful Tools
How to Unlock Samsung Phone Pattern with Helpful Solutions [8 Ways]
Resolved: Where Are Texts Stored on Android Phone? [6 Practical Tips]