Summary
Purchased a fantastic Lenovo smartphone to replace your old Samsung phone? Is the next step to move your data to the new Lenovo phone? Unfortunately, Lenovo doesn't offer users a transfer app. So, how to transfer data from Samsung to the Lenovo phone without effort? Luckily, you can gain 4 approaches below. Choose one way, and you can use it to move your Samsung data to Lenovo fast.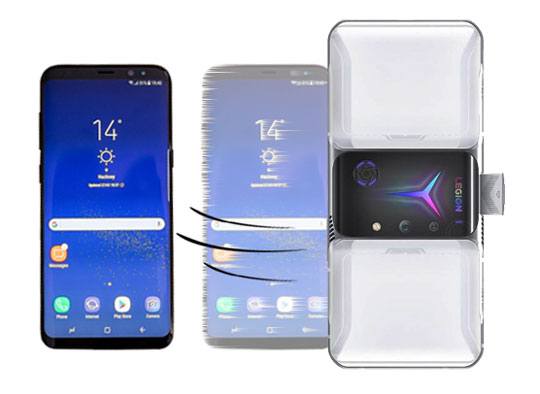 Part 1: How to Transfer Data from Samsung to Lenovo Phone via Phone Transfer?
This phone transfer program - Samsung Data Transfer, can give you convenient data transmission. After you start the transfer, it will copy your selected files to the destination device with the original quality. More importantly, it supports almost all kinds of file types on Android, such as contacts, SMS, photos, apps, videos, songs, and more. Although there have been some files on your target device, the copied data will not cover them.
Main features of this Samsung to Lenovo transfer program:
- Move multiple data types from Samsung to Lenovo at once, including SMS, contacts, e-books, application, movies, pictures, music, call logs, etc.
- Transfer files without changing their formats.
- You can select files by category before copying.
- Allow you to use USB and Wi-Fi connections between the Samsung to Lenovo transfer.
- Effectively copy data between iOS devices, or from iOS to Android, and vice versa.
Furthermore, this software supports most Samsung, Lenovo, and other Android and iOS mobile devices. You can use it on Samsung Galaxy S21/S21 Ultra/S20/S10/S9/S8/S7/S6, Samsung Galaxy A72/A71/A70/A52/A51/A50/A32, Lenovo K13 Note/K12 Pro/K12/K10 Plus/K10 Note/A8/A7, Sony, Xiaomi, OPPO, Honor, ZTE, Vivo, OnePlus, etc.
Download the mobile phone transfer software for free below.
How do I transfer data from Samsung to Lenovo in 1 click?
Step 1. Install the Transfer Program
Please install the mobile transfer software on your computer. Then launch it, and click the "Mobile Transfer" tab.
Step 2. Establish the Connection
Connect your Samsung and Lenovo phones to the computer with their USB cables. Then enable the USB debugging mode on both smartphones, and the connection will be successful.
Step 3. Copy Data from Samsung to Lenovo
- Confirm your Lenovo device is on the "Destination" side, and select the data type you need to transfer on the central panel. Next, tap the "Start Copy" icon to move data.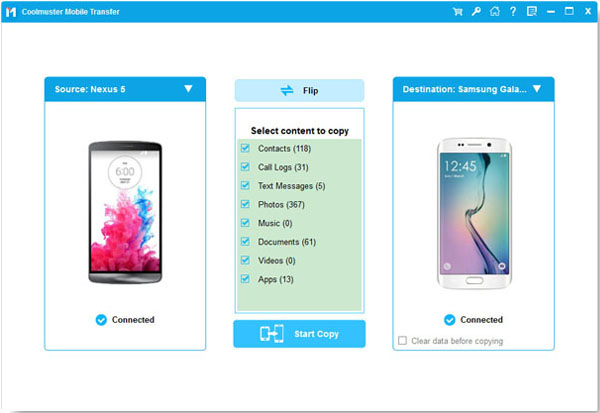 - As the process is over, you can view the Samsung files on the Lenovo phone.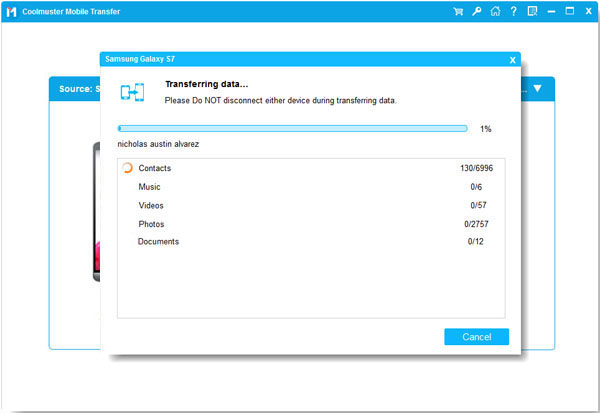 Bonus: How to quickly transfer SMS from an iPhone to Samsung? Check it out.
Part 2: How Do I Transfer Data from Samsung to Lenovo via Bluetooth?
Want to transfer several photos from Samsung to Lenovo? That's easy. There is no doubt that Bluetooth is available to connect both Android devices. Thus, you can transfer photos to Lenovo via Bluetooth. But if you intend to transfer hundreds of pictures via Bluetooth, you will spend much time.
How do I transfer files from Samsung to Lenovo via Bluetooth:
Step 1. Perform Bluetooth Pairing
Go to Settings, and toggle on the Bluetooth feature on both cellphones. Then select your device on the detected mobile device, and identify the code for pairing. Your phones will link to each other.
Step 2. Send Files via Bluetooth
Please find the files you are going to send on your Samsung phone, tick them, and tap the "Share" icon. Next, choose Bluetooth and your Lenovo device. At last, Bluetooth will begin to send the files to your Lenovo phone.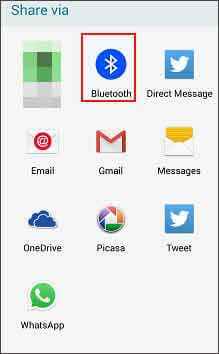 Read also: Want to back up Lenovo to a PC? Then, don't miss these 4 solutions.
Part 3: How to Transfer Files from Samsung to Lenovo via Dropbox?
If you would like to upload your files to cloud storage space, why not utilize Dropbox? Dropbox enables users to sync files on different mobile phones and tablets. With it, you can transfer your Samsung data to Lenovo via Wi-Fi or mobile data at any time. Besides, you can back up your significant files at the same time.
How do I transfer files from my Samsung phone to Lenovo phone via Dropbox:
Step 1. Sign Up for Dropbox
After download Dropbox on both smartphones, you can sign up for an account on Samsung. Then sign in on Lenovo with the same account.
Step 2. Upload Samsung Files
Please tap the "Plus" icon in blue on your Samsung phone, and choose the content you would like to sync. You can also create a folder to save them together.
Step 3. Check the Samsung Files on Lenovo
Once done, you can refresh the app on Lenovo, and view the uploaded files. You can also download the files to the local folder.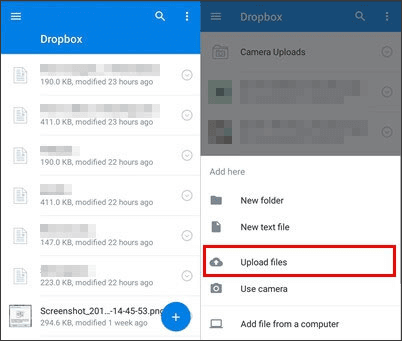 Further reading: Free up space on your Samsung tablet to make it much faster.
Part 4: How Do I Transfer Files from My Samsung Phone to My Lenovo Tablet via MTP Transfer?
What's MTP transfer? In fact, it is a way to let you use a USB cable to copy files between a PC and mobile devices. Hence, you can manually move data from Samsung to Lenovo via MTP transfer, which requires 2 appropriate USB cables instead of the network.
How do I drag and drop files from my Samsung phone to my Lenovo tablet via MTP transfer:
Step 1. Prepare Data Cables
Please prepare 2 data cables to connect your phones to the PC, and select the "MTP" or "File transfers" option on both devices.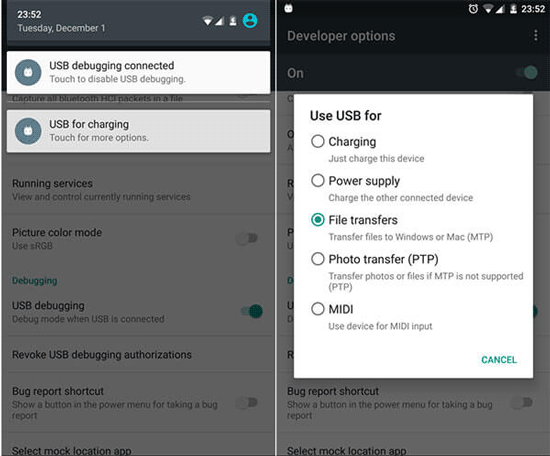 Step 2. Access Phones on PC
Double-click the "This PC" icon and the drives of your cellphones. Then highlight the files you want to copy on the Samsung drive, and drag and drop them to the folder on Lenovo. Please do not remove your phones until the transfer is totally finished.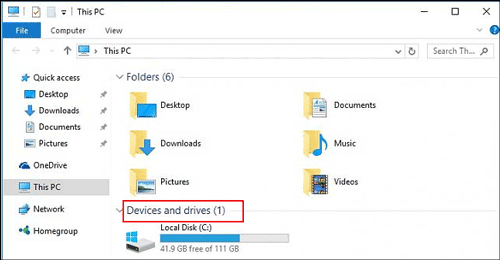 Conclusion
Currently, it is not difficult to transfer data from Samsung to a Lenovo phone, but not all tools can help you move data safely and quickly. This Samsung to Lenovo transfer software - Samsung Data Transfer, recommended by many people, is an ideal helper when you switch to a new Lenovo phone or tablet. It can simplify the transfer steps and copy your files swiftly. Let's try it.
Related Articles
Transfer Music from iPod to Samsung Phone and Enjoy It Directly
4 Methods to Transfer Contacts, SMS, Pictures, Movies from Lenovo to PC
Effortlessly Recover Deleted Photos from Galaxy S7 with 4 Methods
How to Retrieve Deleted Call Logs on Samsung Galaxy? - 4 Methods
4 Easy Methods to Transfer Data from Sony to Samsung [Solved]
[Solved] Transfer Data from Samsung to Motorola with 5 Brilliant Methods