Summary
Perhaps you have stored many photos on your Galaxy S7, which take up too much space. To free up the storage, maybe you clean up your phone but, unfortunately, delete photos you don't want. Anyway, you have lost your precious pictures eventually. But now, you can recover deleted photos from Galaxy S7 in 4 ways in this post.
These 4 ways are all effective so that you can get your photos back from the Galaxy S7 with the detailed guide below. Let's check it out.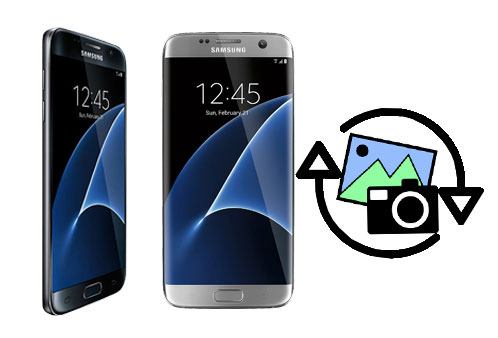 Tips: Where are deleted photos on the Samsung Galaxy S7? Actually, deleted photos are still on your device, but you can't see them. Then new files you create will replace the deleted ones. Thus, if you want to recover your deleted images, please do it as fast as possible.
Part 1: How to Recover Deleted Photos from Galaxy S7 without Backup
Pictures disappeared from Galaxy S7? Haven't backed up your photos before deleting them? Don't worry. This section will tell you how to recover deleted photos on the Galaxy S7 without backup with this Samsung Data Recovery. It can fast recover deleted photos, contacts, text messages, videos, etc., from internal and external storage.
Main features and highlights of the Samsung Data Recovery:
- Recover deleted photos, music, call logs, documents, and more from Galaxy S7.
- Allow you to preview the deleted and existing files on the interface before performing.
- Help you back up the existing data from Samsung to the computer.
- 2 scanning modes are available: Quick Scan and Deep Scan.
- Support to recover deleted photos from SD cards without root.
Moreover, it is highly compatible with most Android devices, such Samsung Galaxy S20/S10/S9/S8/S7/S6, Samsung Note 20/Note 10/Note 9/Note 8/Note 7, Sony Xperia 5 II/Xperia 5/Xperia 1 II/ Xperia 1/Xperia 10 II/Xperia 10, Huawei Mate 40 Pro/Mate 40/Mate Xs/Mate 30 Pro/Mate 30/Mate 20 Pro/Mate 20 X, Xiaomi, Google, OPPO, OnePlus, Vivo, ZTE, Motorola, and so on.
Download this Galaxy photo recovery software for free below.
Here's how to recover deleted photos from Galaxy S7 without backup:
Step 1. Install the Program
Please install the recovery software on the computer after downloading it. Then launch it and connect your Galaxy S7 to the computer via a USB cable. It will detect your phone fast.
Step 2. Select Scanning Mode
- Please tick the "Photos" or "Select All" option and click the "Next" icon.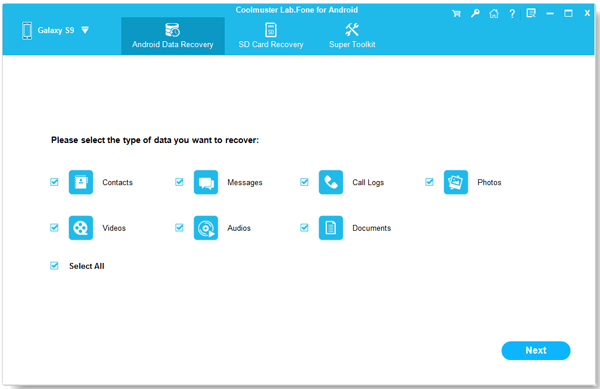 - You can now select one scanning mode on the interface and tap the "Continue" button.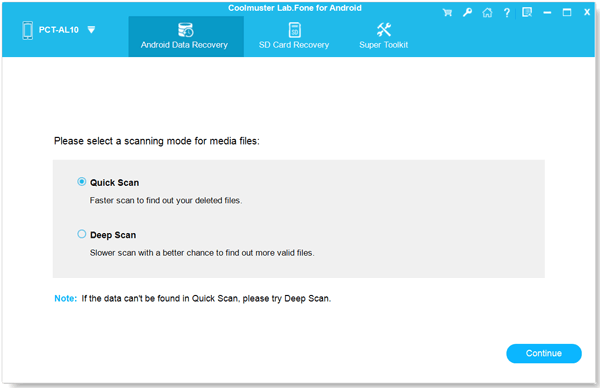 Step 3. Recover Deleted Galaxy Photos
The software will scan your deleted photos from the Samsung Galaxy S7, and you can view them without hassle. Please select what you want to recover and begin the process by hitting the "Recover" button.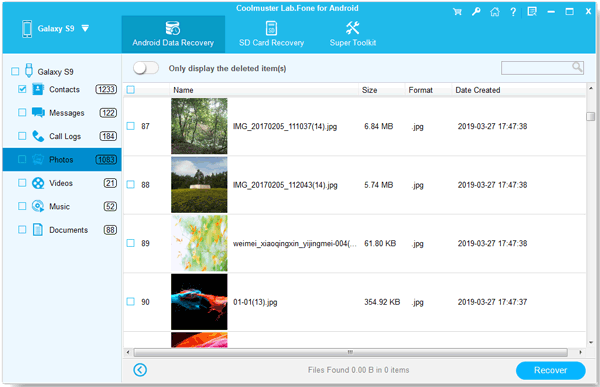 Please note that: You needn't root your Galaxy device if your deleted photos were stored in the SD card.
You might like: How to transfer photos from Android to Mac with different OSes? That's a piece of cake! Please infer to these 6 tips.
Part 2: How to Recover Deleted Photos on Samsung S7 with Recycle Bin
There is a recycle bin in the Samsung camera generally. As long as you sign in with your Samsung account, it will keep your deleted images for 30 days. So you can restore them from this recycle bin during the valid period. How convenient!
How to retrieve deleted photos on Samsung S7 with the recycle bin function:
Step 1. Open the Gallery App
Launch the Gallery app on your Samsung S7 and tap the "Menu" icon.
Step 2. Go to Settings
Then click the "Settings" option and find the "Recycle bin" feature.
Step 3. Restore Photos from Recycle Bin
Please pick out the desired files and click the "Restore" button to restore the recycle bin's deleted images. They will come back soon.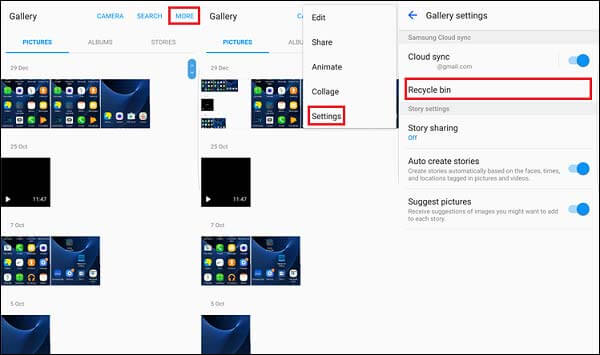 Read also: Want to get more best photo recovery apps for Android? You can get 5 tools here with their features, pros, and cons.
Part 3: How to Retrieve Deleted Photos on Samsung S7 with Samsung Cloud
As we know, Samsung Cloud can back up photos, contacts, notes and other data on Samsung devices. If you have synced your photos to Samsung Cloud, you can retrieve them to your Galaxy phone without trouble. However, according to Samsung official website news, Samsung Cloud won't support Gallery Sync and Drive storage for My Files from June 30, 2021. Therefore, please hurry to restore your photos.
Tutorial on how to recover deleted pictures on Galaxy S7 with Samsung Cloud:
Step 1. Navigate to the Settings App
Please run the Settings app on the screen and find the "Cloud and accounts" option.
Step 2. Enter the Samsung Cloud
Hit on it and enter the "Samsung Cloud" feature.
Step 3. Restore Pictures on Galaxy S7
Next, tap the "Restore" icon and select the "Photos" category on the screen. As you click the "RESTORE NOW" button, it will begin to restore deleted photos from Samsung Cloud.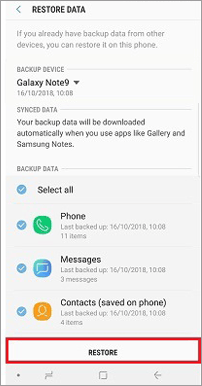 Further reading: Contacts are essential data for us. It is annoying to remove contacts by mistake. If needed, you can get practical tips to recover deleted contacts from the Samsung phone.
Part 4: How to Recover Deleted Photos from Samsung Galaxy S7 via Google Photos
Google Photos is a helpful assistant for photo backup and restoration. Also, it will keep your deleted photos for 30 days. If you are using Google Photos on your Samsung Galaxy S7, you can try it to recover accidentally deleted pictures on the Galaxy S7.
Guide on how to recover deleted photos from Samsung S7 edge using Google Photos:
Step 1. Log In
Please open the app and log in with your Google account that you back up your photos.
Step 2. Go to Trash Folder
Tap the "Menu" on the top left corner and choose the "Trash" option. Then you will enter the trash folder, which stores your deleted images and videos.
Step 3. Recover Deleted Photos from Trash Folder
You can view and select the deleted photos on it. After that, please press the "Restore" icon to get your photos back.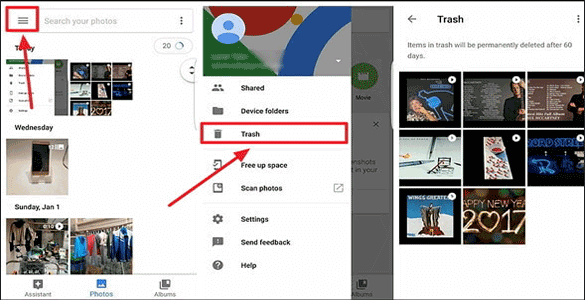 Note: How to raise the chance of photo recovery on Galaxy S7?
On the one hand, you can regularly back up your significant photos to the cloud space or computer. Then you can find them easily when deleting them by accident.
On the other hand, don't use the device and turn off the Bluetooth, Wi-Fi, and mobile data. Then use a professional and reliable recovery tool, such as Samsung Data Recovery, to recover the deleted photos.
Conclusion
Don't waste your time and quickly recover deleted photos from Galaxy S7 with the abovementioned ways. If new files replace them, you won't find them permanently. And it is of great help in recovering photos using the Samsung Data Recovery, which can recover your deleted data with high quality.
Related Articles
How to Recover Deleted Photos from LG Phone with 3 Professional Solutions
How to Recover Deleted Camera Photos from Android? (7 Proven Ways)
How to Transfer Photos from Android Phone to USB Flash Drive with 3 Practical Ways
Transfer Photos from Android to Mac Wirelessly [6 Fabulous Methods]
How to Transfer Photos from iPhone to Huawei in 5 Effective Ways?
How to Transfer Photos from Samsung to Mac? [4 Easy Ways]