Summary
"I bought a new phone several days ago, but all my data are still on my old phone, including my Viber messages. How can I transfer my Viber messages to my new phone fast? These messages are vital for me."
Almost everyone is now using instant messaging applications to communicate with each other. And Viber is among the most preferred app these days. Since Viber was launched, the instant messaging application has grown tremendously.
Most people are now depending on the Viber app to communicate among themselves. Thus, data transfer between users occurs most often on this platform. For that reason, changing gadgets becomes a complicated procedure since you do not wish to lose any data you received or your conversations. Thus, we will talk about how to transfer Viber to a new phone today.
As we all know, Viber works both on video and voice calls, sends messages, shares files, and much more. You may use the app on mobile devices with different operating systems, tablets, PCs, and laptops. But, the app is linked to a mobile gadget, so only one gadget can have the account, with the devices like computers and laptops are still unlimited.
If you try to activate the application's account on another device while it is active, all the data from the first phone will be deleted automatically. Fortunately, there is no need to sweat about losing your precious Viber data. There are ways to transfer Viber to a new phone. Now, let's begin.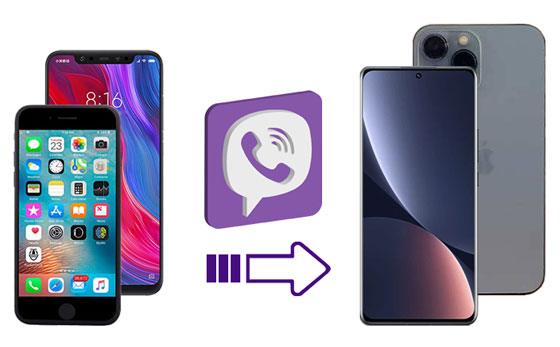 Part 1: Is It Possible to Transfer Viber Between Two Phone OSes?
It is impossible to transfer Viber between two phone operating systems. This is mainly because the operating systems use different backing up messages on the Viber app. Android uses Google Drive while iOS uses iOS. Thus, you can't transfer Viber between two phone operating systems.
Part 2: How to Transfer Viber Messages to New iPhone with Viber Transfer
Do you wish to transfer Viber messages to your new iPhone selectively and quickly? Then opt for this Viber Transfer software. This is your tool if you want this process to be effortless. The best thing with this software is that it can backup all Viber messages, images, call history, videos, and any other data from one iPhone to another before restoring them.
This software is recommended since it transfers Viber to the new iPhone in just a few clicks; it backs up iPhone's Viber chats to PC, recovers all data on the Viber app, and allows you to preview and choose Viber conversations. By the way, this software can also transfer WhatsApp, Line, WeChat, and Kik without hassle.
Download the software for free.
Below is how to use Viber Transfer software to transfer Viber to the new iPhone:
Step 1. Launch the Viber Transfer
Install and launch the program on the computer. After that, tap the "WhatsApp Transfer" tab.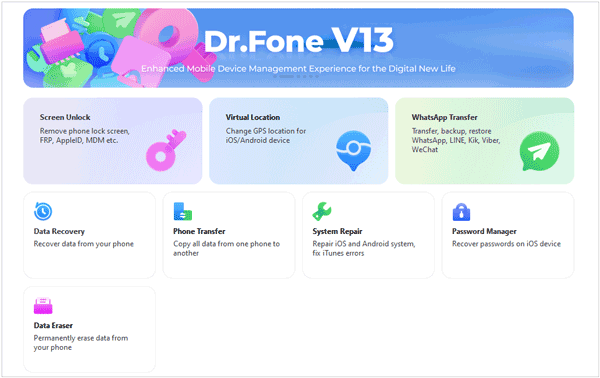 Step 2. Connect Your Old New iPhones to the Computer
- Link your old iPhone to your computer with a USB cable, and choose the "Viber" option on the screen's left side.
- After the iPhone has been detected and recognized, tap the "Backup" icon to transfer the Viber history to the computer. After a short time, the process will finish. You should then unplug the iPhone from your computer.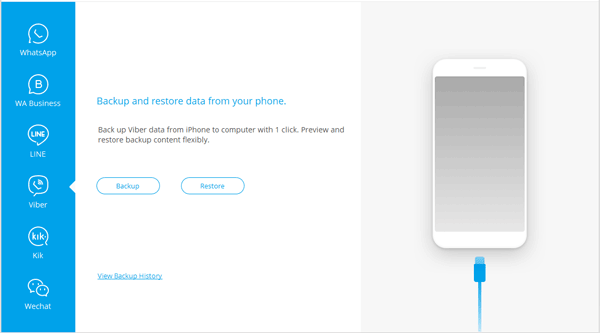 Step 3. Transfer Viber Messages to the New iPhone
- You'll see all your Viber backup data. Just tap the "View" icon to check them. Then Connect your new iPhone to the computer.
- Then check all those items you want and tap the "Restore to Device" icon to get all your Viber messages onto the new iPhone.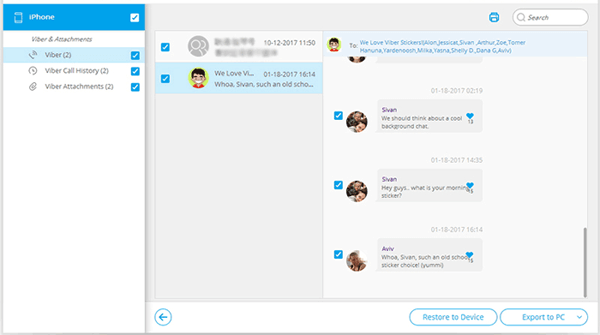 Read also: Click this post to see how to transfer data from an old tablet to the new one without trouble.
Part 3: How to Transfer Viber History to New Android via Viber Backup
If you got a new Android phone, you might want to transfer Viber History from an old Android to a new one. If you activate Viber on a new phone, it gets deactivated on your old phone.
Since chat history is connected to the platform used by the phone, there's no way you will transfer chat history between two different platforms.
Here is how to transfer Viber history to a new Android via the Viber backup feature:
Step 1. Back Up Viber Chat History on the Old Phone
- Before you start, ensure Viber is set to backup on Google Drive. To back up the Viber data to Google Drive, open the Viber app on your device, click the "More" > "Settings" > "Account" option.
- Then tap the "Viber Backup" feature, choose the Viber History, and click the "Back Up" icon.
Step 2. Activate Viber on a New Android Phone
Download Viber to a new Android phone, then activate it with the phone number you used in your Viber account.
Step 3. Restore the Viber History
After the Viber has been activated, you'll be prompted to the "Restore Viber Content" screen. Then tap the "RESTORE NOW" option. You will fast restore your Viber messages to the new Android phone.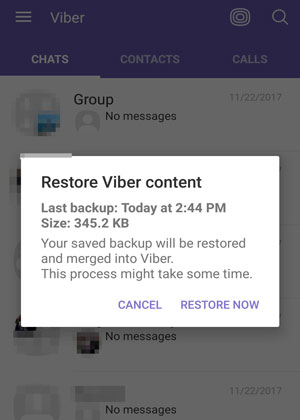 Further reading: Want to send WeChat chat history to your new phone? You can try these 3 helpful methods.
Part 4: How to Get Old Viber Messages on New Phone by Email
Mostly, Android users have an email account associated with Google accounts. The best thing is that you may use an Email to back up and transfer data to another phone. Besides, Viber allows you to share messages through Google Drive or Email.
Here is how to use Email to transfer Viber history to a new phone:
Step 1: Navigate to the "Settings" option on the Viber app, and click the "Calls and messages" icon.
Step 2: Choose the "Email message history" and the "Email" icon from the list of apps that appear. After that, enter the Email credentials to access your Email.
Step 3: After you are done, all of your old Viber messages will be stored in your email account. You should then log into your email account on a new device. Then download the zip file to extract the messages if you want to use them.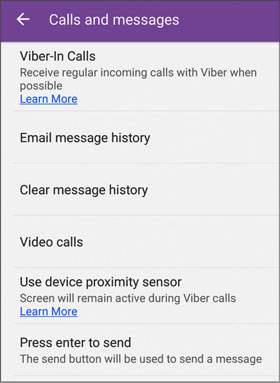 Conclusion
Save yourself the inconvenience of losing data from your Viber app as you shift to a new phone. Now, you may quickly and easily transfer your Viber data to the new phone using the ways mentioned above. These are sure ways to help you when you get a new phone and shift all of your Viber data.
The handy Viber Transfer software can back up all your Viber messages and restore them to your new iPhone with original quality; and using email can send Viber messages between Android and iOS devices. Thus, you can use your new phone without deferral.
Related Articles
How to Transfer Text Messages from Samsung Galaxy to PC [4 Methods]
[Solved] Recover Deleted Text Messages on Google Pixel: 4 Must-Know Tips
Transfer Text Messages from Android to iPhone Fast [iPhone 13 Is Supported]
[5 Best Ways] How to Transfer Music from iPhone to Android in Ease
[Fast Transfer] How to Transfer Your Photos from iPhone to Android Effectively?
LG to iPhone Transfer Guide: Swiftly Transfer Content from LG Phone to iPhone