Summary
WhatsApp, a convenient and free messaging application for Android and iOS, is one of the most popular online communication tools. We can send texts, videos, pictures, and other files to others via WhatsApp. Therefore, there are many significant files in it that we tend to back up.
However, when you switch Android to iOS, is it possible to transfer WhatsApp backup from Google Drive to iCloud? And how to transfer WhatsApp messages from Android to iPhone using Google Drive? Well, you will know the answer in the following.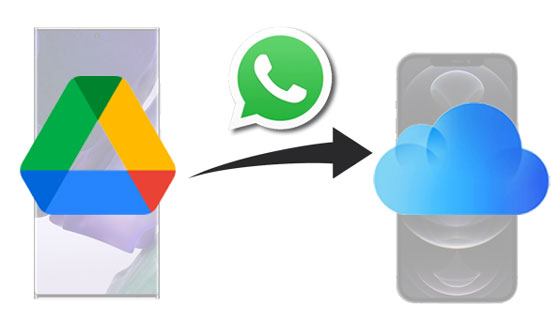 Part 1: Is It Possible to Transfer WhatsApp Backup from Google Drive to iCloud?
First of all, because Android and iOS are not compatible with each other, there is no direct way to send WhatsApp backup from Google Drive to iCloud. In other words, you can complete the WhatsApp transfer in 3 steps. You can get the detailed guide in the next section.
Part 2: How to Transfer WhatsApp Backup from Google Drive to iCloud?
How do I restore WhatsApp chats from Google Drive backup on an iPhone? Now I know the solutions. If you also wonder this, please take a look at these 3 steps. Believe it or not, you will solve it without hassle.
Step 1: Restore WhatsApp backup from Google Drive to Android
If you want to move WhatsApp backup from Google Drive to iCloud, you'd better restore the WhatsApp backup files to your Android device first. Please confirm that you keep the same phone number before performing.
Reinstall and open the WhatsApp app on your Android handset.
Accept the terms of services and follow the verification prompts.
Tap the "RESTORE" > "NEXT" icon, enter your name, choose the backup frequency, and select your Google account used for backup.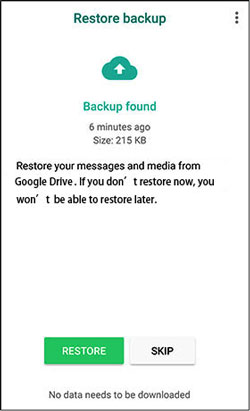 Tips: Can you restore WhatsApp backup from Google Drive to an iPhone? Unfortunately, iOS devices don't support to restore WhatsApp messages from Google Drive. But you can transfer the WhatsApp data from Android to iOS with the help of the 3 ways below.
Step 2: Transfer WhatsApp chats to iPhone
The next step is to transfer WhatsApp chats from Android to the iPhone. Here are 3 methods for your inference.
Way 1. Using WhatsApp Transfer (Fast)
The most efficient transfer way is to use this WhatsApp Transfer software, which can quickly send the Android WhatsApp files to an iPhone. It can send every item you want between Android and iOS, including attachments. It can also back up your WhatsApp files to your computer, and allows you to restore the data at any time.
Highlights of this WhatsApp file transfer software:
- Transfer all WhatsApp files from Android to iOS and vice versa without hassle.
- Back up and restore WhatsApp or WhatsApp Business data on your computer.
- Support to back up LINE/Viber/WeChat/Kik on iOS devices.
- User-friendly interface makes the transfer easier.
Furthermore, it supports most Android and iOS mobile devices, such OnePlus Nord/8 Pro/8T/8, OPPO A73/A15/A93/A33, Google Pixel 5/Pixel 4a/4 XL/4/3a, Huawei P40 Pro/P40/P30 Pro/P30/P20, iPhone 12 Pro/12/11/X/XS/XR/8, iPad Pro, iPad Air 2, iPad Air, and so on.
Download the WhatsApp data transfer program for free below.
Here's how to transfer WhatsApp files from Android to iOS:
Install and launch the software on your computer.
Tap the "Transfer WhatsApp messages" module.
Connect both your devices to the computer via USB. To begin the transfer, please click the "Transfer" icon.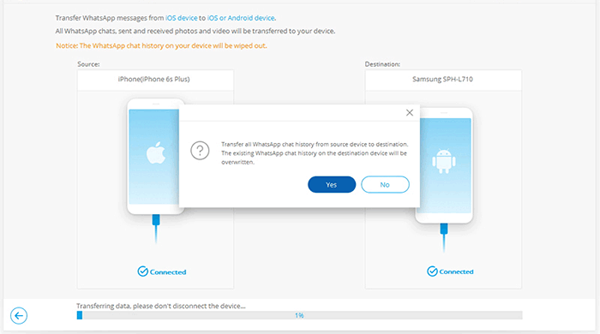 See also:
If needed, you can sync contacts from an iPhone to an iPad smoothly with these 5 approaches.
There are 5 effective solutions to help you export your Viber messages from a phone to a computer.
Way 2. Using Local Database
Maybe you can try to use the local database to transmit the WhatsApp files from Android to iOS. This way is complicated in steps, but you can follow the step-by-step guide to complete it. However, it can't guarantee 100% success.
Open your WhatsApp on Android, and tap the "Menu" > "Settings" option.
Tap the "Chats" > "Chat backup" > "BACK UP" icon. It will store the files on your Android phone. Then uninstall WhatsApp from Android.
Install WhatsApp on your iPhone and register with the same account. As it prompts the "Messages Backup Found" icon, please tap the "Restore" button to revert the backup to your iPhone.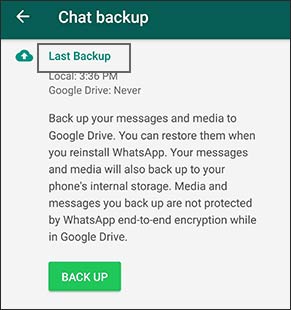 You might like: Here are 8 tips to transfer files from Android to an iPhone for your inference.
Way 3. Using Email
You can email your WhatsApp messages from Android to iOS. However, you need to transfer the chat history manually in this way. If you plan to email all WhatsApp chats, you will spend lots of time on it. Hence, we don't recommend this way.
Open WhatsApp on Android, and select a conversation.
Tap the "Menu" > "More" > "Export chat" option. If you also want to send the media files, please choose the "INCLUDE MEDIA" option on the screen.
Click your mail app and type the email address that you can receive the WhatsApp chats on the iOS handset. Once done, you can check the email on your iPhone/iPad.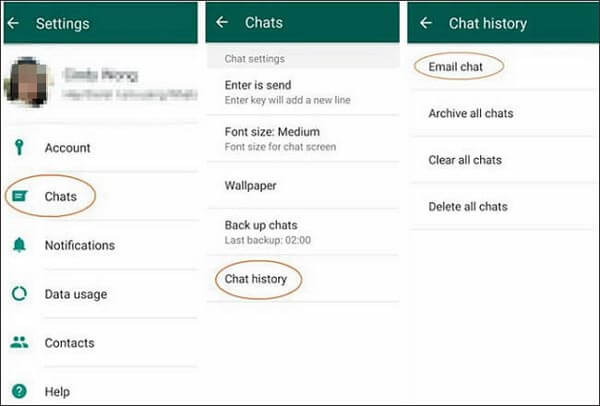 Maybe you need: To help you transfer data from an iPhone to Android, this post has listed 5 methods. You can freely choose a way you like conveniently.
Step 3: Back up WhatsApp messages from iPhone to iCloud
Your Android WhatsApp messages are now on your iOS device. In phase 3, you can back up the WhatsApp messages from the iPhone to iCloud. Then you will thoroughly transfer WhatsApp backup from Google Drive to iCloud. You can get the guide as follows.
Go to Settings on your iPhone/iPad/iPod, and tap your user name.
Select iCloud, enable the "iCloud Drive" and "WhatsApp" icons.
Open WhatsApp, and choose the "Settings" > "Chat" > "Chat Backup" > "Auto Backup" option. Then select a backup frequency, and click the "Back Up Now" button. The WhatsApp messages will be backed up to iCloud.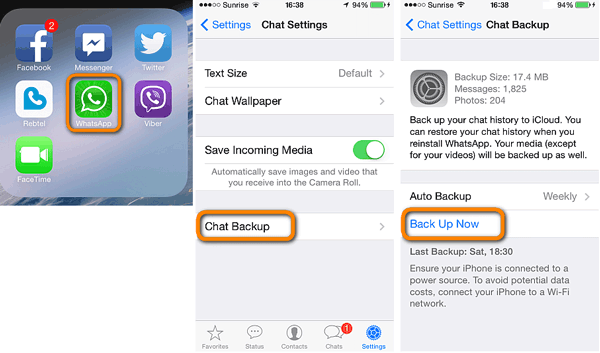 Bonus: You can now expertly move iCloud backup to your Android phone via these 4 solutions. Let's check it out.
Conclusion
All steps about how to transfer WhatsApp backup from Google Drive to iCloud are introduced above. You will find that the most challengingt stage is to move the WhatsApp history from Android to iOS. But if you choose this professional WhatsApp transfer software, you will complete the WhatsApp data migration seamlessly. By the way, welcome to share this post with your friends who desire to restore WhatsApp backup from Google Drive to an iPhone.
Related Articles
Top 8 iCloud for Android Alternatives: What Can I Use instead of iCloud on Android Device? (Updated)
Top 5 Ways on How to Transfer Contacts from iPhone to iPhone without iCloud (Latest in 2021)
How to Transfer Data from iPhone to iPhone 12 without iCloud [5 Solved Ways]
[Solved] Recover Deleted Text Messages on Google Pixel: 4 Must-Know Tips
How to Transfer Messages from Android to Mac Easily? 4 Helpful Tips Here
How to Transfer Text Messages/iMessages from iPhone to Android?