People in daily life may accidentally delete or lose something important on their Android mobile phones. It is easy to find out many applications that can restore deleted files back to your Android phone, but you need to root your phone first. Since there are risks of rooting your phone, you must want to know if you can recover Android data without root?
One of the risks of rooting your Android device is that the manufacturer will not take responsibility if there is a hardware failure or OS error. In addition, sometimes rooting will cause instability of your Android phone. Even though have such risks, why most Android data recovery tools still require root? please go ahead.
Part 1. Why Most Android Data Recovery Software Require Root?
"Rooting is the process of allowing users of smartphones, tablets and other devices running the Android mobile operating system to attain privileged control (known as root access) over various Android subsystems." - From Wikipedia.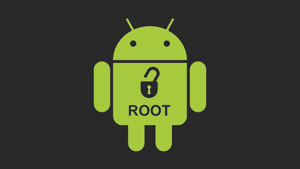 It gives the permissions to change system applications and settings, run programs require administrator-level permissions and carry out some operations that are inaccessible to a normal user. Therefore, it mostly requires a root on your phone when use Android data recovery applications.
You may need:
Part 2. Use Android Data Recovery Tool without Root - Samsung Data Recovery
Thankfully, if your lost photos, videos, music and applications are stored in SD card, you can use Samsung Data Recovery without root to retrieve your files.
Samsung Data Recovery is one of the best professional Android data recovery tools. With it, you can restore Android deleted files, lost and formatted data. Accessing to Micro SD card, SIM card and internal storage, this program can retrieve all kinds of data.
Key features of Samsung Data Recovery:
1. Retrieve music, videos and pictures from SD card without loss.
2. Restore call logs, contacts and text messages from internal storage and SIM card (root required).
Notice: No matter if the programs require root, please do not use your phone and keep it in the original state before the data recovery. If the space of deleted data was overwritten, you may not retrieve your lost files any more. Besides, you can turn the Wi-Fi, mobile data networks off to avoid automatic update.
You can complete the recovery process in several steps:
Step 1. Download and install the correct version of Samsung Data Recovery, here are two free trials for Windows/ Mac.
Step 2: Go to "Android SD Card Recovery" on the top menu, you can see an interface as below. Here, please insert the SD card to your computer at first.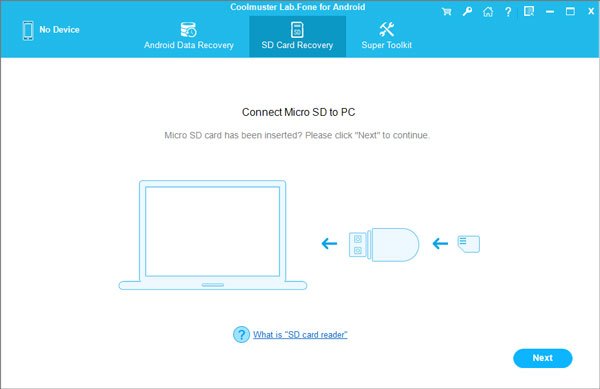 Step 3. Click "Next" and all the inserted SD cards in your computer will be shown here. Just pick one you would like to scan, and click "Next" to start the scanning.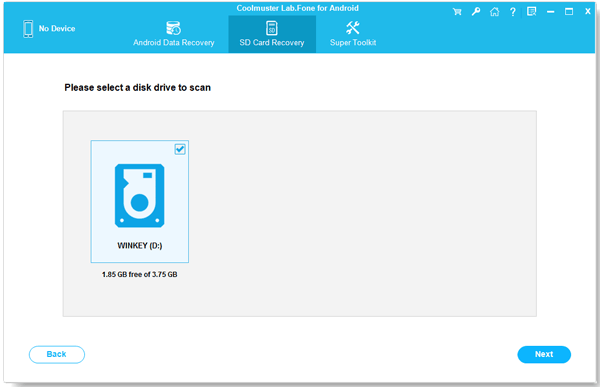 Step 4. After the scanning is finished, all the recoverable file types are listed on the left panel, including Photos, Videos, Audio and Documents. The deleted items are in red. You can now select the items you want to restore, click "Recover" button to save them on your computer.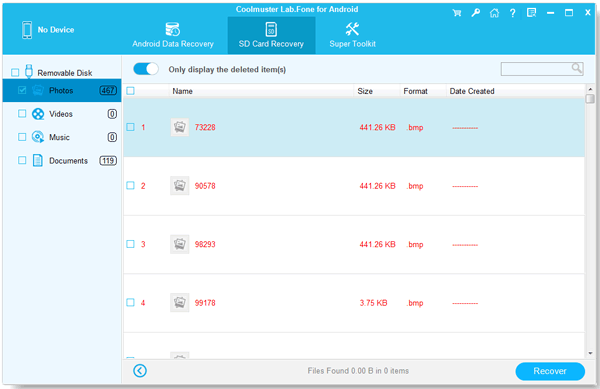 The program supports all Android phones with operating system versions from 2.0 to 9.0, such as Samsung Galaxy S9+/ S9/ Galaxy Note9/ Note8, HTC U12+/ U11 EYEs, Motorola z3/ z2 play/ e5 plus, LG Q7+/ Q6, SONY Xperia XZ2 Premium/ Xperia XZ2 and so on.
Part 3. Recover Data from Unrooted Android Phone with Google
Google Drive, offers 15 GB free storage space, is a hot cloud storage for personal use. You can backup pictures, videos and documents to it and get your backups back on your smart phones, tablets, and computer anywhere.
Many Android users use it to automatically backup their files, so if you have backed up your Android phone to Google Drive, it is a good idea to log in Google Drive to restore your deleted files without root.
Before the folders are permanently deleted, Google Drive will keep them in your Trash for 30 days, see how to navigate:
Step 1. Download, install and launch Google Drive on your Android phone, click "Trash" on the menu.
Step 2. Select the deleted items you want to recover and click "Restore" to get them back.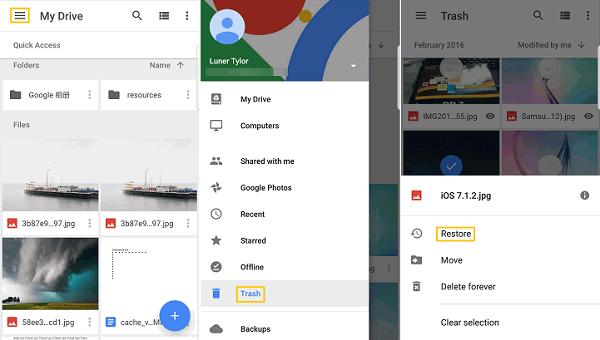 Or you can sign in Google Drive on website, click "Trash" on the menu and select the deleted items you want back, click "Restore" to retrieve them on your Google Drive.
Then, log out your Google account on your phone, and then add this Google account again. When you add the Google account, you will be asked to sync Google Drive data to your Android, just tap on "Yes".
Please keep in mind, you need to backup your phone to Google Drive before the data losing, if not, you can not restore your deleted files by this way!
Part 4. Restore Deleted Files without Root by Dumpster
Dumpster is an app designed to recover Android deleted files without root, such as apps, videos, music and photos. Once you downloaded this program, it backups your deleted data automatically. Like a recycle bin, you can retrieve deleted files at once. With cloud storage, it can also free up internal space of Android phones by transferring files to it. This app is free, but with ads and purchases in it.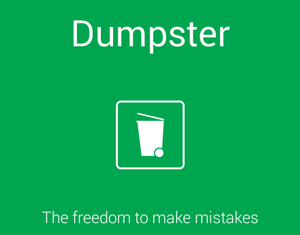 Please remember that you can only restore files after installing this app. If the data was deleted before installing Dumpster, you can not use this app to get them back.
The Bottom Line:
It still has limitations to retrieve deleted Android data without root. As you can see, 3 simple ways mentioned above have their own pros and cons. To keep from suffering data loss, you had better backup your Android devices at daily time.
Related Articles:
Easily Recover Lost Files from Motorola SD Card
Recover Deleted Songs/Music from Sony Xperia Z3/Z4/Z5
How to Recover Deleted Call Logs from LG G5?
HTC Data Recovery: How to Recover Deleted Data from HTC Phone [4 Ways]
Easy Way to Recover Lost Data from Rooted Android Phone