Location:
Home
>
Resources
> Simple Way to Root Android Smart Phone
How to Root Android Phone?
Why Do you Choose to Root Android Mobile Phone?
As you know, it is risky to root Android phone. After getting ROOT permission on your phone, it may result in system instability. And then mobile phone system is likely to crash under improper uses of superuser permission. In addition, during the rooting process, viruses may invade and damage your Android device. Apart from these, after successfully rooting your phone, your smart phone will be outside the scope of free warranty. Thus, if you want to root your Android smart phone, please think carefully before you act.
While, although there are many risks rooting Android phone, many users need to do this for some reasons. After rooting your Android smart phone, you can:
1. Access and backup the entire phone's system;
2. Freely install third-party programs that require a root, or you can deny app permissions when needed;
3. Uninstall bloatware and flash custom ROMs;
4. Improve the running speed of your Android device;
5. Block advertisements, better manage apps.
.....
Please weigh the pros and cons carefully before rooting your Android phone. If you want to achieve more with your Android smart phone, you can act as the following steps to root your device.
Before rooting your Android smart phone, please:
1. Download CF-Root-SGS2_XW_INU_KL1-v5.0-CWM5.
2. Download Odin3v185.
Simple Steps to Root Android Mobile Phone
Step 1: Download CF-Root-SGS2_XW_INU_KL1-v5.0-CWM5 and unzip it on your computer. Then press the "Volume Down" and "Home" buttons of your Android device at the same time for several seconds. So that your phone will be rebooted into "Download Mode".
Step 2. Connect your Android phone to computer via a USB cable. After that, extract Odin3v185 and check the "PDA" box. Double click the CF-Root-SGS2_XW_INU_KL1-v5.0-CWM5.tar, soon you can get a menu as shown.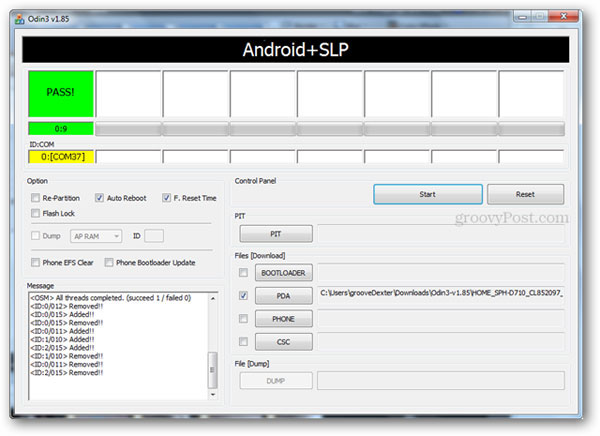 In this step, please choose "Auto Reboot" and "F. Reset Time", then press the "Start" button to continue.
Step 3. Wait for a while. After getting a "Pass!" on your computer and "Turn off" on the Android phone, please disconnect your Android smart phone and computer.
Step 4. Press "Volume Up" and "Home" at the meantime to reboot your phone to the "Recovery Mode".
Step 5. Select "Wipe data/factory reset" and "Wipe Cache" step by step. At last, tap "Reboot System Now", your Android phone will be restarted at once.
Now you can work this Coolmuster Samsung Contacts Recovery software to restore lost contacts and text messages from your Android phone at will.
Relater Article:
How to Transfer Contacts from Samsung to Computer