Summary
For years now, there has been a wide array of file manager applications on Android for phone users to choose from. Some of them are free and others paid. Of the many options, the most preferred is the ES File Explorer, a free application made by ES Global for Android devices for data transfer from Android to Windows via LAN.
Ever since its inception, the ES File Explorer has gained popularity among Android users. However, the truth of the matter is that it has some issues regarding the privacy and security of user data.
Due to that, Google has banned it on Play Store. As such, it is not available to download directly from the official store. However, other alternative apps are worthy of our time. This post highlights the 10 best ES File Explorer alternatives you should know. So, keep reading to know them.
Part 1: Best Alternatives to ES File Explorer
1. Samsung Messages Backup
Samsung Messages Backup is a desktop application for Android devices that is an effective ES File Explorer alternative. It runs well on Windows and Mac computers, and has a wizard-like interface that will guide you through the entire process of setting up and using the software without hassle.
Several features of this software enable you to back up your data on your Android device to a computer, and allow you to restore the backup data to your mobile device without a hitch. There is no quality damage during the transfer. What's more, you can manage your contacts, photos, SMS, videos, music, apps, and more with practical functions.
Key features:
- Support selective data transfer.
- One-click backup and restoration feature for most Android data.
- Edit, remove, and create Android contacts and contact groups on a computer.
- Help you copy, move, delete, and search for your Android files.
- Take screenshots of the connected Android device and save the pictures to the computer directly.
- Support Windows and Mac OSes, and work for most Android phones and tablets.
Pros:
- User-friendly interface.
- Selective and one-click transfer.
- More practical features to manage Android data.
- No data loss or ads.
- The read-only mode is safe.
Cons:
- Need a computer.
- Not a free program.
Download the program to replace ES File Explorer below.
How to Use the best alternative to ES File Explorer?
Step 1. Launch the Program on the Computer
Download, install then launch the software on the PC. After launching, you'll see the toolbox where you'll enter the "Android Assistant" module to access the program.
Step 2. Connect Your Device to a PC
Use a USB cable to connect your Android device to the computer. Then enable USB debugging. Once done successfully, the program will start to recognize the device. The main interface will then be shown. This is your cue to begin managing your data.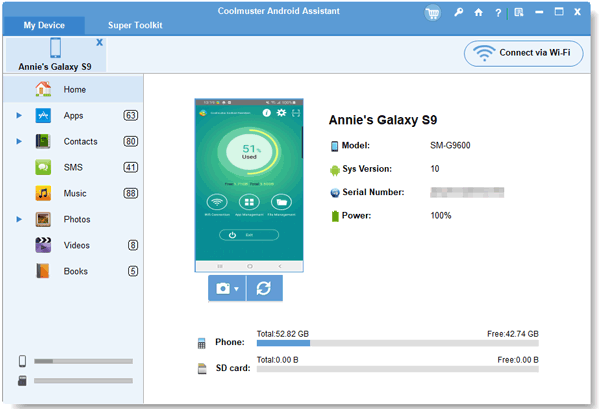 Step 3. Back Up Your Data on the Computer
You'll see your phone data displayed from the main interface. Choose those files you want to back up. Click on the file button, check all those files you wish to transfer, and tap the "Export" button to transfer your data to the PC.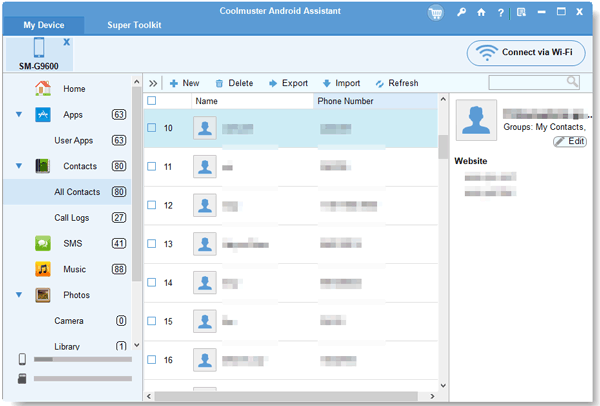 Bonus: If you want to back up all your data at once, please tap the "Super Toolkit" tab, and make use of the "Backup" feature.
2. File Commander
File Commander is a versatile app, offering a multitude of options for a variety of file operations. This includes options for downloading and uploading files to FTP servers and sending files via Bluetooth connections. In addition, these functions are more traditional ones, like creating folders and moving files between different folders on the device.
The software also has a side-by-side tool that helps the user compare the contents of two folders. This is helpful when trying to delete duplicate files.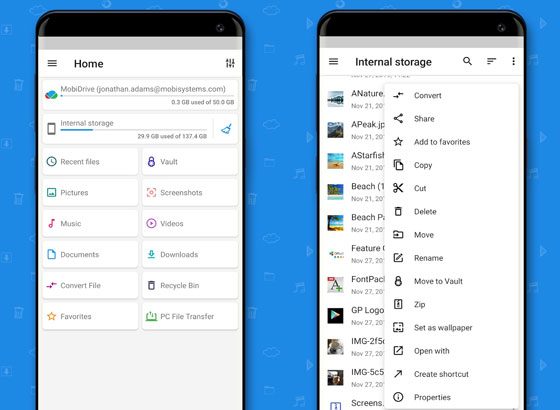 Pros:
- You can first view files before transferring them.
- Support other cloud services.
- Have a recycle bin to store your deleted files.
Cons:
- More features are in the paid version.
See also:
How do we free up space on Android swiftly? Let's get these tricks first.
Forgot your Android pattern? Then you can unlock your Android phone with these safe approaches.
3. Solid Explorer
Solid Explorer is another ES File Explorer alternative that you can use to browse through files, view photos, rename them and much more. The program has a very intuitive interface that is easy to learn and use.
In addition to this, you can also bookmark different files so that you'll always find them quickly when you need them. It even supports Dropbox integration, where you will find all your bookmarked webpages accessible from your phone at all times. The app comes with a 14-day trial post which you have to upgrade.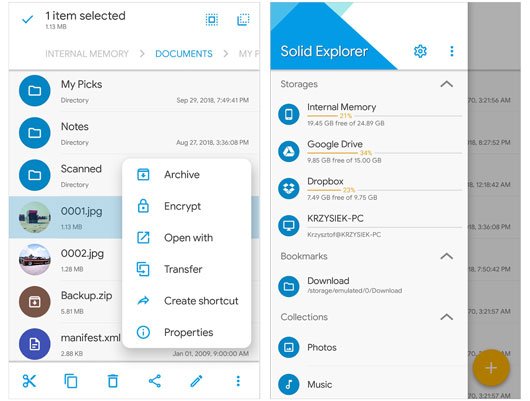 Pros:
- Support internal, external and cloud file management.
- Support Chromecast and Dropbox integration.
- Protect your files by adding a lock of passwords or fingerprints.
Cons:
- Its free version ends in 14 days, and you have to pay to continue using it.
Learn more:
It is easy to import CSV contacts to your Android phone. Here's a complete guide to help you.
Moving files to an SD card is not a big deal because there are mutiple ways that can make it easy.
4. Files by Google
One of the best ES File Explorer alternatives is that it allows you to choose a single file or bulk selection of files you want to upload or download with this application. Instead of installing separate apps for each service, you can use Files by Google App for all your cloud storage needs.
It also supports video streaming in apps, so you can watch videos from your computer directly on your smartphone's screen as long as it's connected to the same Wi-Fi network or by using the app's built-in Cast feature.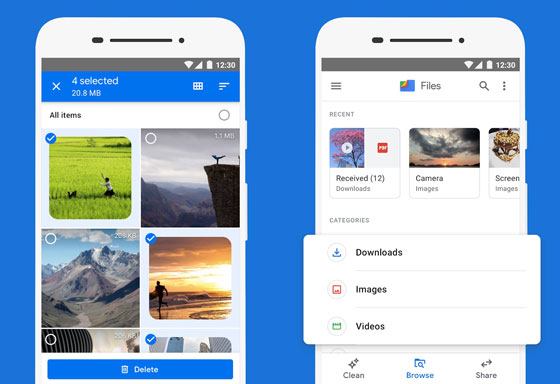 Pros:
- Manage your Android files with various features.
- Clean junks on Android in 1 click.
- Support multiple cloud services.
- Allow video streaming directly to the phone.
Cons:
- Sometimes, it crashes without any reason.
5. Astro File Manager & Cleaner
Astro File Manager & Cleaner is a program that allows users to download multiple files at once, which makes it a very useful tool, especially when the mobile internet is slow.
It allows users to easily manage their files and folders by moving, copying, deleting, or renaming them. You can also access other devices connected to your computer by using the Wi-Fi connection feature of the app.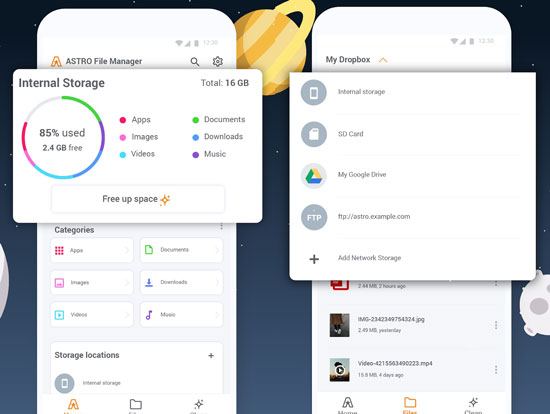 Pros:
- You can compress and decompress files.
- You can manage cloud storage.
- It comes with a storage cleaner.
- Multi-file download option is available in the app.
Cons:
- Cannot sort files in folders by the latest date.
Check it out: These 5 Android PC Suite tools can support you in transferring and managing your Android files.
6. FX File Explorer
FX File Explorer has a very intuitive interface, making it easy to view, manage and access different files on your device. It also allows users to access all their files and folders in one place.
You can also manage your photos, videos, and music from the app's built-in storage management tool. This feature makes it easier for you to delete multiple media files at once instead of going through different folders on the device.
Pros:
- Have a built-in storage manager tool.
- View all media files in one place.
- You can save web pages from Chrome directly in the app.
Cons:
- You have to upgrade to a paid version to get more features.
7. Total Commander
This is a good file manager alternative to ES File Explorer, with a very user-friendly interface that allows you to easily navigate the device and manage your files.
The Total Commander App supports different cloud services like Dropbox, Google Drive and OneDrive, which makes it easier for you to access your files from multiple devices. You can also use the app's Backup/Restore feature to save your device's data in a safe location on your computer.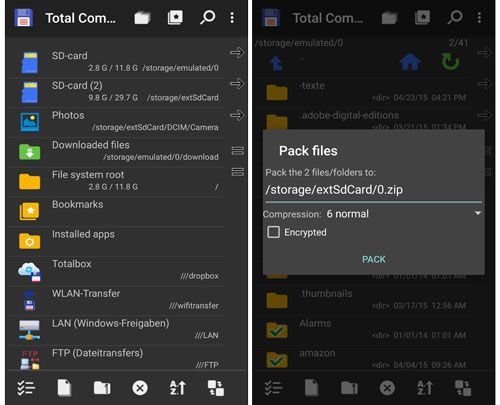 Pros:
- Allow you to send files via Bluetooth.
- Have a built-in text editor.
- Supports multiple cloud services.
Cons:
- Come with ads.
8. File Expert
This is also a great ES File Explorer alternative you shouldn't miss. It comes with many useful features and options for managing your files and folders on your device. The application also supports FTP services, which allows you to access it from other devices. You can also use the program's built-in video player for streaming videos directly from your computer to the phone screen.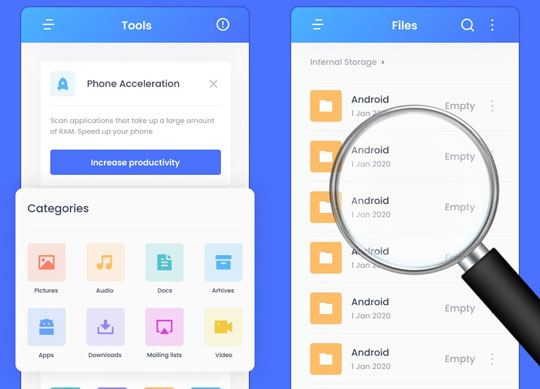 Pros:
- Analyze your Android files, and remove those useless files.
- Support FTP services.
- Help you fast compress/decompress documents.
Cons:
- It's not available for Windows mobile version.
9. Amaze File Manager
Amaze File Manager app is completely free and comes with features like showing the list of installed apps, sorting files through various categories, and managing multiple folders at once. It also contains a data manager feature so you can easily back up all your existing photos, music or videos to your computer without any hassle.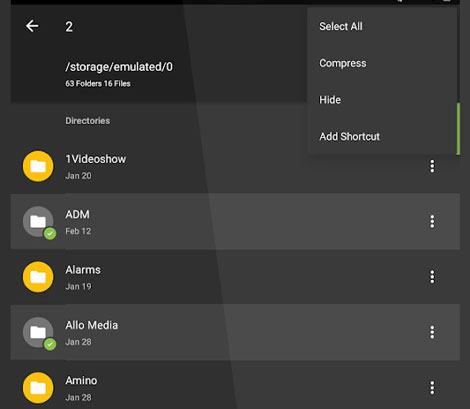 Pros:
- Have a built-in FTP server.
- Support root files.
- Have a reader that supports multiple file formats.
- No ads.
Cons:
- Have no two-pane view.
- Networking tools aren't available.
10. Cx File Manager
This is one of the best-rated file explorer apps for Android devices with built-in tools to save you some phone storage. The best thing about this app is that you can connect with your computer and manage data on the phone via network.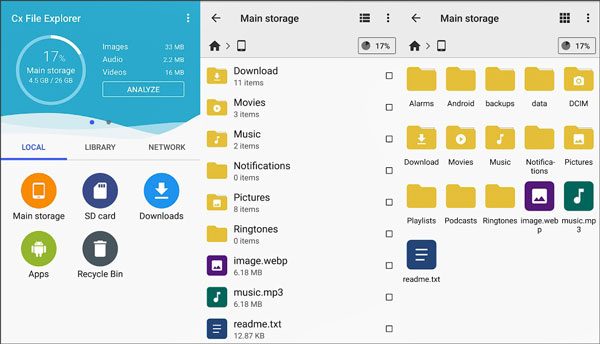 Pros:
- Come with practical built-in tools to organize your files and folders.
- Enable you to access your files on the cloud storage.
Cons:
- You can't choose and edit data at once.
Part 2: Hot FAQs of ES File Explorer
1. What happened to ES File Explorer?
It was removed from the Play Store by Google since it was involved in a fraud scandal of clicking ads in the apps of users in the background without permission.
2. Can you still get ES File Explorer?
No. ES File Explorer was removed from Google Play Store.
3. Which is the best ES File Explorer alternative?
Coolmuster Android Assistant is the best ES File Explorer alternative since it allows you to selectively transfer data and restore files in just 1 click.
Conclusion
Now you have the 10 best ES File Explorer alternatives to use. The Samsung Messages Backup is the most recommended one as it allows you to manage and transfer your data effortlessly, and it's completely safe. So, even when the ES File Explorer isn't available, you can still use these best alternative apps.
Related Articles
Manage Android with 5 Best iTunes Alternatives for Android [Updated]
Samsung File Manager - How to Manage Samsung Files Effectively?
Samsung Manager - How to Manage Samsung Easily in 4 Top Methods
5 Practical HTC Sync Manager Alternatives [Worth Getting to Know]
Seamlessly Back Up and Restore Text Messages on Android [5 Proven Methods]
Samsung Smart Switch Alternative: 6 Equivalents Worth Pursuing