Summary
Backing up data on our devices is very critical. Doing a regular data backup can save you in case of data loss. Our data can get lost in unpredictable circumstances. Perhaps you did a software upgrade. Or it can happen because of water damage or other reasons. The best thing here is to ensure that the data on your Android tablet won't be lost if anything goes wrong with your device. So, it's always good to know how to back up Android tablets.
It's never too late to do data backup. And you can be assured that your data is safe as long as you stick to the procedures outlined below. So without further ado, let's take you through ways to back up Android tablets.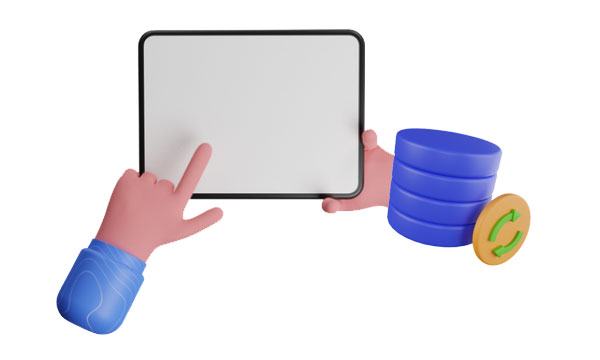 Way 1. Back Up Android Tablet to PC via Android Backup and Restore [Reliable & Fast]
Do you want an easier way to back up your Android tablet? Who doesn't want a fast and reliable way of doing things? You can safely and easily back up your device via this backup manager - Samsung Backup and Restore. This is an excellent tool to help you back up your Android data to the computer without a hassle. So, when your tablet runs into problems, you are sure your data is safe.
You'll have all your files on the computer in just one click. It is a very easy-to-use app with only three steps to get your files to the computer. It is also compatible with most Android tablets, which is an added advantage. Another thing, it supports almost all data types, such as photos, videos, messages, contacts, apps, documents, etc.
Main features of this tablet backup app:
- One-click Android tablet backup on a Windows/Mac computer.
- Quickly restores the backup to your Android tablet.
- Backups of various data types, like photos, videos, messages, contacts, apps, documents, etc.
- Not change the file formats and quality.
- Compatible with many Android tablets and phones, like Samsung, OnePlus, Huawei, Sony, etc.
Download this backup software below.
So how to back up your Android tablet to a PC in 1 click?
Step 1: Install and launch the program on your computer. When you see its primary interface, click on the "Android Backup & Restore" module.
Step 2: Now connect your Android tablet to the computer via a USB cord and ensure the USB debugging is enabled. You'll see two options from the program's interface: "Backup" and "Restore".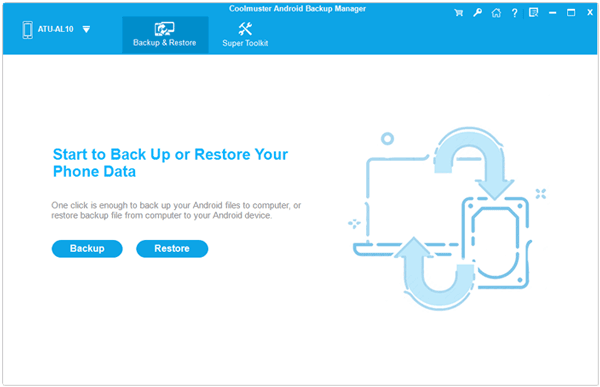 Step 3: Click on the "Backup" option. Check all file types to back up and when done, click the "Browser" option to choose the storage location on the computer. After that, tap the "Back Up" tab to transfer your Android tablet files to the computer for backup.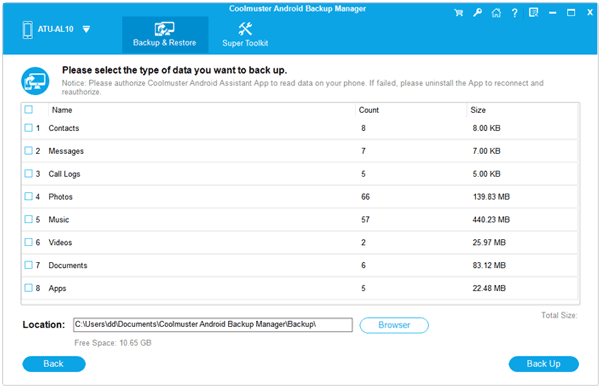 Tips: If you want to restore your backup data, please choose the "Restore" option and select your backup file. Then restore the file types you want.
You might need: How to Back Up and Restore Android Phone/Tablet on Computer? (5 Ways)
Way 2. Back Up Android Tablet to Windows Computer Using File Explorer and USB Cable
Windows File Explorer is an excellent way to back up an Android tablet to a Windows PC. Many people would love to use this option to save their files for the future. It is the simplest way to back up Android tablets. No need for extra software; a USB cable is enough.
Simply connect your Android tablet to the computer and then drag the files you want to back up. This shouldn't give you a hard time. To backup your Android tablet using Windows File Explorer, follow the steps below:
Step 1: Connect your Android tablet to the Windows computer using a working USB cable. Then swipe down from the top of your tab screen to get to the notification panel. Choose the "MTP Files Transfer" option.
Step 2: After the Windows computer detects the tablet, proceed to "This PC" or "My Computer" by pressing the "Win + E" keys on the Windows computer. You'll find "This PC" in the left panel. Choose the name of your Android Tablet under the "Devices & drives" section. Click on it to go to "Internal Storage".
Step 3: You can copy the whole folder and paste it to your computer or select the specific files you want to back up to the computer. Wait for the process to complete, then remove your tablet.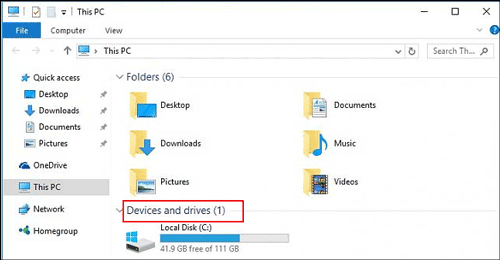 Read also: How can you recover deleted data from a Samsung tablet? Read this guide to get useful solutions.
Way 3. Back Up Android Tablet to Google Drive
Google Drive is the best option for most Android tablet owners. Since each Android device has Google service, it's possible to create an account and store your essential files. Google Drive is more than just backup and storage. With it, you can upload files to store in the cloud, share with other users, and do many more things. And the best part is it's free to get 15GB.
So how do I back up my Android tablet to Google drive? Let's take a look at the steps needed:
Step 1: Open the Google Drive application on an Android tablet, and if you don't have it, you can download it from Play Store.
Step 2: Once done logging in using your Gmail account, tap on the "+" button at the bottom right corner, then choose the "Upload" option.
Step 3: Select the data you want to backup, then tap the "Upload" tab to share the files to Google Drive.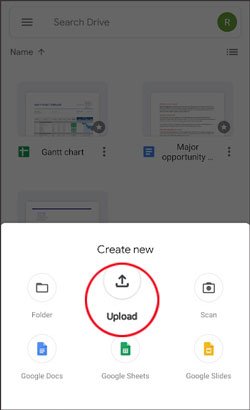 Further reading: Want to unbrick your Android tablet or phone? As long as you master these effective methods, you will solve it smoothly.
Way 4. Back Up Android Tablet to Computer via Bluetooth
Sometimes it's not possible to connect your Android tablet to the computer. Or perhaps you don't want your tablet connected to the computer through a wire. Sometimes your computer might have viruses and all that which can infect your tablet. Wireless transfer saves the day here as it will prevent viruses from infecting your tab.
Bluetooth comes in handy in such wireless transfer; even though it's slow but worth giving a try. It allows us to connect wirelessly to various accessories, such as headphones and speakers. So why not connect your tablet to the computer via Bluetooth and get done with data backups? This will allow you to easily save important files from your Android phone to your computer.
Here's how to back up an Android tablet to a computer via Bluetooth:
Step 1: Head to "Settings" on your Android tablet and look for Bluetooth connections. Toggle on Bluetooth, then click on Bluetooth to make it discoverable.
Step 2: Head to "Settings" on your computer, look for the "Devices" option and find the "Bluetooth and other devices" option. Tap your tablet from the list of discovered devices to pair them.
Step 3: Open the file manager on the tab, then choose the data to back up to the computer. Hit the "SHARE" button and choose "Bluetooth" and your computer device to transfer them to the computer.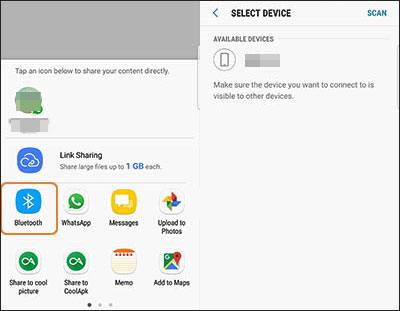 Learn more: When the touch screen of a Samsung mobile device doesn't work, you can repair it using these tricks.
Way 5. Back Up Android Tablet Data Before Factory Reset via Flash Storage
If your Flash Drive has enough storage space, you can copy and paste all your files into the drive. Also, a flash drive is easier to carry around. But keep in mind that a large file will take a long time to copy, so this might not be the best option if you need something fast.
Besides, Flash drives are not perfect for storing large amounts of data; they are prone to failure like any other memory storage device.
If you feel you can still keep your backup to a flash drive, here are steps to go about it:
Step 1: Connect your USB stick to the tablet for those with plug-and-play flash drives. For those who don't have one, you can use USB OTG.
Step 2: Open File Manager on your tablet and proceed to internal storage.
Step 3: Copy all files you want to backup and transfer them to the external storage, a USB stick.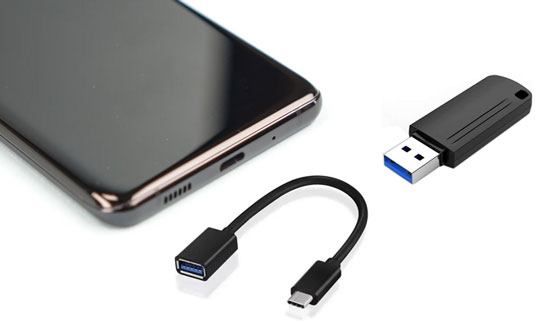 Conclusion
The article above should give you an idea of how to back up your Android Tablet. All you need to do is follow the steps outlined, and you are good to go. Whether you want to save them on your computer or transfer them to external storage, rest assured we've got you covered on all bases.
You don't need to worry about your files being lost, as you have the right tools to help you out. On top of that, you have reliable software, Samsung Backup and Restore, that makes the data backup process a lot easier. With it, you can back up data on most Android tablets and phones without trouble.
Related Articles
Detailed Guide on Switching from iPhone to Android [Must-read Tricks]
Android File Transfer on Windows Computer: Transfer Files Easily
Why Does Android Crash? How Can You Fix the Issue? [Solutions Ready]
How to Transfer Files Between Android Devices via Wi-Fi | 4 Easy Ways
How to Transfer Photos from Samsung Phone to Tablet in 2023? - 3 Easy Ways
How to Transfer Data from Old Tablet to New Tablet without Effort (Everything)