Summary
Nothing is as exciting as getting a brand-new latest Android phone. You get to enjoy the latest features introduced by Android and the unlimited apps available in Google Play Store. But what if you want to transfer some files from your old Android phone to the new one without the hassle of using cables?
You can still do the wireless transfer, which is very fast. If you're wondering how to transfer files between Android devices via Wi-Fi, this article will answer that. So get ready; it's time to brag about your brand-new Android smartphone!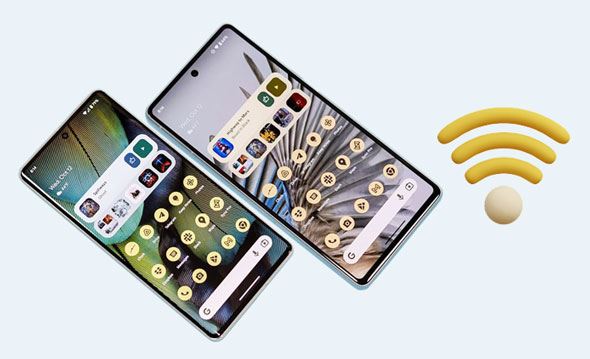 Part 1: Transfer Files Between Android Devices via Wi-Fi Using Android Data Transfer (Fastest)
Transferring data wirelessly is technically possible, but you might need a powerful tool. This transfer tool - Samsung Data Transfer, is one of the best software that can wirelessly transfer various files between two Android devices, including contacts, music, videos, apps, and more.
It has been designed especially for those who love sharing unlimited data. Moreover, you can use it to transfer your Android data to an iOS device. The operation is simple and works faster without data loss, making it one of the best data transfer tools. All your data will be available on your new Android phone in just one click.
What does this transfer software specifically do?
- Easily share data between two Android devices via Wi-Fi.
- Allow you to select files by category before transferring them.
- Support USB transferring mode as well.
- Create a secure tunnel to move files between the two devices.
- Support iOS devices, so you can copy data from iOS to Android, and iOS to iOS.
- Support many types of data like pictures, contacts, apps, movies, SMS, songs, etc.
- Work for most Android and iOS devices, such as Google Pixel 7 Pro/7/6/5/4/3, Samsung Galaxy phones and tablets, Honor, Xiaomi, LG, OPPO, OnePlus, and so on.
Download this transfer tool below.
Use the fastest way to transfer files between Android phones:
Step 1. Launch the Transfer Software
Download, install and launch the software on your computer, and click on the module for the "Mobile Transfer" from the list on the original interface.
Step 2. Connect Your Android Devices to Computer via Wi-Fi
- Click the "Can't recognize the device?" icon on the interface, and tap "Connect via Wi-Fi" on the prompt to go on. Then it will install an app on your mobile devices, which is used to make a connection.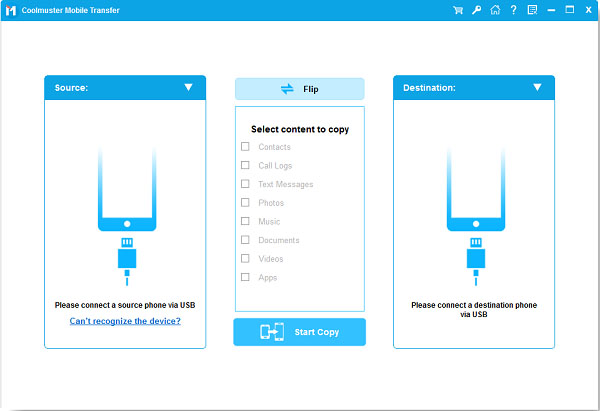 - Open the app on your phone, and hit "Allow Access" if it pops up. Next, use the app to scan the QR code on your computer to set up the connection.
Step 3. Wirelessly Transfer Files from Android to Android
Make sure your new Android phone is on the "Destination" side. If not, click "Flip" to change the location. Then select the file types you desire to transfer. Finally, click the "Start Copy" icon to move the files from the "Source" Android device to your target device.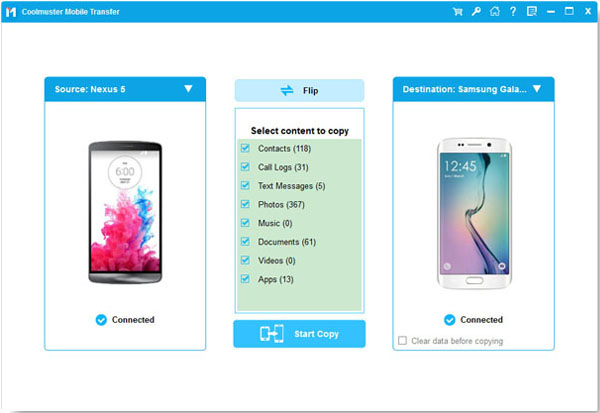 Bonus: Can you move music files from iOS to Android? Of course, you can. Here are 5 methods that you can select from this article.
Part 2: Share Files from Android to Android Using ES File Explorer
ES File Explorer is a powerful file manager app for Android, which provides all of the standard file management operations, like copying, moving, deleting files, and much more. You can connect your devices or share data from one Android phone to another android phone via Wi-Fi. The app allows the transfer of files like pictures, video, music, and more from one Android phone to another.
Here is how to wirelessly share data between Android devices using ES File Explorer:
Step 1: On the Source phone, go to the Settings app and look for "Wireless and network". When there, click on "More options" > "Tethering and Hotspot" > "Wi-Fi Hotspot".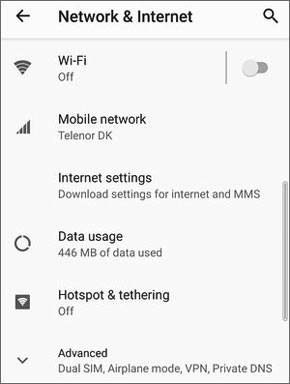 Step 2: Connect to the same Wi-Fi you used on the first device on the new Android phone. Then go to the Source phone, open ES File Manager after installing it, and browse the data to transfer. Long-press on the files until you see a checkmark on the files.
Step 3: Choose "More" from the lower right side of the screen, and then click on the "Send" button.
Step 4: Go to your new phone to accept the files. You will see a confirmation dialog in the form of a box on the new phone. Just click "Accept" to start transferring data.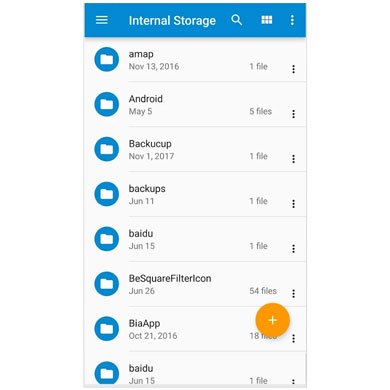 Read also: This is a full guide you can follow to connect your Android phone to a PC via Wi-Fi. Let's check it out.
Part 3: Wirelessly Transfer Files Between Android Phones with Wi-Fi Direct
Wi-Fi Direct is a feature of your smartphone that allows you to connect with other devices using the Wi-Fi link. This means you can transfer files from one Android phone to another without using any network. Wi-Fi Direct can transfer files faster and more efficiently than Bluetooth. Before using the Wi-Fi Direct feature, ensure the two devices are closer. Besides, a transfer key should be entered into the target phone to receive files.
Perform the Wi-Fi file transfer from Android to Android via Wi-Fi Direct:
Step 1: On the source Android phone, open the Settings app and proceed to "Wi-Fi". Then look for the "Wi-Fi Direct" option from the list and click on it. The device will now start to search devices in its range with Wi-Fi Direct.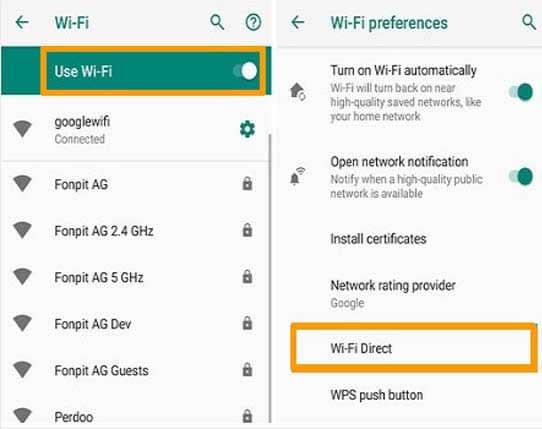 Step 2: Tap on the device you wish to connect. You'll then get an invitation on the new phone. Accept it and create Wi-Fi Direct connection on these two devices.
Step 3: Go to File Manager on your sender, choose those files you wish to share from the source device and click "Send" > "Wi-Fi Direct" > your receiver to transfer them. Then click "Receive" to get the files on the target phone.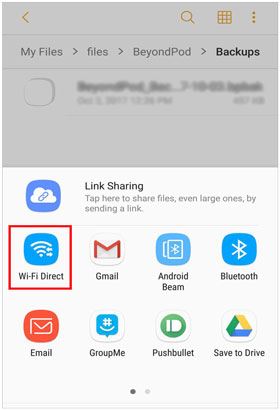 Part 4: Transfer Data from Android to Android via Wi-Fi Using Google Drive
Google Drive is a handy cloud storage server out there right now. And it's very easy to use and is accessible from anywhere. Plus, you can even share photos and videos with others without hassle. Google Drive has made it easier to manage files on your device.
Additionally, you can transfer files to and from your Android device using Google Drive. If the two devices have network connectivity, the transferring process is a mere breeze to achieve.
How to move files from one Android to another over Wi-Fi with Google Drive:
Step 1: Go to the Google Drive app, open it and click on the "Upload" option. From the interface that looks like a second screenshot, tap on those folders you want to share their files to another phone and select the data to transfer.
Step 2: Sign into your Google Drive account using the target phone to find the data uploaded.
Step 3: Tap on the uploaded data and download them to your device.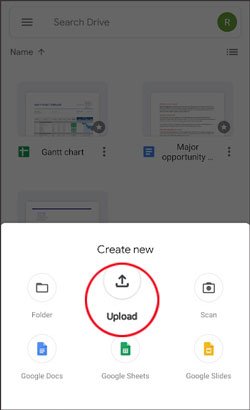 Conclusion
Smartphones have brought about a new way of connecting with people. With the advent of Android phones, transferring data from one device to another has become easier than ever before. But what is the best method to use when moving files from one Android phone to another over Wi-Fi? If you follow all the methods above, you'll have no problem transferring data between your Android devices wirelessly.
With the highly recommended software - Samsung Data Transfer, you can send and receive files wirelessly between two Android devices. It's simple and efficient and takes little time with just a tap.
Related Articles
How to Transfer Call Logs from Android to PC: 3 Helpful Tips Introduced for You
How to Forward Text Messages on Android Devices with 4 Easy Approaches
How to Get Out of Android Recovery Mode | Ultimate Solutions
Android Authority -- Transfer Video from Android to PC in 6 Simple Methods
How to Recover Deleted Text Messages on Android without PC [Methods & Tips]
4 Easy Ways to Install Android App from PC Seamlessly