Summary
Software updates are supposed to enhance the performance of your smartphone. But, that isn't always the case. A time after updating some software, some bugs might show up, which causes your touch screen to be unresponsive in the long run.
If you find yourself in such a situation, you may be frustrated and worry a lot. Even if the screen is unresponsive, it doesn't mean that it's damaged or something. It may just be the phone is misbehaving because of some glitches and apps. You don't necessarily have to run to the nearest center to fix your phone. This guide is yours to solve all issues of your touch screens not working on Samsung devices.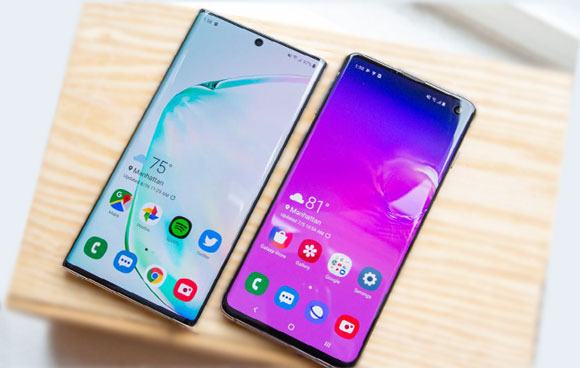 Part 1: What Causes An Unresponsive Touch Screen?
There are some reasons why your Samsung phone's screen may fail to respond. They include:
Damaged Screen
External factors such as variants, screen damage, magnetic field, and many more may cause your phone's screen not to work.
Bad Apps
Most apps can get corrupted and even crash the system of your phone, making the touchscreen insensitive.
System Error or Crash of Android
When making system changes, there may be chances of Android crashing, so your Samsung touch screen is not working.
Bonus: Why does my Smart Switch always get stuck at 99% during the data transmission?
Part 2: Fix Frozen Touch Screen or Slow Response on Samsung Galaxy
If your Samsung device isn't physically destroyed or smashed but stopped working, it might be because of software problems. In such a scenario, the below fixes for touch screen not working on Samsung are quite a handful:
2.1 Force reboot your Samsung phone
If you're facing a problem with the touchscreen not working on Samsung, then force rebooting is a great option. To force reboot your Samsung gadget, press the Volume Down key and Power key simultaneously for about 20 seconds. This will allow your device to reboot and run smoothly.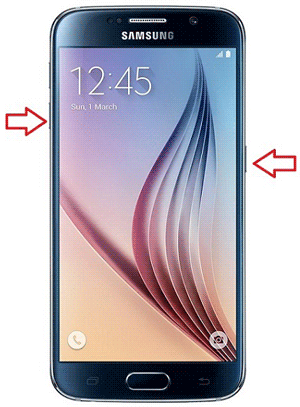 2.2 Remove the memory card and SIM card
As you perform many functions on your Samsung gadget, it may heat up, thus hampering its performance. This also affects your phone's touchscreen making it unresponsive. Removing SIM cards as well as Memory can be a good way to resolve the problem.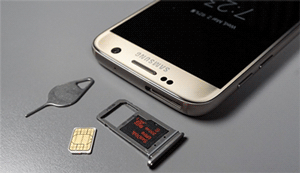 Read more: See? It is really easy to transfer music from an iPod touch to Samsung.
2.3 Optimize device performance
You should also optimize the performance of your Samsung device. Samsung has a Device care feature solution that helps enhance its overall performance. This feature scans the gadget for wasted storage space and some potential problems.
To optimize Samsung performance, open the "Setting" app and click on the "Device care" option. Once done, click on the "Optimize now" button.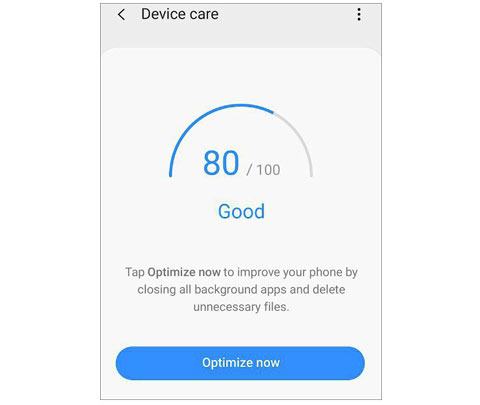 2.4 Check for the software update
Check any software updates are needed to prevent your phone from being unresponsive. Navigate to the "Settings" app and click on "Software", then click "System Update". Then download and install the updates.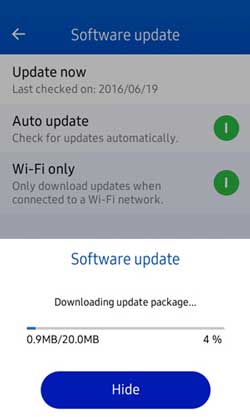 You might need: After learning these seamless ways, you can transfer most files from your Samsung tablet to your PC without a hitch.
2.5 Back up and factory reset
Before factory resetting, back up your data. When you reset a device, all of your data is erased. So, ensure you sync your data with a Gmail Account. Confirm the backup by logging into your account.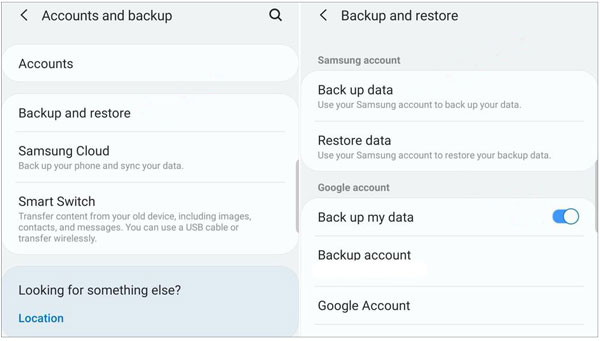 After confirming, you can factory reset your device: go to Settings, and choose the "General management" > "Rest" > "Factory data reset" option. Then confirm the operation by entering your password.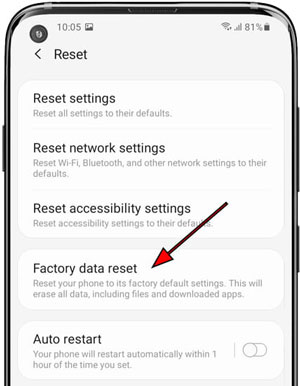 2.6 Reboot your phone into Safe mode
If all of the other methods aren't helping, you can try rebooting the Samsung device into Safe Mode. The process will assist you in knowing the issue if it's a newly installed app.
To do this, you should power off your Samsung phone, and then turn it on. When seeing the Samsung logo on the screen, you need to press and hold the Volume Down button. Next, your phone will be in the Safe Mode.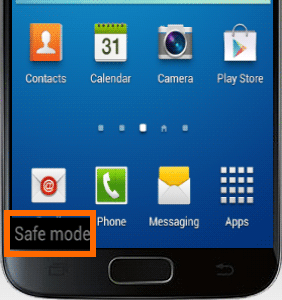 See also: Want to recover some deleted photos on Samsung S8? This guide will give you a hand.
Part 3: Repair Samsung Display Touch Not Working for Black Screen
The major problem faced by Samsung users is touchscreen issues like black screens. There are many reasons why your Samsung phone may show a black screen and fail to open it no matter what you do. Here, we will show you what might be causing your phone to show a black screen rather than just opening properly. Without further ado, let's head to these reasons and how we can fix this issue once and for all!
3.1 Remove your phone case and screen protector
Your screen protector and case might be the reason why your Samsung phone is showing a black screen. So, remove it to see if your phone will start operating properly.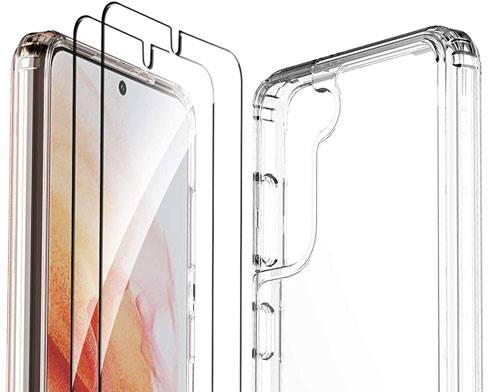 3.2 Check your phone for damage
Your phone may also have been damaged, making it show the black screen. So, check every part to ensure no part is damaged. If you find that it's damaged, then repair it immediately.
3.3 Charge your phone battery
The black screen may also indicate that your phone doesn't have power. Connect it to power for like an hour and open it.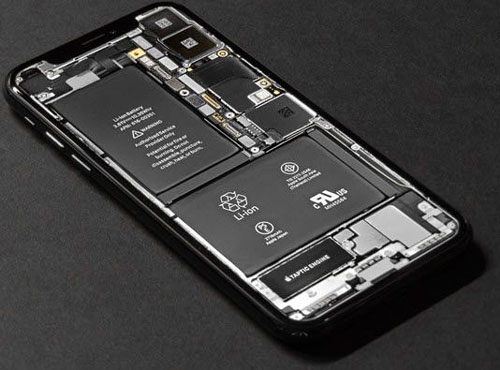 3.4 Force reboot your Samsung device
If the above tips fail, then you should try force restarting your Samsung phone. This procedure will erase all of your data. So, if your store your data in an SD card, pull it out before factory resetting the device.
To factory reset your device, press and hold the Power, Volume Up, and Home buttons to boot your device into recovery mode. Once in the recovery mode, choose "Wipe Data/factory reset" with the help of the Volume Up and Down keys.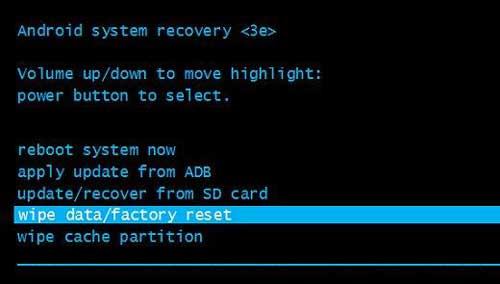 Further reading: If your Samsung Cloud fails to back up your data, you can follow this tutorial to fix it with ease.
Part 4: Fix Touch Screen Not Working on Samsung Phone/Tablet for Any Software Issues (Hot)
If all of the above ways aren't helping, then Android Repair Software is your last resort tool. This is a reliable and sure tool that will help you fix your "touch screen not working Samsung" problem. It fixes all Android system problems and not just touch screen problems in just simple clicks, such as black screen, app crashing, device bricking, etc.
Doesn't that sound great? Well, you don't have to worry about compatibility issues because it's compatible with a wide variety of Android phones.
Here is how to use the Android Repair tool to fix the Samsung device with touchscreen problem:
Step 1. Install the Android Repair Program
Firstly, install, then launch the Android Repair tool on the computer.

Tap "System Repair" from the toolbox to get to the repair module. Connect the Samsung device to your computer and choose "Android Repair" found on the left sidebar. You will get a list of Android problems that the program can fix, read it and tap "Start" below.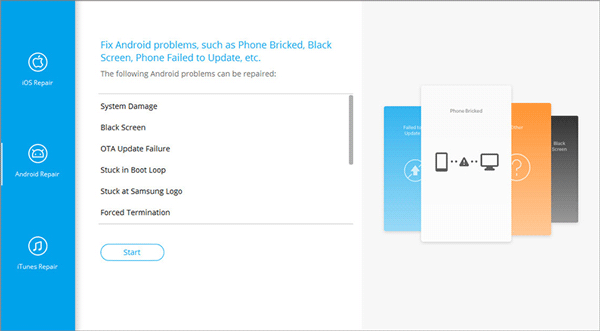 Step 2. Choose the Correct Device Information
Choose the correct data from drop-down lists to select the right information.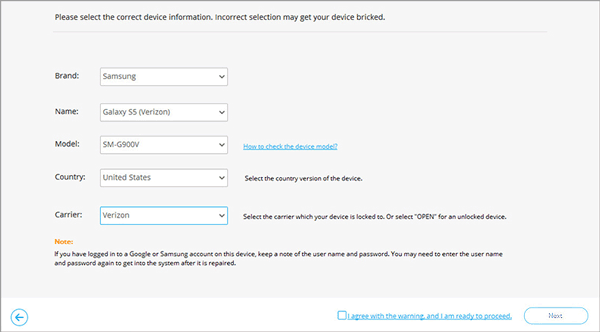 Step 3. Start the Repairing Process
Tap "Next" and type in "000000" in blank space and click "Confirm" for the operation to complete.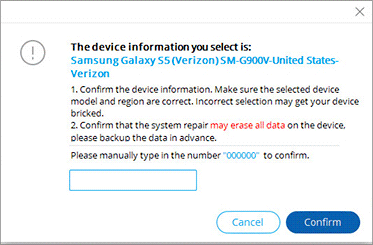 Then get your phone into the Download Mode, and tap the "Next" icon to start repairing your Samsung phone.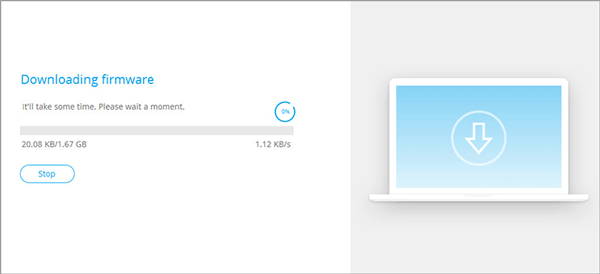 Part 5: How to Increase Touchscreen Sensitivity on Samsung
What can you do when the touch screen on your Samsung phone falters or even becomes unresponsive? Luckily, you can increase the touchscreen sensitivity by doing the following:
Step 1: On the home screen, swipe either up or down from the center to access the apps on the screen.
Step 2: Open the "Settings" app and click on "Display". Then click the "Touch sensitivity switch" to switch on.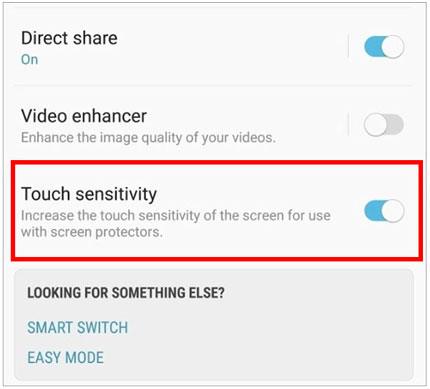 Conclusion
Is your touchscreen not working on a Samsung device? Are you wondering how to solve the problem expertly? The issue of touchscreen not working troubles many people. If you encounter a problem at some point in time, there is no need to get anxious as the above ways solve everything.
Furthermore, with the powerful Android Repair software, you can effortlessly repair all software issues and make your Samsung touch screen work properly. This is a common problem that should not give you sleepless nights. You just have to follow the right path of using this software and other fixes.
Related Articles
Transfer iPhone to Samsung S20 with 5 Hassle-free Methods [Easy and Safe]
Transfer Contacts from OPPO to Samsung Efficiently [5 Proven Methods]
Samsung Contacts Recovery - How to Recover Deleted Contacts from My Samsung Galaxy Phone?
Best Screen Mirroring App for Android to PC: Mirror Android to PC Easily
Intelligent Lock Screen on Samsung: Practical Tips You Can't Miss
How to Unlock Phone with Broken Screen for Android Users | 6 Effective Solutions