Summary: Sometimes, you might need to delete WhatsApp contacts for one reason or another. No matter what the reason it is, if needed, please read this full guide to delete/block contacts from WhatsApp, or delete WhatsApp contacts permanently.
WhatsApp is free to download, as a messaging app for smartphones owned by Facebook. It uses the internet to send messages, images, videos, documents and other media as well as to make audio and video calls. WhatsApp uses your phonebook through auto-sync in order to create a contact list. WhatsApp will only display the profiles of the people on your contact list whose numbers are registered on WhatsApp.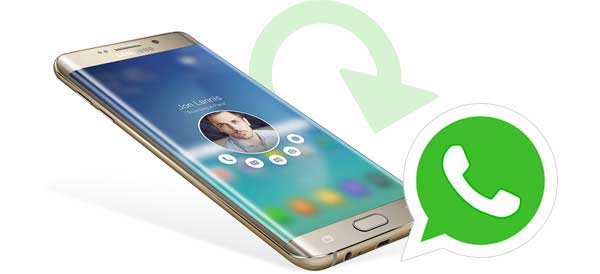 Sometimes, you can have so many people on your WhatsApp list and you wish to manage them. This is necessary especially when its people you don't chat with or people you are trying to avoid. Managing these contacts can be done in two ways; either to delete them permanently from the phone's contact list, or to simply block them on WhatsApp so that they can no longer view your profile or send you messages.
Part 1. How to Delete Contacts from WhatsApp but Not on Your Phone?
People have different reasons for wanting to delete contacts from WhatsApp. It may be: unknown numbers that send you spam messages; contacts of people you've lost touch with, or even someone you may want to avoid completely. However, you may want to retain the number on your phone book in some cases. This means that you want to have their contact but you prefer they don't access you through the app. While it may be easy to assume that deleting the contact from your phone and on WhatsApp are the same thing, it actually isn't.
Since WhatsApp uses the numbers on your device, whether it's an Android phone or an iPhone, the only way to delete the unwanted WhatsApp contact is to delete the number from the phone book completely. However, since you may still want to keep the contact, there's a way to achieve the two. It entails the following easy steps:
i. Go to your phone's People or Contacts app.
ii. Scroll until you find the exact contact for which you wish to delete the WhatsApp contact number.
iii. Modify or Edit the contact as per your phone's instructions on this, and tap Delete Contact button.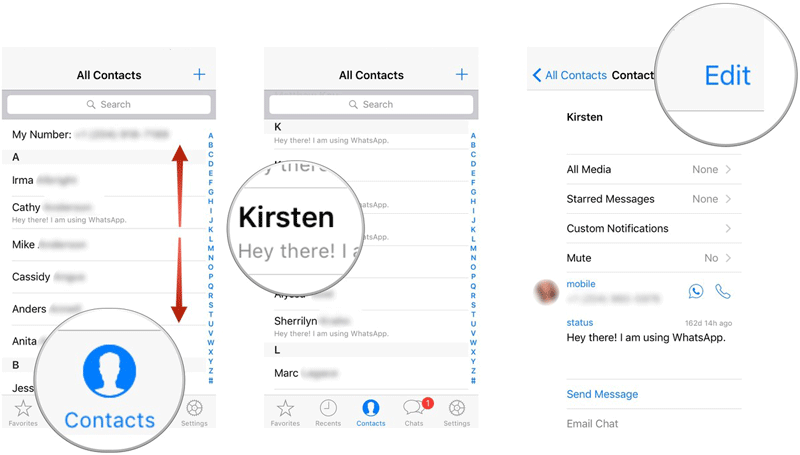 Alternatively, except for completely deleting the contact after editing, you can also move the contact to the Notes section of the People or Contacts app. Go to WhatsApp Settings and Refresh (which is only necessary for those using the older version) and the contact will no longer appear. This should also appear automatically if your WhatsApp is updated to the latest version.
Using the above steps, WhatsApp will assume the contact has been completely deleted and therefore, will no longer access your online profile or send you messages. Whenever you need to call the contact, you'll just go to the Notes section, copy and paste the number to your dialer and call as usual.
You May Also Like:
How to Edit Android Phone Contacts on Computer
How to Manage Android Phone Contacts on PC/Mac
Part 2. How to Block Contacts on WhatsApp?
Sometimes you would want to stop viewing other people's story updates, status or profiles. You may also prefer they don't send you messages, view your profile, call or see your "last seen" but not delete their number. The way to do this is to simply block the unwanted contacts. Below are the steps on how to block a contact on your WhatsApp:
On Android
* While on the app, click on the three vertical dots on the top right-hand side of the screen to access the Menu.
* Once on the Menu, click on "Settings", "Account", "Privacy" and then on "Blocked Contacts".
* On the Blocked Contacts list, click on "Add New" and select the contact you want to delete permanently.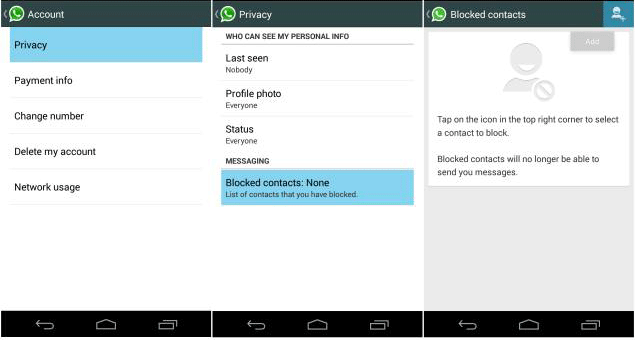 On iOS (iPhones)
* Go to the application and click on "Settings".
* Select "Account", "Privacy" and finally on "Blocked".
* Select the "Add New" option and choose the contact you want to delete.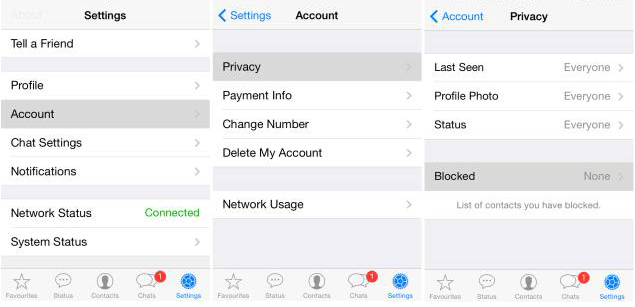 This is a sure way to delete the contact from WhatsApp while retaining it on your phone. It also does not affect your communication with the contact on other platforms.
You May Also Like:
2 Ways to Transfer Contacts from Android Phone to PC/Mac
Export/Save Android Phone Contacts to Excel (CSV & XLS)
Part 3. How to Permanently Delete WhatsApp Contact on Android?
The Android Data Eraser is a data erasing tool designed specifically for Android users who want to completely wipe their phones. It works to make all the deleted data unrecoverable and also destroy all your privacy dates. Furthermore, this program is supported by numerous Android smartphones, including but not limited to Samsung, Huawei, Xiaomi. LG, Motorola, ZTE, HTC. Sony, etc.
Tips: Before deleting data on your Android phone, please remember to back up data on your Android in case of unexpected data lost. Also, the Android Data Eraser currently only support "Erase All Data" mode for Android devices.
So, how does the Android Data Eraser work?
Step 1: Install the Program on Your Computer
To be able to delete the data on your phone, you need to download the program on your personal computer. There are links that support both Windows and Mac computers. The installation process is very simple.
Step 2: Connect your Android Device to the Computer Using A USB Cable
Plug your Android tablet or phone using a USB cable to your computer with the installed program. Install the MobileGo connected as prompted for connection. The device can be easily detected and recognized by the computer if the cable is effective. The program will then display the name of your recognized Android device.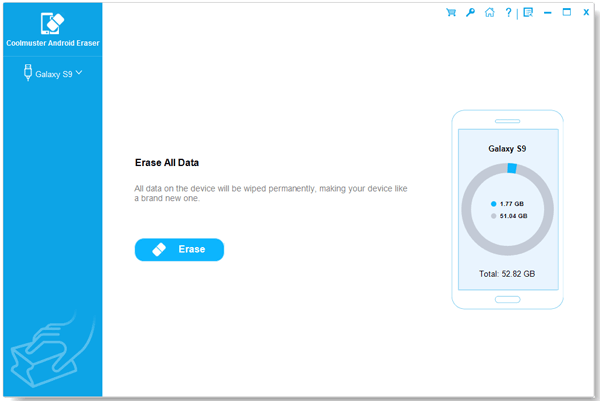 Step 3: Select the Option for Erasing
When the program window displays, there will be the erasing option on the screen. Just select "Erase All Data", a scanning window will appear where you can click on "Erase". All the data will be gone in a matter of minutes.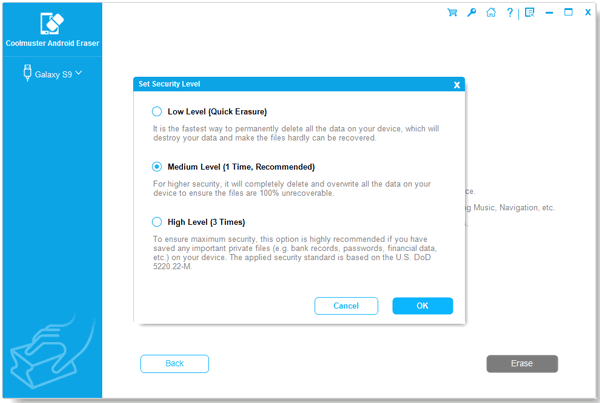 When the data is deleted using the program, the multiple writing of random digits will make the data unrecoverable from any recovery software. So if you want to delete WhatsApp contacts from your Android phone, or if you want to delete your personal information on Android device, the Android Data Eraser must be your best choice. Believe or not, just have a try.
Related Articles:
How to Recover WhatsApp Pictures on Samsung Galaxy S/Note/J/A?
[Fixed] How to Recover WhatsApp Data from Samsung Galaxy
How to Delete Duplilcate Contacts from Android Phone At Once?
How Can I Recover Lost Contacts and SMS from SIM Card
How to Recover Deleted Contacts from Android Phone
How to Restore Contacts from Broken Android Phone?