Summary
"My contacts didn't transfer to my new iPhone so that it is inconvenient to use my new phone. I really want to know what happened to my contacts and my smartphone."
It's pleasant when you bought a new iPhone, but the pleasure was interrupted as you found that your contacts didn't transfer to the new iPhone. You couldn't believe that! The phone numbers are necessary to transfer even if you switch to a new iPhone. So, how can you figure it out? Luckily, we have found effective solutions, and display them in the following. Let's go on reading.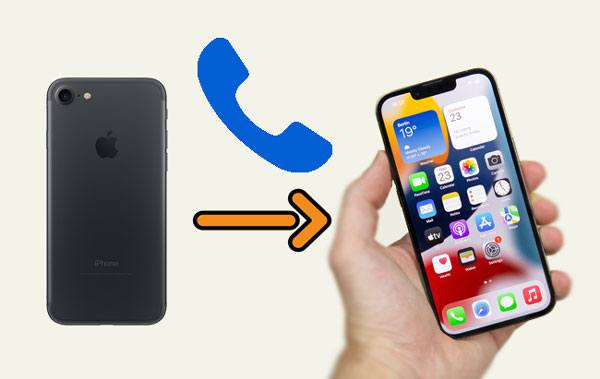 Part 1: Why Didn't My Contacts Transfer to My New iPhone?
When contacts did not transfer to the new iPhone, you might want to understand what causes this problem. Thus, you can directly check the universal reasons in this part.
1. The contact synchronization feature is off. If you forget to enable the contacts item in iCloud sync, your new iPhone will fail to access your contacts, though you have backed up to iCloud.
2. Log in to a different Apple account. Please check if your account used on the new phone is that one stored your contacts. If you sign in with the wrong account, you cannot get your contacts on the new iOS device.
3. The network is unstable. A poor network condition will lead to the failure of data syncing, so that your contacts don't sync to the new iPhone.
4. You Forget to upload your contacts to iCloud. Perhaps all is well but forget to upload the contacts from the old phone to iCloud. You can log in to iCloud to check your backups.
5. Your storage of iCloud is almost used up. When your available storage space is too low, iCloud will not work normally. This will cause the suspension of contact transfer on your new gadget.
Bonus: Click this link to see how easy it is to transfer files from Android to iPhone.
Part 2: Fix It When Contacts Did Not Transfer to New iPhone
After finding out the reasons, we are going to solve the situation of not all contacts transferred to the new iPhone.
Way 1: Check the iCloud Contact Backup Feature
First of all, you'd better check the contact backup feature on both iPhones. Open the Settings app, click your name, and choose "iCloud". Then make sure the "iCloud Backup" feature is enabled on the old device, and tap the "Back Up Now" icon to back up your old phone contacts to iCloud. Next, please toggle on the "Contacts" on your new device.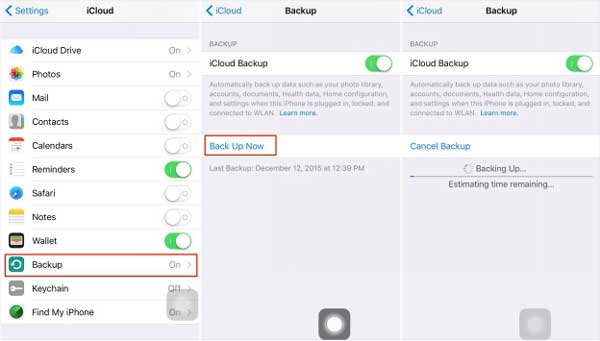 Remember, your contacts need transferring from your old iPhone to iCloud first, and syncing to your new iPhone second.
Way 2: Reset Network Settings
An unsteady network might hinder the contact transfer on your new iDevice. But don't fret about that. You can reset the network settings, and connect your iPhone to another stable network. Then you will sync your contacts to the new iPhone without hassle.
To reset the network on an iPhone, you can go to Settings > "General" > "Reset" > "Reset Network Settings". After resetting it, set your network.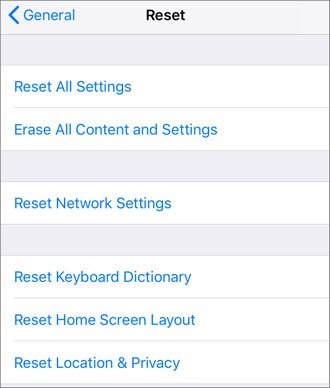 Maybe you need: How do you transfer your iPhone contacts to an Android phone? A full guide is on your hand now.
Way 3: Check Your iCloud Account
If you sign in with the wrong iCloud account, please log it out and sign in with the right one. Also, go to Settings, and tap your name. Then swipe down to the bottom, and hit the "Sign Out" icon. Once done, please sign in with the correct Apple ID.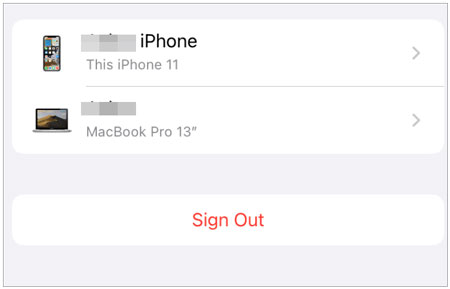 Way 4: Check Your iCloud Storage
You probably forget that you have run out of your iCloud storage, so you cannot transfer your contacts to your new iPhone. Therefore, please check the iCloud storage now: Settings > your name > iCloud. You can also tap "Manage Storage" to turn off the apps you don't want to back up anymore.
Read more: Here is an effective tutorial on transferring photos from iPhone to Android. Are you interested in it?
Way 5: Ensure iCloud Is the Default Account
If iCloud is not the default account on your new iPhone, your iCloud contacts will not be synced to the iPhone.
Here's how to set iCloud as the default account on an iPhone: Open the Contacts app, tap "Groups" on the upper left, and choose the "All iCloud" option.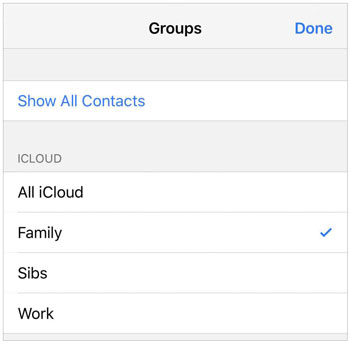 Besides, you need to run Settings, and choose the "Contacts" > "Default Account" > "iCloud" option.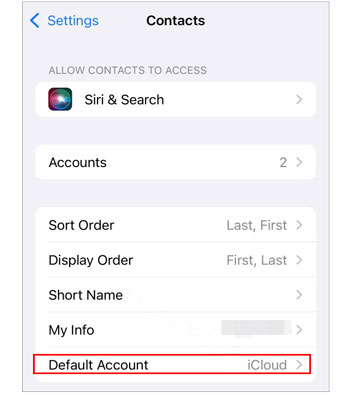 See also: Things are simple to move contacts from iPhone to iPad.
Way 6: Reset Your iPhone
If you have tried all the ways mentioned above, but it has no effect on transferring contacts to your new iPhone, in this case, please reset your iPhone. However, if you activate the erasing feature, your settings and even all your content on the iPhone will be cleared up. Please back up your data in advance.
Run the Settings app, and select "General" > "Reset" > "Erase All Settings" or "Erase All Content and Settings". After that, you can set up your iPhone again.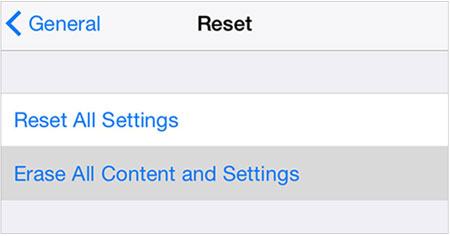 Way 7: Use Other Tools to Transfer Contacts
Maybe you just want to transfer contacts to your new iPhone without delay. If so, you can choose the following tools to make it.
1. Using iTunes
Do you install iTunes on your computer? It can help you sync contacts from one iPhone to another. Steps are easy. Connect your old device to your computer, and launch iTunes. Then click the icon like an iPhone on the top left, and choose the "Summary" option. Next, select "This computer" to save your iPhone data, and click "Back Up Now" to start the backup.
Once done, unplug the old iPhone, connect your new iPhone to the computer, and utilize the "Restore Backup" feature to transfer your backup contacts and other data to the new device.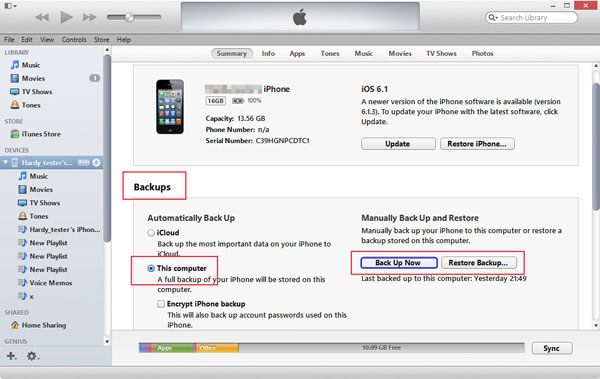 2. Using Move to iOS
If you intend to use Move to iOS, you're required to reset your new iPhone first. Then choose one option on the "Apps & Data" screen. You can move your contacts from your old iPhone without iCloud by choosing the "Transfer Directly from iPhone" option.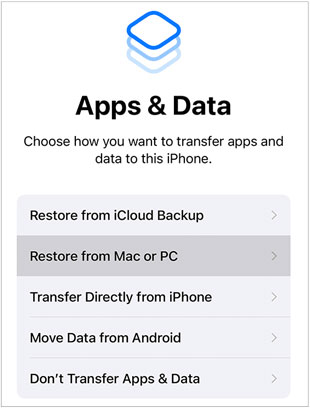 Check if you need: Want to send some large videos from an iPhone to an Android device? You'll need these 6 approaches.
3. Using iOS Data Transfer
This iOS data transfer program - Samsung Data Transfer, is reliable to transfer all your contacts from one iPhone to another. Furthermore, it is a direct tool that can finish the transfer in 1 click. Even though your iCloud storage is exhausted, it will not impact the transfer at all. Of course, it can also copy your music, videos, photos, and more between iOS devices.
You can download this transfer software for free.
Once downloaded, please install it on your computer, and connect both your iPhones to the computer with USB cables. Ensure your new mobile phone is at the "Destination" side, and tick the "Contacts" category. Finally, click the "Start Copy" icon to begin the process.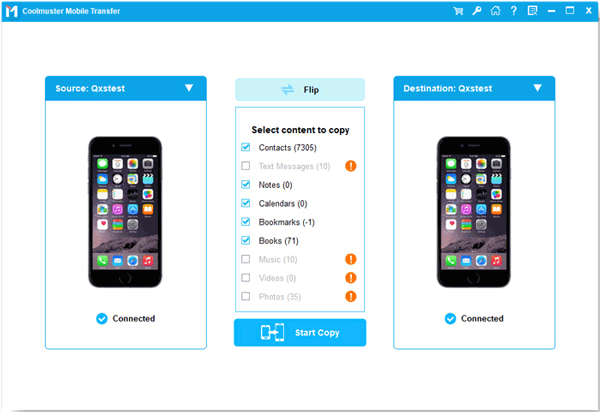 Conclusion
Although contacts didn't transfer to the new iPhone, you will no longer worry about that because you have known the solutions, right? Plus, you can bypass iCloud to complete the contact migration with the help of iTunes, Move to iOS, and Samsung Data Transfer. These 3 options are the safest so that you can select one freely.
Related Articles
Transfer Contacts from Huawei to iPhone 12 with 5 Excellent Ways
Recover Deleted Contacts on Google Pixel without Effort via 4 Methods
Where Are Contacts Stored on Android? Find and Export Contacts Easily
How to Transfer Contacts from Android to Outlook via 3 Essential Ways
Transfer Contacts from OPPO to Samsung Efficiently [5 Proven Methods]
How to Transfer WhatsApp Messages from iPhone to Android?