"Can I find my iPhone from an Android device?" When you try to access iCloud on Android phone to track your lost iPhone, you might see the notification from iCloud, saying that "Your browser is not currently supported." However, in fact, if you have lost your iPhone or iPad, it is possible to get back your lost iPhone or iPad on Android using iCloud's Find My iPhone feature.
If you misplaced your iPhone and only have one Android device to track it, or in case you accidentally get into trouble like that some day, please read this guide to know how to track down your lost iPhone using Android phone.
Part 1. Read before You Start
1. To track your lost iPhone on Android using Find My iPhone, please make sure you have enabled the "Find My iPhone" feature on your lost iPhone beforehand. So it is highly suggested to set up Find My iPhone feature now before it is too late. Go to "Settings" > "iCloud" > "Find My iPhone" and turn on "Find My iPhone" on iPhone or iPad.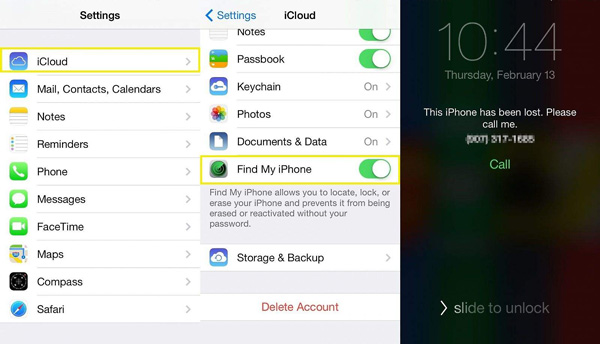 2. If Find My iPhone has not been switched on before your iPhone is lost or stolen, you can not use it to locate your device. However, please remember to change your password for Apple ID and the other internet accounts (email, Facebook, Twitter, etc.) to keep your personal data safe.
3. If you lost your iPhone, you can keep track of it through Android phone. However, please note that the solution provided in this tutorial requires you to turn on your phone to get an accurate picture of its location and to access the option to remotely lock or wipe your iPhone. If your battery is exhausted or your phone is stolen and turned off, you may fail.
3. Please remember to back up all important data on your iPhone using iCloud, iTunes or third-party backup tools as well in case you can not get them back.
Part 2. [Tutorial] How to Find My iPhone on Android
The reason why most of people think that it is irrealizable to use Find My iPhone with Android is Apple's iOS system is closed and Android devices can not use Apple's services directly. However, if you fix the access problem on Android, you can access iCloud to locate and track your lost iPhone or iPad using iCloud's Find My iPhone.
Here's how:
Step 1. Open Google Chrome browser on Android device and visit www.icloud.com. Yes, you will still get the same notification from iCloud, saying that "Your browser is not currently supported." as below. Take it easy, just keep reading.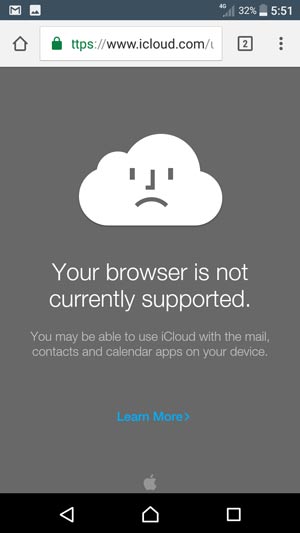 Step 2. Tap the More option (three-dot icon) in the upper right corner of the screen. Then you will see more options from the pop-up window, simply choose "Request desktop site" option. This will switch the mobile version to the desktop version of iCloud.com, thus you can access iCloud's official website on Android phone or tablet.
Step 3. Now, the iCloud's home page can appear normally, please enter your Apple ID and password to log into your iCloud account. Make sure you are using the Apple ID of the lost iPhone you are trying to track.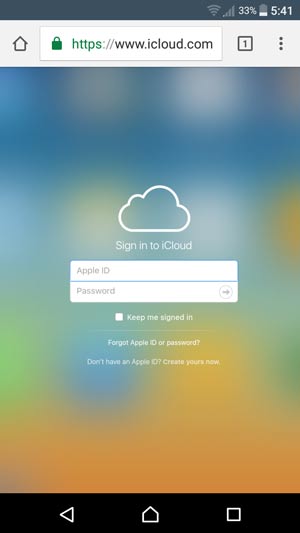 Step 4. Here you can access your iCloud backup files, such as contacts, calendars, notes, etc. and also you can track your lost iDevice with Find My iPhone now. Please tap the "Find My iPhone" icon from the home page to move on.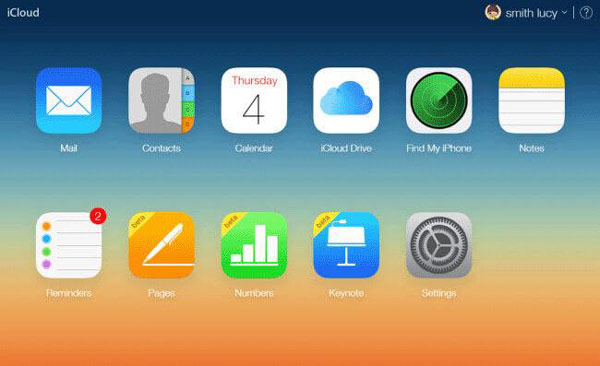 Step 5. Tap the "Lost Mode" on Find My iPhone, then you might locate and track down your lost iPhone on an Android device now. Good luck!
Tip: If you have a computer by your side, you can also find your lost iPhone or iPad using iCloud's desktop version by visiting https://www.icloud.com/#find.
You May Also Like:
How to Download Contacts from iCloud (to PC or Android)
iCloud Calendar on Android: How to Transfer iCloud Calendars to Android Phone
Part 3. Tips to Avoid Losing Your Phone
After learning the above solutions to locate and track the lost iPhone or iPad on Android phone, have you ever thought that how to avoid losing your Android phone? There are some useful tips for you.
Tip 1. It is highly recommended to regularly back up Android data to keep your personal data safe and prevent your personal data lose along with your lost Android phone. Here, a professional Android backup tool - Android Assistant (Windows/Mac) can help you backup and restore Android data on computer with one click. If you are a Samsung user, you can also check here >>
Free download Android Assistant and have a try.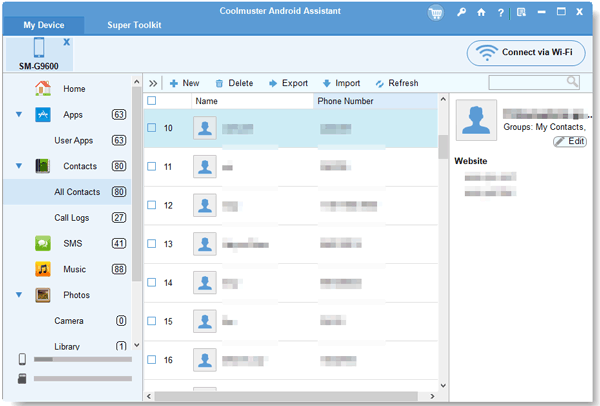 Tip 2. If you have lost your Android phone, you can also track your lost Android phone using Find My Device, which is a new section added to the "My Account" page on your Google account. You can download the free Find My Device app from Google Play, or visit google.com/android/find on computer or another Android device.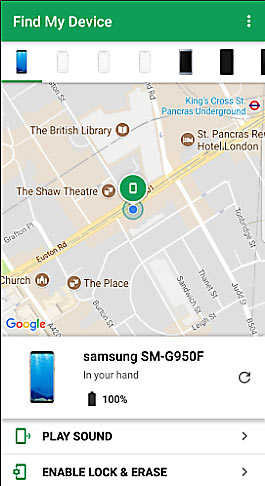 Tip 3. Don't take out your phone when you are taking the bus or subway or when you are in any crowded place.
Tip 4. Remember to take your phone when you leave your table in the restaurant, or when you leave any place you have stayed.
Related Articles:
[2 Solutions] How to Access iCloud Photos from Android Device
How to Transfer iCloud to Android Phone/Tablet [2 Solutions]
How to Restore iCloud Backup to New Phone Effectively [Solved]
iCloud for Android: How to Access/Transfer iCloud Data on Android Phone/Tablet
How to Transfer Android SD Card Files to Computer
iTunes to Android Transfer - How to Transfer iTunes Files to Android Phone/Tablet