Summary
When you use your Android phone for 1 year or more, you will find it becomes slower than before. Well, this is a common phenomenon, since you have stored more and more data on your phone. Besides, you will create junk files while opening and using apps. But as long as you know how to speed up the Android phone, you will make the device run much smoother.
There are effective methods to accelerate your Android phone. Let's start learning.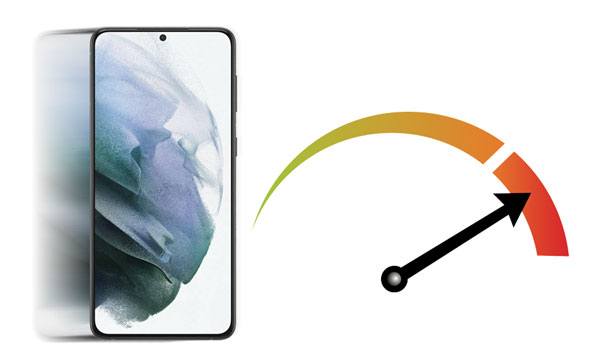 Tip 1: Close Apps Opened in Background
Many Android users used to open dozens of apps on their phones and seldom close them, which is the main cause of the slow device. What about you? Those apps running in the background still occupy the RAM of your Android handset, so the OS will be slow or even stuck.
To make your phone fast, you can close the app you don't use at present. Plus, do not open too many apps. Honestly, you won't need so many apps at that moment, right?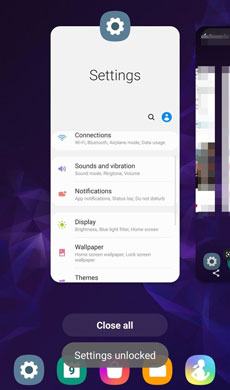 Bonus:
Can you move your data from a broken iPhone to a new one? If you want, you can follow this guide to make it.
Is it time-consuming to back up WhatsApp data from an iPhone to a PC? Yes? Actually, it is not. You can learn these efficient methods here.
Tip 2: Remove Useless Files and Apps
Of course, there are many memorable photos, favorite songs, and important apps on your Android phone. There is no doubt that you need to keep the data on your device. However, please note that not all data are useful. For instance, do you save many same pictures, redundant audios, and hardly used apps?
To release more storage and make the Android device quick, you'd better regularly remove useless files and apps. It is a very good habit for you to protect your Android phone, because you can improve your device performance.
If you want the cleanup easier, you can make use of this Android Assistant (Android Version). This app can help you clean junk files from Android, and batch uninstall apps directly. Additionally, you can access and manage your SD card files with this app.

To remove your trash data, you can tap the middle circle. The "App Management" feature can help you stop/uninstall the unwanted applications from your phone. And the "File Management" function allows you to check and remove your Android files, like music, movies, images, etc.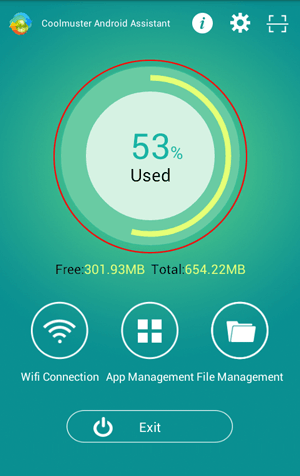 Read also:
Want to completely delete your Android contacts? You can utilize these 5 ways.
This guide will tell you where WhatsApp messages are stored on your phone and PC.
Tip 3: Clear App Cache
App cache is one of the largest parts of your Android internal storage, especially when you use your chatting apps and other video apps. Those apps will make lots of caches, and it is generally useless. Thus, you can clear the app cache to speed up your phone.
Open the Settings app, and choose the "Apps" option. Then select an app from the list, and go to "Storage". Finally, tap the "Clear cache" icon. Now, you have done it. Next, you can clear the cache of another app.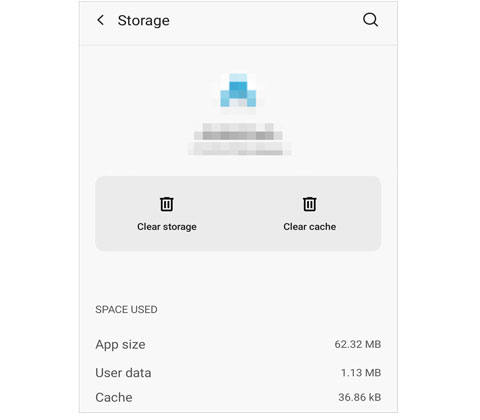 Further reading: To protect your privacy, you will need a safe Android eraser before selling or donating your Android device.
Tip 4: Restart Your Android Phone
Sometimes some errors occur on your Android phone to make the gadget work sluggishly. Actually, it is easy to solve. You can restart your Android phone: scroll down the screen, tap the "Power" icon at the top menu, then choose the "Reboot" option.
What if the screen is frozen? Don't fret. You can press the "Volume Down" and "Power" keys for about 7 seconds to force reboot your device.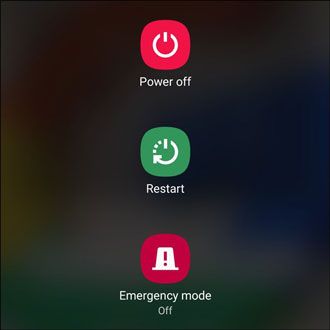 See more: How Do I Sync My iPhone to My iPad with 5 Reliable Methods?
Tip 5: Update Android OS
If you haven't updated your Android OS for a long time, the outdated software will lead to the bad performance of your phone. So what you do is to update the OS.
Access the Settings app on Android, type "Software update" to find and tap on it, and click the "Download and install" icon. After the download is over, please click "Install now". Then the latest OS will be installed on your device.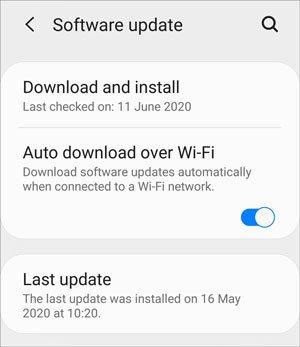 Maybe you are worried about the new OS cannot compatible with your mobile phone well? In fact, the manufacturer will not prompt you to install the software if your model is too old.
Tip 6: Check App Updates
Old versions of the apps on your Android phone will influence the phone's performance, for there are some bugs in those apps. How do you fix those bugs? That's easy. You can update the apps via the App Store.
However, we find that the updated apps will be larger than the previous version, because those app makers have also improved their apps. Therefore, you can skip the updates for some third-party apps.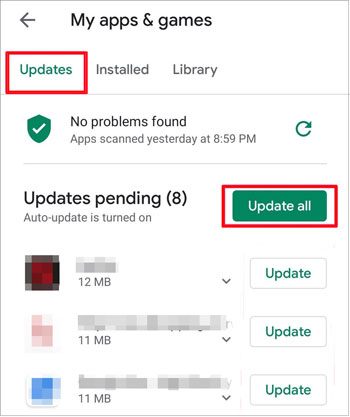 See also: This guide will teach you to thoroughly delete photos from Android.
Tip 7: Use Lite Version of Apps
There are more and more lite apps released, and you can search for them on the App Store. Lite apps are much smaller than normal apps, but they have the same features. What's more, some lite apps can work well in an extremely slow network, like the Facebook Lite version. So, you can try to install these apps.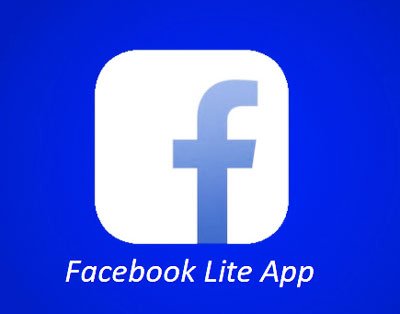 Tip 8: Disable Auto Sync
Almost every manufacturer recommends users to use their cloud services to sync data for backup. It is OK when your Android phone is new. But as time goes by, the auto-sync feature will be the biggest obstacle to running your smartphone. Obviously, it will impact your network, because it will automatically sync your new data to the cloud at any time. In other words, it will work in the background all the time, as long as you connect your phone to a Wi-Fi network.
To speed up your Android phone, you can turn off the auto-sync function: Open Settings, click "Accounts and backup" > "Manage accounts" > "Auto sync data", and turn it off.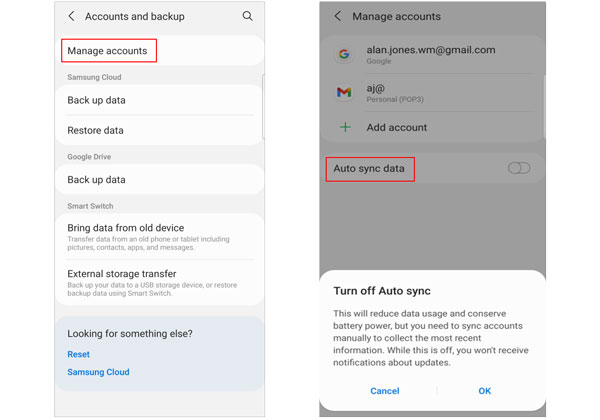 Tip 9: Factory Reset the Phone
Performing the factory reset is always effective in speeding up your Android phone. However, it will wipe all your data and settings simultaneously. Please back up your important Android data first, and you can restore the data to your phone after resetting the device.
To factory reset your Android phone, please switch it off. Then press the "Volume Up" and "Power" buttons till you see a logo appears on the screen, and choose the "Wipe data/factory reset" option with the volume keys. Next, tap the "Power" button to confirm. Wait for the resetting process, and reboot your phone. After that, check if your phone can run smoothly.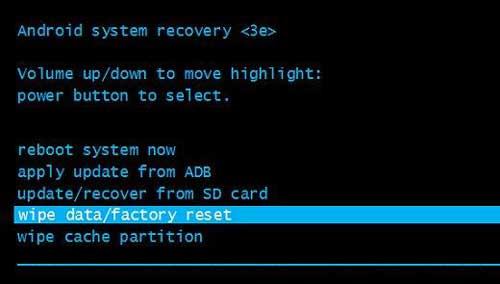 Tip 10: Install a Custom ROM
If your are tech-savvy, you can install a custom ROM on your Android phone. It will surely improve the performance. But a custom ROM is not released by the manufacturer of your phone, so it is not official, and it requires you to root your Android phone. This is risky behavior, so please think it over. By the way, do not forget to back up your phone data.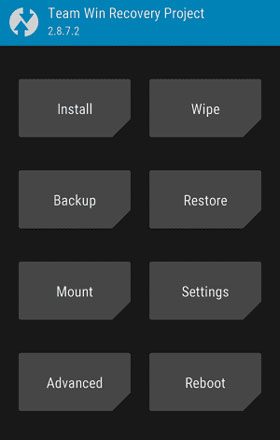 Tip 11: Clean Chat History
If you are interested in chatting online, there will be many chat history on your Android device, such as messages, audios, images, videos, links, and more. They take up a large part of your phone storage space, which will make your device slow. To solve this issue, you can clean your chat history.
For example, you can remove chat history on WhatsApp in this way:
Choose an individual or group chat, tap the menu icon like three dots > "More" > "Clear chat".
Select the "Delete starred messages" and "Delete media in this chat" options.
Finally, tap the "Clear" icon.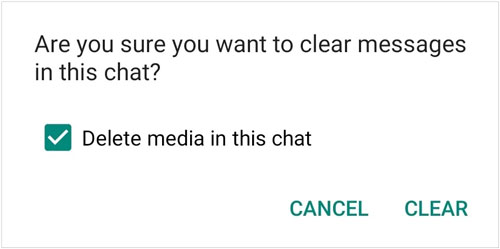 Bonus: How to back up Android data to release more storage space? In reality, you can back up large media files to your computer, and delete them from your phone. Whenever you need them, you can transfer them to your phone.
Conclusion
Even though Android OS is more and more powerful, and the storage space is larger and larger, you still need to know how to speed up your Android phone, if you don't want to frequently switch to a new smartphone. To help you manage your apps and files, you can install this Android Assistant app. With it, you can eliminate all the useless data without a hitch.
Related Articles
Effortlessly Transfer SIM Card Data to Computer without Data Loss
How to Back Up and Restore Android Phone/Tablet on Computer? (5 Ways)
Music Transfer - How to Transfer Music from Android to Computer? [3 Easy Ways]
How to Uninstall Apps on Android Phone from Computer Easily? (The Easiest Way)
How to Transfer Photos from SD Card to Computer Successfully - 5 Proven Tips
6 Ways to Transfer Files from Android to PC via WiFi [Full Guide]