Summary
In many cases, the mobile contacts, SMS and call records are all in CSV format, which, to some extent, is more widely used than other formats. Most of its variants can also be recognized by various programs. If the variation of a specific CSV file changes greatly and beyond the understanding of a concrete receiving program, the variant can be repaired by checking and editing the file manually, or by a simple tool. Therefore, CSV files are common in mobile files. Then, this article will show you the tips about how to import CSV contacts to Android. Well, go through this post and you will get the useful solutions.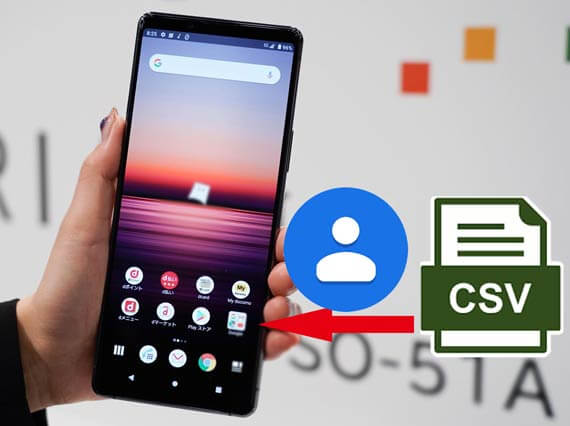 Words before the Guides: What Is a CSV File?
Before we get to the point, let's see what a CSV file is. CSV (Comma Separated Values), sometimes, is called character separated values whose files store table data (numbers and text) in plain text. Namely, the file is a sequence of characters and does not contain data that must be interpreted as binary numbers.
It boasts the following traits: plain text, and taking a certain character set, such as ASCII, Unicode, EBCDIC or GB2312; composed of records (typically one record per row); each record is separated into fields by separators (the typical separator is comma, semicolon or tab; separators can contain optional spaces); each record has the same field sequence, etc.
Many programs work with most sorts of CSV variants, at least as an optional import or export format. As a result, contacts are usually in the form of CSV in Android device.
Guide 1: How to Import Contacts from CSV File to Android Directly
If you have no CSV files on your computer, you need to open excel document beforehand. And after saving as CSV files, you're required to change them into vCard files and move them to your Android. Then, import those files from USB storage or from SD card (the SD card here refers to the built-in SD card, not the plug-in one), and choose the files to move them into Android contact fold.
During this period, you have to save the contacts in CSV format, convert them to vCard, and accordingly make other operations. So the process will try your patience.
Here's how to import contacts from CVS file to Android:
Step 1. Tap your "Excel" icon from your computer desktop and tap "blank workbook" to create a new sheet. Next, you need to type the "contact table".
Then Choose "CSV UTF-8" (Comma delimited) (*.csv) in pull-down list from the "Save as type" on Windows PC, and select "CSV" from "Format" on your Mac computer.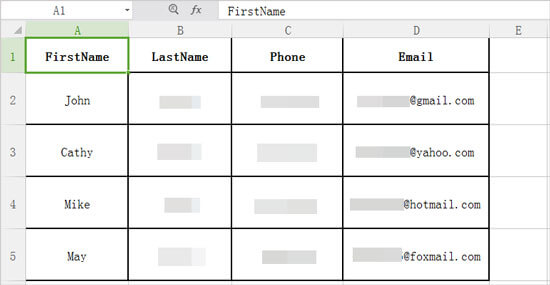 Step 2. Click "More" > "Import" on the left and choose "CSV". Next, choose your needed data to tap on "Open". Then, press "Import" as prompted.
When the files are selected, hit "Import" and check whether the contacts are imported successfully. Then, tap "Export" to convert CSV into "vCard" files supported by Android phone.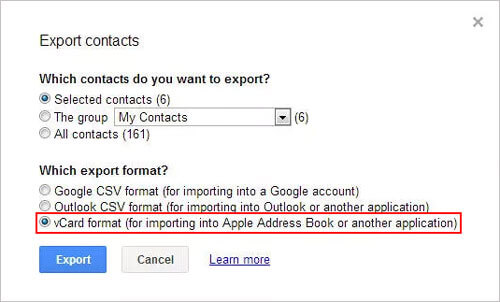 Step 3. Link your Android to the computer via a USB cable. After successful detection, go to "This Computer" (or "My Computer") to find your Android mobile. Then, open it and copy and paste the vCard file.
Click the "Contacts" button on the right corner of your Android phone, to go to the main screen. Then tap "Import/Export" > "Import from USB storage" or "Import from SD card".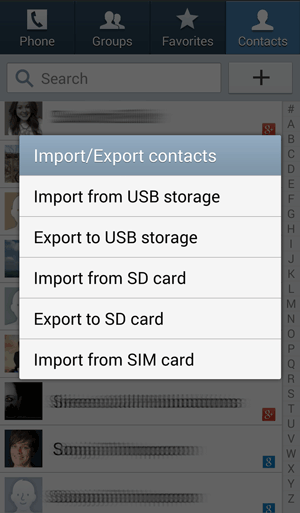 Step 4. Save contacts to your Android. You can search for the vCard file search box to select "Import vCard file". Later, all your contacts will be moved to Android phone as CSV format.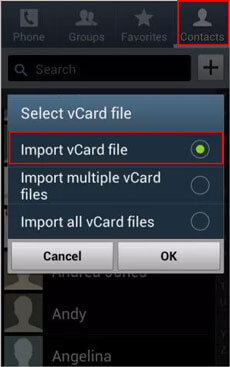 Note:
You can also choose to upload your CSV files to your Google Account, import to your Android phone, and then move them to the contact folder.
This post will tell you how to remove the PIN lock from Android in 7 easy ways.
Guide 2: How to Import Contacts from CSV File to Android with Gmail Account
Gmail account may not be too strange for many phone users. Usually, people may upload some Android data to the Gmail account. Yet CSV file management is also its job. After uploading the CSV files to Gmail, you can sync them to your Android device.
This method is slightly simpler than the previous one, but there are many restrictions on the file format, and you cannot further manage the contact files that are to be transferred. In addition, if Gmail doesn't have much free space while the contact data are large, the whole moving process may not be fast.
This is how to import contacts to Android from CSV with Gmail account:
Step 1. On your computer, enter the Gmail website to go to the Gmail page and sign in with your account info. Next, tap "Gmail" and choose "Contacts" to opt for the contacts you need from the drop-down menu.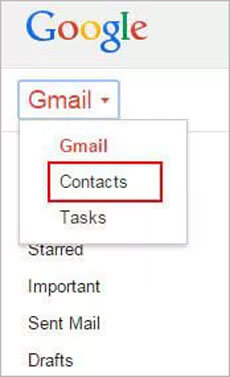 Step 2. Click on "More" > "Import" > "File" from the window and choose SCV files. Then select the files to press "Open" > "Import" to sync CSV to your Gmail account.
Step 3. On your Android phone, log in to Google account to go to the "Settings" > "Accounts & sync" option. Now, select "Sync Contacts" > "Sync now" to import contacts to Android from CSV. Next, your chosen contacts will be migrated to your Android handset.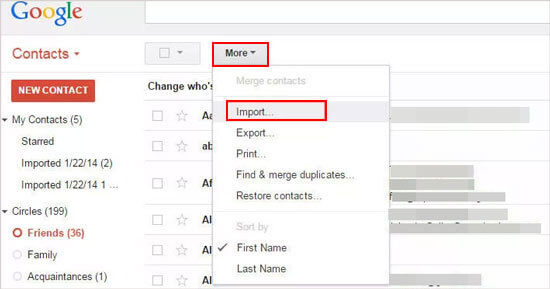 Read Also:
How to Recover Deleted Contacts from My Samsung Galaxy Phone?
Guide 3: How to Import Contacts to Android via Samsung Messages Backup (Safe & Fast)
Besides CSV format, contacts could be stored as XML, BAK, vCard, JSON and more. This Samsung Messages Backup can fast and safely import your different formats of the contacts from the computer to the Android phone. Also, it can transfer contacts from Android phone to computer. What's more, this program not only supports contacts, but also text messages, call logs, photos, videos, apps, documents, music, and more.
Some salient strengths of Samsung Messages Backup:
- Send files from Android to computer, including contacts, call logs, SMS, photos, videos, music, apps, and documents.
- View the Android call logs, read, delete or edit Android messages, manage Android contacts on PC/Mac (such as previewing, creating, deleting or editing Android contacts), and so on.
- Import contacts, call logs, SMS from Android to your computer.
- Back up and restore Android phone data within 1 click.
- Work for nearly all Android mobiles, covering Samsung Galaxy A73/A72/A71/A70/A53/A52, LG Q92 5G/Q52/Q31/Q61/Q51, Sony Xperia 1 IV/Xperia 5 IV/Xperia 10 IV/Xperia Pro-I, Huawei P60 Pro/P60/P50 Pro/P50/P40 Pro, HTC U20/U12 Life/U12+/U11, OPPO Reno9 Pro/Reno9/Reno8/Reno7, Xiaomi 13/12/11/10, etc.
Download a trial version on your computer to do your contact management below.
After that, it is time to learn how to import contacts to Android from CSV with Samsung Messages Backup:
Step 1. Install Samsung Messages Backup and open it on your PC/Mac. Plug your Android mobile into the computer with a USB cable to find the initial window. Then, turn on USB debugging on your Android as required.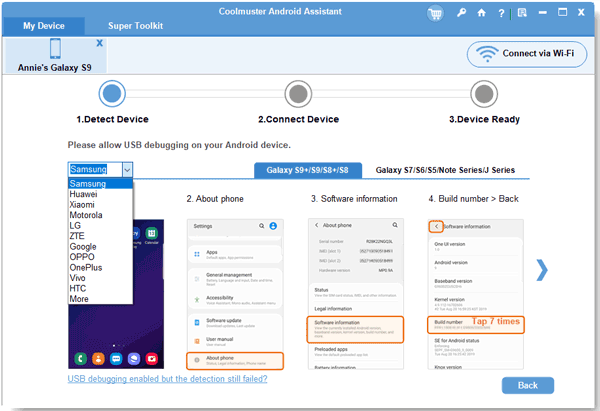 Step 2. After the connection is established, you'll see the main screen of the tool with your Android phone info and its data categories as follows.
Note: here, you can go to the "Contacts" tab to click "New", "Delete", "Edit" button, etc. on the interface to manage your contacts if needed.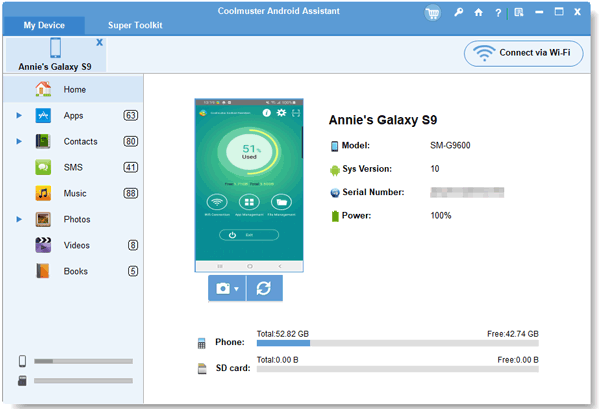 Step 3. Opt for "Contacts" > "All Contacts" at the left sidebar. Next, click "Import" on the top menu and select CSV contact files you want to import to your Android phone. Afterwards, confirm your operation to import contacts to Android from CSV.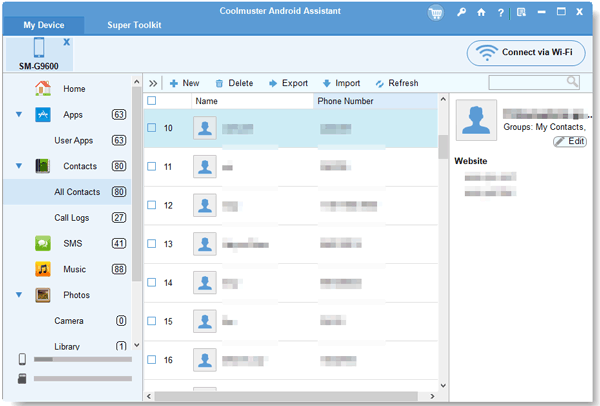 Notice: In "Step 3", you can also export Android contacts to PC and save them as CSV, HTML, VFC, BAK or XML files. Moreover, if you want to open a CSV file on an Android device, you can download "CSV viewer" from the "Play Store" app.
Conclusion
How to import CSV contacts to Android may not be a problem for you at present. In a large part, taking Samsung Messages Backup to import CSV contacts to Android can be your sensible choice, for it is simple, safe, and time-saving as well as harboring a number of other utility features. Of course, Google account can do the same job but limited. When it comes to "Guide 1", it probably takes you a lot of time. Hence, choose a pragmatic way to have a try please.
Related Articles:
How to Transfer Contacts from Computer to Android [Top 3 Solutions]
How to Transfer Contacts from Android to Computer? [3 Easy Ways]
How to Print Out Text Messages from Android Phone? [4 Methods]
How to Transfer WhatsApp Messages from Android to Android
How to Transfer Contacts from iPhone to iPad Fast [4 Ways]
[Fast Transfer] How to Transfer Your Photos from iPhone to Android