Summary
Although enabling the screen lock can protect the privacy of your Android device, it sometimes is somehow inconvenient to access your device. So, you might want to disable it. Actually, it is just a snag. You can directly learn 7 ways on how to remove the screen lock PIN on Android in this post, even though you forget your Android lock PIN.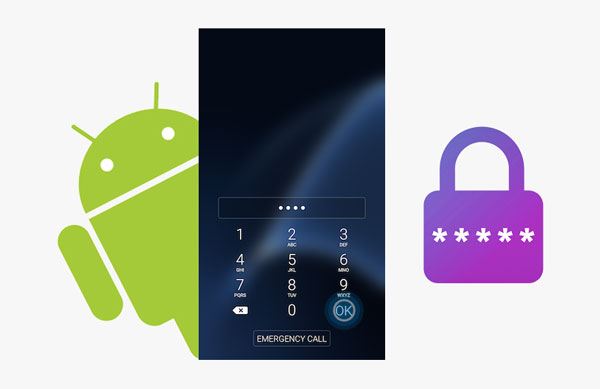 Part 1: How to Remove Screen Lock PIN on Android
It is handy to remove your PIN from Android when you haven't forgotten your PIN. This part has prepared 3 methods to help you turn off the PIN lock on Android, so let's take a look now.
1.1 Turn Off PIN Lock on Android via Settings
You can enable or disable the PIN lock via the Settings app on Android, and this is a built-in feature on Android devices.
You can follow these steps to make it:
Step 1: Go to Settings, and choose the "Lock screen" option.
Step 2: Tap "Screen lock type" > "PIN", and enter your current PIN to go on.
Step 3: To disable the screen lock PIN on your Android phone, you can tap the "None" or "Swipe" option.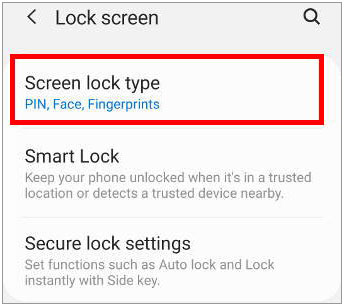 Further reading: Is there a powerful unlocking program for Android? Click this guide and you can select one tool from it.
1.2 Change Screen Lock PIN on Android
You can also change your PIN lock PIN to another on your Android phone/tablet.
Here's the guide:
Step 1: Find the "Lock screen" feature on your Settings app, and choose the "Screen lock type" option.
Step 2: Then it will require you to type your PIN. Once done, you can select another lock type. If you choose the "Pattern" mode, you will need to draw a new pattern and confirm it. Then you can unlock your phone with this new pattern.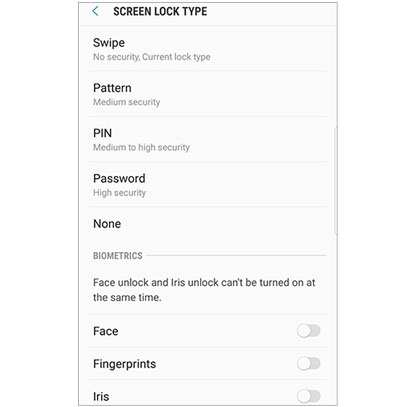 1.3 Disable Screen Lock PIN via the Device Administrators Feature
Some old Android phones might not allow you to switch off the screen lock PIN, but don't worry, and you can disable it via the Device Administrators feature.
Here's how:
Step 1: Open the Settings app, and go to "Security".
Step 2: Tap the "Device Administrators" option, and you will see the apps restricted to change settings.
Step 3: Find the "Android device manager" option, and deactivate the app on your Android phone.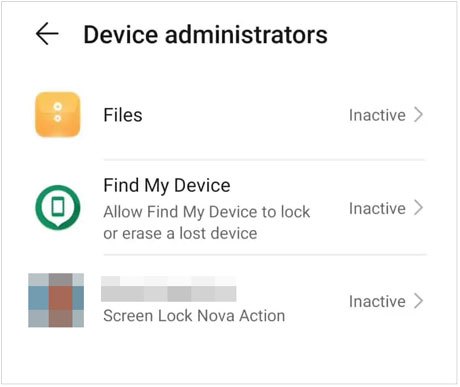 Bonus: You can transfer Android files to your PC without USB with 5 methods. It is nice for backup, right?
Part 2: How to Remove PIN Code on Android When You Forget It
What if you have forgotten your PIN code on your Android device? Then how can you take off the PIN on Android? Calm down. You can follow these 4 approaches to remove your Android PIN.
2.1 Easily Remove PIN Lock in Android Phone via Android Screen Unlock
Want to one-click to remove the security PIN from your Android phone? This Android Screen Unlock software will help you. It is an easy desktop app for unlocking Android devices without a password. What's more, it can remove multiple locks, including PIN, fingerprint, pattern, and password.
There is no doubt that it works for many Android phones, such as OnePlus 10 Pro/9/8/7/6, Xiaomi Mi 12 Pro/12/11 Ultra/11/10/9/8, Google Pixel 6/5/4/3, LG, OPPO, Vivo, and more. Surprisingly, it can unlock LG and Samsung devices without erasing data.
Here's how to remove the PIN lock from an Android phone with this software:
Step 1: Download and install this program on your computer, and choose the "Screen Unlock" tab.

Step 2: Choose the "Unlock Android Screen" option and connect your Android phone to the computer via a data cable. Then you can select your phone's information from the given list.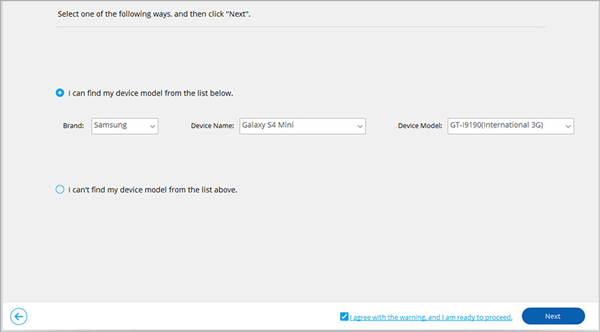 Step 3: Follow the on-screen guide to get your Android handset into Download Mode. Next, tap the "Remove Now" icon to begin the unlocking procedure.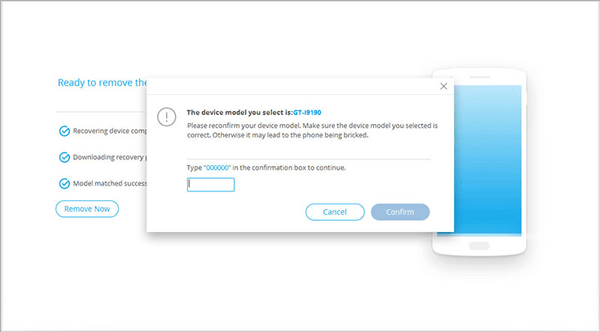 See more: You can also remove the Samsung pattern lock in 8 ways. Let's check it out.
2.2 Take Off PIN on Android via Factory Reset
If you don't want to download any app, you can factory reset your Android device, which is also useful to take off the lock PIN from your device. But the operation is slightly complicated, please read it carefully.
Here's how to wipe your PIN lock from Android via the factory reset:
Step 1: Turn off your Android phone, and make sure the phone has more than 50% battery.
Step 2: Tap and hold the "Volume Down" and "Power" keys for about 10-15 seconds, and you will see your phone logo appear on the screen. Then release the buttons.
Step 3: Use the volume keys to choose the "Wipe data/factory reset" option, and tap the "Power" button to confirm. Once start the resetting process, please leave your phone alone. After finishing, reboot your phone, and you can access your phone without the PIN.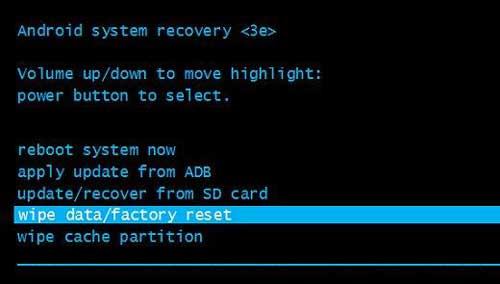 2.3 Bypass PIN Lock on Android via the Forgot Password Feature (Android 4.4 and Lower)
There is a helpful feature for unlocking devices when you forget your PIN lock on those old Android phones running Android OS 4.4 and lower. But it only works after you have logged in with your Google account on the locked phone.
Here's how:
Step 1: Randomly enter a PIN to your locked Android phone, amd you will see the "Forgot pattern" or "Forgot password" icon on the screen.
Step 2: Enter your Google address and password to the Android phone, and tap the "Sign In" icon.
Step 3: You can follow the prompts to reset your PIN and then unlock your phone with the new password.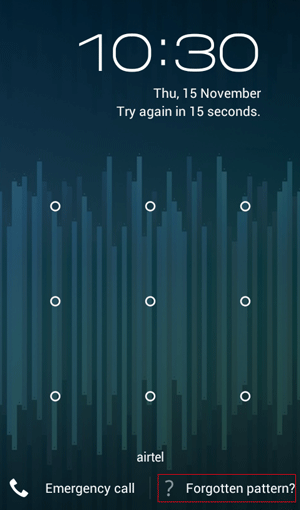 2.4 Get Rid Of PIN on Android Using Google Find My Device
Using Google Find My Device can get rid of your Android lock PIN even if you don't remember the PIN, but it is conditional. Check if your locked phone has been signed in with your Google account, visible on Google Play, turned on Find My Device and Location, and connected to a network. If yes, you can go on.
Here's the guide:
Step 1: Visit Google Find My Device on your computer, and log in to your Google account used on your locked Android phone.
Step 2: Select your device, tap the "ERASE DEVICE" icon, and enter your account information again for confirmation.
Step 3: Click the "Erase" icon to remove the settings and data from your Android phone. Then the PIN will be erased.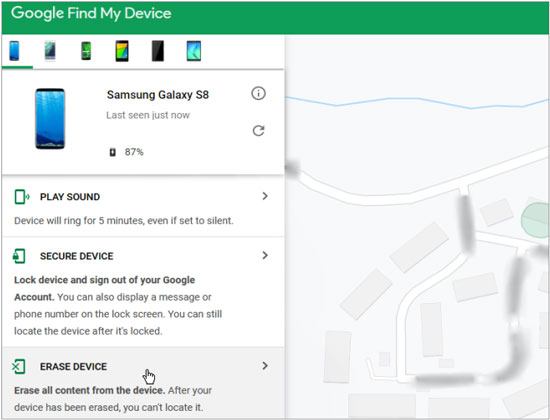 Bonus: How do I remove the PIN from my Samsung device with my Samsung account? If you have signed in to your Samsung account on your locked Samsung device, you can utilize Samsung Find My Mobile to remove the PIN from your Samsung device. If needed, you can click it to read the full guide on unlocking Samsung phones.
Conclusion
Does this article describe the solutions for removing the screen lock PIN on Android? If you have any questions about the topic, please drop us a line in the comments area, and we will reply to you as soon as possible. By the way, we'd like to recommend the Android Screen Unlock software to remove Android locks without a password. It is the simplest and most reliable tool for unlocking devices.
Related Articles
Android Music Sync Approaches: Sync Music Between PC and Android with Ease
How to Transfer Photos from Mac to Android in 5 Expeditious Ways
How to Unlock Huawei Phone without Resetting | 7 Hassle-free Unlocking Tools Summary
Control Android from PC Conveniently | 7 Powerful Tools
[Practical Guide] Transfer Files from Android to iPhone with 8 Tips
How to Uninstall Apps on Android Phone from Computer Easily? (The Easiest Way)