Summary
When we run our Android phones and tablets, they will produce many caches and other redundant files. These junk files stored on the phone's internal storage will make our devices slow or even stuck. For Android devices run smoothly, it is necessary to clean junk files on Android. Of course, cleaning junk data frequently can effectively release more internal memory.

Tips:
1. What are junk files on Android?
Junk files on Android are the redundant files generated when you run applications on an Android device. They are helpful to make apps perform well in a specific period, but you will not use them at other times. Besides, if you don't remove them, they will remain on your phone.
2. Why clean junk files?
Nowadays, the internal storage on Android devices is getting larger and larger, so that some people believe that junk files will not take up too much space or affect their use of mobile devices. That seems true. But if people don't remove junk files on Android regularly, the junk data will be like a snowball and get bigger and bigger until it runs out of storage, causing the phone OS to get stuck and crashed. Thus, we need to clean junk files on phones.
Part 1: Clean Junk Files on Android via Android Assistant (Safely and Easily)
This Android assistant - Samsung Messages Backup (Mobile Version) that can delete junk files on Android easily and efficiently. It can help you clean all caches on your Android phones or tablets at once. Furthermore, its file management feature allows you to browse and manage your Android files easily. The app management feature enables you to stop and uninstall your apps on the Android device directly.
Highlights of this Android mobile phone manager:
- Clean junk files on Android in 1 click.
- Allow you to delete useless files on Android and free up storage space from different folders.
- You can know the used internal memory and total storage of your Android device.
- It will tell you how much junk data it cleaned each time.
- You can also manage the files on your Android SD card at the same time.
- Check your Android media files without a hitch, including images, music, movies, documents, etc.
Additionally, this Android cleaner app supports most Android phones and tablets, such as Samsung Galaxy A72/A71/A70/A52/A51, Samsung Galaxy S21/S20/S10, LG G8/G7/G6/G5, Motorola G Fast/G Power/G Stylus/G9/G9 Play, ZTE, OPPO, Xiaomi, Vivo, Honor, and more.
Download this Android junk file cleaner for free below.

Here's how to unused files on Android with this Android cleaner application:
Step 1. Install the App on Android
Please download the APK file and install it on your Android mobile device.
Step 2. Fast Remove Junk Files on the Phone
Open the app, and tap the big circle icon to clean up junk files from your mobile device.
Step 3. Eliminate Unused Files from Your Android Device
If you want to delete unused files, please tap the "File Management" icon. Then you can quickly select and remove the unwanted files from your Android folders.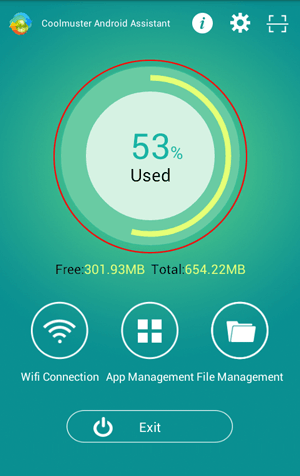 Bonus:
Clone Android Phone with 7 Dedicated Tools: Move Data Fast
How to Fast Unlock Android Phone with Broken Screen?
Part 2: Remove Junk Files on Android via Files by Google
Files by Google is a fantastic app for Android file management. It not only can clean unneeded files on Android but also help you share files with others who have installed this app offline. Powerfully, it can back up your internal storage files to cloud space or an SD card. Simply put, it is a handy file cleaner and manager. But it cannot work for Android 4.0 and older.
Guide on how to delete unwanted files in Android via Files by Google:
Step 1. Download It from Google Play
You can find Files by Google on Google Play. Please download and install it to your Android phone.
Step 2. Clean Unneeded Files on Android
- Please tap the "Clean" icon at the bottom left. On this screen, you will see the "Junk files" tab on the top.
- To clean your Android junk files, you can tap the "Confirm and free up" button. Once done, it will free up the internal space of your phone or tablet.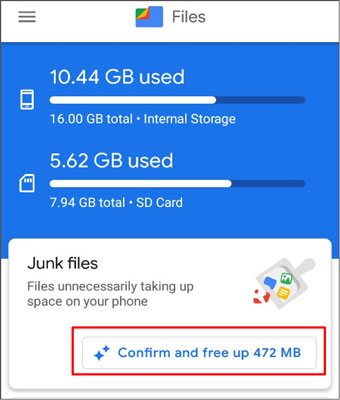 Read also:
Adroitly Move Data from Android to iPhone after Setup [6 Methods]
How to Reset Huawei Phone with Ease? (4 Ways with Detailed Steps)
Part 3: Clean Junk Files on Phone via CCleaner
CCleaner is another Android device optimizer to clean junk and speed up devices. It can clean all junk files in a short time, including hidden caches, empty folders, APKs, thumbnails, and more. It also helps you monitor your Android system, like mastering RAM and ROM, checking the usage of the Android CPU, etc. But there are ads in the app when you use it.
Here's how to clean up Android junk files via CCleaner:
Step 1. Install CCleaner
Please install the cleaner app on your Android phone. After opening the app, please allow it to access your Android smartphone or tablet if prompted.
Step 2. Quickly Clean Up Junk Files on Android
Press the "QUICK CLEAN" circle button in the middle to begin cleaning your phone junk data. If you want to release more space, you can use other features on the screen to manage your media files and apps.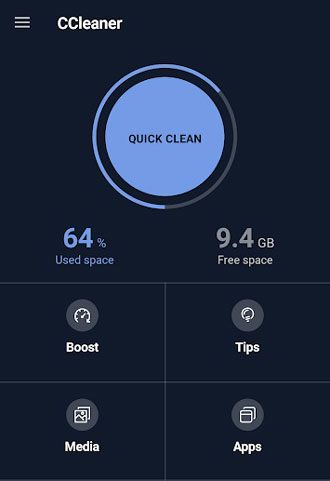 Further reading:
My Text Messages Disappeared on My Android - Find the Cause and Fix It
Reliable Samsung Data Recovery - Fast Recover Deleted Files On Samsung
Part 4: Delete Junk Files on Android via Settings (Manually)
Certainly, if you don't want to install any app for junk file deletion, you can also remove them via the built-in Settings app on Android, and clear caches of apps. In this way, you can selectively delete apps' junk files, but you cannot remove all useless files at a time.
Steps on how to find junk files on Android and clean them via Settings:
Step 1. Open the Settings App
Please unlock your Android device, and navigate to Settings.
Step 2. Clear App Caches
- Choose the "Apps" option, and pick an app that you plan to delete junk files. Then tap the "Storage" > "Clear cache" icon to remove the junk data.
- If you would like to delete the junk files from other apps, please go back to the "Apps" screen and choose another app.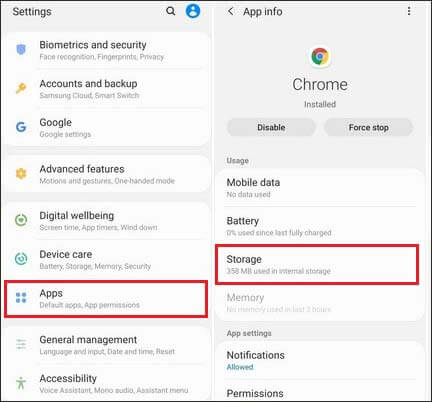 Maybe you need: This guide will teach you to import VCF files to Android deftly. Let's take a look.
Part 5: Delete Useless Files on Android via Android Recovery Mode
In the Android Recovery Mode, there is a feature to wipe cache partition, which can remove system junk files completely. It will remove your temporary files stored on your Android device. In this way, you will not lose any data on your device because it deletes caches only.
Here's how to remove junk files on Android via the Android Recovery mode:
Step 1. Turn Off Your Android Device
Please power off your Android device, and press the Volume Up and Power buttons at the same time. Please do not release them until the Android robot appears.
Step 2. Wipe Cache Partition on Android
- When getting the "Android Recovery" screen, you can use the Volume Down key to choose the "Wipe cache partition" option. Then press the Power button for confirmation.
- Then choose the "Yes" > "Reboot system now" option. Your Android handset will automatically begin to delete the useless cache files.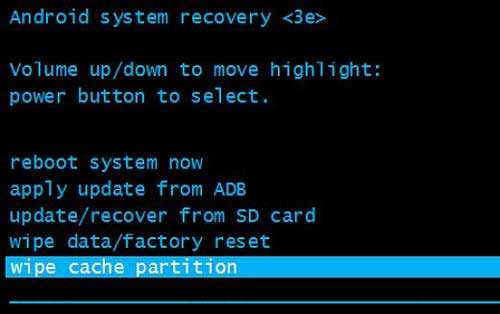 You might like: How do you transfer files from a PC to an Android Phone without USB? Please check these 5 solutions.
Extra: How to Delete Unused Files on Android via Android Assistant on Computer
This Android data manager - Samsung Messages Backup, can help you delete your unused Android files on a computer. You can preview your contacts, SMS, apps, call history, videos, music, and the like, and remove the unwanted files by ticking the checkboxes. What's more, it can back up your Android data to your computer in 1 click, so that you can restore it to your Android device at any time.
Here's how to delete unused files on Android via this Android file assistant:
Step 1. Connect your Android Device to Computer
After installing the program on your computer, please run it, and connect your phone/tablet to the computer via USB.
Step 2. Remove Your Unwanted Files
- Enable the USB debugging mode on Android; then the program will recognize your phone quickly.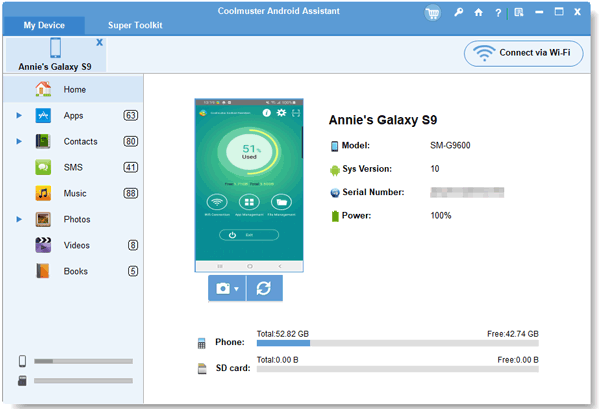 - Please choose a category on the left. Then you can view the detailed files on the right panel. Next, pick the files you are ready to delete, and tap the "Delete" icon. After that, you will eliminate the useless files from your phone.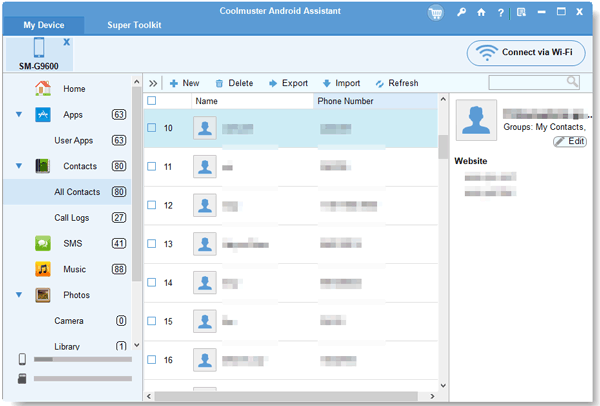 Conclusion
If you want to keep your Android device running fast, it is necessary to clean junk files on Android. Junk files will not only take up your Android internal memory, but also slow down the device OS. Thus, please remember to delete junk files regularly. This Android data cleaner - Mobile version of Android Assistant, can support you to remove useless files, manage your apps, and more. Besides, it is a free app for all Android users.
Related Articles
How to Back Up and Restore Android Phone/Tablet on Computer? (5 Ways)
Android Manager for PC: Manage Your Android Phone on the PC Easily
[4 Ways] How to Install APK on Android from PC Effortlessly
6 Ways to Transfer Videos from PC to Android Seamlessly
Recover Deleted Documents on Android: Vital Tips and 4 Recovery Tools
Advanced Guide: iPhone to Android Transfer Software (Top 5 Applications)