Summary
For ages, transferring data from an Android phone to an iPhone was considered a Herculean task. But, thankfully, applications like Move To iOS have made this process simple. Now you can easily transfer all your files without any stress or difficulty. However, a few users find it difficult to use because of Move to iOS taking forever during the transfer process.
If you also encounter that Move to iOS is slow, please don't worry. You can now get practical tricks to fix it and make it faster. Besides, you'll get an alternative to Move to iOS to switch data between your phones.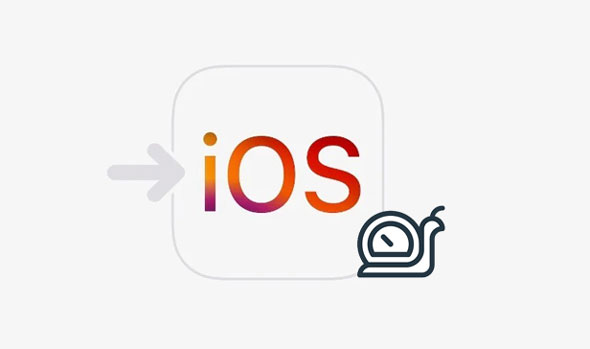 Part 1: How Long Should Move to iOS Take to Transfer Data?
Move to iOS is an Apple application that provides a hassle-free and secure way for users to transfer their data from Android phones to iPhones. This powerful application makes it easy to transfer photos, videos, messages, contacts, calendars, web bookmarks, and mail accounts between Android and iPhone while ensuring your information stays safe. All you need is an iOS 9.0 or higher version on the iPhone side and 4.0 or above on the Android OS side.
So, why is Move to iOS taking so long to transfer data to my new iPhone? And how long should it take to transfer data? The time needed to transfer data can vary, ranging from a few minutes to a few hours. What dictates the length? Factors such as the quantity and scope of information being transferred and your wireless connection speed make an impact. It could take around 10 minutes if you have minimal files that you are moving. However, completing the transfer process will likely take more than 60 minutes if you're dealing with massive amounts of data.
Although Move to iOS tends to work quickly, it may take forever, even if you have a relatively small amount of data. Poor network connections, technical issues with your device, and other miscellaneous problems can contribute to the slow speed. To combat this issue and increase the transfer rate, you can attempt some easy solutions discussed in this article.
You might like: How to Transfer Text Messages from iPhone to Computer - 5 Flexible Ways
Part 2: How to Make Move to iOS Faster When Taking Forever?
Is your iPhone transfer taking forever? You can increase the speed of the Move to iOS application by following the below fixes:
Fix 1. Restart Your Phones
If you've been waiting for hours and iPhone data transfer is still taking forever, it's time to switch up your approach and get creative with solutions that can help fix the issue. Restarting your device has proven to be successful in removing bugs or errors, which contributes to increased speed of data transfer, plus a bonus reboot boost in the performance of any device. There are some general steps to restart Android and iPhones, so don't wait longer, do something about the Move to iOS 3 hours problem now.
Steps of Restarting Your Android Device.
Step 1: Hold while pressing the "Power" button, and then a power menu will appear on the screen. Tap the "Restart" button. Your Android device will automatically restart.
Step 2: Now, please restart your iPhone. Press the "Volume Down" and the "Power" simultaneously, and slide the power off. After some seconds, turn it on.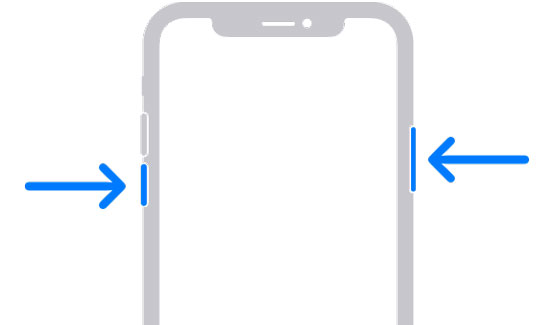 After rebooting both devices, make one more attempt to transfer the data between them. If you are still unsuccessful, move on to another resolution method.
Fix 2. Clear Some Storage Spaces on Your Android Phone
Is your Move to iOS app taking forever? You should try freeing up some space on the Android device. As we all know, unwanted caches and junks can accumulate during our everyday use of phones. These unnecessary items can drag down the transfer process dramatically. For this reason, it's essential to clean out any junk files before using Move To iOS to get a seamless transition between devices. Follow the below steps to learn how you can clear some storage space on your Android phone:
Step 1: Launch the "Settings" application.
Step 2: Navigate to the "Apps" option, and choose "Storage".
Step 3: Click "Clear cache" to remove the useless data from your Android phone.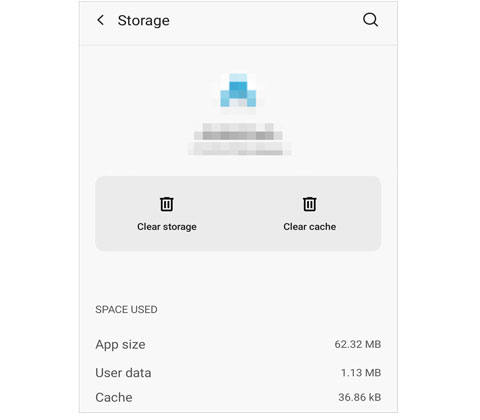 Fix 3. Ensure Your Devices Are Compatible with the Move to iOS App
If you find the Android Move to iOS app malfunctioning, ensure your devices are compatible with the application. Both gadgets must support the application for it to function correctly. If you encounter an error message, such as Move to iOS won't connect, the odds are that a compatibility issue is causing the problem. Follow the below steps to confirm if your devices are compatible:
For Android phones:
Launch the "Settings" application, and tap on the "System" > "About phone" option to check your Android version.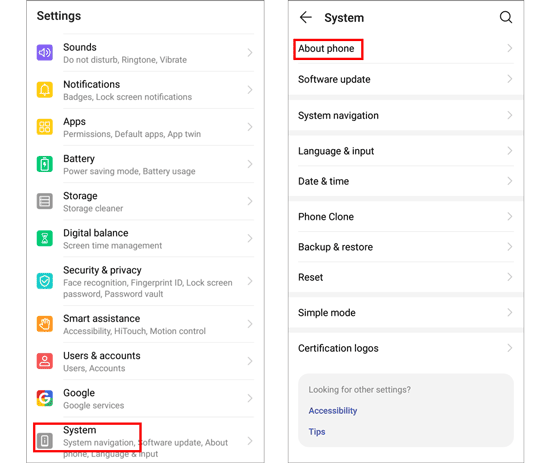 For iPhones:
Launch the "Settings" application, and tap on the "General" option. Then click the "About" button to see your iOS version.
If either device is incompatible with the Move to iOS app, transferring data from Android to iOS will be impossible.
See also: Sync Apps from iPhone to iPad in 3 Practical Ways [Proven Guide]
Fix 4. Turn On the Airplane Mode Feature on Both Devices
To ensure an optimal file transfer experience, it is recommended that you turn on airplane mode before using the Move to iOS app. This will help block any external networks from disrupting your Wi-Fi connection and prevent lagging or interruption during the transfer process. Activating airplane mode on Android devices can be easily done by pulling down their notification bar and selecting the "Airplane" mode.
To activate Airplane Mode on your iOS device, swipe up to open the "Control Center" and tap the "Airplane" icon.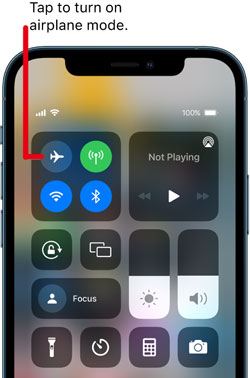 Fix 5. Connect to a Stable Wi-Fi Network
If you want the Move to iOS taking forever issue to be resolved, connecting both devices to a strong and stable Wi-Fi network is highly recommended. A poor signal can severely hinder the transfer process and cause massive lags or timeouts. To move data from Android to iPhone wirelessly, make sure that your devices are connected to optimal internet.
Part 3: Use the Move to iOS Alternative to Transfer Data Between Devices
Are you still encountering the iPhone transfer taking forever problem? No problem, you can use a Move to iOS alternative. This phone transmitter - Samsung Data Transfer is a one-stop solution for easily transferring data from iOS to iOS and Android to iOS.
Since there's no need to store your information on a cloud server or computer beforehand, it makes moving content from device to device an effortless process. It is a reliable and time-saving solution for anyone who wants to move data from Android to iOS.
Key features of this Move to iOS replacement:
- Require only a few clicks to transfer data between iOS and Android devices.
- Support the transfer of contacts and documents from Android to an iPhone.
- Assist you in moving photos, videos, music, books, and more from iOS to Android.
- Work natively with the latest Android and iOS devices.
- Safely transfer your data with read-only mode.
Download this phone data transfer software.
Learn how you can use Samsung Data Transfer as a great Move to iOS Alternative:
Step 1. Open the Move to iOS Alternative
After downloading and installing the software on your computer, launch it and select the "Mobile Transfer" mode to move to the next step.
Step 2. Connect Both of Your Devices to the Same Computer
Connect your Android device and iOS device to the same computer using USB cables simultaneously. Ensure that the software detects them before you transfer data by enabling USB debugging mode on your Android device and selecting the "Trust" option on the iPhone.
Step 3. Directly Transfer Data from Android to iOS
- Begin this step by setting your Android phone as the "Source" device and your iPhone as the "Destination" device. After that, select the data type you want to move from one device to another.
- Then click the "Start Copy" button at the bottom of the window. This will start moving content from Android to iOS. Once complete, you can safely disconnect both of your devices.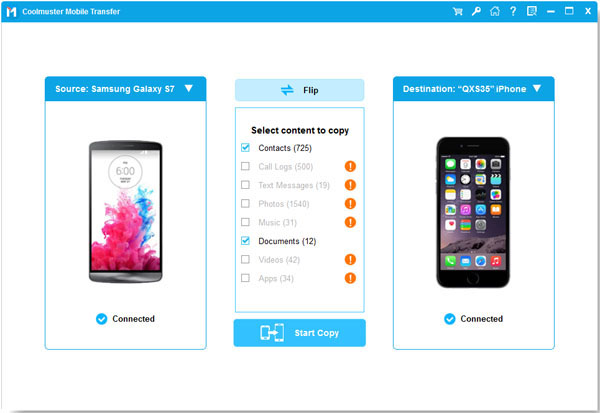 Conclusion
If you're experiencing "Move to iOS taking forever" problems when transferring data between an Android and an iPhone, the above-mentioned solutions should help you resolve the issues. Ensure both devices are connected to a stable Wi-Fi network for fast and secure transfers, or use the Move to iOS alternative - Samsung Data Transfer for a faster transferring process.
Related Articles
How to Transfer Photos from iPhone to SD Card Easily [5 Proven Ways]
How to Import Photos from iPhone to HP Laptop with 7 Trustworthy Methods
Most Recommended Samsung Kies Alternative Are Here (6 Helpful Tips)
HTC Transfer Tool: Full Guide for HTC Users [Contain Powerful Alternatives]
Top 8 iCloud for Android Alternatives: What Can I Use instead of iCloud on Android Device? (Updated)
Top Phone Transfer App: Fast Transfer Stuff from One Phone to Another