Summary
Apple sells two different types of devices that allow you to use their ecosystem: the iPhone and the iPad. You can use them for tasks like making phone calls, texting, browsing the internet, etc. One of the main differences between these two devices is their screen size. Do you have an application that you think will work better on your iPad compared to the iPhone? Maybe due to screen size or other factors? If yes, you are lucky because we will detail several ways to sync apps from iPhone to iPad.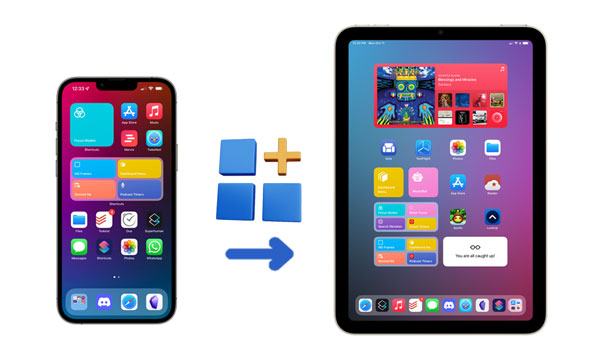 Method 1: How to Sync Apps from iPhone to iPad via iTunes
iTunes is one of the most used applications in the world. The application manages media files, transfers data between devices, and more. So, you can use iTunes to transfer apps from your iPhone to iPad if you want to use them again. Some people prefer using iTunes as it allows them to view files/apps differently. Ensure you have the latest iTunes version installed on your computer and use the same Apple ID on your iPad, iTunes, and iPhone.
Step 1. Connect iPhone to Computer
Connect your iPhone to your computer and launch iTunes if it does not open automatically. Navigate to the "Account", tap "Authorization" and select the "Authorize This Computer" option.
Step 2. Log in to iTunes
Use your Apple ID and password to sign in to iTunes, and then click on the "Authorize" button. Ensure that the iTunes account that is used is on both devices.
Step 3. Transfer Purchase
Click on the "File" menu bar, then click on the "Devices" menu, and finally select "Transfer Purchases" from your iPhone. After that, all your applications will be Synced to your computer. Wait for the syncing process to complete, and then click on the "Eject" button before disconnecting your iPhone from the USB cable.
Step 4. Connect the iPad to the Computer
Use a USB cable to connect your iPad to the computer. Right-click the iPad icon on the "Devices" section and choose "Transfer Purchases from iPad".Click on the iPad on the device section and select the "Applications" tab once the transfer is complete.
Step 5. Sync Apps from iPhone to iPad
Click on the "iPad" icon under the Setting, then tap on the "Apps" option and select all the applications you want to sync to your iPad. Finally, click the "Sync Apps" button to send the application to the iPad.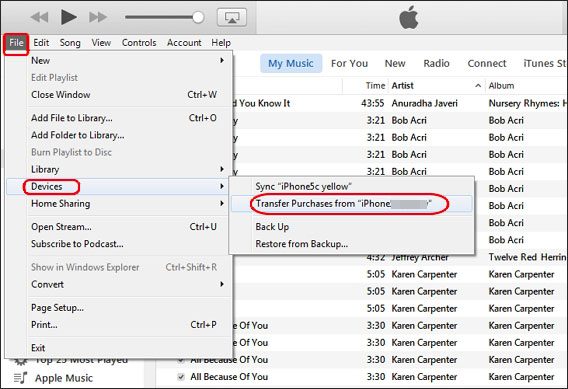 You might like: Do you plan to transfer videos from your iPhone to an iPad with original quality? Then you can open this link to select an approach.
Method 2: How to Transfer Apps from iPhone to iPad via App Store
This is one of the easiest ways to sync your purchased apps from iPhone to iPad without repurchasing them. You can find thousands of applications in the App Store. Apple offers thousands of applications, some of which are free to download. Ensure that you are signed into your iPad/iPhone using the same Apple ID, and then follow the below simple steps.
Step 1. Launch App Store
Launch the App Store application on your iPad on your Home Screen. Tap on your "Profile" on the "Today" tab.
Step 2. Download and Install the Applications
Tap on the "Purchased" button, select "Not on this iPad", then scroll down and locate the application you want to install. Click the "Download" icon and install the application from the available list.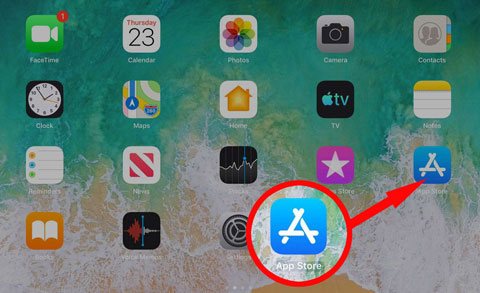 Read also: How to Transfer Files from iPad to Android Phone [7 Hassle-free Methods]
Method 3: How to Sync iPhone and iPad Apps Using iCloud
iCloud is a cloud service that allows you to get iPhone apps on iPad using iCloud servers. It also lets you download the applications from iCloud instead of repurchasing them. Ensure that your iPad and iPhone are signed in using the same Apple ID, allow iCloud to sync your applications, and follow the simple steps below:
Step 1. Launch the Settings Application
On your iPhone, navigate to the settings application and click the "iTunes & App Store" option.
Step 2. Sign in to Your iCloud Account
Use your Apple ID to sign into the iCloud account. On the "Automatic Downloads" section, turn on the "Apps" option by sliding it to on mode.
Step 3. Enjoy Apps on Your iPad
Your iPhone apps should be available to the iPad quickly, provided that your iPad and iPhone devices are signed in to similar iCloud accounts.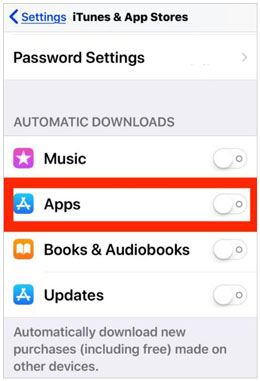 Bonus: Transfer Other Data Between iOS Devices
Samsung Data Transfer is an application to help you transfer different files from iPhone to iPad. Even though it cannot sync apps at present, it can transfer books, contacts, bookmarks, notes, and calendars. What's more, you can use it to transfer apps between Android phones and tablets. It is widely comapatible with most iOSes and Android OSes, so it works for many iPhones, iPads, and Android devices.
Hallmarks of this data transfer tool:
- One-click to transfer your contacts and other files from an iPhone to an iPad.
- Support application syncing between Android devices.
- Transfer files between devices with different operating systems.
- No data loss during the transferring process.
- Allow you to transfer photos, music, videos, and more from iOS to Android.
Download this mobile data transfer software.
Follow the below steps to transfer data from iPhone to iPad with this program:
Step 1. Download and Install the Software
Begin the process by downloading and installing the application. Ensure that you download the correct version for your computer. After that, launch the application and click the option for "Mobile Transfer".
Step 2. Connect Your iOS Devices
Use USB cables to connect your iPhone and iPad to the computer. Follow the instructions on the screen prompts to allow the USB debugging feature. Check to see if the mobile devices are correctly located. The source device and the destination devices should be aligned well. If not, click on the "Flip" button to change their positioning.
Step 3. Transfer the Data from iPhone to iPad
Select the type of content you want to copy, and hit the "Start Copy" blue button at the bottom of the screen. After that, you will get the data on your destination iPad device.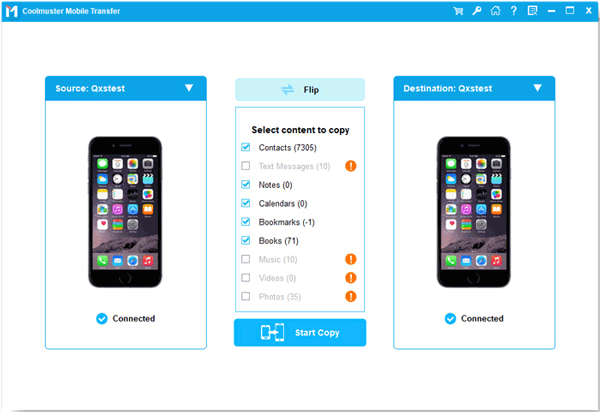 Conclusion
iPhones and iPads are amazing devices. Many people use these devices to make calls, send text messages and perform basic computing functions. You can use the methods discussed in this article to sync applications from iPhone to iPad. Samsung Data Transfer is also an excellent and professional way of transferring multiple data types between iOS devices. It can also copy apps and various file types between Android devices.
Related Articles
How to Transfer Photos from iPad to iPad Quickly? (Easy & Safe)
How to Mirror iPhone to iPad with Ease? Show You All Details
How to Change Weather Location on iPad in Trouble-free Ways [Settlled]
How to Print Out Text Messages for Court from Your Android Phone and iPhone
How to Transfer Text Messages from iPhone to Computer - 5 Flexible Ways
How to Work Out the iPhone Transferring Data Stuck Issue [Easy and Reliable]