Summary
AT&T Mobile Transfer can transfer contacts, pictures, videos, music, and other content from your old phone to a new one over Wi-Fi, including Android and iOS. It helps a lot when it works normally. However, things might be tough because of AT&T Mobile Transfer not working.
Are you fretting about this? Anyway, today, you can learn why it cannot work well and practical fixes. There is no doubt that you can repair AT&T Mobile Transfer and transfer your data with it soon.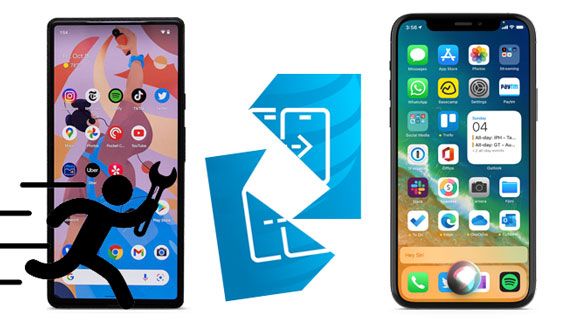 Part 1: Why Does the AT&T Mobile Transfer Not Working Issue Happen?
Many errors will make AT&T Mobile Transfer stuck, such as the connection, system, app version, etc. Thus, it is not weird that the app doesn't work all of a sudden. Next, let's discuss this in detail.
Reason 1. The app version is too old. Perhaps you have installed AT&T Mobile Transfer on your smartphone for a long time without updating it. Its old version has some bugs, so the app cannot work well.
Reason 2. Your network is unstable. The AT&T Mobile Transfer connection issue will happen When you connect your cell phone to the Wi-Fi with a weak signal. Maybe it will stop during the transfer.
Reason 3. There are too many app caches on your phone. In general, there are app caches on your phone when you use apps. Some damaged caches will cause the app to get stuck or transfer data taking a long time.
Reason 4. The OS of your mobile phone is worn-out. Sometimes, people ignore the software update on their mobile phone, but the old software is not compatible with apps well, although you have updated AT&T Mobile Transfer.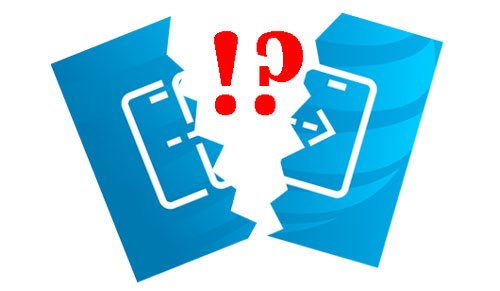 Bonus: What if the Phone Clone app is not working? Don't worry. There are effective tips for you to troubleshoot the issue effortlessly.
Part 2: Effective AT&T Mobile Transfer App Troubleshooting
You have known the AT&T Mobile Transfer problems from the previous part, and now you will get 8 tips to troubleshoot these issues.
Fix 1. Check Network Settings
In many cases, the online traffic network is heavy in the crowd because too many devices are connected to the same base station, and the bandwidth speed is limited. Therefore, please do not transfer data to the new phone if you are in a crowded place.
Besides, if you connect a few devices to the identical Wi-Fi at home, the network will be slow. You can turn off the network on other devices temporarily. Then reset the network on your mobile phones that you plan to move files: open the Settings app, choose "Network & Internet", make your devices forget the network, and connect to it again.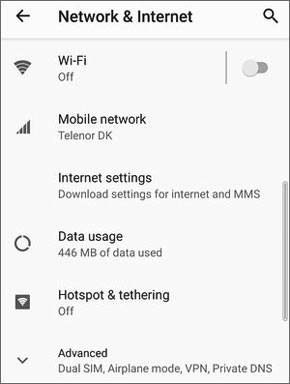 See also: When an Android phone gets stuck in the recovery mode, you can follow this guide to make the phone exist the mode without hassle.
Fix 2. Reinstall the AT&T Mobile Transfer App
If AT&T Mobile Transfer doesn't work even though you reset the network, you can reinstall the app. Maybe you haven't installed it correctly, or forget to update it, which will be solved as long as you install it again. First of all, please uninstall it completely, and re-download it from the built-in App Store or Google Play. After installing it, please try it once again.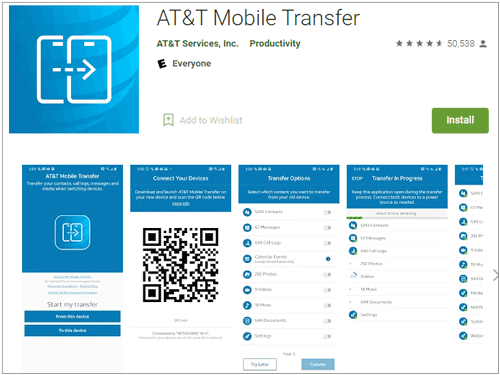 Fix 3. Update the OS
An out-of-date OS will result in many problems. But it is simple to update the OS on a smartphone.
On Android: Settings > Software update > Download and install > Install now.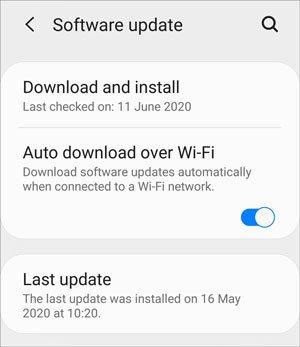 On iOS: Settings > General > Software Update.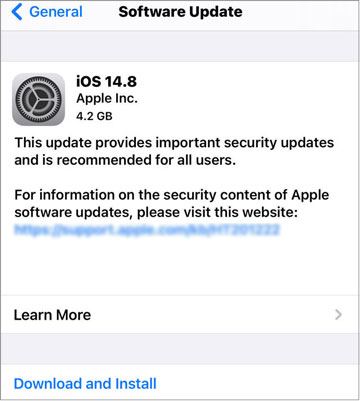 Read more: What about transferring the SIM card data to a computer? Does it lose data? If you are interested in these topics, please click this link to read them.
Fix 4. Do Not Transfer Too Much Data At Once
Sometimes, you find that AT&T Mobile Transfer has stopped halfway, or it transfers data too slowly, and it seems that AT&T Mobile Transfer is taking forever. Actually, transferring bulks of files require a stronger network. If you cannot connect your device to a powerful Wi-Fi, you'd better lessen the data you select and transfer at once.
Fix 5. Clean App Caches
It is necessary to clear app caches, since you can eliminate the junks that block your mobile phone. Then your device will run faster.
Please run the Settings app, and select "Apps" > "AT&T Mobile Transfer" > "Storage". Then clean the app caches manually.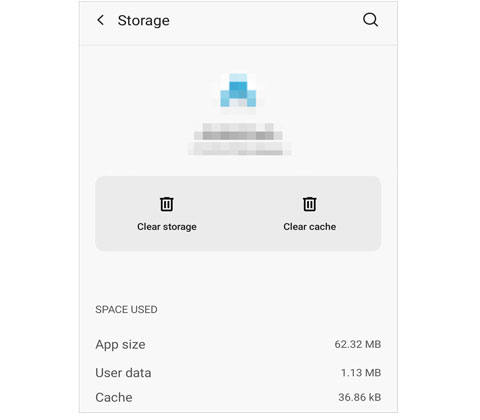 Fix 6. Restart Your Phone
Another easy way to solve the AT&T Mobile Transfer connection issue is to restart your smartphone. This way is suitable for crashing suddenly, and it is helpful for Android and iOS devices.
To restart an Android phone, please keep and hold the Volume Down and Power buttons simultaneously for about 10 seconds.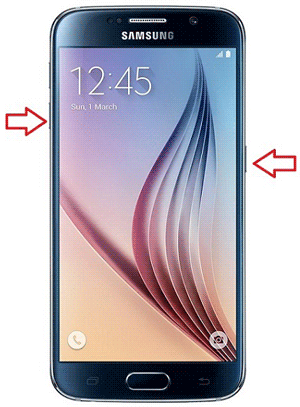 To reboot an iPhone, you can press and hold one Volume key and the Side button for several seconds, and swipe the slider to turn off your iPhone. After a while, press the Side button to turn it on.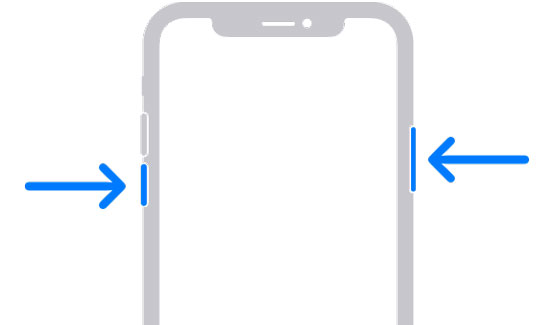 Fix 7. Log in to Your Account Again
AT&T Mobile Transfer requires you to log in with your AT&T account on both smartphones. So, please check if you use the same account on your devices. If not, please log in again with one AT&T account on both phones.
Fix 8. Use an alternative to AT&T Mobile Transfer
1. SHAREit
There is not only AT&T Mobile Transfer in the app store for data migration. SHAREit is also a wireless transfer app for Android and iOS devices, and transfers multiple file types seamlessly.
Please install and run it on your two phones. Next, tap "Send" on the old phone, and pick the files you want to transfer. Then click "Receive" on the new phone. Please enable Bluetooth and allow the app to access your data if prompted. When seeing your device's avatar on the screen, please tap it to connect, and the app will send the selected data to your target phone.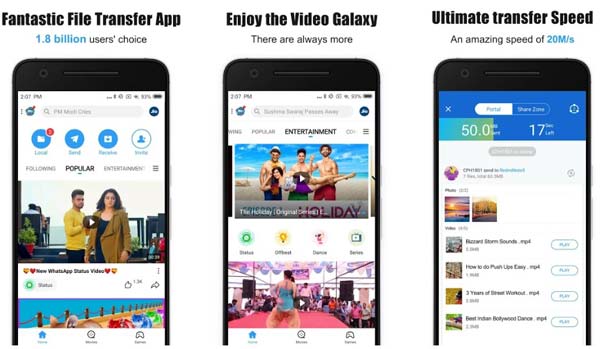 2. Send Anywhere
Send Anywhere is similar to SHAREit, but it will ask you to make a connection between your smartphones by scanning a QR code. Furthermore, you can receive files by entering the key shown on the sending device to the receiver.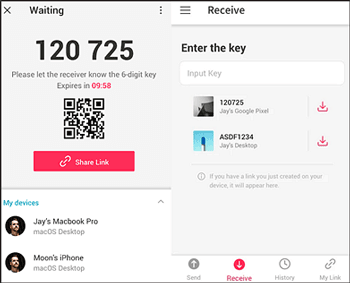 3. Samsung Data Transfer
Samsung Data Transfer is a desktop application without ads. It can transfer data from Android to Android, iOS to iOS, iOS to Android, and vice versa. What's more, this software supports contacts, photos, videos, music, apps, text messages, call logs, calendars, notes, and more file types.
You can download it for free below.
As long as you install and launch it on a computer, you can connect your old and new smartphones to the computer via USB. Then select file types on the middle panel, and click the "Start Copy" icon to transfer data to the new device.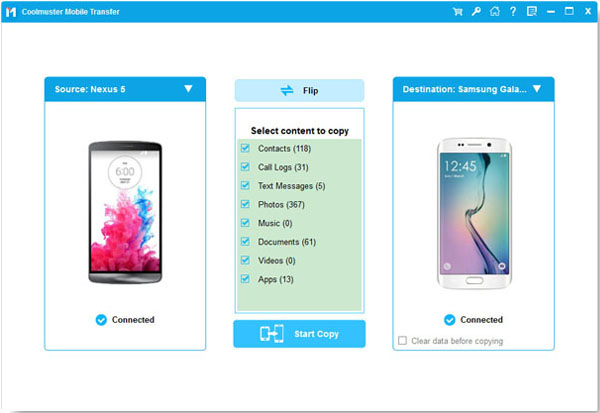 Bonus: AT&T Mobile Transfer VS Samsung Smart Switch Mobile
So, Which is better, AT&T Mobile Transfer or Samsung Smart Switch Mobile?
First of all, they are compatible with different devices. AT&T Mobile Transfer works Android 5.0 or upper and iOS 8.0 or later; and it enables you to freely move data between Android and iOS devices. Smart Switch Mobile works for Android 4.0 or higher and iOS 5.0 or upper; however, it can only allow the data transfer from an Android or iOS device to a Samsung mobile device.
Secondly, AT&T Mobile Transfer supports wireless transfer only, but Smart Switch allows USB and wireless connections. Surprisingly, they are easy to establish the connection between mobile phones.
Thirdly, AT&T Mobile Transfer supports fewer file types than Samsung Mobile Transfer. For instance, it cannot transfer apps to a new phone. Anyway, they are nice apps to transfer data without damage. Accordingly, transfer data your way.
Learn more: You can also seek a replacement for Samsung Smart Switch from this post.
Conclusion
Despite AT&T Mobile Transfer not working sometimes, it has helped plenty of users to copy data to their new phone. Now, you can use these ways to fix the app if it is stuck in transfer. By the way, please do not forget you can replace AT&T Mobile Transfer with alternatives, such as Samsung Data Transfer. This software can directly transfer data with original quality, and it can fast recognize most generations of Android and iOS devices. There is no limit to how much data you want to transfer to your destination device.
Related Articles
Phone Cloning Software Guide: 8 Practical Options to Clone Phone Data Easily
How to Clone an iPhone without Effort [Ultimate Guide with 5 Methods]
Android Music Sync Approaches: Sync Music Between PC and Android with Ease
Transfer iPhone to Samsung S20 with 5 Hassle-free Methods [Easy and Safe]
Deftly Transfer Data from Samsung to Sony Xperia Like A Pro [4 Dependable Ways]
Samsung Data Transfer - How to Transfer Data from Samsung to Another Smart Device?