Usually, the internal memory of mobile phone is not enough to store photos and videos, so SD card is used to expand the storage space and save the media files and documents on your Android or iOS device. However, sometimes your precious photos on SD card may be lost for some reasons. If so, how to recover deleted photos from SD card?
Why Do Your Photos Get Lost from Your SD Card?
Some people may be wondering what happen to their photos on the Micro SD card and why the photos on Micro SD card get lost. If you lost your pictures on your Android phone, it is quite helpful to understand what causes data lost, which may help you find a solution to retrieve deleted pictures from SD card. The followings are the likely reasons why photos gets lost from your SD card:
* Unexpected picture deletion
* Pulling out the SD card incorrectly
* losing pictures by SD card formatting
* Virus attack to SD card
* Micro SD card is damaged
* Accumulating bad sectors in the SD card
* Physical SD card corruption results in loss of picture
So is it possible to recover deleted photos from SD card? Yes, of course. Please read on to find the solutions here.
Part 1. Recover Deleted Photos from SD Card with Professional Recovery Tool
It is the best way to recover deleted photos from SD card using a professional photo recovery tool, such as the SD Card Photo Recovery - Android Data Recovery. With it, you can recover your lost or deleted data from Android device's external SD card and internal memory, so of course you can recover deleted photos from SD card on Android phone or tablet as well.
Apart from photos, the Android Data Recovery also enables you to restore deleted contacts, text messages, call logs, videos, audios and documents. For recovering from SD card, the program allows you to recover photos, videos, audios and documents, which are stored on SD card. Before recovery, you are allowed to preview the detailed info of each item, choose whether to see the deleted items only and selectively tick off the desired items for restoration.
What's more, the recovery tool is fully compatible with almost all Android phones or tablets, including but not limited to Samsung, Huawei, Xiaomi, LG, Sony, Motorola, HTC, ZTE (the latest Samsung Galaxy S9/S9 Plus/Note 9/Note 9 Plus are supported as well).
Now, just have a try on the SD card photo recovery tool below. Please choose to download either Windows or Mac version of the program according to your computer.
[User Guide] Steps to Restore Deleted Photos from SD Card:
Step 1. Run the SD Card Photo Recovery
Please run the Android Data Recovery on your computer after downloading and installing, then switch to "Android SD Card Recovery" mode on the main interface. Have your Android SD card connected to the computer, and it will be recognized by the Android Data Recovery program soon.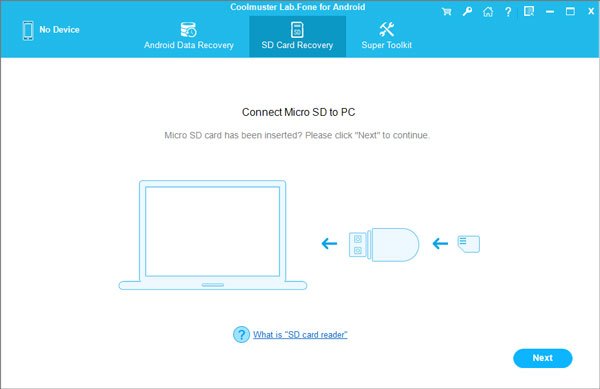 Step 2. Scan Your SD Card for Deleted Photos
When your SD card is detected successfully, please choose the disk drive of your Android SD card to start to scan the SD card for your lost files. After quick scanning, you will find all recoverable file types from the interface.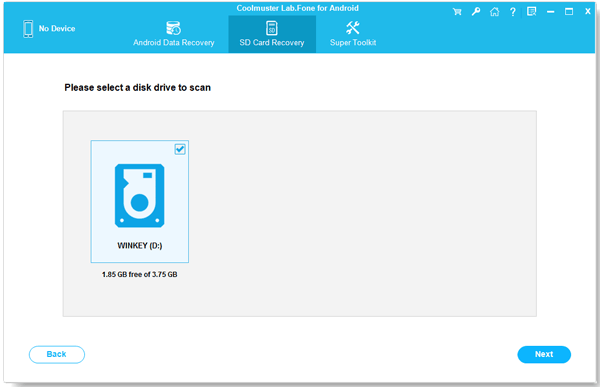 Step 3. Recover Lost Photos from SD Card
On the left side, please choose "Photos" file type to preview all pictures from your SD card on the right side. If needed, you can turn on the button next to "Only display the deleted item(s)" to show the deleted photos only for quick search. Then tick off the photos you want and click "Recover" button to save them on your computer immediately.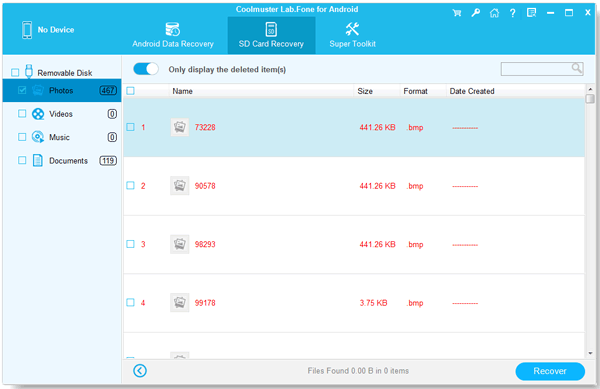 So easy, right? By the way, you can directly connect your Android to computer and use the "Android Data Recovery" mode of the software to recover your private information, such as contacts, call history, SMS, documents and the media files as well.
You May Also Like:
How to Recover Lost Files on Android SD Card
Photos Recovery for Locked Android Phone/Tablet
Part 2. Extension - How to Recover Pictures from Corrupted/Damaged SD Card?
As an excellent extensible storage medium, the Micro SD card helps a lot to store and transfer data. However, what if your SD card suddenly becomes stupid and you can't read or view any data? Does it mean you have lost everything in the SD card? Just take it easy, there are some ways to help you recover data from a damaged Micro SD card. Let's have a look.
First of all, it is necessary to confirm whether your Micro SD card is really damaged or not. You can try to connect the SD card to another device to see if it works, because sometimes some devices cannot read an SD card or they are not compatible with it. If it doesn't work, you can try the following.
Solution 1: Use the chkdsk command
1. Insert the damaged SD card into the card reader to connect it to the computer.
2. Go to the Windows taskbar and click "Start", type "cmd" in the search bar, then press Enter button.
3. Right-click on "cmd.exe" in the program list, you can repair the damaged SD card here without formatting.
4. Enter "chkdsk/X/f SD card letter:" or "chkdsk SD card letter: /f", for example "chkdsk/X/f G:" or "chkdsk H: /f".
After completing the above steps, you can check and repair the file system of the SD card.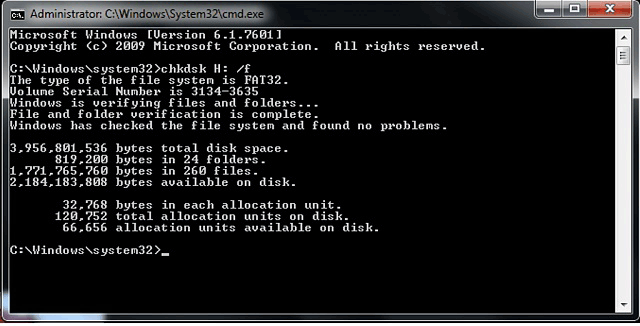 Solution 2: Reinstall the driver
You can also recover pictures from a damaged Micro SD card by reinstalling the driver to the device.
1. Right-click on the "My Computer" icon on desktop and select "Manage" option.
2. Go to the "Device Manager" on the left and click on it.
3. Select "Disk Drives" and click "Uninstall", then click "OK" click button
4. Restart your computer and use a card reader to connect to the Micro SD card. This time your computer will be able to detect it.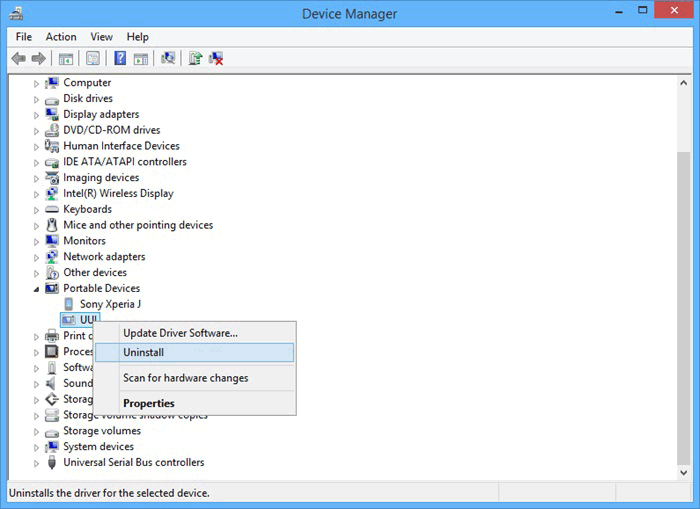 Solution 3: Change the drive letter
If the problem is related to the USB device itself, you'd better firstly try the device on a different port just in case. Then please follow the steps below to reformat the USB drive.
1. Connect the SD card to the computer through the card reader.
2. If you receive the message "Please insert the disk into drive E", it means the card cannot be read.
3. Assign a new drive letter to the SD card when it is connected, then try to open it again.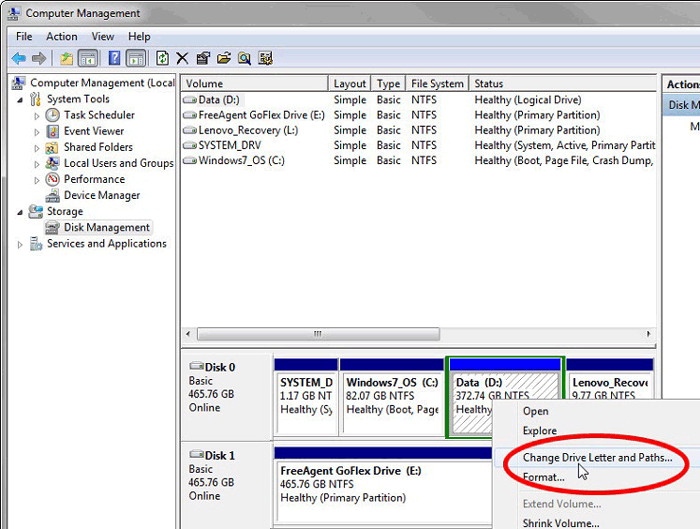 Solution 4: Format the SD card
Since formatting will erase everything on the Micro SD card, please make sure you have restored all files and backed up to other devices before formatting the SD card.
1. Double-click the computer icon on the desk to open the disk list.
2. Find and right-click on your SD card.
3. Select "Format".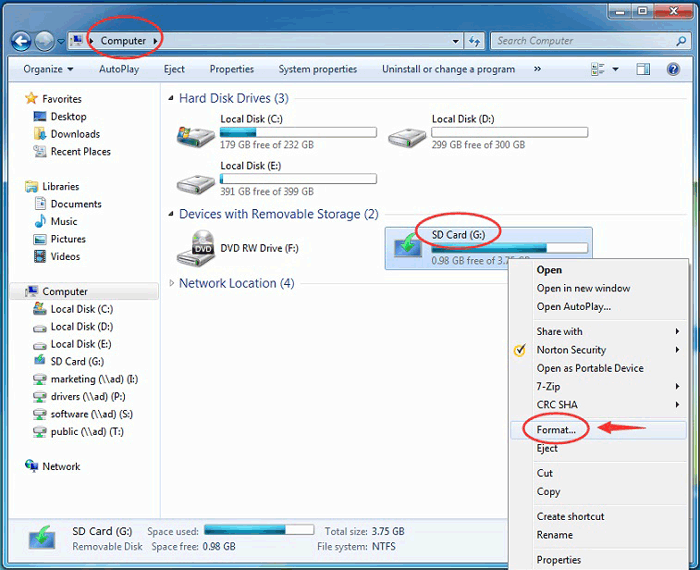 Part 3. Utility Tips to Prevent Data Lost from SD Card
Although there is a way to recover deleted pictures from a Micro SD card, there is still a need to study ways to prevent data loss. Loss of data can get you into confusion, especially if you need to use your data. Therefore, these tips are worth noting.
Tip 1: Back up your data regularly.
Please regularly back up data on Android phone in case of unexpected data lost. If needed, you can also transfer photos between Android phone and computer. This gives you instant access to your data even before performing a Micro SD card recovery.
Tip 2: Be sure to safely eject before pulling the card out of the card reader.
Avoid pulling out the card while it is still in use. Instead, take a safe ejection to prevent damage to the card or damage to the card.
Tip 3: Make sure to update your antivirus to prevent virus attacks.
Computer viruses are harmful to your data because they can eat all the files without warning. The only drugs are regular anti-virus updates to prevent them from multiplying.
Tip 4: Always scan to fix errors to avoid failure.
On your computer, scan each external drive connected to the device, which will fix the error and prevent unnecessary data loss.
Tip 5: Be sure to keep the SD card in a safe place.
Physical damage is another threat that needs to be studied. Keep your card in a safe environment to avoid the pain of recovering photos from a damaged SD card.
Words in the End:
If you are in need to recover deleted photos from SD card, the SD Card Photo Recovery would be your best choice. Believe or not, just have a try to get your lost photos back.
Related Articles:
How to Restore Deleted Photos/Videos from Android with Black Screen
How Can I Recover Deleted Pictures on Android Phone
How to Recover GIF Pictures Files from Android Devices
How to Easily Save Photos to SD Card
[Solved] Retrieve Deleted Kik Messages on Android without Trouble