Summary
Do you know how frustrating it is to find your voicemail messages missing from your phone because you accidentally deleted them? You don't want to go through that stress. But, this guide will make all your worries disappear as it answers your question on how to retrieve deleted voicemails from Samsung Galaxy.
On some Android phones, you may undelete any voicemail message you deleted from the visual voicemail application, while on the others, you must call into the voicemail. Unfortunately, your voicemail messages won't be retrieved when you call into the voice mailbox, then hang up or even leave the voicemail screen.
This will force you to contact the service provider. Of course, you won't have to go through all that. This post will make your work easier since it highlights ways to retrieve Samsung Galaxy voicemails.
If you are struggling to retrieve your deleted voicemail, know that it's a common issue that is facing many Samsung phone users. And you are not alone in this, as we've compiled ways to recover your deleted voicemail messages from your Samsung Galaxy phone. Therefore, relax, sit back and see how this is done in easier steps.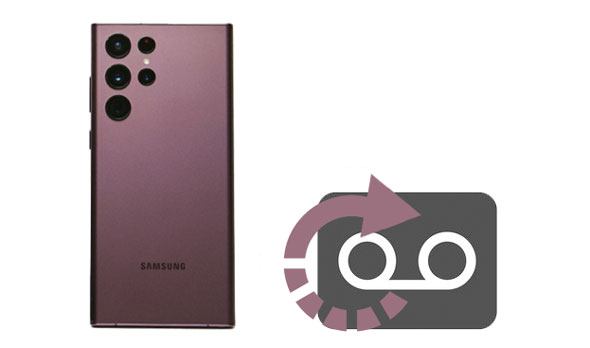 Part 1: Can You Retrieve Deleted Voicemails on Samsung?
Yes. If you accidentally delete voicemails on your phone, you may recover them. But how? Do not think much since that can be achieved easily. After accidentally deleting voicemails from the phone, you will be surprised that the files aren't deleted permanently. They are still present in your phone but just hidden. Unless they are overwritten with new files, you still have a chance of getting them back.
Part 2: How to Get Deleted Voicemails Back on Samsung on Phone App
There are various ways to recover deleted voicemails back on your Samsung device, and one of the best ways is to use the Phone App. To get your deleted voicemails back to your Samsung phone using the Phone App, follow the below steps:
Step 1: Tap on your Phone button to open the app. After that, tap on the "Voicemail" icon.
Step 2: Scroll to the bottom part of your phone's screen and tap the "View the Deleted Messages" option. You will see all the recently deleted voicemail texts listed from there.
Step 3: Choose the voicemails you want to recover and click the "Undelete" tab to get them back directly.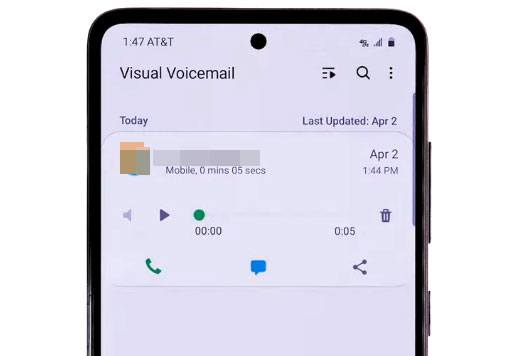 Read also:
Want to retrieve deleted text messages on Samsung easily? Please do not miss these methods.
You can also get effective ways to recover your deleted contacts.
Part 3: How to Retrieve Deleted Voicemails on Samsung Galaxy on Voicemail App
Also, another wonderful way to recover your deleted voicemails on your Samsung is through the Voicemail App. Remember, every data you delete isn't removed permanently. But, it stays on your device for some time. Thus, if your voicemail texts are accidentally deleted, then you just need to do the following to get them back to your phone:
Step 1: Open your Voicemail app and click the "Menu" icon.
Step 2: Then click the "Deleted Voicemails" option. The list of voicemails will be displayed for recovery. Just click and hold the specific file you want to retrieve.
Step 3: Depending on your phone's model, it will add the checkmark to voicemail or open the contextual menu. Click the "Save" button to remove the files from the deleted folder.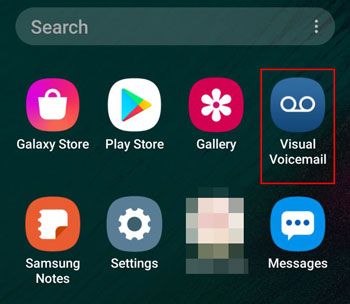 Further reading:
What if your mobile phone is Sony Xperia? Don't worry. This guide is for Sony users to recover data.
Are you going to transfer your iCloud data to Android? If yes, you can utilize these 4 methods.
Part 4: How to Retrieve Deleted Voice Messages on Samsung Galaxy on Voicemail System
Do you know that a Voicemail System can also help recover voicemails? The Voicemail Systems is a great way to get back your lost texts. Here is a step by step guide on how to use the Voicemail System to retrieve voice messages from your Samsung gadget:
Step 1: Open the voicemail application on the phone. Then call the number for the voicemail system. Remember, the number usually varies from one provider to another.
Step 2: You may even listen to the new or saved voice messages to confirm if they are the ones you want. Press "1" to listen to the messages. Just press 7, and your messages will be erased.
Step 3: Press 1 on the "Message Playback" menu. You can also press 9 to check the messages that are erased. After that, press "9" to save the voicemail on the box.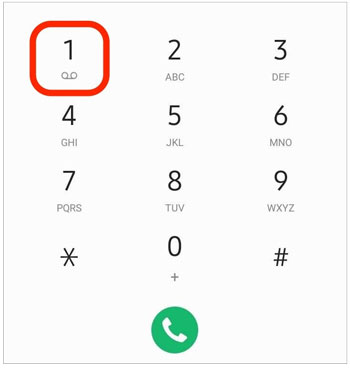 Bonus: How can you recover photos from the Samsung Secure Folder? You can get the hang of these useful skills.
Part 5: How to Avoid Deletion of Your Voice Messages on Samsung
Voicemails are essential parts of our phone's data that should be safe and secure at all costs. The voicemails can be from your loved ones or even for work purposes. You wouldn't want that, right? Therefore, avoiding their deletion is a nice thing to do.
You surely need to preserve your voicemails well since they contain important data you wouldn't want to lose. It may contain medical appointments or even directions. Besides, it can be audio from your loved person.
So, you should always back up your data, including voicemails, regularly, and if it happens that you accidentally delete them, then you may get them back easily.
To prevent deleting your phone's voicemails, you should not factory reset your phone, destroy your device, or press the wrong button of your phone. If you do this, then you won't face any issues with your voicemails being deleted.
The good thing is that you can still get them back using the methods discussed above. So, no need to worry much.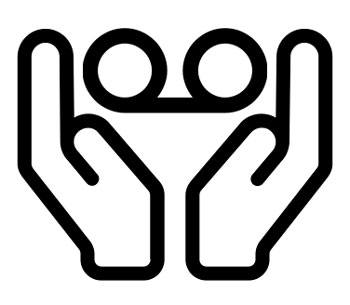 Final Thoughts
Voicemails are essential for many people; however, some unwanted scenarios can make you lose your data, including voicemails. But, if you've created a backup, then it will be easy to manage the data loss issue. This guide has highlighted the safe and sure ways to retrieve your voicemails from Samsung Galaxy.
After going through the ways mentioned above, then recovering the voicemails won't be a hard thing to do. Hopefully, you have found at least one simple way and can save the hassle and stress of voicemails recovery.
Related Articles
How to Retrieve Deleted Videos on Samsung: 4 Dependable Solutions
How to Transfer Data from Samsung to Realme | Hassle-free Tutorial
How to Transfer Contacts from Samsung to HTC Swiftly [Latest Tutorial]
Fixed: Why Samsung Cloud Backup Failed? And How to Fix It without Hassle?
How to Transfer Files from Samsung Tablet to PC | 5 Seamless Ways
[Easy and Safe] Transfer Music from iPod to Samsung Phone and Enjoy It Directly