Summary
Android is, without a doubt, the most used cell phone operating system. It provides its users with more customized features and options than any other mobile operating system. Among the many features, a screen mirroring option is the most prominent. With this feature, screen mirroring Android to PC is not a big deal. You can even stream Android to PC without difficulty.
This remarkable mirroring technology can help you share media playing on your Android phone to a computer with a large screen. So, if you want to mirror your Android screen to PC, there are ways to achieve that. This article will show you methods for screen mirroring Android to PC. Stick with us as you get to learn everything about Android screen share to PC.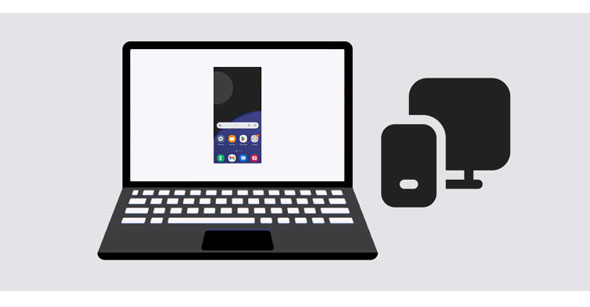 Part 1: Reasons to Screen Mirror Android to PC
There are various reasons why you may mirror your Android screen to the computer.
- For instance, you may want to check your messages or play games on a large screen.
- Also, if you are an application developer and wish to check the code results of your new apps without constantly taking out your phone, you can just mirror your phone's screen to a PC and check it conveniently.
- Perhaps you need to send media on a bigger screen without uploading it. Or you want to do presentations while connecting a projector to the PC.
However, to screen mirror your device to a PC, you should open the cellular data, connect the phone to a Wi-Fi connection, or use a cable. You just have to allow connection permissions when USB debugging is activated. The best part is that you don't have to install anything on the phone, just a simple app for the PC. After that, you can conveniently mirror your phone's screen to the PC and do whatever you want.
Part 2: Mirror Android Screen on PC (4 Ways)
It is not like you will have to enable USB debugging, link the phone to the computer, and your device's screen will show. You require an application that captures Android and projects it to the PC. Here are the methods to mirror Android to a laptop with USB or Wi-Fi.
2.1 Mirror Android to PC via Screen Mirror
Do you want to stream on other platforms using your phone? Or perhaps you wish to support mirroring the device to Zoom and conduct your meeting efficiently? Screen Mirror gives you the freedom to do that. This software allows Android/iPhone users to mirror their devices to a PC. This helps to present new apps easily or give a presentation effortlessly.
You can also control your phone as you play games or reply to messages on a large screen. Besides, a large screen offers a sense of vivacity while playing mobile games on a PC. Furthermore, your game records will automatically be saved on your phone.
Key Features of this screen mirroring software:
- Screen mirror your Android to PC with a USB cable effortlessly.
- Wireless connection is also supported.
- Control your phone from a PC without hassle.
- Stream your device on social media platforms after mirroring the screen to PC.
- Support transferring files from your Android phone to your computer.
- Fast cast iOS screen to your PC.
Download this Android screen mirroring program.

How to mirror Android screen on PC via USB via Screen Mirror:
Step 1: Install the program on the PC, then run it. Then choose the "Android Mirror" option from the main interface.
Step 2: Choose "WiFi Connection", and make sure your phone and computer use the same network. Then hit "Detect" to search for your phone. Then the connection will be ready.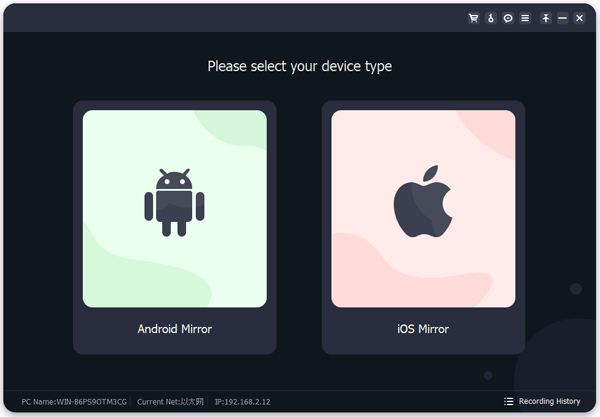 Step 3: As you view your Android screen on your PC, you will cast Android to PC successfully.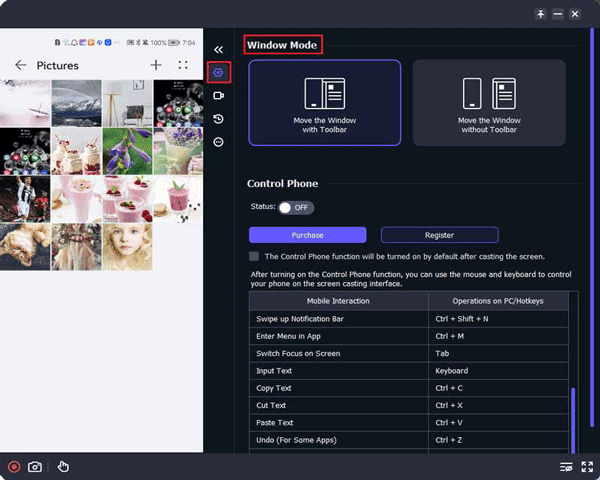 Read more: Is it possible to run Android apps on a PC without an emulator? In fact, you can make it after learning these methods.
2.2 Show Android Screen on PC via Vysor
Another app to use to mirror Android to PC through a USB cable easily is Vysor. It is easier to use, and after mirroring your Android to your computer, you can use apps available on your phone, play games, capture screenshots, and do a lot more. In short, you can do almost everything after screen mirroring your phone via this app.
The only downside of using the Vysor app is that most features come at a price. So, you must pay for its features before using it; even a simple drag & drop feature is locked. On the brighter side, this screen mirroring app is faster and pretty easy to set up. Moreover, users can easily tap and share screenshots or recordings.
Here's how to share a phone screen with a PC with the Vysor app:
Step 1: Download the Vysor app on the PC. Link the Android phone to the PC with a USB and enable USB debugging on Android.
Step 2: Run the Vysor installer file on the PC. You will see a prompt notification on the screen saying, "Vysor app has recognized the device".
Step 3: Click "View" to begin casting the Android screen on the PC.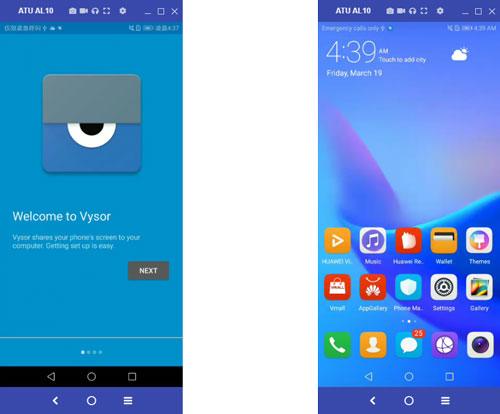 You might need: Learn About AnyDesk in all aspects and Get Alternative to AnyDesk
2.3 Mirror Phone to PC Without Internet With ApowerMirror
This is a top-rated app you can use to cast an Android screen to PC. It is available on most devices such as Android, iPhone, Ma, Windows PC, as well as TV. ApowerMirror also supports wireless screen mirroring.
In addition to the screen-sharing feature, ApowerMirror provides other important functions, such as controlling the phone from the PC with a mouse and keyboard.
Here's how to cast an Android screen on a laptop with ApowerMirror:
Step 1: Download the app on Windows PC and the phone.
Step 2: Link the phone to the PC using USB, then enable the USB debugging on the phone.
Step 3: Click "START NOW" on the phone, and your phone's screen will appear on the computer.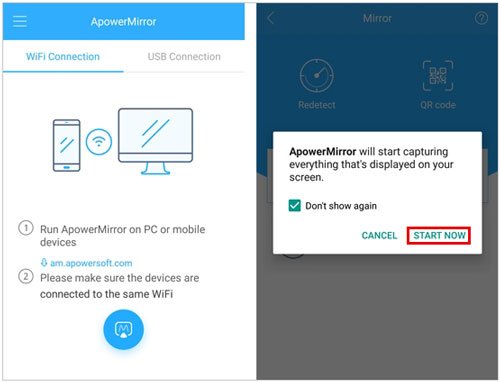 2.4 Screen Cast Android to PC Using Mobizen Mirroring
Mobizen Mirroring is also another screencasting application for Android phones with basic features that are free to use. You can mirror your phone's screen and control your device using a keyboard or mouse, and transfer and view your files on a PC.
Additionally, Mobizen allows you to set up screen transparency or ghost mode. Moreover, you may use the phone remotely via the app's website. But, in terms of overall speed, and smoothness, it is not better than Vysor.
Here are steps to cast Android to PC using this tool:
Step 1: Install the app on your PC and your phone.
Step 2: Allow the app to run on your Android phone, and click "Go to Settings" to enable the "Floating Windows" feature of this app.
Step 3: Tap "Start Mobizen" and log in with your email account and enable USB debugging.
Step 4: Log in to the same account on your computer, and click "Start" from the pop-up to start a remote connection. Now, it will display the Android screen on the PC.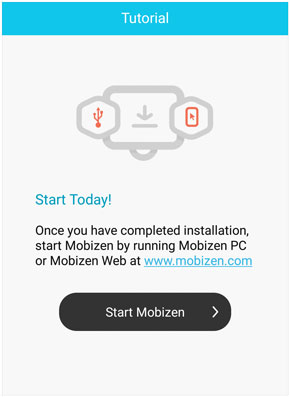 Read also: 5 Effective Methods on Screen Mirroring Xiaomi to PC | Works for Most Mi Phones
Extra: Why It Is Better to Mirror Android Screen on PC via USB
Mostly, you will be advised to mirror your phone's screen to a PC with a USB connection. This is because wireless connections run into a few issues often, as mentioned below:
- Wireless connections have high latency, leading to delays between the actions on a phone and video feeds that display them on the PC.
- You will more likely experience disconnects when using wireless connections.
- In addition, it won't be easy to re-establish the connection via WiFi. Also, you may have to spend much time fixing the Wi-Fi connection.
- While mirroring Android to your PC via a wireless connection may lower overall audio and video quality as compared to a USB connection.
Conclusion
That is all on Android USB mirroring. Hopefully, you can now screen mirror an Android to PC. The above methods will help you do that without a problem, but only if you follow the correct steps.
However, if you want a lightweight tool to mirror your Android to your PC, then Screen Mirror is the option to look for. It enables you to cast a phone screen to a bigger one and control it effortlessly. Its advanced technology makes all this possible.
Related Articles
How to Share Screen on Zoom Like a Pro - Screen Sharing Demystified
Safely Transfer Files from Android SD Card to PC without Trouble [5 Ways]
Recover Snapchat Photos on Android in 4 Effortless Ways (Detailed)
How to Connect Android Phone to PC Through Wi-Fi | 5 Reliable Connection Ways
How to Back Up WhatsApp Messages from Android to PC Fast [4 Great Ways]
Android Authority - Transfer Video from Android to PC in 6 Simple Methods