Summary
Are you looking for a larger viewing experience? Screen mirroring Samsung phone's screen is the perfect solution. Whether you're a student giving presentations or an entrepreneur leading business meetings, casting your phone's screen to a bigger screen results in a truly remarkable and engaging experience; with such convenience at hand, entertainment and work become more enjoyable.
Screen mirroring Samsung devices is an increasingly popular function that allows you to transmit content from one device's screen to another device's display, hence you will no longer require huddling around a small screen. You can easily cast your phone's display straight to your TV and PC.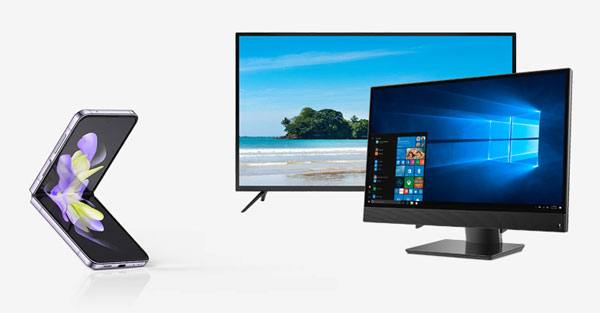 Part 1: Is Screen Mirroring Different from Screen Casting?
Do you feel overwhelmed when differentiating between "screen mirroring" and "casting"? Although these two technologies allow you to view photos, videos, and other phone content on your smart TV or PC's screen, they are completely different.
1.1 The Meaning of Screen Mirroring
Screen mirroring is a revolutionary tool that lets you stream media you have on your phone to an external source, such as Smart TV or PC. Every single thing taking place on your device is accurately reflected onto the larger screen, and any action made is instantly shown there too! With the Samsung screen mirroring feature, achieving maximum convenience is much easier.
The Smart View feature of your Samsung Galaxy device enables you to mirror the screen with only a few straightforward steps. Similarly, iPhone users can utilize AirPlay for mirrored display purposes.
1.2 The Meaning of Screen Casting
Screen casting enables you to stream sounds and images live over the internet. Apps like YouTube and Netflix make it possible to cast videos from your phone onto your smart Samsung TV's larger display with just one click. It's effortless, fast, and gives you access to all sorts of content. When your phone is casting, you can watch a movie or video without interruption. You can also close the app and use your phone for any other activity while streaming continues in the background.
Bonus: Best Samsung Device Manager on Desktop [8 Tools]
Part 2: Screen Mirroring Samsung Phone to Smart TV
Below is an overview of the screen mirroring methods available:
Method 1. Use Smart View
Samsung offers a special connection between its smartphones and Smart TVs. With the "Smart View" feature, mirroring your phone to a Samsung TV is simpl.! Follow these steps for an effortless display of your mobile device on the big screen:
Step 1: Open your device's drawer menu by swiping up the home screen.
Step 2: Open your device's One UI settings, and tap on the "Connected devices" option.
Step 3: Choose the "Smart View" option, and select the gadget that you wish to mirror your phone's screen content.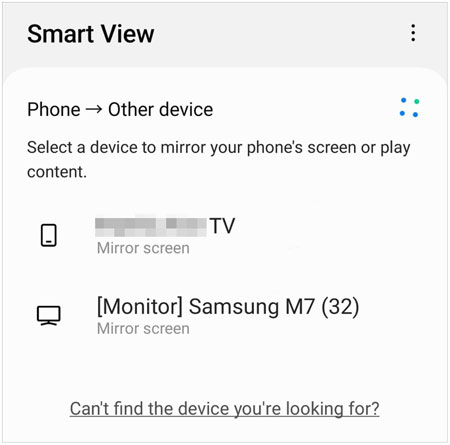 Besides, you can easily access the "Smart View" option through swiping down the home screen on your Samsung smartphone.
Learn more: How can you transfer contacts from an old Samsung phone to a new HTC smartphone? Open the link here to get helpful tricks.
Method 2. Use SmartThings
The SmartThings app is an extraordinary tool that serves as the ultimate control center. It's even more impressive when you consider its automated detection of Samsung Smart TVs released after 2016! If you want to use SmartThings for screen mirroring, it's an incredibly simple process. Unfortunately, Samsung TV models before 2016 won't be compatible with this app.
If your Samsung TV was released in 2016 or later, you could use the SmartThings app to mirror Android content straight onto it easily. Here's how you can achieve that:
Step 1: First, ensure the Android phone and Samsung TV are connected to the same network.
Step 2: Install and launch the SmartThings App on your Samsung phone. Then hit the "Add device" option, and choose your Samsung TV.
Step 3: Input the password on the mobile app to join Samsung TV to an Android phone. A code will be sent to your Samsung TV. With this connection, you can enjoy streaming movies and other videos from your smartphone.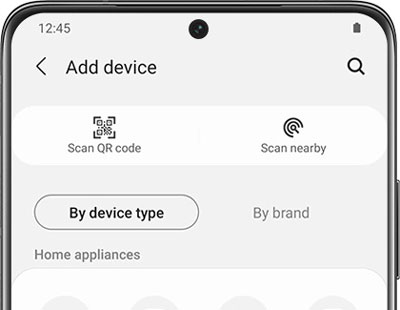 Method 3. Use ChromeCast
Chromecast, crafted with Google's signature high-end design, is the perfect media adapter for screen mirroring. Its captivating shape and features will draw viewers from any office space. This device is so small you can easily keep it in your pocket. Plus, there's no need to purchase special cords or cables - just connect directly to the TV.
Chromecast makes it simple to enjoy your favorite content on the big screen with its integrated HDMI cable that plugs directly into the HDMI port of your Samsung TV.
Chromecast is a one-time purchase with no added fees or charges. You can enjoy free and unlimited content streaming for as long as you own the device. Follow these steps to cast your Android device on Samsung TV with Chromecast:
Step 1: To easily mirror your Samsung phone to Samsung TV via Chromecast, download and install the Google Home application on Android from Google Play Store. After that, Chromecast will allow you to screen mirror your phone onto any compatible device wirelessly.
Step 2: Connect Chromecast to the TV using the HDMI cable. To get your Android phone and Samsung TV working together, they must be connected to the same Wi-Fi network.
Step 3: To initiate the mirroring process on your Samsung TV, choose the Chromecast device from within the app.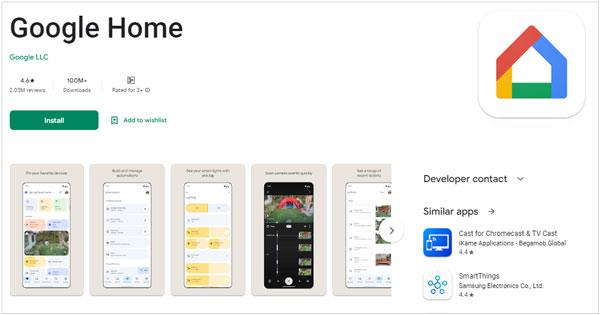 Method 4. Use HDMI Adapter
Struggling with internet connectivity? Fear not! You can easily cast to your Samsung Smart TV via a wired medium. Alternatively, you could use an HDMI adapter for screen mirroring. If you have an older model device, a USB C-port adapter is the optimal choice for connecting. Here are the steps for screen mirroring on Samsung:
Step 1: Connect your USB cable with your HDMI adapter to establish a connection.
Step 2: Now connect the cable to your TV through the port at the back.
Step 3: Now attach the HDMI adapter to your device's USB port.
Step 4: To alter the settings of your TV, go to the "Source" tab and select the HDMI port connected with a USB cable for establishing a connection.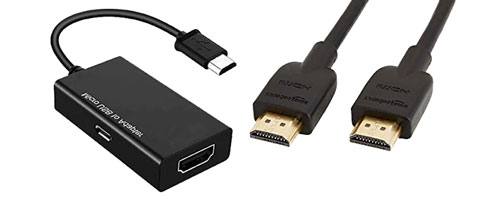 Read also: Using Snapchat on a PC is not difficult because this guide will give you a hand.
Part 3: Screen Mirror on Samsung via Phone Mirror (From Samsung to PC)
Phone Mirror is a reliable tool to mirror most iOS and Android devices to a PC. With this app, you can easily display your phone's screen on a larger monitor like a PC without delay. This allows a smooth gaming experience and efficient management of all types of social apps. Additionally, you can stream in-app displays and audio seamlessly to conferencing software solutions.
You can quickly project your phone's screen onto a PC monitor with a few mouse clicks. This also allows multiple users to view the output on different screens simultaneously, thus ideal for collaborative work environments. It's also easy to set up and use, allowing quick access and control of your phone from a computer or laptop.
Main features of this mirroring software:
- Easily mirror a Samsung screen to a PC via USB and Wi-Fi.
- Control your Samsung screen on your PC with a mouse and keyboard.
- Can stream app displays.
- Support faster file transfer.
- Play phone games fluently on a computer.
- Support a wide range of Android and iOS devices, including the latest ones.
Download this screen mirroring software on your PC.

Here's how to screen mirror on Samsung with this program:
Step 1: Start by downloading the mirroring software onto your computer. Install and launch it after that, and choose "Android Mirror".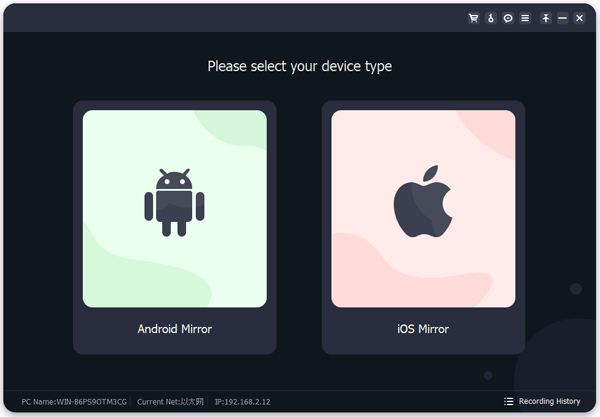 Step 2: Choose "WiFi Connection" or "USB Connection". Then install the mirroring app on your Samsung device, and hit "Detect" for the connection
Step 3: Now, the screen mirroring is established. You can view your Samsung screen on the PC.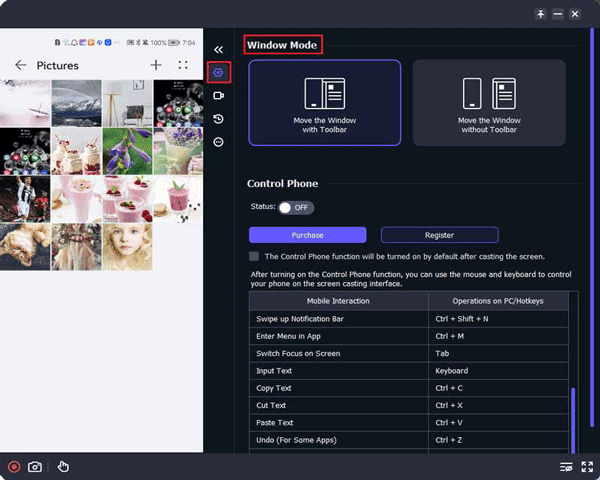 Conclusion
Samsung screen mirroring will allow you to stream content from your Samsung phone or tablet onto a larger screen. In addition, Phone Mirror can also be used to project content onto a PC monitor without any hassle. With this guide, you can now easily share content from your Samsung device to any device, whether a PC or Samsung TV. So get started now and start enjoying the world of digital entertainment.
Related Articles
Transfer iPhone to Samsung S20/S21/S22/S23 with 5 Hassle-free Methods
Transfer Data from Vivo to Samsung Seamlessly: Try 4 Solutions
How to Transfer WhatsApp from Samsung to Huawei with 4 Prominent Tricks
Transfer Music from iPod to Samsung Phone and Enjoy It Directly
Permanently Delete Deleted Text Messages on Samsung | 3 Efficient Ways
Free Up Space on Samsung Tablet: Make it Faster Than Ever Before