Summary
Have you bought a new iPhone and want to transfer your old Android device's data to the new iPhone? iPhone and Android phones run on different operating systems. As such, switching from Android to iPhone can be a daunting task. However, there are several ways of transferring data from an Android device to an iPhone. In this article, we will explore whether switching from an Android phone to an iPhone is advisable, the disadvantages of iPhones over Android devices, and how to move data such as contacts, music, photos, and more from an Android phone to an iPhone.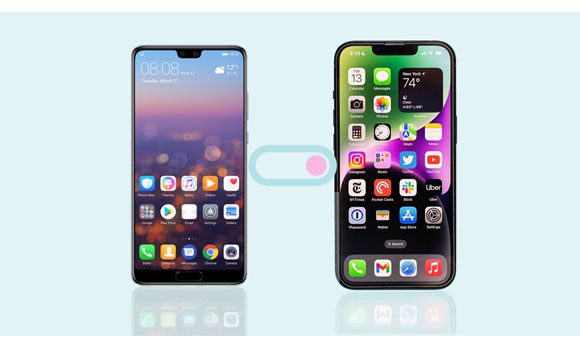 Part 1: What Are the Disadvantages of iPhone Over Android Devices?
Should I switch from Android to iPhone? Android and iOS operating systems have structural differences that make them better than each other when viewed from different perspectives. Each platform has its pros and cons. Below are the disadvantages of iPhone devices over Android devices:
- iPhone's apps are enormous compared to Android apps with the same functionalities.
- iPhone applications are expensive and lack widget support.
- iPhone's battery performs very poorly on 3G compared to Android batteries.
- iPhones work with iOS devices only, hence limiting iPhone users.
- iPhone repair is more expensive than an Android phone.
- Publishing an iPhone app on the App Store takes longer than publishing an Android app on Google Play Store.
Part 2: What Will I Miss Switching from Android to iPhone?
Customization: Android offers more flexibility in terms of customization options. With iPhone, you'll have a more standardized interface and limited customization options.
File Management: Android allows you to access and manage files more freely. iPhone has a more locked-down file system, which can be restrictive for some users.
Wide Range of Device Choices: Android offers a wide variety of devices from different manufacturers with various features and price points. iPhone has a limited range of models, giving you fewer options to choose from.
Integration with Google Services: If you heavily rely on Google services such as Gmail, Google Maps, or Google Assistant, you may find that they are more tightly integrated with Android devices.
Seamless Backward Compatibility: Android devices often have better backward compatibility, allowing you to easily transfer files and settings between older and newer devices. iPhone may have more limitations in this regard.
Different App Ecosystem: While most popular apps are available on both platforms, you might find that some apps or games you enjoyed on Android are either not available or have a different user experience on iPhone.
Open-Source Nature: Android is an open-source operating system, which means it offers more flexibility for developers and tech enthusiasts to modify and experiment with their devices. iPhone, being a closed system, has more restrictions in this aspect.
It's important to note that these points may vary based on personal preferences and individual usage patterns. Many users find the transition to iPhone seamless and enjoy the benefits it offers in terms of ecosystem integration, security, and user experience.
Part 3: Why Switch from Android to iPhone
So, is it worth switching from Android to iPhone? As we said earlier, iPhones have some advantages over Android devices, and Android devices have some advantages over iOS devices. Below are some reasons why you would think of transitioning from Android to iPhone:
Security - iPhones are more secure than Android devices. Unlike Android devices, iPhones have more strict security features.
Ease of use - many people love iPhones due to their user-friendly interface. Using an iPhone is more straightforward than using an iPhone.
iPhones have a fantastic ecosystem - Apple has a beautiful ecosystem of devices such as iPads, smart watches, computers, iPhones, and more. This makes accessing data on various Apple devices tranquil.
Powerful cameras - iPhone cameras are compelling. Although the Android camera's specifications may be high, the software tricks and chipsets on iPhones produce more natural-looking and realistic images.
Part 4: 5 Methods on Switching from Android to iPhone
Want to move from Android to iPhone? Below are the methods you should consider when switching from Android to iOS devices:
Method 1. Move from Android to iOS Using a Professional Tool
Did you learn the advantages of iPhones over Android devices and then wonder how to switch from Android to iPhone? One of the best methods of transferring your Android data to your new iPhone is using a professional data transfer tool - Samsung Data Transfer. It allows its users to move data between Android and iOS devices securely and efficiently, including all contacts and documents.
What's more, it supports almost all Android and iOS devices. As long as your device runs Android OS 4.0 or iOS 5.0, the software can do well in going from Android and iPhone and vice versa.
Main features of this data migration program:
- Allow users to move data between Android and iOS devices.
- Support various data, such as music, contacts, videos, notes, photos, SMS, etc.
- Provide a stable, swift, and secure data-sharing process.
- Works natively on almost all Android and iOS devices, including the latest ones.
Download this software for transitioning from Android to iPhone.
Below are the simple steps for using the Coolmuster Mobile Transfer application to send data from Android to iPhone:
Step 1: Please install and open it on your computer and click the "Mobile Transfer" option.
Step 2: Connect the two gadgets to the computer using their cables. Tap on the trust button from the popup message that appears on your iPhone's screen and enable debugging mode on the Android phone.
Step 3: Ensure the Android device is set as the source device and the iPhone as the destination device. If they are not arranged in the correct order, tap on the "Flip" button to interchange them.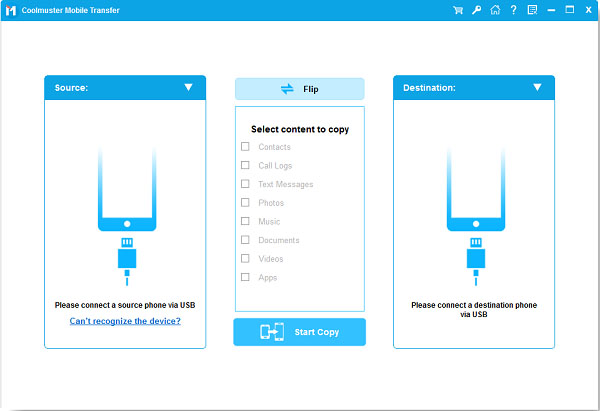 Step 4: A screen with your Android's data organized into categories will appear. Select the data you want to share and click on the "Start Copy" button, and the data will be sent to your iPhone automatically.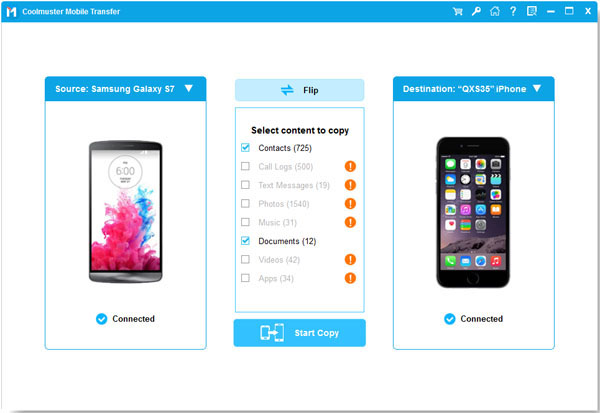 Open it if needed: If you want more methods to transfer contacts from an Android phone to an iPhone, follow this guide here.
Method 2. Switch from Android to iPhone Using iTunes
You can use iTunes to move your music and video files from Android to iPhone. The steps below will guide you on how to do this:
Step 1: Use a USB cord to link the Android phone to the PC and copy the files from the Android to the computer.
Step 2: Install iTunes on the computer, then link the iPhone to the computer.
Step 3: Add the respective files to iTunes. To do this, open "Files" in the iTunes tab and tap the "Add Folder to Library" button. Locate the files on the PC and click "Select Folder" to transfer the folder to iTunes.
Step 4: After the files have been transferred to iTunes, you can copy them to your iPhone. Choose your iPhone device on iTunes, and you will view the device's control panel. Click "Sync Music", select the music playlists, and click the "Sync" option.
Step 5: Choose the "Movies", "TV Shows", or other categories, and sync the data by tapping on the "Sync" icon. Then all the data will be transferred to your iPhone.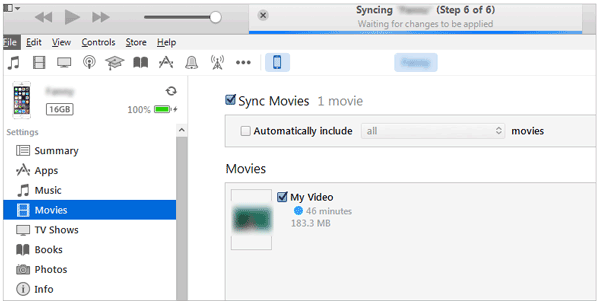 Method 3. Share Files from Android to iPhone with SHAREit App
SHAREit is one of the most common file-sharing software for iPhone and Android devices. The app can move files via a hotspot network without using Wi-Fi or mobile data. Furthermore, SHAREit enables users to share data on devices connected to a similar Wi-Fi network. The elaborate steps below will guide you on how to use the SHAREit app to move data from an Android device to an iPhone:
Step 1: Download and install the SHAREit app on Android and iPhone. Next, connect the Android and iPhone to a similar Wi-Fi network.
Step 2: On the Android device, click the"Send" button, and a tab will appear displaying the entire files on the device arranged categorically.
Step 3: Choose the files you want to move from the Android to the iPhone. After selecting all the files, click the "Send" button, and the device will request your permission to turn on Bluetooth and GPS.
Step 4: Open the SHAREit app on the iPhone and click "Receive". After you grant the necessary permissions, the iPhone will scan for adjacent devices that have SHAREit launched.
Step 5: Immediately after the sending device detects the receiving device, click on the icon of the receiving device, and the files will be transferred.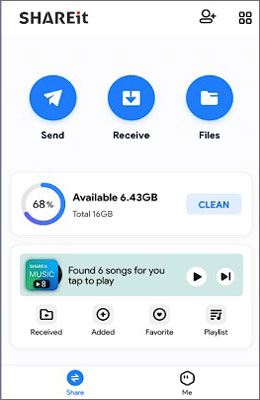 Learn more: 12 SHAREit Alternatives for PC and Mobile Devices: Transfer Files Faster
Method 4. Send Files from Android to iPhone by Xender
Xender is a fantastic app for sharing files between two devices. The transfer process is efficient and does not necessitate NFC or Bluetooth connection. Xender app allows you to share files between PC, Android, Mac, and iOS devices. The app uses Wi-Fi to move files and can open the files shared through the platform. Below are the steps on how to use Xender to send data:
Step 1: Install and launch Xender on the Android device.
Step 2: Tap the green cross-like icon in the app's menu, and the options to send and receive will appear. Tap "Send" to continue.
Step 3: Immediately after you click "Send", the Android will create a QR code that the iPhone can scan to connect the two devices.
Step 4: Launch Xender on the iPhone and click "Receive". It will scan for any nearby phones, and you will be requested to input the Android password or scan the given QR code.
Step 5: You can share any file after the Android and iPhone are successfully connected.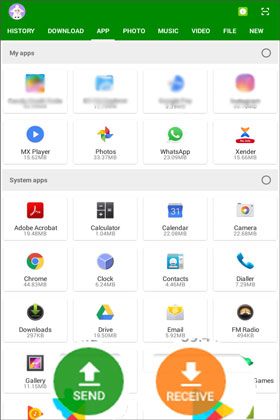 Guess you need: What if the iPhone migration doesn't work? Figure it out at once without difficulty.
Method 5. Transfer Files from Android to iPhone Using Dropbox
Dropbox is a cloud hosting and storage app with several outstanding features, such as client software, personal cloud, and file synchronization. The sharing feature on Dropbox gives users the right to determine who can view or edit the shared file.
Additionally, users can use Dropbox to share bulk media files, graphics, CAD drawings, videos, and executables efficiently. The app guarantees security for shared files and allows users to set a particular date for the expiration of a shared file link. Follow the guidelines below to transfer data from Android to iPhone via Dropbox:
Step 1: Download, install and launch the Dropbox application on your Android phone. It will display any data you have previously shared via Dropbox Cloud.
Step 2: The menu will display the storage space available. Open the "Settings" app, tap the "Sync Contacts" option, and enable the "Camera Uploads" feature so that photos can be automatically shared to Dropbox.
Step 3: You can share and upload any file on Dropbox from its primary interface. Tap the "Plus" button to see a list of choices, choose the files you want to upload, and share them with the iPhone.
Step 4: Download Dropbox on your iPhone and sign in with the same account. After signing in, you will see the files you uploaded from the Android device. Download the files, and you are good to go.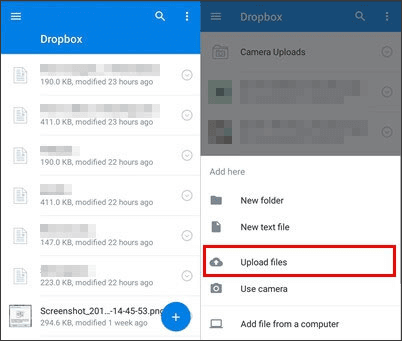 Conclusion
You now understand the process of going from Android to iPhone. However, the methods discussed above have different efficiency levels, and it is wise to select the most convenient way. Samsung Data Transfer, if you choose this program, you can move Android data to an iPhone directly without restrictions. You can get your data onto your iPhone immediately even though you don't have cloud storage.
Related Articles
Continuous Migration on How to Transfer Data from Android to Android
Why Is Move to iOS Unable to Migrate? How Can You Fix It? [Solved]
[Fast Transfer] How to Transfer Your Photos from iPhone to Android Effectively?
Best iPhone Transfer Software: 11 Excellent Tools for File Transfer
Sync Apps from iPhone to iPad in 3 Practical Ways [Proven Guide]
How to Transfer Photos from iPhone to Flash Drive | No Quality Damage