Summary
iPhone migration not working is nothing new now, because many iPhone users have gone through it, especially when they update to new iOS devices. So, have you met such a situation? Never mind. You can fix the migration issue without trouble after reading this post. By the way, if your friends also fret about the same thing, share this page with them.
Additionally, you might be curious why the iPhone to iPhone transfer is not working. Ordinarily, a poor connection, system error, old OS, low-power battery, etc., will cause this problem. Sometimes, it is hard to find out the exact reason, but it doesn't mean it's difficult to solve. Go on reading, and you will know the solutions.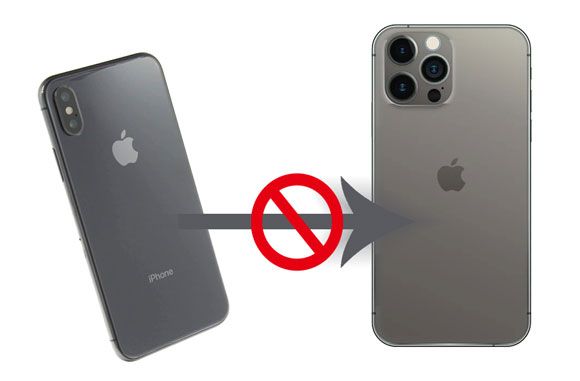 Part 1: What Is iPhone Migration?
If you are new to iPhone migration, you will gain useful information in this part. Generally speaking, iPhone migration is an add-on to an iPhone, iPad or iPod touch, supporting you to move data from your old device to an iOS device, like Move to iOS and Quick Start.
You can transfer your contacts, messages, notes, calendar events, photos, videos, music, and more at once. In most cases, only a small part of data is not supported if both your devices are iOS.
Besides, you can complete the migration by connecting to a stable network or using an Apple cable and an adapter. Commonly, you can achieve the transfer despite the wireless or wired connection.
Bonus: When Android File Transfer is not working, how can you transfer files from Android to Mac? This article will guide you.
Part 2: How Long Does an iPhone Migration Take?
Commonly, the direct transfer from iPhone to iPhone needs about 15 minutes to half an hour, even though the data you have selected is 64GB to 128GB. But if you want to copy more data to your new device, it will exceed 40 minutes. Anyway, how much time the whole process will take relies on how many files you choose to transfer. Thus, giving up unimportant files is a useful way to shorten the transfer time.
Learn more: If your Android phone's screen has no response, you can get help from this guide.
Part 3: How to Repair iPhone Migration Not Working?
Data won't transfer to your new iPhone? You can make use of these 6 easy ways to solve it on your own. Furthermore, you won't be confused with the operation, since there are step-by-step guides for your reference.
Way 1. Replace iPhone Migration with One-click Transfer Tool
In fact, you can easily avoid iPhone transferring data not moving - use this one-click transfer tool - Samsung Data Transfer. This software is good at copying books, contacts, notes, calendars, and more between iOS devices. Moreover, the current data will not be overwritten after the transmission. Thus, whether your target iPhone is new or not, you won't lose any data on both mobile phones.
Surprisingly, this program is highly compatible with most iOS devices, including iPhone 13 Pro/13/12/11/X/8/7, iPad Pro, iPad Air, iPad mini, iPod touch 7/6/5/4, and the like.
Of course, you can also transfer contacts and documents from Android to iOS, videos, music, photos, messages and more from iPhone to Android. That is, the transfer software also supports Android devices.
Download this phone transfer tool below.
Here's the iPhone transfer troubleshooting with this transfer software:
Step 1. Install the Data Transfer Program
When downloading it on your computer, please install and launch it on the desktop.
Step 2. Set Up the Connection
Connect your old iPhone and new iPhone to the computer with suitable USB cables, and choose the "Trust" option on both phones. Then make sure your new device is in the "Destination" position, or click the "Flip" icon to modify the place.
Step 3. Migrate Data to Your Target iPhone
- Once connected, select the desired data types on the interface, and tap the "Start Copy" icon to get the process started.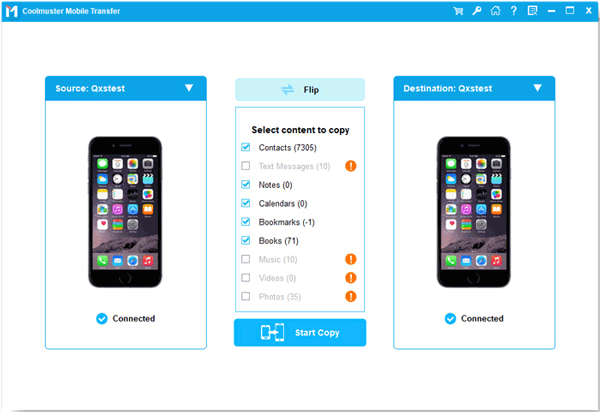 - After the process, you can view the data on your target iPhone.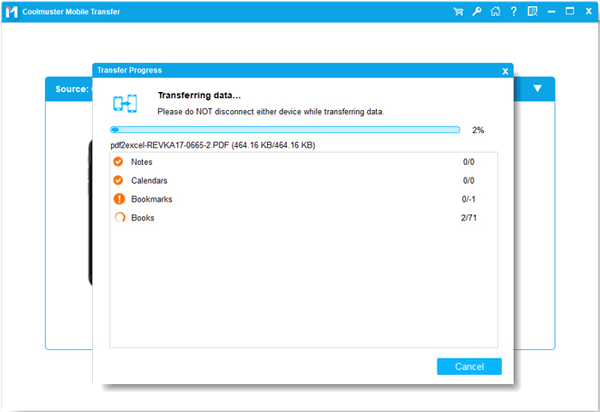 Read also: This is an overall guide on transferring different files from an iPhone to an Android phone.
Way 2. Utilize iCloud to Sync Your Data
How much is cloud storage space on your iCloud account? If you have adequate storage on iCloud, you can sync your data via iCloud certainly, but the premise is that your old gadget is an iOS device.
From the beginning, please back up your old iPhone data to iCloud: open Settings, tap on your name; then find iCloud, and enable the "iCloud Backup" icon; finally, click the "Back Up Now" button.
Next, to restore the backup to another iPhone, you can choose the "Restore from iCloud Backup" option on the "Apps & Data" screen when starting the setup. What if you have finished the setup? Then, you need to erase all content and settings first.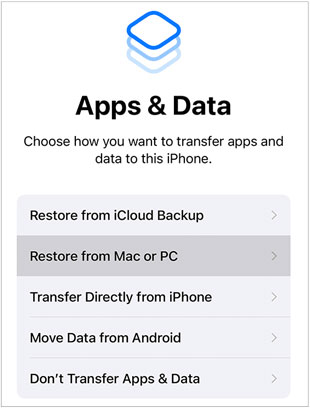 Way 3. Reboot Your Devices
When the transfer from an old iPhone to a new iPhone is not working due to system bugs, such as temporary frozen, transfer stuck, etc., you can reboot your devices to clear these bugs.
Please push down one "Volume" button and the "Side" button at the same time and hold on for several seconds. Then release them as you see the "Slider" on the screen. Now, swipe the "Slider" rightward to turn off your iPhone. After a while, please press the "Side" button to turn it on.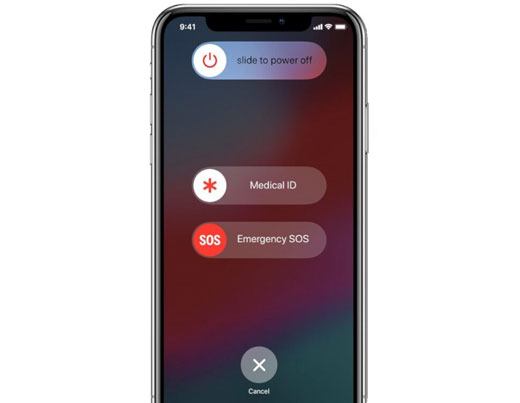 Way 4. Check the Compatibility and Update Software
If your iPhone is still unable to complete the data transfer, please check the compatibility. Above all, when using Move to iOS, make sure the OS of your old phone is supported by this app. For instance, you don't need to install Move to iOS on iOS devices but not Android phones, so confirm the OS on the Android phone is Android OS 5.0 or upper. If not, please upgrade the OS. Go to Settings to find "Software update" and tap the "Download and install" icon.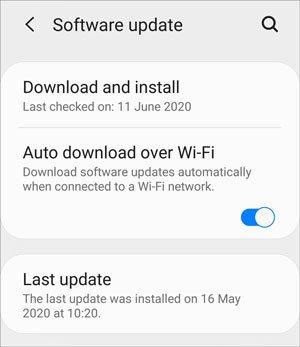 In addition, update your iOS to the latest. If there is a software update notification on your iPhone, please complete it in advance.
Tips: Is LG Mobile Switch not working on transferring data to a new LG phone? If yes, check this proven guide.
Way 5. Check the Network and Turn On Bluetooth
Sometimes, network errors will lead to the iPhone to iPhone transfer not working. In this case, you can reset your iOS network settings: navigate to Settings > "General" > "Transfer or Reset [Device]" > "Reset" > "Reset Network Settings".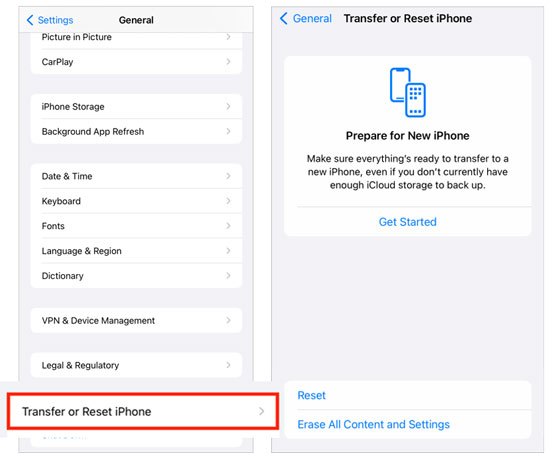 Next, please turn on Bluetooth on your current iPhone during the transfer, which is necessary if you choose Quick Start to transfer data between your iOS devices. You can go to "Control Center" to activate Bluetooth, or go to Settings to switch it on.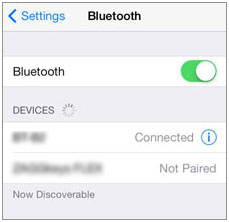 Way 6. Rest Your Mobile Phone
If the previous methods cannot work for your iPhone data migration, please reset your current iPhone, which can make your phone perform well. Please note that you need to select "Reset All Settings" rather than "Erase All Content and Settings". The former will remove your system settings, but the latter will wipe all your data and settings.
As long as you open the Settings app on your iPhone, and go to "General" > "Reset" > "Reset All Settings" to start resetting the device. After that, try the data migration again.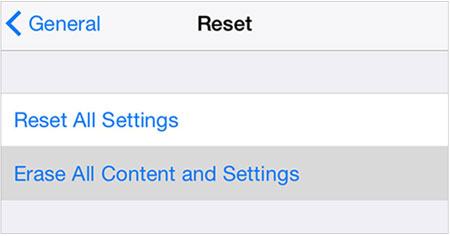 Conclusion
These 6 ways are reliable and effective in solving the iPhone migration not working issue. If you want another more powerful transfer tool to move data to your new iPhone, you can use the software - Samsung Data Transfer in Way 1. This program can transfer multiple iOS data categories via USB and without quality loss.
Related Articles
How to Transfer Data from iPhone to iPhone After Setup - 3 Useful Ways
How Do I Sync My iPhone to My iPad with 5 Reliable Methods?
How to Transfer Messages to New iPhone in 4 Ways [Worked Out]
6 Easy Ways on How to Transfer Contacts from iPhone to Android
Swiftly Transfer Files from Android to iPhone with 8 Tips
Is Move to iOS Not Working on Your Device? Fix It Immediately