Summary
SHAREit is one of the key players in the file-sharing software market. The app boasts some cool features, and the speed at which they transfer files is just on point. The compatibility aspect is also on another level. But is the SHAREit app safe? How does it work? Which application is better? In this SHAREit review, we will answer all questions concerning the SHAREit app so you can get a clear picture of this app.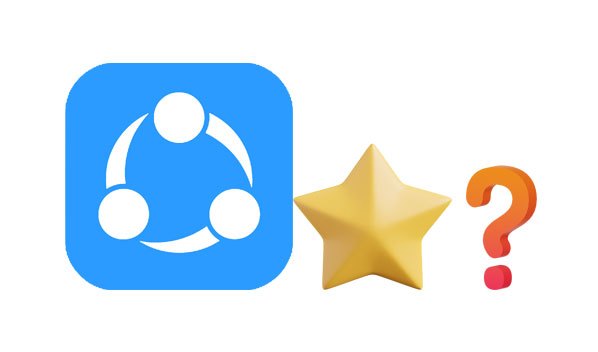 Part 1: FAQs About SHAREit Review
Q1: What's a SHAREit App?
SHAREit is an application that transfers files such as photos, music, movies, and many more among various platforms, including iOS, Android, Mac, and Windows computers. It's one of the most popular file-sharing applications with billions of users. Besides data transfer, the app can allow you to manage files and watch videos directly. It doesn't rely on Wi-Fi internet or cellular data making it quite reliable.
Q2: Is SHAREit safe?
The only security provided by this app for your data is the network. This means that the configurations on your device determine your security as you transfer files. Once your phone or PC becomes discoverable through the application, any person can share data with you. But it's not easy to bypass the system without accessing the device.
SHAREit requests access permissions to the camera, phone storage, microphone, location, and contacts. However, you still have the option to block them if you want.
Q3: What does the SHAREit app do?
SHAREit mainly shares files between devices without the need for mobile data. It's 200 times faster than Bluetooth and can share data in any format. There is no limit to the amount of content you can transfer with this application on any device or PC.
Q4: Which app is better than SHAREit?
If you are looking for an app that's better than SHAREit in terms of features, ease of use, and speed, You can take a look at the alternative depicted in Part 7. It's a powerful file manager and transfer app that shares data in 1 click.
Part 2: SHAREit Main Features
SHAREit also has tons of features, making the transferring process simpler for most people. Here are some of the key features that you can find:
- SHAREit can work on Android & iOS devices, and Mac & Windows computers.
- Share videos, pictures, apps, documents, and songs.
- Wireless transfer at a speed of 20 Mbps.
- Allow you to streamline and watch videos.
- Help you clear junks from your mobile phone.
Read also: Jihosoft Android Phone Recovery Review: Is It Worth a Try? (Comprehensive)
Part 3: SHAREit Interface
Even though SHAREit is compatible with multiple platforms, the interface on these platforms differs. The app's interface on PC and Mac is much clearer, with a QR code window displayed on the interface. Once the app recognizes the QR code, you directly start sharing files.
But on mobile devices, the interface is confusing, especially on Android phones, as it looks like the Play Store with lots of unwanted content displayed on the app's interface. On iOS devices, the interface is somehow simple but with many ads.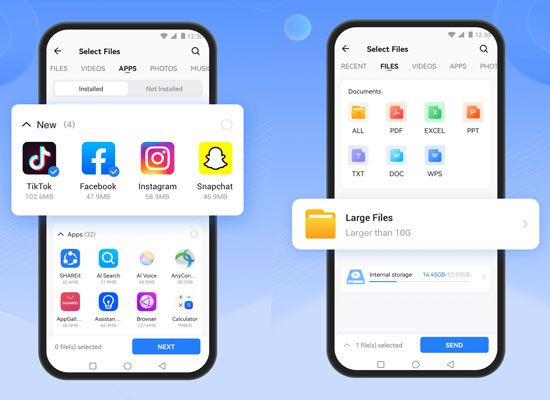 Part 4: How SHAREit App Transfers Data Between Devices
SHAREit is an excellent app for sharing files between devices. So, you must know how to share files between devices using this app, as you may need it in the future. Here are the steps you can use to transfer your files via SHAREit:
Step 1. Install SHAREit
Download and install the SHAREit app on your desired devices and grant permissions. You can find the app on the Apple Store or Google Play Store. Ensure the devices are close to each other with Wi-Fi and Bluetooth turned on.
Step 2. Send Files from Your Source Device
On your Source device, click on the "Send" button. The phone storage will be shown after you tap the send icon, choose the files to move, and tap the "SEND" icon to start sending them.
Step 3. Receive Files on Your Target Device
On the target phone, click the "Receive" button. The device will immediately start searching for the devices nearby. Ensure you pick the right device to get files from. After finding the source device's name, tap on its icon to start receiving files.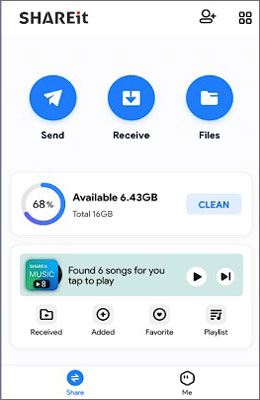 You might need: Can you copy apps between Android devices? Of course, you can. Open this guide, and you will know how to cope with it.
Part 5: SHAREit Pros, Cons, and User Reviews
SHAREit is a useful app that comes to your aid when you wish to move files from one device to another. However, it comes with some flaws too. Let's see the pros and cons of the SHAREit app:
Pros:
- It's free on most platforms.
- Ability to transfer files across platforms.
- No data limit for transferred files.
- Fast speed than Bluetooth.
- It offers streaming features.
Cons:
- The free version has many pop-up ads.
- The connection process is somehow tricky.
- The types of data supported are pretty small.
- There are too many ads on the interface.
Reviews from Users
According to the latest comments online, some users think the app used to be simpler to use, but it's now so complicated, with many ads and access permissions popping up every second. Besides, it takes quite a long time before connecting.
Part 6: SHAREit Price
SHAREit app is free on Android, Windows, and Mac devices and still provides a free and premium version on iOS gadgets. You can download it for free and share files on these devices the way you want. The free version has ads that are quite annoying.
But if you want to share files without the many annoying ads on iOS devices, get a premium version that costs $2.99. The free and paid versions have the same features except for ads in the free version.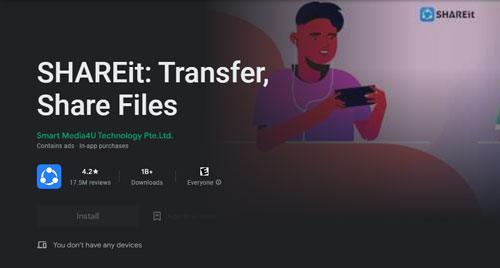 Guess you like: Maybe you want to transfer files from Android to a PC via Wi-Fi. In this case, you can utilize these wireless methods.
Part 7: The Best SHAREit Alternative - Phone Transfer
There is better software than SHAREit, which is this data transfer tool - Samsung Data Transfer. The tool allows you to transfer contacts, messages, documents, videos, music, apps, and more with ease. It's available for iOS and Android mobile devices, and there are Windows and Mac versions to download. There is no doubt that you can efficiently copy data from an iPhone to an Android phone and vice versa.
Besides, if you transfer data between Android phones and tablets, you can use USB or Wi-Fi to establish the connection and complete the transmission. You can also select data types before transferring your files. Moreover, the transferred data will not cover your existing files on the target device, so you won't lose your data.
Main characteristics of the SHAREit replacement:
- Transfer data between Android and iOS devices in 1 click.
- Support 4 types of transferring directions: Android to Android, Android to iOS, iOS to Android, and iOS to iOS.
- Allows USB cable and Wi-Fi connections.
- Support multiple file types, like photos, videos, music, calendars, notes, bookmarks, contacts, and so on.
- Compatible with most generations of Android and iOS devices, such as Samsung Galaxy S22/S21/S20/S10/S9, Motorola Moto G 5G/Moto G9 Power/Razr 5G, OnePlus 10/9/8/7/6, Xiaomi, ZTE, Google, OPPO, Vivo, HTC, iPhone 14/13/12/11/X, iPad Pro, iPad Air, etc.
Download this mobile data transfer program.
How to use this SHAREit alternative:
Step 1: After the installation, please launch it on the PC. Open it and enter the "Mobile Transfer" module.
Step 2: Use A USB cable to connect both devices to the PC. Enable USB debugging on Android phones when prompted to make the software recognize it. If the other device is iOS, click on the "Trust" option. You'll see the connect icon under the image of devices.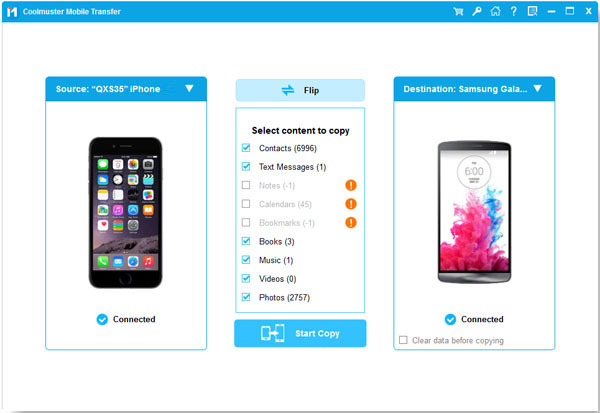 Step 3: Ensure the "Source" and "Destination" devices are in their right places. If not, click on the "Flip" option to switch them. Select all data types to transfer and click the "Start Copy" button to start moving your data.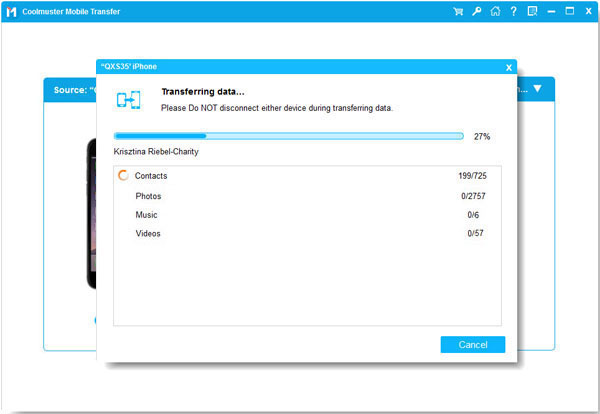 Conclusion
That's all about the SHAREit review. You now have your answers about the SHAREit app and whether it's good for you or not. But if you want an alternative with more features and better transfer speed, Samsung Data Transfer is a great option for you. It can work more stably and efficiently for most iOS and Android devices.
Related Articles
12 SHAREit Alternative Options for PC and Mobile Devices: Transfer Files Faster
5 Practical HTC Sync Manager Alternatives [Worth Getting to Know]
Fabulous ES File Explorer Alternatives | Handily Organize Your Files
9 Google Photos Alternatives: Manage Photos and Videos Easily
Recuva Software for Android: Useful Review and 5 Recuva Alternatives
Expertly Transfer Large Videos from iPhone to PC in 7 Ways (Newest)