Summary
If you recently switched from Android to an iPhone, you should have a way of moving your files between these devices. Among the many apps on the market now, Move to iOS stands out since it lets users share their files between Android and iOS devices. This is an Apple app that's preinstalled on iOS devices.
Unfortunately, many iPhone users struggle with bugs while using this feature. Glitches such as sluggishness, severed connection, and difficulty transferring files are common. The Move to iOS unable to migrate is particularly a very common issue that most users face. Due to this, it may be difficult to transfer your files from Android to iOS. Fortunately, we are here to provide you with fixes to Move to iOS unable to migrate.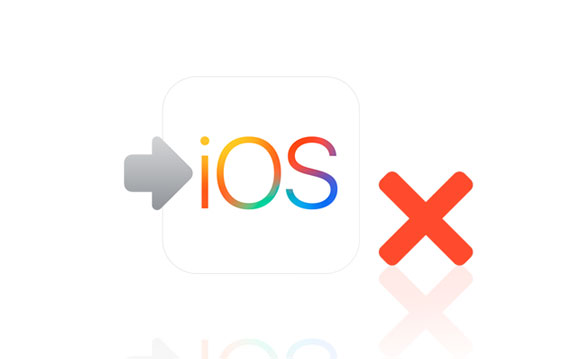 Part 1: What's Move to iOS?
This is an application designed by Apple to allow users to transfer their files in a safe and faster way. The app can transfer photos, videos, contacts, or even mail accounts transferred over seamlessly. Besides, it can also move your calendars and web bookmarks so that everything is ready for use on your new phone.
Move to iOS works perfectly on iOS version 9.0 and above, and it is also compatible with Android operating systems from 4.0 onward. The primary purpose of this app is to provide a seamless transfer of files between Androids and iOS.
Part 2: Why Is Move to iOS Unable to Migrate?
Move to iOS is the perfect app for iPhone users, thanks to its ability to move files between Androids and iOS devices. This user-friendly app helps transfer all your content from Android, such as contacts, videos, photos, documents, and more, to your new iOS device with just one convenient send code.
Unfortunately, the app isn't always working as expected. Several users have reported issues where the transfer was interrupted or they were unable to move their files. Even if you attempt again, it may still be unsuccessful.
While there could be multiple causes leading to frequently unable to migrate via Move to iOS, the following are some of the more common ones:
1. Unstable Wi-Fi
A slow or unstable Wi-Fi connection can be one of the main culprits for Android to iOS unable to migrate. For the Move to iOS app to function properly, you should use a fast and reliable Wi-Fi connection.
2. Low Storage in iOS Device
For a successful data transfer from an Android device to iPhone, the iPhone should have enough storage space to keep all the data sent. If not, you might run into errors during the transfer.
3. Low Battery Level
If the Phones do not have sufficient power, Move to iOS might be disrupted by the low battery. So, ensure your devices are fully charged before starting the transfer.
4. Outdated Firmware
To successfully use the Move to iOS application, your iPhone should have iOS 9.0 and above. As for the Android device, it should be operating on version 4.0 and above.
5. Use the same Wi-Fi Network
Please make sure your old phone and the new iOS device are connected to the same network, or the app will not move data to the new iPhone/iPad.
Read also: When OneDrive is not syncing data, you can repair it with this guide.
Part 3: How to Fix Unable to Migrate Issue When Using Move to iOS?
If you're having problems using Move to iOS, you should first determine its cause. While there may be many unproven solutions around this issue, some of them are obvious. But to be on the safer side, you should know the possible solutions for the Move to iOS migration failed error. Here are some solutions recommended you should consider trying:
Solution 1. Use A Stable Internet Connection
A stable connection is needed for the Move to iOS app to transfer your files efficiently; otherwise, you could find yourself running into the dreaded "unable to migrate-try again later" error. To ensure a successful connection between both devices, make certain that they are connected to the same Wi-Fi network. If there is weak signal strength in this network, you can do this:
Step 1: Reset your Wi-Fi router to establish a secure connection and ensure an uninterrupted data transfer.
Step 2: Also, pause any download running on your devices.
Solution 2. Check the Battery Levels on Devices
If you are using an old iPhone, its battery won't be very good, and it might have worn out with time. This could lead to its battery draining very quickly. The Move to iOS application cannot work efficiently if your battery is very low and the transfer process may get disrupted by low battery levels. So, ensure both devices have sufficient power. You can connect them to power and wait to charge.
Solution 3. Restart Your Android Phone and iPhone
If you receive the "unable to migrate" error while using Move to iOS, a simple phone restart could do the trick. Restarting is a sure way to eliminate several minor errors that can cause the migration process to fail. When you restart your device, it may clear any temporary glitches. So, restart your Android and iPhone devices before moving forward with any other solution.
To restart an Android device:
Step 1: Press and hold the "Power" button for a few seconds till you see the option to "Power off" and "Restart". Choose the option to "Restart".
Step 2: Wait patiently until your phone has completed the restarting process.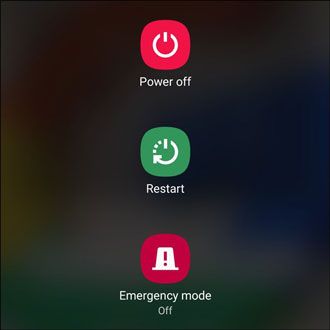 To restart an iPhone 14/13/12/11/X:
Step 1: Simultaneously press and hold the "Power" button along with either of the "Volume" buttons.
Step 2: Once a slider labeled "Slide to power off" appears at the top of your screen, slide it right to shut down your device.
Step 3: Allow the iPhone to shut off first, then wait for its screen to become completely black. After that, press and hold the Power button until you see the Apple logo appear.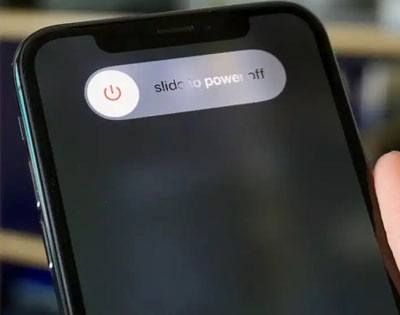 To restart an iPhone SE/8 or earlier:
Step 1: Press the Power button until a "Slide to power off" command appears at the top. Then, drag it to the right.
Step 2: Allow your iPhone to shut down until the display is blank. Then, hold down the Power button until you see the Apple logo on screen. Wait for your iPhone to turn off.
Step 3: After rebooting your devices, you can try using the Move to iOS app again to transfer your files and see if the error shows.
You might need: 9 Google Photos Alternatives: Manage Photos and Videos Easily
Solution 4. Turn On Airplane Mode
If a data connection is causing the issue, you can try activating Airplane mode. This will suspend any connection between your Android and iPhone, allowing you to finish the transfer without interruption.
Fix the Android to iOS unable to migrate by activating the Airplane mode:
Step 1: Open the Settings menu on your Android device.
Step 2: Scroll down to find the "Airplane" option, and then toggle it into "On" status. For iOS devices, the setting can be found in "Control Center".
Step 3: After a while, switch off the "Airplane" mode, and try Move to iOS again.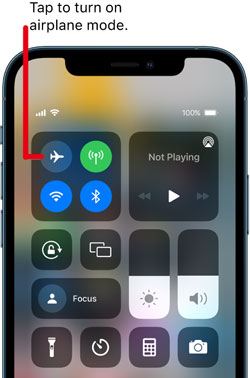 Solution 5. Check the Storage on Your iPhone
Not only should devices be compatible with the app, but iPhone Storage space is also a key determining factor. An error will occur if there isn't enough memory to transfer your data into it successfully. Therefore, ensure iPhone has enough storage to accommodate all your data.
Follow these quick steps to check the storage of your iPhone:
Step 1: Head to the Settings page and choose "General".
Step 2: Tap on the "iPhone Storage" button. If the storage is used up, please delete some useless files and apps, and back up your data to iCloud to release more space. Then move data with Move to iOS.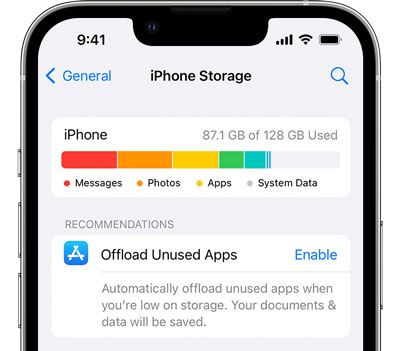 Solution 6. Switch Off the Smart Network Switch Feature on Android
If the app still doesn't work successfully even after ensuring there's enough storage space on your iPhone and an active network, you may need to disable any network settings in your phone's Settings. Android mobiles are equipped with the Smart Network Switch feature, located in the settings. If this feature is activated, it will prevent your device from connecting with the iOS devices. To ensure compatibility, you must deactivate the feature immediately. Here's how:
Step 1: Go to Settings and find the "Wi-Fi" option. Tap the "More" option at the corner on the left at the top.
Step 2: Unmark the box next to the connections optimizer and click on the "Smart Network Switch" to switch it off.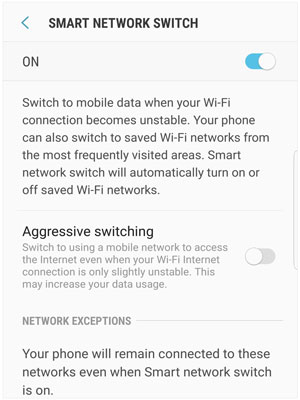 Solution 7. Download the Current Firmware
Remember that the application requires iOS version 9.0 or later and Android device version 4.0 or later. Otherwise, it will not be possible to move files due to incompatibility. Even in the latest devices, some bugs may still exist, leading to unsuccessful data transfers.
To ensure optimal performance, developers continuously make improvements to the system and fix bugs. Chances are that any issue you may be experiencing has already been addressed with an update.
For Android, head to "Settings" and click "About phone". Now check and then update your system.
On iPhone, navigate to "Settings", choose "General", and proceed to "Software Update".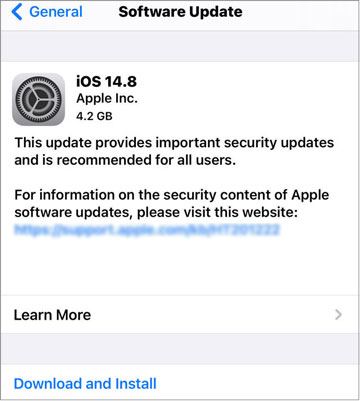 Solution 8. Contact Apple for Support
If the issue persists, you can contact Apple for support. You can use the Support app, which is preinstalled on your iOS gadget. Here's how:
Step 1: Start by downloading the Apple Support app. Once you open this application on your device, it will automatically recognize what type of mobile device you have and present a menu with popular troubleshooting solutions. Choose "Move to iOS not working".
Step 2: On the next page, you must select between visiting an Apple genius bar near you, Calling Apple Support, or chatting with them on iMessage.
Further reading: Is iPhone Migration Not Working? Work It Out Immediately
Bonus: Move to iOS Alternative: Best Way to Transfer Data from Android to iPhone
Although the aforementioned tricks will help fix the unable to migrate issue on Move to iOS, they are usually temporary solutions. Instead, use a reliable, secure, faster data transfer application - Samsung Data Transfer.
This is the best software to use when Move to iOS fails to work completely. You can directly transfer contacts and documents from Android to iOS. Besides, you can move your photos, videos, music, books and more from an iOS device to an Android gadget.
The process is very fast and easy. It doesn't take any effort to move information from one device to another; just a few taps are enough. It's compatible with many Android and iOS devices, including iPhone 14/13/12/11/X/8/7, iPad Pro, iPad Air, iPad mini, Samsung, HTC, LG, Sony, Google, Motorola, and the like.
Here are the features of Coolmuster Mobile Transfer:
- Instantly transfer files between Android and iOS with a single click.
- Allow you to import books, notes, contacts, bookmarks, and calendars from iOS to iOS.
- Enable you to select files by category before transferring data.
- Keep all the files with original quality and formats.
- No data loss when transferring files.
Download this transfer tool to replace Move to iOS.
It's easy to transfer all of your data from Android to iPhone. Follow these three straightforward steps:
Step 1. Launch the Program on a Computer
Install the transfer program on a computer after downloading. Open it and click on "Mobile Transfer" from its primary interface.
Step 2. Link Devices to the Computer
- Take a working USB cable and connect both devices to the computer. Turn on USB debugging on Android. On iPhone, trust the computer by hitting on the "Trust" option.
- Also, you should remember to put the devices in the correct locations. Android should be the "Source" and iPhone the "Destination". If not, click on "Flip" to switch them. When connected successfully, you'll see the "Connected" displayed beneath each device image on the program.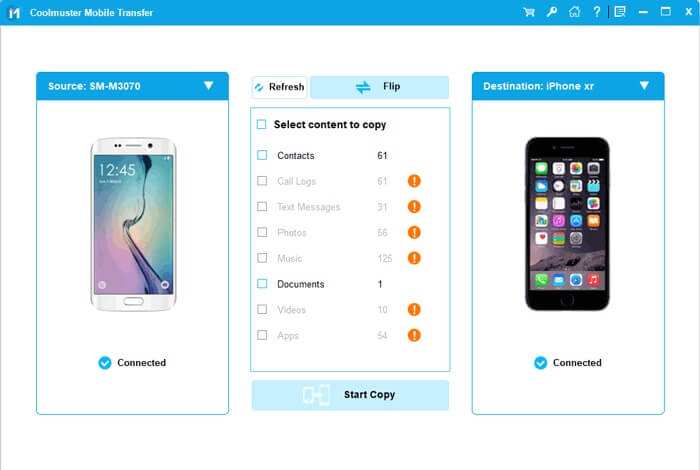 Step 3. Transfer Files from Android to iOS
Carefully select the "Contacts" or "Documents" you need to move, then click "Start Copy". Keep your devices connected until this process is finished.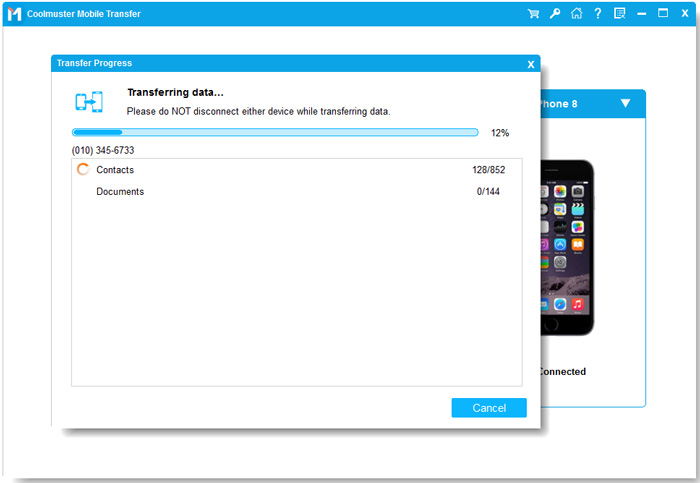 FAQs on the Move to iOS unable to migrate issue:
Q1. What can I use to transfer data when Move to iOS fails?
There are many third-party apps to help you move files from Android to iPhone. like Samsung Data Transfer.
Q2. How long will it take to move my files from Android to iOS with Move to iOS?
Moving your data between devices is quick and easy, but the time it takes depends on the size of the data you are transferring. Smaller files can be transferred in as little as 10 minutes, while larger files may take up to an hour.
Conclusion
If you're experiencing difficulties with your Move to iOS app and it's unable to migrate data from Android to iPhone, don't worry anymore. This article has discussed potential causes and solutions for the issue. If none of these methods work out, this data transfer software - Samsung Data Transfer, might be just what you need. It's an effective alternative promising smooth data transfer from Android to iOS. The three simple steps are all it takes to move your files to your iOS successfully.
Related Articles
[Solved] Xperia Transfer Mobile Not Working? Get 10 Practical Fixes
Samsung Smart Switch Stuck at 99% Problem: How to Fix? (Proven Tips)
Why Does Android Crash? How Can You Fix the Issue? [Solutions Ready]
How Long Does Move to iOS Take? How to Fix It When It Takes Long?
Fixed: Why Samsung Cloud Backup Failed? And How to Fix It without Hassle?
How to Transfer Photos from iPhone to SD Card Easily [5 Proven Ways]